'Water' takes Sarala to international heights
By Susitha R. Fernando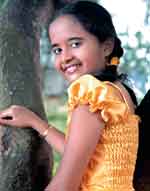 Sarala
Amateur actress Sarala is the much acclaimed Darling in art circle these days. This is due to her role in 'Water' the last of Deepa Mehta's trilogy on the elements- 'Earth' and 'Fire'. The director herself speaks of her prodigy saying "It was a find".
Sarala got this opportunity of acting when Indians incensed by the theme which they thought was highlighting a detrimental attitude to time honoured Hindu customs and traditions violently opposed the filming on location in India. Seeking an alternate location Deepa Mehta found Sri Lanka ideal to depict the setting she had in mind. What she didn't anticipate was getting Sarala as a bonus, a heaven-sent blessing.
Choosing Sri Lanka as location Director Deepa was desperately searching for an eight-year-old girl to play the main lead in 'Full Moon'-the alternate title for Water. This was done to keep the production secret. Deepa auditioned over 50 young girls for the part. Sarala was included when Deepa saw the video clip submitted by Ashoka Perera of Film Location Service. Sarala was the ideal choice although she could neither speak Hindi nor English. Deepa the director saw the potential and latent talent. The next stop was to get the parent's approval. Sarala's father a micro-biologist at Aramco and her mother who is an Ayurvedic doctor and a house wife looks after her family of two daughters and one son in Unawatuna, Galle. Deepa was met with reluctance when she first approached Sarala's parents.
"At first we didn't like this. Mainly due to the fact that her long hair had to be cut and worse still was that this little girl had to play the role of a widow. My husband who was working in the Middle East too didn't like it," said Ms. Kariyawasam, Sarala's mother.
It was the school principal Ms. Dharmalatha Dharmawardena whom Deepa had first approached who cleared all doubts and anxieties that Sarala's mother faced.
"In fact it was Sarala who was begging to be allowed to join the film protesting "it is not Amma's hair but my hair that is being cut. So please let me go mother," said Ms. Kariywasam who spoke about the final result that made her decide in favour of Sarala's acting and is now of course happy about the outcome. "Yet still I cannot look at the scene where her head is shaven," said Kariyawasam sadly.
"Again there was another hurdle to overcome. Though Sarala was pleading with me to give her one chance to do the film. When I came to know that she had to dub into both English and Hindi, I discouraged my daughter saying it won't be as easy as she thinks. It is better to give up the idea. I told this to the principal also inspite of the fact director Mehta had given Sarala one and half months time to master the necessary language requirement.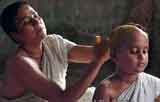 Seema Biswas and Sarala in a scene from 'Water'
But at this moment the enthusiastic Sarala made a request from her principal Ms. Dharmawardena to get her mother to give her a chance of five days to prove herself.
"The result was that the filming started much earlier than scheduled" said Ms. Kariyawasam.
Deepa a concerned director made all the arrangements including an apartment in Colombo and a teacher to cover all her classes that she was missing during the time of the filming.
"Language was not an obstacle. Hindi is similar to Sinhala and I was able to understand most of it," said the little actress when queried whether she found any difficulty in handling the language problem. "However I was taught my lines phonetically in addition Deepa aunty gave instructions regarding my role through an interpreter or by gestures,"
"Because I was so interested in what I was doing I didn't feel any remorse when they were cutting my hair," Sarala said.
"I love acting and though I didn't have much knowledge about the full script I was quite confident that I would be able to do it," little Sarala said speaking to the TV Times.
Speaking on the experience Sarala's mother said at Toronto I was rather frightened. It was my first experience with the media. Though the media attention was focused on popular actor and actress John Abraham and Lisa Ray, Sarala too got an adequate amount of coverage for an amateur.
Wearing a red and white Kandyan saree Sarala received a red carpet welcome with state honours at the opening of the Toronto International Film Festival. The Sri Lankans in Canada were overjoyed.
The expatriates who had come in their numbers told Ms. Kariyawasam that they were happy that a Sri Lankan child's talent and brilliance was thus recognised.
Sarala talked about her experience with the international team of artistes. "Though it was bit tiring at times I had no difficulty in working with the others. It was mainly due to the interest I had in acting that I didn't feel tired or alienated,"
"At the set we had a lot of fun with Lisa Aunty and Abraham uncle and every one in the production team. I taught Abraham uncle and Lisa Aunty some Sinhala words while they taught me some Hindi" said Sarala reminiscing the happy time she spent on the set. "When I went to Toronto wearing a Kandyan saree, Lisa Aunty in broken Sinhala accent said "Sarala Rathu Pata Sudu Pata Endala," (Sarala You are wearing red and white).
"I was really happy when I saw the film on the big screen," said this talented little artiste.
At Toronto, Sarala was acclaimed by the audience and received some invitations also from London to act. Asked if she would take it up if she was called to do for another film, "I would take it up if it was not going to distract me from my studies. Learning for me is a priority now."
"What do you hope to be when you grow up? An actress?". I want to be a doctor and I like to be an actress too.
Sarala showed her appreciation with a truly Sri Lankan gesture when she remembered to thank her parents, her elders, her principal, large number of people including Deepa and the cast and crew and Chandran Rutnam and Ashoka Perera and many others who helped her in both big and little ways to become a popular little actress.
Sri Lanka is full of such talents in many fields. They are yet to be discovered by others who come to our shores while we the people who should discover and foster such talent are neither interested nor informed of the prospects. Over to the authorities concerned.
Pictures by Gemuni Wellage