---
Garnier Bros in the limelight again
Yester year's stars "Garnier Brothers" have released their very first audio cassette 'Kalu Nadiya' recently, after nearly three decades of silence.

This four piece outfit that was formed and put together by Terrence Garnier in early 1968 with his colleagues, was named "Tappers".

In 1971 the band "Tappers" lost one of its members "Ranjith Garnier" quite unexpectedly and was inactive for nearly thirty years since 1971.

Now the same figures of the band "Tappers" have emerged with a few changes. Tappers changed to 'Garnier Brothers With Channa'. In this circumstance the youngest figure of Garnier family "Gamini Garnier" a skillful vocalist joined to the present line up with his brothers Terrence and Rodney Garnier. Along with these brothers, the talented young Guitarist 'Channa de Alwis' came to represent the band and make a impression in the music world.

Garnier Brothers with Channa has come up to entertain the music-lovers with their original hits, modernised with attractive melodies. Their songs are their own creations, bound to the culture and traditions of Sinhala brightening the back-ground of Sinhala Folklore and its legends.

The group's vocal harmonies of "Kalu-Nadiya", "Sudu Putha", "Dara Palanna", "Sivupada", "Ma Ha Eda", "Iskole Hamine", "Raye Sandak" and "Ko-Nene Panawa" will prove their tremendous versatility. Their smooth harmony vocals have always been their attraction. They have performed on several occasions out-door and in-door stage successfully.

"Garnier Brothers with Channa" has released their Maiden Audio Cassette "Kalu Nadiya" containing Sinhala Pop Songs as well as the blue-beats. This includes 14 selections of their own hits. These songs are heard on the air through several programmes in various FM Channels at present.

"Garnier Brothers with Channa" will reflect all the major hits of the decade which they have created. It will despite the recent development in music technology still possesses a fascination of all their own. The band in its present line-up has a strong vocal background which is well versed in the Western and Sri Lankan repertoire. Their performance will be applauded for their variety in music.

Last X'Mas Eve of 2001 "Garnier Brothers with Channa" celebrated their 1st Anniversary of their second coming by organising the grand musical show "Kalu Nadiya" which was recently staged at Vijaya Kumaratunga Hall - Wadduwa. They graced the dawn of the New Year 2002 by entertaining the audience with an evening of delightful selections of their own hits, that will always remain favourites on the lips of music lovers.

Also the band has performed successfully the musical programmes conducted by "Nuga Sevena": on Rupavahini and the most popular musical show of "Pawana Radio Sri Lanka" in SLBC. In these programmes "Garnier Brothers with Channa" has directed the Music instrumentally and has performed especially with the 70's stars such as Annesley Malewana, Indrani Perera, Anil Bharathie, Roy Fonseka, Joe B. Perera and with the most popular duo piece "Chanaka and Lankika Perera" of Golden Chimes by taking the audience down memory lane.

---
Akalanka touchs high
Akalanka Tharinda Serasinghe a seventeen year old student at Royal College was selected as the most popular upcoming singer at the 'Madurasanga 2001' award festival.

The festival held at BMICH on December 31 last year. Maestro Amaradeva, Nanda Malani, Sunil Ariyaratne, Rohana Weerasinghe, Nirosha Virajini, Shashika Nisansala, Shiha Shakthi also won awards along with Akalanka.

Akalanka at the age of fitteen entered into the singing stream by singing 'Sonduriya Pama Mandai' a duet with Visharadha Janaki Archana Dissanayake. Recent release of song 'Jeevithaya Pudumai' made Akalanka popular among the listeners and viewers.

Akalanka has now made arrngements for the release his maiden collection of songs which Sunil Ariyaratne, Kularathna Ariyawansa, Saman Attaudahetti, Mahinda Dissanayaka, Kumara-dasa Saputhanthri, Darmasiri Gamage, Samantha Herath are among the lyricists and Rohana Weerasinghe, Nawarathna Gamage, Samantha Perera, Sidath Somasundara composed the Melodies.

Akalanka wishes to make his dream come true before the Sinhala New Year by releasing the maiden cassette and CD "Sonduriya".

---
Cactus : TexMex with young and hip
Cactus Sri Lanka's only TexMex restaurant serving TexMex cuisine opened its doors last week.

Band Wildfire with in-house DJ crew were in action at the opening ceremony. The whole concept is unique from the food, the drinks, music to the staff. 'To accompany our concept we have organized a number of exceptional events throughout the year that will make a huge splash on the Colombo night scene' said, the manager of the place.

The Cactus formally known as Rock Cafe' can sit 250 covers at a time, has a night Club that can accommodate a 150 along with private rooms for meetings and an open area for our band to play.

TexMex is a fusion cuisine of Texan American style food with the simplicity and flair of Mexican cooking. The TexMex phenomenon is the fastest growing food concept in the world. Along with TexMex food goes an atmosphere that is young and hip.

---
St. Patrick's Day bash at Clancy's
Sri Lanka's only Irish pub and restaurant - Clancy's - has made arrangements to herald in Irish National Day at midnight on Saturday March 16.

St. Patrick's Day celebrations will be incomplete without Irish music and the tradition of dancing into the wee hours of dawn. On the Clancy's bandstand will be 'Cork City Ramblers' a popular Irish music duo on banjo and fiddle fusing the traditional with modern forms, specially flown in from Dublin for the occasion.

This year too will be specially created dishes like Oscar Wilde's Game Chips, John Wayne's Onion Rings, Sinhead O'Connor's Fish & Chips will be served with specially brewed Irish Ale, Green and Dark Beer and heavenly Irish Coffee.

St. Patrick's Day, named after's Ireland's patron saint, who died on March 17 ,460 AD, Irish National Day (March 17) brings together a variety of quaint customs and colourful traditions which are so typical of the country and its rich history.

Although Clancy's is technically 4290 miles (as the crow flies) south east of Dublin, its managing partners, Capt. Nalin Abeyratne and his Irish wife Annette Walsh have been successful in recreating a 'home away from home' ambiance at Clancy's. Back in Ireland, the pub is an important focus of Irish social life. It is an egalitarian place where all classes and nationalities can mingle and enjoy the art of conversation over a few drinks. Clancy's is a recreation of just that here in Colombo.

Now into its second successful year of operations, Clancy's has its faithful and regular clientele base comprising both Sri Lankans and expatriates, who come to revel in the very soul of Ireland right here in the heart of Colombo.

Drawing inspiration from the rich variety of Irish folklore, Annette the 'Landlady' will this year too serve (the now famous) 'Cockles & Mussels' with its matching 'Molly Malone' cocktail, which were both tremendous hits last year. Many Irish pubs, both rural and urban, are home to musical expressions of all kinds, especially Irish traditional. Tradition also has it that in Ireland leaving a party well before midnight could be interpreted by your hosts as a sign that their party has been deemed by guests to be a failure. So be sure to dance until dawn!!!

---
Saman: An unassuming young actor
By Susitha R. Fernando
Saman Hemaratne Munasinghe is an actor whose past is full of both bitter and sweet experiences. Meeting him accidentally in a train coming to Colombo this young actor popularly known as "Leelasena",(the name he was given in the teledrama "Senehewanthayo") convinced me of his acting potential as a comedian the way he conducted his conversation with me.

Although becoming popular doing the role of a comedian, Saman has on many occasions played both comedy and serious roles and acquitted himself creditably.

The hardships faced by this midget like character narrated to me the unending battle he had been fighting from the start of his career to date.

Seated in a crowded compartment of an office train Saman narrated to me how he became an actor.

As a student Saman had been attracted to art and was involved in painting, making pandals or 'Pirith Mandapa'.

But as time went he decided to devote more time to acting, Saman was doing roles in street drama as far back as 1984. He gratefully spoke of Gamini Haththettuwegama who is credited with pioneering the artistic movement if can be called so.

"At times I felt very upset because some others who joined the group after me got acting opportunities while I just went here and there with the group," Saman said while relating his bitter past.

"But today I am happy that I had a time like that because I learnt a lot including the virtue of patience and not to get discouraged" he added.

"I have to thank Deepani Silva who was in our group and she always encouraged me". "If it was not for her I would have given up acting long ago," Saman said mentioning few other names too with gratitude.

Saman's talent did not stop at acting. He is an award winning make-up artist. Playing different roles on the stage Saman also took to make-up and has grabbed several awards at Youth Drama Festivals and State Drama Festivals for this.

Moving onto the stage from the street dramas Saman played a remarkable part in the play "Gabsawa" (Abortion) produced by Tilak Nandana Hettiarachchi.

"I still love the time I spent playing street in which we carried themes closely associated with the general public like politics and social issues, peace, etc.,. Despite the good training it gave us we had a number of good experiences," Saman said.

"We had to face hard experiences like being beaten up by the police and underworld thugs a number of times" he added.

It was after his street drama team was telecast in a TV programmes that director, Nalan Mendis and 'Senehewanthayo', script writer Somaweera Senanayake picked him to play the popular role of 'Leelasena' which brought him kudos of many.

Saman also said he would love to do more serious roles than doing the comic items.

When I questioned as to why he could not be seen either on stage or small screen, this young actor said "The roles I have refused are much more than the parts I have played".

Saman confessed he was not being choosy but was determined to do his roles to satisfy his inner self.

Working in government office Saman daily walks about three kilometres from his home to the main road to take a bus to Jaela from where he boards a train to reach Colombo.

"I have spent some nights at bus halts and stations being unable to get home after taking part in plays", Saman said speaking of the practical difficulties.

"Even today I come across similar experiences but I am willing and ready to take them on my stride. Life is never easy" said this energetic young actor.

---
Drama of youth of an old woman
The story of "Sisila Ima", revolving around the life of a woman doctor in the village is to be telecast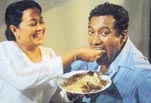 soon. It is based on a true incident that had taken place in the Southern part of the country.

"I picked up the story from a villager when I was on location work at Weligama in Matara. He spoke about a ruined house" said Thusitha Jayawardena who had grabbed several awards including for the best upcoming director at the Sumathi Telefilm Award for the direction of teledrama "Dawala Kethu". His latest miniplay, "Sisila Ima" is produced by Sunil Ratnayake for Teleview Productions.

The story portrays the life in the 1950s in coastal village of Weligampitiya, Matara of an unmarried middle aged Ayruvedic doctor, Elizabeth and a young doctor qualified in western medicine played by talented Palitha Perera who is appointed to serve in the village hospital.

With the maiden appointment Dr. Sidath Weligankoratuwe comes to the village hospital of Weligama gets boarded at 'Elizabeth Nona's house. Being a expert in black magic and folk medicine Elizabeth was much respected by all the villagers.

Though in her middle age, she still retains her good looks and appearance. The arrival of the young doctor revives new hopes in Elizabeth's life.

The young doctor manages to manipulate the head strong woman and gets her to do everything to please himself. Attracted to Dr. Sidath, Elizabeth shares her knowledge of folk medicine she had protected all her life with him.

Dr. Nirmala who is engaged to Sidath visits him and Elizabeth's world gets torn asunder only the sweet memory of the past for her to remember.

The director, who had done four teleplays and has assisted in over fifty others speaking on his latest attempt said "this is a period story which was done with a heavy cast".

"Even though there is time to make any comment on this I'm confident that I have put my best into this teledrama which deviates from the ordinary story line".

Sunil Ratnayake, producer of the teleplay revealed that the teledrama had cost a big budget and hopes it would be received well by the audience.

The cast includes Hemasiri Liyanage, Mahendra Perera, Chamila Ratnayake, Chitra Wagista, Melani Ashoka, Tissa Udangamuwa, Milton Perera and few others.

---
Buddhi in new role
Well known film producer and Batik designer Buddhi Keerthisena was appointed Chairman of the National Crafts Council by the Minister G.L. Peiris last week.

Mr. Keerthisena a pioneer of the Batik Industry in Sri Lanka has been contributing immensely towards the promotion of batiks and crafts both locally and internationally for the last 30 years.

Also he has produced many movies in the past and his last was 'Pem Kekula' in 2002.

He is hoping to work on a new movie soon.

Cactus Sri Lanka's only TexMex restaurant serving TexMex cuisine opened its doors last week.

Band Wildfire with in-house DJ crew were in action at the opening ceremony. The whole concept is unique from the food, the drinks, music to the staff. 'To accompany our concept we have organized a number of exceptional events throughout the year that will make a huge splash on the Colombo night scene' said, the manager of the place.

The Cactus formally known as Rock Cafe' can sit 250 covers at a time, has a night Club that can accommodate a 150 along with private rooms for meetings and an open area for our band to play.

TexMex is a fusion cuisine of Texan American style food with the simplicity and flair of Mexican cooking. The TexMex phenomenon is the fastest growing food concept in the world. Along with TexMex food goes an atmosphere that is young and hip.

---
Tranquilizing 'Nilaveli Beach'
By Tania Fernando
When planning your next holiday... the destination to keep in mind should be Nilaveli... which is just ten miles from Trincomalee town and has one of the best beaches in the island.

Trincomalee on the North East Coast of Sri Lanka is becoming extremely popular for its magnificent beach. Blessed with sunny weather all year around, and white sand beaches has turned out to be one of the most popular destinations recently.

Situated amidst a tangle of trees with a few hammocks swaying to the sea breeze is Nilaveli Beach Hotel. Cut off from the main road and with its quiet dwelling it offers you chance to get away from the hustle and bustle of city life. For those who are looking for an adventure or even for those who want some solitude Nilaveli Beach Hotel would be the place to be. You could enjoy the sea breeze by swaying in one of the hammocks or take a long walk on the white sand beach or for the more adventurous you could try one of the water sports offered by them.

Those who want to enjoy the quiet setting of the hotel could indulge in playing badminton, table tennis, and tennis and for those who want to have fun in the sea could try the beach volleyball, or deep-sea fishing.

Guests could either go swimming in the freshwater swimming pool or chose to bask in the sun reading a book. The hotel arranges boat rides to Pigeon Island, which is just 15 minutes by boat from the hotel.

The island is ideal for a picnic or for those lovers of water sports the place to scuba dive or snorkel with clear blue water stretching on and on. The water is calm and shallow and there are Pigeons flying in-groups, after which the island has been named. If you want to explore, there are rocks to climb and gives you a chance to enjoy the breathtaking view around.

Mr. Prem Kumar, the Resident Manager of the hotel said that a water sports centre would be opened during the season. The season to visit Nilaveli is from April to September, when the sea is calm and you could walk about 200 metres with the water just reaching your hips.

With 80 sea view rooms, the restaurant serves delicious Western and Eastern cuisine and has three bars. The hotel maintains a beach bar and a cocktail lounge during the season and the main bar, which is located inside the hotel.

For those who want to explore Trinco, you could visit Ford Fredrick, Lovers Leap, Hotel Water Springs and the Swami Rock.

The place offers something for everyone and the view and the beach will definitely give you something to talk about for a long time and the hospitality of the hotel staff will make you want to go back once more.

---
Hilton JAIC: Home away from home
By Sanath Weerasuriya
The skyscrapers are not a big surprise in the city of Colombo. But Hilton JAIC tower is a different one.

All the other city hotels keeps the tradition with rooms as their selling unit , Hilton JAIC came out a step forward, with apartments.

This is the very first hotel apartment concept in Sri Lanka and the Hilton JAIC tower consists of 172 units of luxury apartments and eight penthouse on top two floors plus shops, restaurants , bars and health center. The Tower was officially opened in 1997 and since then the company is driving slowly upwards.

'The best year was 2000 , when it comes to end of the day accounts ' said the General Manager Carsten Schieck. Carsten, who has over 20 years experience, joined the Hilton JAIC a couple of years ago.

The most of the clients of the Hotel are business people , who wants to stay a long period.

"Generally the tourists are not attracted to this place and mainly airline staff, embassy people, expacts from various projects are the residence here and most of the guests stay over one month" said General Manager Schieck.

After the recent renovation Hilton JAIC has added few more attractions to its glamour. The Hilton reservation world wide network, upgraded new health center with steam bath(probably the first one in Colombo) are the new additions.

Pit stop, Union Grill and Bar, newly opened Nihonbashi, the Japanese restaurant are the very popular places for wine and dine.

According to Mr.Schieck, the highest number of visitor come from Japan.

"Other than the Sri Lankan clientele, Japanese come first in nation wise, when its comes to the patronage. That's why we have a specialty restaurant and Japanese night on theme nights. "said the GM.

Sri Lankan night, Mongolian Night, Korean BBQ night, Sea food night and Asian BBQ night are some of the popular events on boards.

Also the top of the Sri Lankan talent will come alive at Union Grill and Bar 0n daily basis.

The band 'Sound Journey is performing on Wednesdays, while 'Phase-3' comes on stage on Thursday. Natasha of Dream Team fame will be featured on Fridays and 'Warren and Rozette' perform on Saturdays. The other popular venue is Karaoke lounge.

'We have outside catering arm too. That can undertake all outside functions of any kind' said Schieck.

---
Roam Kenya with Prime Destinations
A safari in Kenya would not be a just dream for Sri Lankan wild life enthusiasts now . The first group of wild life lovers will leave the birthplace of the Safari, on April 8 for seven nights and eight days of spine tingling fun in the wilds of Kenya. This tour is organised by Prime Destinations.

Prime Destinations have now mapped out a series of tours that take place in the coming months.during Easter and New Year holidays.

The Safari commences in the equatorial district of Samburu, a rugged landscape that is home to species seldom seen elsewhere. Namely the Gerenuk, Grevy's Zebra, the Reticulated Giraffe and the Blue legged Somali Ostrich. The game drive then moves out south to the Highlands of Aberdares. An experience that is truly different awaits you here as you spend the night out in the 'Tree tops' - a unique lodge built on Eucalyptus trees that overlook a salt lick and water hole. Up there you will have an owl's eye view of an endless procession of wild life. Naivasha is steeped in history and is a must on your Kenyan agenda. The Lake Naivasha County Club is the original host hotel for the 'flying boats'.

The lake is surrounded by the great Rift valley which is a bird watcher's paradise with up to 400 species of birds to be found here. Descend into the floor of the Masai Mara and drive into the richest reserve Kenya has to offer where the proud Masai tribe herd cattle while large herds of other animals roam freely to afford you close encounters with the big five - the elephant, the black manned lion, leopard, rhino and the hippo.

"Our primary objectives are to provide quality service and develop exclusive package tours", says Ms. Jacki Weeraratne, Manager Prime Destinations." We don't compromise on either and that is the secret of our success." Prime Destinations, began operations in April 1995 to fulfil a void in the local outbound sector. Within a short space of time this organization has emerged as a standard bearer in the industry specializing in tours to exotic and spectacular destinations. Prime destinations is a pioneer in the field of concept tours such as Wild Life cruises, Coach tours and tours to hand picked destinations that make holidays a truly exclusive experience. Some of the popular destinations include Kenya, India, Egypt, Turkey, Burma, Nepal, Bhutan, China, Bangkok, Singapore and the Caribbean. "One of our most promising destinations at present however is Bali, famed for its miles and miles of beautiful, palm fringed beaches", Ms. Weeraratne added.

Prime Destinations was recently acclaimed "the Most Innovative Travel Agent" by Gulf Air in appreciation of its pioneering efforts in promoting new destinations.