'It's a hard knock life'
By Faraza Farook and Tania Fernando
Their eyes said it all, the tragedies they could not easily put into words. Each child had his or her own story, but they all had one thing in common - the absence of their parents. Having suffered for years as refugees, some having been displaced due to the protracted war, these children were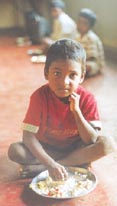 growing up at Sivananda Thapovanam, an orphanage at Uppuveli, Trincomalee.

Four year-old Ajith's eyes lit up when he spoke of his parents, telling us how he was waiting for them to come and take him home. But little was he aware that his parents were dead.

Before running back to play with his friends, he added that his parents were busy because they were at work. "They will come some day," he said with childlike confidence.

Seated in a row in the hall facing each other were the youngest children at the orphanage, most aged between 4 and 12. The older kids were still at school. The large hall was virtually empty, bereft of furniture. There were no tables, no chairs, no mats, nothing around. The adjoining rooms were equally bare.

The room which serves as their bedroom was another large hall with peeling paint and a few lockers with broken locks, overflowing with clothes. The only bed there was piled high with mats, sheets and pillows.

Despite its woeful lack of facilities, Sivananda Thapovanam has been a safe haven for 240 children over four years. The children themselves are content with the little they receive here, as they would otherwise be compelled to stay in refugee camps.

Some are unaware of their parents' whereabouts, but others have no option but to stay at the orphanage as their parents are unable to take care of them. In most cases, the children have been left at the orphanage by a parent, an aunt or an uncle or some relative due to financial hardships.

In one case the orphanage is looking after five children of the same family aged between six to 13. Their mother is working in West Asia and their father is employed at a teashop. "Our father visits us, but we would like to be with both our parents," said nine-year-old Priyadharshani, the third in the family. With no permanent dwelling, their father spends his days and nights at the teashop. Thus the children had to be brought to the orphanage.

Mohanapriya, 11, had been admitted this year along with her six-year-old brother. Her mother is away, working in Kuthiraveli and her father had been missing since 1999.

There is a great demand for admission to the home, says K. Vinayagasothy, the Managing Trustee of Sivananda Thapovanam, but the lack of finances and funds are the constraints they face in providing a better life for the children.

Sivananda Thapovanam was begun in 1956 but razed to the ground in 1984. The children had to be shifted to an old building that had no facilities at all, Mr. Vinayagasothy recalls. After much effort, it was rebuilt in 1998 on the same land, but lack of public support has seen the children enjoy little or no comforts.

The orphanage's requirements of rice are received from the adjoining paddy field belonging to Sivananda Thapovanam. Some cultivation too has become a source of income to buy some of their basic needs. The government contributes Rs. 300 a month for each child.

The increasing number of admissions has resulted in a lack of space, and expansion seems simply impossible, with the Thapovanam lacking even basic facilities like cupboards for the children to keep their clothes and a clean environment to sleep.

---
Wheeling along from colonial days
By Naomi Gunasekara
A man who took to driving because in his day, drivers sported crisp, white uniforms, S. Samaratunga is probably the only trishawman in Colombo who still dresses in immaculate white sarong and shirt to take his passengers on tours down Cinnamon Gardens.

A taxi driver for over five decades, Samaratunga has driven tourists in and around Colombo umpteen times. At 69, the graying, strongly built man is a familiar sight with his sunflower-coloured

trishaw outside the Galle Face Hotel.
He first drove a bottle-green Volkswagen at 19, operating from the Press Club, where his uncle worked as master chef and later switched to the yellow trishaw he owns today. "It became difficult to maintain a taxi when trishaws became popular," said Samaratunga who bought a second-hand trishaw for Rs. 8,000 in 1988.
Having worked in a garage from the age of 14, Samaratunga longed for a better job and envied the taxi drivers who came to him for repairs. "I didn't like my work because my clothes were always dirty," he said regretting his youthful follies, which confined him to a garage job. "I used to cut school and play with friends who didn't go to school and my parents put me to this job. I hated working there. The more I saw of drivers, I wanted to become one of them because they wore white shirts and sarongs," he said.
Samaratunga has a clear perception of the likes and dislikes of his commuters. He has something in store for every commuter who tours the city, such as Dutch buildings, temples, churches, kovils and even J. P. Obeysekara's house, "Maligawa," situated near the race course. "Some of the foreigners want to see a waluwa and I show them the big house in front of Royal College telling them that it is the Cinnamon Gardens' Palace," he says, a smile revealing his betel-stained teeth.
Leaning on the front parapet wall of the Galle Face Hotel, where he has stood for more than 30 years, Samaratunga gazes at the green in dismay. "Things have changed so much," he sighs. "There are so many school children here in the mornings and they misbehave."
According to Samaratunga, the rigid rules of the sudhu mahaththuru had maintained discipline. Umbrella lovers were unheard of those days, he says, looking at a young couple seated under a palm tree, whispering sweet-nothings. "They were strict. They kept to their rules. And people didn't dare break them. Now there is no culture and these children don't listen to us," he says, shaking his head in disapproval.
Going down memory lane, Samaratunga vividly remembers the Independence Day celebrations held at the green and the sailors who were frequent visitors to the few night clubs in town. "We were so scared of them that we didn't stay late unless there were balls or other important functions at the hotel," said Samaratunga, who has caught glimpses of many a gala event at the hotel over the years.
He has seen too Colombo's skyline change drastically. "There were no big buildings in this area except for the Galle Face Hotel, Galle Face Court, Press Club and the Taprobane Hotel on the other side."
Samaratunga has made a number of friends over the years, among them British journalist Paul Harris. "A bomb explodes whenever he comes. This is the only time one didn't explode," laughed Samaratunga who vividly remembers how Mr. Harris forced him to drive to Fort following the Central Bank bombing. "I was terrified and told him I didn't want to go. But he wanted to take pictures."
A father of five daughters, Samaratunga does not have to work hard any more. "Four of them are married and the youngest will get married next month. I didn't save any money but I taught them what they wanted to learn," he says, well content. But he has no plans of retiring, or giving up his three-wheeler, which has seen him through difficult times.For happiness is in showing his commuters the sights and sounds of Colombo.

---
Harvest time is here
The farmers are gathering in their harvest, which still has to be sun dried, before being collected into bags to be sold or held in stock for the family's consumption.

The weather Gods haven't been particularly benevolent this season. They seem to be slightly "miffed" with us mortals. Otherwise they would not send sporadic showers, just when the grain has been laid out in the field to sun.

With power cuts on one hand and the weather behaving in a "churlish" fashion on the other, the stress is mounting in the village. Especially as the women found it difficult to obtain the income they would normally have done during this season, as the power cuts necessitate their being home before dark to complete their washing, cooking and gathering of firewood to 'manage" the next day.

This is the end of the Maha season. But this year the fields that were cultivated were few - mostly those of tenant farmers. So the women had to look for opportunity further a field, and they did. Getting into little bands they went into other villagers, which were in need of experienced reapers and so increased their income. They need money in hand for the Sinhala/Tamil New Year.

This season, I too have participated in growing paddy. A band of women and myself grew organic paddy of a traditional variety. It was an experience. None of us had farmed before. There were a few who had worked as farm hands and who knew how to plant and reap but cost of production and technical expertise had all to be gathered "on foot". No farmer was aware of cost, those who could afford it paid for the labour, those who couldn't did it themselves with the help of their families - these were mainly the tenant farmers.

We were "tenant" farmers. We had to take a bank loan and carry through. So we set out by testing our soil and putting in the nutrients that would help the seedlings to root. We also had to ensure that we planted to gather in the harvest with the rest of the farmers. Most of them had grown paddy from the seed obtained from the Agricultural Department, and that was a 90-day variety, whilst ours was 120 days. We made our own compost and set to work with a will. We learned to plant and weed and tested our soil at intervals to ensure that nutrient levels were sufficient in order to supplement any shortfall. Perhaps it was these measures that helped us avoid all the diseases that paddy plants were normally prone to.

The comments that had been directed towards the women had made them very determined to complete the task. The men had been discarded very early in the day as: "those who make use of an opportunity to gather in the maximum by doing the minimum". The men saw no point in wasting energy, when one could spray a few chemicals and relax!

So it was the children who ultimately lightened the burden. They came on holidays and weekends and helped make the compost, clear the weeds, plant, reap and gather. We had fun. I think the children had a lesson in natural science that they would long remember after their books in the classroom have crumbled. They got so involved that they have taken to attending the organic agriculture workshops together with their mothers!

We have still to make our final accounts and finish drying the grain to ascertain the final outcome - loss or gain? We will definitely cover our cost of production, but whether it would cover the cost of labour, if we sell it, as paddy is doubtful, and there lies the crux of the matter.

There has been more than commitment in this labour; the outcome was derived by people foregoing their daily wage on another task in order to ensure that the results on this would be positive. It was handled with love. That is why; when the grain separated from the chaff and began mounting we felt joy - the joy of accomplishment. It had been a hard road. The end is not quite clear - will we be able to afford to taste the rice we have grown or will we have to sell it all in order to make way to pay for other necessities?

In order to make profit, it is imperative that we bag it as rice. But then we have the problem of storage and getting it milled. Will the consumers be willing to pay a higher price for this quality grain?

It is the cultivator's lack of knowledge in agricultural economics that has made production of rice so costly. But till we are ready to write our own analysis on the subject, will those who buy Basmathi consider a nutritious plate of locally grown rice at a lesser rate?