When the past becomes the present....
By Punyakante Wijenaike
People think I am crazy.

But I don't believe in death.

How can someone you believed in and loved and existed for, suddenly die and fade out of your life

completely ?
I was part of my father. He was part of me.
When I saw him lie in his coffin, so cold, so distant, for a long time I could not carry on as expected of me. I withdrew from my friends, from school, from all activities I used to indulge in with father. I shut the cricket ball and bat into a dark cupboard. I would lie on my bed and weep.
I could not eat or sleep.
I wanted to die and be with father.
My mother cried, my sister cried. I could not cry. It seemed I had died with father.
Because of mother's pleading I went back to school. I forced myself to eat and drink and sleep. Yet only half of me existed. Where was my other half?
When I came home from school there was no one I could talk to. Mother was busy cooking and sister was studying.
Half of me was gone. I was empty, lonely within.
I had a dog and a cat. I saw mother watching me.
'Are you talking with those creatures?'
'No,' I said.
'Then whom are you talking with? Yourself?'
Suddenly I became aware that I was no longer completely alone.
I went into my room and locked the door.
Little by little, I grew better. I began to eat well, sleep better and do better in school. I came home happy, locked myself in my room and talked for hours relating all that had happened in school, like I used to. The cat and dog were with me, no one else. Mother took me to a doctor despite my feeling better and looking better. The doctor was a psychiatrist.
I was given counselling, medication. A psychologist asked why I talk to myself. I could not answer. Would they believe me if I tell them that my father did not die? That he lives within me, giving me strength and support? It took me some time to find out the miracle that had taken place. Understand that my father would never have deserted me. He loves me. He re-lives though me. I am not alone.

---
Indu has marriage on her mind
By Esther Williams
"It is not uncommon in our society for relations to take much interest in marriage plans of spinsters/bachelors, especially when money is involved," says playwright Indu Dharmasena who's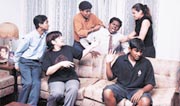 reviving one of her earlier 'hits' on the Colombo stage.

'It's All Or Nothing' written and directed by Indu Dharmasena will go on the boards at the Lionel Wendt Theatre on March 15, 16 and 17 at 7.00 p.m. This hilarious comedy has been adapted from a Georgette Heyer novel and was well received by the Colombo audiences when first staged in the late 1980s.

'It's All Or Nothing,' tells the story of Kumi, the adopted daughter of the late wealthy old Charles Suduwella. As a result of the unconventional will left behind by Charles, poor Kumi finds herself in the midst of a rather comic situation. The will categorically states that unless Kumi marries one of his eligible nephews within 10 days, all of Charles' wealth will be donated to fund for a stray animals.

With the extended family plotting and scheming, complicating matters further, Kumi embarks on a scheme, which she hopes will secure her future with the man she loves. Who wins the hand of the fair Kumi and thereby gets his hands on the much sought after property remains to be seen.

The play promises light entertainment but also depicts how money can manipulate people. Indu plays the role of a rather detached and selfish nephew who gets involved in the family drama.

"The roles represent common characters in our society," says Tulitha who plays the role of someone who is constantly under the thumb of a parent and is not allowed to stand up for himself. Dayan is the arrogant, and overconfident lad who is motivated by money and Rehan is the egoistic, self-centred flirt, all characters the audience can identify with in our society. Other characters such as the dictatorial aunt, effeminate son and absent minded aunt depicting different sides of human nature are dramatized to create scenes that provoke laughter.

The rehearsals saw the cast enjoying their roles. "I thoroughly enjoy acting in the play," says Catriona. The side remarks that have been added to the play on what is currently happening make the play very relevant today.

Catriona Nicholas plays Kumi and Indu, Thulitha Piyasena, Dayan Dias Abeyegunawardena, Asela Olupeliyawa and Anushan Selvarajah play the nephews. Others in the cast are Ruhanie Perera, Wanda Godlieb and Krys Sosa.

The show on March 17 is presented by the Royal College Union to raise funds for infrastructure and sports development at their schools.