Make an impression!
Hesperus Marketing, sole distributor for many international brands of cosmetics and personal care products in Sri Lanka recently launched American Impression perfumes to the local market.

American Impression Perfumes are known for high quality fragrances, catering to a wide cross-section of consumers all over the world.

Meticulous attention is devoted to the sourcing of the finest raw materials and blending of essences and fragrances. Master perfumers with years of experience sit on the quality control panel to ensure that every product that carries the American Impression name stands up to international quality and taste.

---
We need loving homes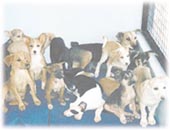 KACPAW (Kandy Association for Community Protection through Animal Welfare) has 70 dogs, mostly females, and is looking for good homes for them. All dogs over six months in age are fully vaccinated and sterilized. Most of the pups too are vaccinated.

Those who are interested in taking in one of these loving dogs as their pets, please contact telephone no. 08-223378 (after 9.00 a.m.) and 074 470292 after 6.00 p.m. KACPAW can take in more forsaken dogs only if homes are found for the ones under their care now. So please heed this appeal.

---
A lingering fragrance
By Esther Williams
"In the winter far beneath the bitter snow, lies a seed that with the sun's love in the spring becomes a rose." So went the words of the theme song of the musical extravaganza, The Pink Rose sung by Serela Athulathmudali and Chevonni Ameresekera. Sung in pure, clear tones, the lilting melody set the tone for the entire show.

Featuring popular Broadway hits 'The Pink Rose' was certainly a memorable production for Colombo audiences. With a stellar cast, bringing together the créme of talent from the local music scene as well as several promising new faces, the sell out performances on February 8 and 9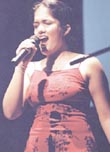 exemplified the show's wide appeal.
Delivering that powerful Evita anthem "Oh, What a Circus', Maxi Rosairo was sensational. Dressed to suit the role in army camouflage, he certainly lived up to the original. The audience was also delighted with the apparitions dressed in black, holding candles who were the Menaka Singers, performing excerpts from the 'Phantom of the Opera'. These as others in the show had terrific costumes, background, lighting and a good sound system that contributed to the show's overall air of professionalism.
Using different wind instruments like the penny whistle, piccolo, flute and Pan Pipe, Emma Hayden provided rich accompaniment to Sureka's 'Colours of the Wind'. The Jayaratnam brothers, Sanjeeve and Krishan with their own adaptation of 'No matter what' from the musical Whistle Down the Wind were much appreciated as well.
Among the new talent was the Adlib group that did 'He lives in you' from the Lion King, with a different arrangement.
One of the stars of the evening was young Serela Athulathmudali who undoubtedly stole the show as she exhibited her capacity to sing a wide range (3 octaves) in the much loved 'Phantom of the Opera'. Serela who plans to go to England to study music in the near future says that she would like to master the Alexander Technique that allows you to relax your muscles to hit higher notes. Jerome de Silva joined her in this powerful duet. The good news for theatre lovers is that Jerome who has to his credit several hit productions such as Cats, Les Miserables, and Lion King has scheduled his next Workshop Players' production -'Phantom of the Opera' for October this year.
Duets by Eranga Goonetilleke and Asithe Tennekoon in 'All I ask of you' and 'Somewhere' were spectacular as was 'The Greatest Love of All' by Mahen Pieris.
The audience was more than enthusiastic over 'the Pink Rose'. "I never knew what to expect, but it was an excellent performance," said Julian Daymond, a visitor from England. "Everyone had exceptionally good voices, although all were not professional singers."
As Triveni, Andrea and Roshni, three young members of the audience and students of Holy Family Convent put it, "The choice of songs and the opera singing was great but the overall effect was awesome!"
While some of the cast were professionals, others were young singers who had only had brief training and therefore had to put in considerable practice. What needs appreciation is that although there were many leading vocalists among them, all could not possibly have solo spots. However they sang together, complementing rather than competing with each other to create something exquisite for the audience. Said soprano/contralto vocalist Prashalini Peiris, "Getting together with so many talented, young people who share my passion for music was a wonderful experience."
A visibly pleased Mrs. Srimani Athulathmudali, the driving force behind the production said she had had a very good response to the show. She hopes their next production of classical music of Bach and Chopin scheduled for April would also be well received. The Pink Rose Fund aims to provide financial support for needy differently abled children aged between 1 and 10 years.