Nushara among Mrs. World Top Ten
By Laila Nasry
The fifty most beautiful married women in the world held their breath, tense with anticipation as did Sri Lanka's Nushara Attapattu (nee Fernando) as the top ten finalists of Mrs. World 2001 were announced: Mrs. America, Mrs. India-and amidst the haze, the cheers and the applause-our very own Mrs. Sri Lanka heard her call.

"I felt so proud to bring Sri Lanka this far," says Nushara back in Colombo after her success in Las Vegas, a proud owner of 'Top Ten' gold medal for having reached the final ten. "It was so exciting-just like a dream." The crowd support for Nushara was tremendous with Sri Lankans from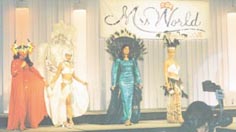 different parts of the country being joined by the American audience, waving flags and cheering her.
The days between December 9-17, 2001 at the Las Vegas Hilton came and went like a breeze for Nushara. Rehearsals, rehearsals and more rehearsals for the grand day, coupled with one-to-one interviews with the panel of judges, had Nushara almost breathless. "But I was not nervous," she says unable to fathom the calm that overtook her during the entire pageant, enabling her to give it her best shot. But she adds as an after thought, "I read in the Bible this verse where God says - I will give you a peace which no one will understand".
The pageant was more or less on the same lines as those Nushara had previously represented Sri Lanka, in the Miss Universe and Miss World. "Except that this pageant gives married women with

children the opportunity to show what they can do for society and breaks all myths that all is over once you get married, says Nushara, adding that Mrs. Israel was a 49-year-old grandmother who went on to win the Mrs. Fitness mini contest
The pageant also held a surprise for Nushara in the form of Mrs. Mexico- Fabiola Sanchez, whom she had befriended at the Miss Universe Pageant. "It was great to discover we were both back at the pageant, married and with a daughter each," she says with a smile.
Mrs. World for Nushara was more than just another pageant of having to look beautiful and vie for the crown. "My crowning moment was when Mrs. Singapore came up to me at the end of the pageant, after all the winners were announced and told me, 'You touched my life'. After all, it's all about humanity, helping each other and moving towards a positive direction in life." Now isn't that a winner talking?