---
Fragrance of hope
By Esther Williams
Well-known music-makers of Colombo have been gearing up since December for the concert, 'The Pink Rose' (A symbol of hope). Organised by the Lalith Athulathmudali Centre, this musical extravaganza would present much-loved Broadway hits. Among the many talented artistses putting the show together are Menaka Sahabandu, Maxi Rozairo, Serela Athulathmudali, Sureka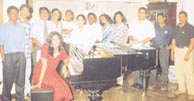 Ameresinghe and Jerome de Silva.

Apart from known singers, others fairly new to the music scene will also join in. One such group is ADLIB, formed by eight ex-Peterites.

"To a little child who had lost her father, the Pink Rose was a symbol of hope," explains Ms. Srimani Athulathmudali, the Chairperson of the Centre.

The proceeds of the concert will go to the Pink Rose Fund, which aims to assist socially disadvantaged groups and differently abled children. The Centre in its concern for 'special children' has already identified those that would require financial aid.

On the programme, Anuruddha Lihinikaduwa, who has been to some of the homes for disadvantaged children says, "You can't help but want to do something, in any way you can".

The Lalith Athulathmudali Centre which has been engaged in welfare programmes in the form of primary education, day care, awareness programmes, family planning, rotational loans, etc., will also promote unknown talent through this show.

While in practice, Menaka, Asitha, Mahen and others with all their enthusiasm seemed in full form. 'Think of me', 'Love Changes Everything', and excerpts from 'Phantom of the Opera' are some of the songs that will be performed during the concert.

Veteran dramatist Jerome de Silva and Miss Athulathmudali are co-producing the show, while the music will be provided by Soundari David, Niranjan de Silva, Aruna Siriwardhane and Dilip Seneviratne. Roshan Wijeratna and his team will assist with the lighting.

Tickets for the concert to be held at the Lionel Wendt on February 8 and 9, range from Rs. 100 to 500.

---
Gypsies in space
By Ashwin Hemmathagama
The premier Sri Lankan pop music group, 'Gypsies' went hi-tech with the launching of their e-commerce site recently.

Gypsies' leader Sunil Perera launching the official website
The site www.gypsies.lk was officially launched with a grand hi-tech musical concert at the BMICH recently. The Gypsies thus become, the first ever Sri Lankan pop group to have an official e-commerce site.
The site will enable thousands of fans to purchase CDs on-line and make international and local bookings for the band. It will also provide a live communication channel for fans across the world with band members.
A large crowd enjoyed the scintillating music of Gypsies and saw the hi-tech features that were demonstrated by Lanka Internet during the launch. The concert was live over the Internet and watched by thousands of fans.
Pundit W.D. Amaradeva was the chief guest and Bhatiya and Santhush, the popular musical duo, the guests of honour.