---
Enter, new Iglesias era
By Sanath Weerasuriya
Enrique Iglesias, the son of multimillion-selling singer Julio Iglesias is the star of this week's 'Original Music Competition', which is promoted by TV Times and M-Entertainment.

At the dawn of the new millennium, Enrique Iglesias was the best-selling Latin recording artist in the world. Enrique was born in Madrid, Spain, where he lived with his mother, his brother Julio,and his sister Chabeli. In 1982, his mother sent them to live in Miami, FL, with their father. In Miami, Enrique was exposed to three different cultures and musical influences - Hispanic, European and American. Enrique's own career started when he was still attending Gulliver Private School, a very prestigious school in Miami. His singing debut was in a play called Hello Dolly, after which he started to practice his singing without his parents knowing.

After a year studying business at the University of Miami, he decided to follow his passion for music. In 1995, he sang in person for his soon-to-be manager, who at Iglesia's insistence of not wanting to use his family name, first shopped his demos as an unknown Central American singer named "Enrique Martinez." It wasn't until he earned a record deal with Fonovisa that Enrique told his father and mother of his aspirations.

Then he flew to Toronto where no one knew him and he could concentrate just on music, to record for five months. That first album, Enrique Iglesias (1996), sold more than a million copies in three months (it earned him his first gold record in Portugal in a mere seven days) and to date has sold more than six million worldwide. The second album, Vivir (1997), has enjoyed global sales of more than five million discs and launched his first world tour backed by sidemen for Elton John, Bruce Springsteen, and Billy Joel.

In three years, Enrique had sold more than 17 million Spanish-language albums, more than anyone else during that period. The US was his biggest market. He also won the 1996 Grammy for Best Latin Performer, 1996's Billboard Artist of the Year, Billboard's Album of the Year for Vivir, two American Music Awards, a World Music Award, eight Premio Lo Nuestro Awards, two ACE Performer of the Year Awards, and ASCAP prizes for Best Composer of 1996 and 1997, in addition to countless accolades around the world. The songs on his first and second albums are the songs that Enrique Iglesias wrote when he was 17 years old. With Cosas Del Amor he moved to more mature content, singing about love and about life. Then came Enrique, Enrique Iglesias' first Interscope album and first in English, bringing his global album sales to a total of more than 23 million. Enrique achieved gold or platinum status in 32 countries. In 2001 he released the follow-up, Escape.

So don't hesitate to get a taste of this sizzling new, which will be available at all Maharaja Entertainment proffered dealer outlets!!

To enter this contest, all you have to do is to answer the question on the coupon No 64 and send it to the address given below.

The address is "Listen to Original Music Contest, No. 64, C/o Maharaja Entertainments (Pvt.) Ltd., 330, T. B. Jayah Mawatha, Colombo 10.

Tell: + 941672425-8, Fax + 941699070. E Mail: me@lgo.lk

All the entries must be originals from the TV Times and no photocopies or faxes will be entertained. All correct entries will be drawn by a panel of judges.

The entries should reach the above address by January29, the latest. The decision of the judges will be final and the names of the winners will be announced in The Sunday TV Times accordingly. Here are the winners of contest no. 60.

Winners of two Sony original CDs are Maneesha Peiris of Battaramulla and Mst. Trevine Juriansz of Boralesgamuwa.

The two audio cassette winners are Yohan Ferreira of Kelaniya and Thanoja Gajanayake of Bopitiya.

The 10% off gift vouchers go to B. Caarthik of Colombo 06, Rizwanul Jennah Shihabdeen of Katugastota, Suranga Rockshan of Akuressa, K.P.D. Fernando of Malabe, Manilka Leanage of Colombo 08 and Shaariz Zabith of Dehiwela.

Posters winners are Jaliya Kasun Hewagamage of Boralesgamuwa, Mahesh Lilaram of Colombo 04, Duncan Unwin of Wattala, Halik Azeez of Panadura and Amith S. Dissanayake of Badulle.

---
Hellman's Angel at MLH
Hellman's Angels is the only jazz band in the world to be fronted by a harpist.

Hellman's Angels will be laying at the Clipper, Mount Lavinia Hotel from February l to 5 aftyer performing in Hong Kong during the festive season.

Daphne Hellman, the harpist responsible for Hellman's Angels, has proved that the 'grand dame' of orchestra (the harp) can swing and pop along with the likes of a saxophone. Accompanying her, on the piano will be Leslie Curtz together with Richard Johnson, who plays a varied number of wind instruments like the bass, saxophone, clarinet and flute.

Richard Johnson and Daphne (Shih) Hellman literally bumped into each other on the streets of New York when he was walking his pussycat, a Bolshoi Blue named Mimi and Daphne's pet Pomeranian dog, Katie, whom Daphne was taking for a leisurely jaunt on her roller blades at the time, unexpectedly gave chase.

The resulting collision sparked a life long friendship. Daphne and Richard have performed in cafes and clubs in New York, under the cloak in the grand central station, down in the subways and also in Paris during the La Fete de la Musique. Mimi and Katie's relationship however still remain rather tentative.

Listen to this duo and Leslie Curtz string you along at the Clipper, Mount Lavinia Hotel in the evenings.

---
Pepsi Millennium Star Talent Contest
The Winners take all
By Sanath Weerasuriya
Keenly participated 'Pepsi Millennium Star' Talent Contest came to an exciting end a couple of weeks back at the Millennium Park hall.

From more than two hundred and fifty entries nearly 25 contestants sang their best songs under Senior, Junior and Group categories at the finals. Saliya Silva , popularly known as local Shaggy won the Best Singer category in The Pepsi Millennium Star Talent contest. He sang Shaggy's 'Angel' with all Shaggy actions and accent.

Levi Selvaratnam ,who sang 'All rise by blue' was selected as the first runner-up and Ryan de Silva was chosen as the second runner-up of the Senior section for his song 'Sometimes when we touch'.

Fourteen year old Kavitha Gunesekera won the Junior Category for her song 'From a distance'. Melissa Perera came second for her song 'Ben' and Master Chathuranga Fernando was adjudged third for his musical accomplishment 'Heal the World'.

The group category was the toughest and had several groups who were highly talented. Groups from Trinity College, S Thomas' College, St. Peter's College competed with many other groups including duos trios and fusion groups. But it was a Shaggy's night . The duo, Saliya and Azlan who sang 'In the Summer Time' won the first slot of group's category.

'The Pepsi Millennium Star Talent Contest' is a brain child of Kaladharshani Varma of the Millennium Developers and organised by the Millennium Park. The main sponsor of the project is Pepsi and TV Times is the Media sponsor.

Ashok Swagop, the country manager Pepsi and Key account manager Upeksha Abeykoon. were there to grace the occasion.

---
Another ethnic movie from Somaratne D.
Somaratne Dissanayake, the award winning director of the widely acclaimed children's film 'Saroja', has recently finished shooting his latest children's film named 'Punchi Suranganaviyak' (Little Angel).

The story, screen play and direction of this film is by Somaratne Dissanayake himself. The story of this movie too revolved around the ethnic problem and is in 1983 era.It will focus on the mentality of the children and stress the value of ethnic harmony.

'Like my previous film 'Saroja', I tried to give the message of ethnic harmony to the people and in this film also I attempted to give the same message", he confessed.

The film is woven around a 10-year-old boy from a wealthy family and an eight-year-old Tamil girl in the upcountry.

Sampath, a ten-year-old Sinhalese boy in a rich family, is suffering from a mental depression from young age, due to lack of parental love and care. His mother has left him, when he was very young.

His father (Perera) is mainly interested in business matters, and Sampath grows up in an isolated world of his own and believes that everything can be solved with money.

Many servants and nurses as the house is too problematic. Velu, a Tamil who doesn't understand much Sinhalese, is the only long serving servant. He is very loyal and concerned about Sampath.

Velu brings his eight-year-old daughter Sathya to work in the bungalow, as it was difficult to find people to work there. Sathya plays and sings in between works, playful while at work. Sampath gradually becomes friendly with Sathya and starts to speak Tamil words. Perera is not happy to see Sampath speaking Tamil and wants to send Sathya back, but doctors advise against it. Reluctantly Perera allows Sathya to move with Sampath and Sampath starts to speak fluent Tamil and little Sinhalese with Tamil accent. This is 1983 period, and Tamil, Sinhalese ethnic tension is developing.

Sampath gradually becomes almost a normal child. After the riots start, Sathya and Velu get caught to rioters. Perera saved Sathya, but Velu was killed by the rioters.

Disgruntled Sathya's mother takes Sathya back, despite the offers made by Perera for them to stay in the bungalow. After loosing the whole new world built up with Sathya, Sampath reverts back to his original condition and starts destroying the households.

After the completion of shooting in Kandy negatives are being printed to be sent to India for finishing. According to the producer the film will be ready for screening in three month.

The line up of the cast with some of the experienced and talented include Malani Fonseka, Tharaka Hettiarachchi, Nityawani Kandasamy, Dilani Abeywardene, Sriyantha Mendis, Sakunthala Peiris, Maheshwari Ratnam, Janaka Kumbukge, Henry Jayasena, Namel Weeramuni and Jayalath Manoratne.

The Punchi Suranganaviyak, was produced by Renuka Balasuriya, while Ravindra Guruge as editor. The technical crew comprise, Suminda Weerasinghe - Camera, Rohana Weerasinghe - Music, Assistant Directors - Daminda D. Madawala, Giriraj Kaushalya.(SJ)

---
Ranjan's maiden effort
By Susitha R. Fernando
Popular actor Ranjan Ramanayake will play the role of a director with his maiden effort in cinema "Parliament Jokes", a satire on local politics.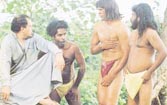 A scene from "Parliament Jokes"
Having acted main roles in over 70 films, Ranjan Ramanayake himself had written the script to the production of Lal Kalu-arachchi.
Speaking to the 'TV Times' Ranjan said that his direction would be a novel experience for the Sri Lankan movie goers as he had not used any obscene language or sex scene providing cheap entertainment which is the method populary used to pull the crowd.
'"Parliament Jokes" is a film for the whole family which everybody can sit together and enjoy" Ranjan said speaking on his first attempt.
"This is not a film done using minimum financial resources expecting big returns but a high budgeted film spending over ten million which is usually four fold of a normal film" Ranjan added.
"In fact "Parliament Jokes" is one of the commercial films made in Sri Lanka with a huge budget in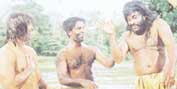 the local cinema industry.", Ranjan claimed.
"Most of members in the technical crew who joined with me had gained experience working in artistic films made in Sri Lanka and this was the first time that they joined a production in this nature" Ranjan said explaining on the direction.
The movie is around three men one a thief, a womaniser and the other is heavy drinker played by Tennyson Coorey, Bandu Samarasena and Ranjan himself.
The first who is known for stealing chickens in the neighborhood enters politics and becomes the President.
And the country is governed by out laws turned politicians.
"Politics is an interesting subject among Sri Lankans. Even though it is a common subject, people are still keen to know what's in the country around them.
So it is an area that people can be made to easily laugh," Ranjan explained why he chose the theme in his film.
Asked about the future plans Ranjan said that he had already finished his second direction which would is completely different to his first.
The film "One Shot", a thriller movie will be released on the EAP circuit soon.
Others in the cast in the 'Parliament Jokes' are Sanoja Bibile, Sasanthi Jayasekara, Rathna Sumanapala, Raja Sumanapala, Manike Aththanayake and many others.
Jayanath Guna-wardena was behind the camera, Suneth Nandala was the art director and was edited by Denzil Jayaweera.
"Parliament Jokes" was scripted and directed by Ranjan Ramanayake for Lak Films.