---
Payback time
It's a classic story of success. But now Elmo Jayawardena's biggest passion is to help the less fortunate through AFLAC. Kumudini Hettiarachchi speaks to the man who believes life's blessings should be shared.
"Gange oru padinna yanawa," he says, winding up the phone call to fix an appointment for an interview.
That in a sense sums up the simple pleasures that Elmo Jayawardena enjoys. Elmo, 54, the pilot of Jumbo Jets, Elmo the author and Elmo the man who has prominently been featured as an 'Everyday Hero' in the first issue of Reader's Digest for the new year of 2002.
But Elmo's passion, which he shares with his "auto-pilot" Dil, is AFLAC, the Association For Lighting A Candle, which has as its motto — 'it is better by far to light a candle than curse the darkness'. And that's just what he has been doing since 1995, along with camera-shy, unassuming but behind-the-scenes worker, wife Dil. They, together with numerous others have touched the lives of many, many humble men, women and children scattered across Sri Lanka. Elmo's condition for the interview was that the 300-odd coordinators who have made AFLAC a reality be mentioned, for as he puts it, "they are the ones who are doing all the hard work".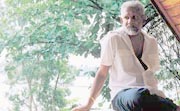 Elmo at his riverside home
Elmo's story is not much different to many others in Sri Lanka. He was born into a very wealthy family, the son of a Sri Lankan RAF fighter pilot who later worked as a senior captain at Air Ceylon. But at 12, life dealt a blow that would have left most others reeling. His father lost his job and the Jayawardena world collapsed. The wealth vanished.
"I didn't have a pair of shoes to wear to school. I went in slippers," says Elmo, without bitterness. By the time he was 14, he was the breadwinner, while going to school at St. Sebastian's College Moratuwa. The family was left with a small property and he did the plucking of coconuts. But in school, he still had fun, played basketball, ran races and even played bridge.
"We didn't miss many of the material things, only suffered the shame of poverty. There was a lot of sadness. In those circumstances, you became a problem or you became very strong," he says. As we sit on the balcony of his simple but elegant "River House" which Elmo has described through the eyes of his domestic Sam in the book, 'Sam's Story' (by the way he was the one who greeted us when we went there last week), the serenity of the surroundings overwhelms us.
The imagery from the river, which Elmo loves so much and which flows gently along the boundary of his Moratuwa home, comes out very strongly. "I learnt to paddle my own canoe, carrying the others along with me." He means his siblings — one brother and two sisters. Seventeen saw him making fan blades for the Brown's Company for Rs. 2.14 per day, eating "kimbula banis" for lunch. A minor break came when he joined Carson Cumberbatch as an accounts clerk in 1965, earning Rs. 214 per month. It was at Carson's that a colleague showed him the newspaper ad calling for stewards for Air Ceylon, with the princely salary of Rs. 400 a month. Elmo applied and got the job.
"It was strange, because many of those on the Interview Board had worked with my father. Some liked him very much, others didn't. All minor staffers liked him because he was ready to give the shirt off his back if someone was in need." For him, the steward's job was a huge jump. There was his salary, and all those other allowances. He handed his pay packet to his mother who would give him something for his daily expenses. "The Rs. 2 I got, I used to eat gotamba rotti," says Elmo. But the hurts and humiliations were there and his voice takes on a strange tone. He remembers how for his first flight there was no suitcase to take his clothes. He and his mother walked the length and breadth of their hometown looking for one. They could find only one, "a very large one made of canvas". That was filled with his clothes and those of his brother (his alone were not sufficient) for that memorable flight to Bombay.
Transport to the airport was provided only from Ratmalana, so Mosa, the domestic help, lugged him and the suitcase on his bicycle. There an experienced stewardess asked him where he was going and when he told her, she called all the others, making him and the large suitcase the butt of their jokes. "Most probably she didn't realize that it was the only one in the whole of Moratuwa. The suitcase lesson was for life. I treat all those with trainee badges with respect and tell them to come to me for any help."
From then on his career took off. A senior suggested that he take to flying and he did so. But times were still hard and he brought back such things as suit lengths and Nescafe on his flights out, to help his family keep their heads above water. He also kept hearing of his father's generosity and kindness. Elmo was given flying lessons free of charge and he in turn never charges for anything he teaches. "I think I have paid back that debt of gratitude," he says.
His personal life too had taken off now and he and his new wife Dil (short for Dilrukshi) decided to go in search of greener pastures to England. He asked Air Ceylon for no-pay leave to take the prestigious Flight Nine flying exam and headed for London. While studying, he worked petrol pumps, while Dil did a few odd jobs. In 1975, they bought a Japanese car, came back and sold it for Rs. 50,000. Then began their success story. By now Air Ceylon had evolved into Air Lanka and Elmo felt that the pressures were building up within the organisation, which would affect his ability to take independent decisions. That led to him landing a top job at Singapore Airlines, even without submitting a proper CV. 1988 to 1995 was time to consolidate their family life, with their daughter and son, in Singapore.
1995 got both Dil and Elmo thinking. What could they do for their country? They were a wonderful team, but could they work with any other organisation back home? "We wanted a different kind of organisation, with people who were not thinking of charging for their services," says Elmo. Dil had her reservations. "How could we cope with all the administrative work, while being based in Singapore?" she asked, but was persuaded by Elmo to give it a try. It has, in fact, worked very well and though flamboyant and witty Elmo is the spokesman for AFLAC, Dil is the bedrock on which it has been founded. Now their grown-up daughter and son have also joined in.
"AFLAC works in the fields of shelter, clothing, food, health and education. The funding comes from foreign and local donors. Each recipient has a coordinator and the only criterion for getting assistance is to be in the needy category," says Elmo.
The coordinators are also unique. Any AFLAC function sees top bankers, doctors, engineers and politicians' wives rubbing shoulders with sweep-sellers, trishaw drivers, housewives and retirees who give of their time. Elmo takes pride in relating how AFLAC sponsored a university student, who has now passed out and herself become a coordinator. Also the son of a watcher, they sponsored, who is now a dentist, rides a bicycle to his small clinic, hides it, wears his tie and extracts teeth.
"What we are doing is not charity, but duty. It is payback time for all the blessings we have been bestowed with," adds Elmo passionately.