---
After Dark
Dance with Tony & Ayesha
Husband and wife duo Tony and Ayesha will be in action at the "New Year's Eve Dance" at the Union Bar & Grill Room at the JAIC Hilton.

Beverly Rodrigo will be on piano playing all those age old traditional favourites.

---
Sharmalee to rock 'Ellaidhoo'
Sharmalee de Silva of 'Dream Team' fame will be in action at the 'Ellaidhoo' island in Maldives for the New Year party. Sharmalee, who is now based in Germany as a professional singer will return to Frankfurt in early March 2002.

'Till then I will be performing at night spots in Colombo', she said.

---
Sam in Lusaka
Veteran musician, singer and entertainer 'Sam the Man' will be in action in Lusaka, Zambia, tomorrow for their Annual New Year's Dance.

This will be his third visit to Zambia and 18th international tour.

According to Sam, he was four times performing in USA (New York, New Jersey, Washington, LA and in Arizona State), twice in London, once in Australia, three times in Dubai, a three months contract in Maldives, once in New Zealand and once in Japan.

'These shows have always been a sell out and many are my fans who had to be turned away', he said.

'But don't you worry - SAM is determined to organize many Sing-A-Longs in the coming year,' he added.

His professional career spans 46 years. He was conferred an Honarary Doctorate in the Performing Arts by the Open International University in Dec. 2000 in recognition of his commitment and dedication to the Music Industry. He is perhaps the only musician in the Western Band Scene to be conferred such a high honour.

---
Golden Ball with In Harmony
Gold FM, Sri Lanka's only classic oldies channel will once again celebrate the New Year in style with the 'Golden Ball 2001 New Years Eve Dinner Dance' at the Kings Court of Trans Asia Hotel on December 31.

The band, "In-Harmony" whose members are veterans of the local music scene, will keep the fans delighted. Gold FM has spared no pains in making the night a memorable one.... Tickets are priced at Rs. 3500/- per person and are available at the Trans Asia Hotel.

---
Lakshman's 'Christmas is Here'
Lakshman Perera of the country band 'Orange Blossom Special' has released his second audio for this Christmas titled 'Christmas is Here'.

'Christmas is Here' contain 12 Christmas songs including very popular Instrumental's Frosty the Snowman, 'Jingle Bell Rock', 'Oh Come', 'Amazing Grace', 'Auld Lang Syne,' 'Hark the Herald', 'Under the Mistletoe,' and 'X'mas is Here'.

He will be performing on 31st Night with Ranjan, and Nadihsa Trio Named "Swing" at Babarin Reef Hotel in Moragalla for 3rd successive year.

---
Little Hut on beach
'Little Hut' will be re-located on the beach for the New Year bash at Mount Lavinia Hotel on December 31.

DJ music and food stalls will be open from 9.00 pm till birdcall. The entrance will be Rs. 500/- per head.

Live music from 70's to 80's, for dancing from the band 'Lazer' will come alive at the Terrace. The gala buffet will be on from 7.00 to 12 midnight and the priced has marked as Rs. 900/- per head. The mid-night buffet after 12. mn is Rs. 350/= per person.

Oriental music with 'Best of Chef Publis' buffet style will cost only Rs. 700/= nett from 7 to 12 at 'The Clipper'. There will be a Portrait Painter and Astrologer in attendance at the hotel at the service of revellers.

---
Rajive & Corrine at New Year bash at SSC
Star studded Entertainment with many surprises will be on offer at the SSC, on New Year's eve. The spotlight will fall on 'Rajiv and The Clan' with Corrine de Almeida and a DJ in action. Veteran compere Bevil Palihawadana will keep the ball rolling as the master of ceremonies.

---
Damage at CR & FC
'Damage', the new band with hot tunes, will be in action at the CR & FC on December 31 for their new year bash.

'Damage', the youthful band which first hit the Sri Lankan music scene in June 2001 with their Saturday performances at the 'Blue Leopard' at G.O.H, Colombo, seems to get better with every passing day. Having entertained hundreds at the 'Leopard' on the big nights, the band then teamed up with Carlsberg and have since enthralled audiences regularly at venues such as the CR & FC, the Otters Aquatic Club, Area 51 and Blizz playing for many a theme night. 'Damage' have also been entertaining visitors to the Deli Market, World Trade Centre every Friday since July.

The band is cabable in entertaining virtually anyone with their wide repertoire, 'Damage' never fails to cater both to the young and the old. This may be why they've been a hot favourite at Dances such as the Trinity Dance, The Hilton Sports Club Dance and many more.

The talented young lot comprising 'Damage' are: Inshiran Dean on Bass/Vocals (Dream team), Shehan Perera Lead Guitar/Vocals (Raid), Oshan Sampath on Drums (Image) and Prageeth Jerome on Lead Vocals (Dream Team), Ashantha Perera Leader/Keyboards and Vocals the X'periments).

The band's versatile singer Prageeth has also recorded originals which may very well reach the local charts.

---
Discover new faces in Bonsoir
Another year has come to an end and popular French TV magazine 'Bonsoir' finishes its 16th year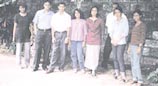 on Sri Lankan television.

'For our team, 2001 was a year full of exciting changes and adventures,' said Bonsoir producer Sumaya Samara-singhe.

'If you have been unable to catch us every Monday at 8.00 pm, here's a second chance to get a glimpse of some of the best programmes which were produced during the past year,' She added.

This week, on Bonsoir the viewers will also be able to discover the new faces which make up the "Bonsoir" team. So do not forget to switch on your television on Monday, December 3l at 8.00 pm and still have time to go for a New Year bash after watching "Bonsoir".

Bonsoir is produced by Sumaya Samarasinghe

Bonsoir on 3lST Dec.@ 8.00 PM on ITN

---
Tangerine : A dream hotel group
Tangerine group hotels have been in the hospitality industry for over 35 years with 3-5 star category hotels in Kalutara, Bentota, Nuwara Eliya and Trincomalee and earned a reputation for providing the best service and comfort and value for money.

Tangerine Beach hotel is 45-minute drive from Colombo and has the largest venue to conduct a convention that can accommodate up to 300 delegates or 500 guests for a cocktail reception and 3 other rooms that can accommodate 30-40 participants for seminar. Between Royal Palms Beach Hotel and Tangerine Beach Hotel there are over 300 well appointed sea-facing bedrooms with all modern amenities. Other facilities are 24-hour room service, two restaurants, two bars, swimming pool, modern gymnasium, two well maintained clay tennis courts, a squash court, ayurveda centre, shiatsu massage and a kiddies play area with a kiddies pool. Both hotels share a large playground where you could play a game of soft ball cricket or a game of soccer. The sports animator would be glad to co-ordinate traditional games and events during your stay.

Balinese type, Royal Palms Beach Hotel is the flagship hotel of the group and have been the recipient of two awards for quality and service by leading tour operators from Netherlands - Hotelplan and TUI Germany. The designer bedrooms with boarded floors and large balconies overlook the sea and the surrounding lagoon type pool. Coffee shop/Grill, the fine Orient Restaurant which serves seafood specialities. All main meals are served at the Ranthalu Restaurant which has an open air terrace. For evening entertainment the Night Jar and Pub and discotheque operates three days a week. There is also a shopping arcade with a gift boutique, handicrafts and a Jewellery store.

The Grand Hotel which is a landmark in Nuwara Eliya, better known as "Little England" was originally the residence of Governor Edward Barnes has been constantly upgraded in keeping with the changing trends, has 155 bedrooms with heaters, 24-hour room service, an English styled Bar with 3 excellent snooker tables, a Supper club and a new Indian restaurant. About 130 participants can be accommodated classroom style or 350 invitees for cocktails in the conference hall. The Governors wing overlook the well manicured garden and the new wing overlook the golf course.

Lihiniya Surf in Bentota is one of the first hotels to be built according to the ILO master plan done of 1965 has 86 air-conditioned sea facing bedrooms. This budget type 3 star hotel also has a swimming pool, snooker, ayurveda centre and light animation and entertainment.

Most of all Tangerine group hotels boast of well experienced staff who have been with the group for a very long time and understand the customers needs when planning a holiday or a conference.

---
First Iranian Tour group in the city
The first Iranian tourist group of approximately 40 passengers will be arriving in Colombo on December 30 on Mahanair.

This group is scheduled to visit various historical places like Kandy, Galle, etc., and the programme will be conducted by M/S Silver Wings (Pvt) Ltd (Member of Expo Group), who will be the local agent for this group in Sri Lanka. This is one of the series of groups that will be arriving in the future from Iran.

Silver Wings (Pvt) Ltd will be organizing the warmest welcome for the group at the airport and the hotels respectively.

This would be a boost for the Sri Lanka tourist industry, as after the attack on the airport the market for tourism has been for a declining situation. This feat of the Iranian tourists paves the way for other tourists to come to Sri Lanka without fear.