---
Give up their homes or their livelihood is the no-win choice of the fisherfolk on the coast
Sea invasion
By Chandani Kirinde
The sea is their best friend and their worst enemy. They go to sea and bring back its bounties, selling them to make ends meet. But when the sea unleashes its fury on these coastal dwellers, there is little mercy.

At least 52 kilometres of Sri Lanka's coastline from Nattandiya in the northwest to Hikkaduwa in the south faces a high rate of erosion. Over the years, thousands of fishing families living along the beach have been affected. Several have had their homes washed away while many other dwellings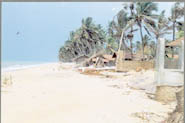 are in imminent danger of being lost to the sea.
Janitha and her husband, Lowe, of Ulhitiya, Lansigama in the Wennapuwa area saw their home being washed away less than a month ago. They had spent all their savings to build the house which took them more than six months to complete. The modest two -bedroom structure built of brick with a tiled roof was a dream come true for the couple who had lived in a house made of wooden planks since they married more than 19 years ago. But their happiness was shortlived. The unrelenting surf took its toll on their home and one afternoon, the structure collapsed.
"We knew it would happen someday but never expected it so soon. We lived in this house only a few years and now we are again in a house made of wooden planks with a mud floor," Janitha said.
Many of the residents of this coastal stretch in Ulhitiya have been living here for the past 10-15 years and earn their living by fishing. "Our livelihood comes from the area and we need to be close to it," says W. Preeman. The waves reach the front door of his house during stormy weather and he knows it will only be a matter of time before his house is destroyed too.
"I know in six months our home will be lost. I have to think of finding a safer place for my family," he said.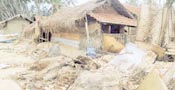 Back to a cadjan-thatched home is Janitha's plight
They feel that their repeated requests to politicians in the area to address their problem and take measures to prevent erosion have fallen on deaf years. "A few years ago, the sea was more than one kilometre away from our homes and we had many trees in the front garden. Today they have all vanished," said Preeman.
Some of the fishermen have been offered land inland but they say that moving away from the coast would mean no livelihood. "We will starve to death being away from the sea," said Lowe who takes his boat to sea each evening and comes home only in the morning with the catch that he sells in the market. The economic problems that are affecting the rest of the country are an added burden on the fishing community, and with nature too not being on their side, they face greater hardship.
In the worst-affected area around Nattandiya and Wennapuwa, it is not solely the natural process of erosion that is taking place but heavy sand mining in the Maha Oya that has also aggravated the situation.
The Department of Coast Conservation (CCD) meanwhile is hoping the new coastal resources management project that will get underway shortly will be the long term solution to preventing erosion.
CCD Director Nissanka Perera said Sri Lanka's coastline faced an erosion rate amounting to four to five metres loss per year. In the Wennapuwa area alone, the Department had spent upto Rs. 6 million a year doing emergency work on about four kilometres of coast. However, it has been found that their methods such as the use of boulders and quarry material had few benefits in the long term and provided only short and medium term protection.
There have also been complaints regarding the use of these methods especially from those in the tourist industry who felt that the natural beauty of the beaches was being affected by the use of heavy building materials. The fishing community also complained that access to the beach was being impeded by these measures.
The new project funded by the Asian Development Bank (ADB) and the Netherlands government involves a grant of US $ 40 million. This money will also relieve the government of its annual expenditure of around Rs. 100 million on temporary erosion control measures, Mr. Perera said.
Under the ADB funded project, sand would be dug from below 15 metres from identified areas off shore and pumped along pipes onto the beaches, thus shoring up the coast. At least two million cubic metres of sand would be used to build up a 10 kilometre stretch in the worst affected area in Lansigama. This would take at least four years to complete, Mr. Perera said, with work expected to get underway shortly.
Though the new conservation plan will come a little too late for people like Janitha, it is a glimmer of hope for the other coastal dwellers living dangerously close to the most beautiful setting that nature can offer.