Water beauties
By Sanjeevani Seneviratne- Zimmermann
I was certainly proud to be a past pupil of Visakha Vidyalaya when I sat amazed at the talent and skill of the cast of young Visakhians when they staged Beauty and the Beast, last Saturday at the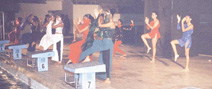 Sugathadasa swimming pool complex.

Only my desire to see the show made me ignore the disorganised parking facility and the growls of my husband who had to waste more than 20 minutes and finally parked the car on the pavement with much discontent.

The show started in Sri Lankan style, only a few minutes after 7 p.m. Yet as the traditional fairy tale of Beauty and the Beast was slowly brought to life, it did not take long to realise that long hard days and hours had gone into this production. The costume designing and colour co-ordination of all dancers especially that of the Beauty should be commended. I am sure much research and creativity had gone in to the designing.

The choregraphy and sychronization was fine except for one or two who strayed slightly trying to keep up with the rest of the team. The dialogue, however, was not all that clear throughout the show.

The only minus point with the lighting was that the audience had to face the glare, which was occasionally blinding. It would also have been better not to have such long dark moments between scenes. This undoubtedly breaks the viewer's rapport with the performers.

Although the acting itself varied, all the dancers gave of their very best. The final dance by the Beauty and the Beast and all the dance sequences in the water deserve special praise. I am no art critic but I remember the time we had difficulty finding a girl who could just manage to be in the water without drowning for inter-house sports meets! Visakhians have indeed come a long way. And hats off to the team spirit, organisational skills mixed with an unmatched confidence of a bright bunch of girls .The show overall was breathtaking. Seeing young Visakhians perform in this manner made me so proud to be an old Visakhian that it nearly brought tears to my eyes!

---
Shehara's melodious sojourn
By Randi Goonetilleke
Talented young musician Shehara Fernando performed at the Colombo Hilton recently giving the select audience of invitees a memorable evening of music.

Shehara was born in the U.S and though having lived all her life there, she has not forgotten her motherland. Now nineteen, she was returning to Sri Lanka after 12 years, with a bundle of achievements in hand.

Shehara started her journey in the field of music when she was three years old. She is the youngest in the family having an elder brother who is now a doctor in the States. "We all used to play when I was small, but now the rest of my family doesn't have time for music. I'm the only one who continued," she explained.

Shehara started with the piano when she was just four and at fourteen, obtained her Associate Diploma from the Trinity College of London. She now goes into her third year in the Blair School of Music at Vanderbilt University on the Dean's Honours Scholarship. She plans to complete her studies in music and then enter law school for despite her talents in the field of music, her ambition is to be a lawyer.

During her high school life at Woodward Academy, Shehara was a member of the band playing the clarinet and the keyboard. A member of the Woodward Academy Dance Ensemble, she won the Masters Award in Dance and the Directors Award in Band. Shehara was also the winner of the Royal Eagle talent competition where she was adjudged the most talented senior by her peers.

Adding up to her list of qualifications she was a five-time winner of the Georgia Music Educators Association All- State Competition and had been named as an outstanding performer in the Georgia Music Teachers Association for four consecutive years.

"I prefer to stay in the U.S because what I've achieved so far and what I have to do is there and now I'm used to that lifestyle," she says. But her attachment to Sri Lanka is strong. On her next visit, she hopes to hold a concert in aid of the soldiers.

Children's Day project

The Interactors of Kingswood College, Kandy, are organizing their annual Children's Day project - Amisha '01 - on October 5. They hope to collect the following items from generous donors and distribute them among the students of Sithumina Vidyalaya, Bowalawatte, Kandy, who need assistance.

* Stationery (exercise books, pens...etc)

* Clothes

* Story books

* Shoes & School Bags (used materials are accepted)

Contact Numbers - Amilaka-08/217077 (President, ICKCK) and Lakshitha-08/225897 (Project chairman)

---
Wedding best
By Rochelle Jansen
A wedding happens once in a lifetime (generally). And for that special day the preparations made are countless. How often we hear prospective brides and bridegrooms running helter-skelter asking almost every friend, relation or friend's friend who the best photographer, caterer, decorator,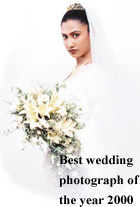 designer, florist, printer and - the list goes on - is.

And how, one wonders do the 'best' actually achieve that status to be so highly recommended?

For Ravindra Silva (Ravi as he is better known), it has taken seventeen years to reach his place among the best. Two competitions, both organised by the National Art Photography Society of Sri Lanka (NAPS) in the years 1988 and in 2000 (after a lapse of twelve years), were cornerstones of his career. He won the title of 'best wedding photographer of the year' both times, bagging the 'best wedding studio of the year' as well in 2000.

Ravi is the third generation in his family after his grandfather to take up this line of business. "After I finished my schooling, it was only natural to take up photography...no, I didn't feel compelled to take to it, I liked photography," said Ravi.

Ravi who today, specialises in wedding photography didn't start out as a wedding photographer though. "I started working for advertising agencies at first," he said. It was only after he submitted and won the title of best wedding photographer of the year in 1988 that he decided to specialise in wedding photography.

"A lot has changed since then," says Ravi. "Several years ago, studio photography was the norm. But today, most couples prefer to have their photographs taken at the location of the ceremony." However, Ravi, not being one to just 'go with the flow' is trying to break this growing trend. He doesn't discourage his clients from having their photographs taken at the location of their choice, instead, he gives them options to make studio photography just as exciting. Options so tempting that a couple would drive all the way to his studio in Mount Lavinia to have just that one studio photograph taken.

Options that come in the form of innovative backdrops of different colours and gradients; Props, that come in the form of a gramophone, a traditional oil lamp and even a trained dove.

These dreamy unique settings and colours, a fast developing characteristic of Ravi's wedding photography, give character and a certain piquancy to his work.

"The time I spent in the advertising field helped me a lot in developing creative photography," said Ravi, admitting that he too has had his share of trial and error in his climb up the ladder.

Another characteristic of his work is that he tries to make each wedding album unique. So that every couple who goes to him knows that they will have an album which would truly be of their very own wedding and not a duplicate of other couples' poses and settings.

Ravi says he spends time studying the bride he is to photograph and tries to capture her at her best. For a wedding album too, Ravi uses different techniques. For instance the background could even be a musical score. He is also not afraid to use a white background to photograph a bride. In fact, the photograph that won him the title of best wedding photographer of the year was against a white background.

Ravi has also been involved in a variety of special effects even before the onset of digital technology.

Innovation is the key word to this photographer whose future plans include designing new backdrops and improving his studio.

My final question to Ravi was, to ask him if he had any advice to offer budding wedding photographers. "Yes," says this photographer who himself admires the work of Jerome Cruz and Dayan Vitharana, "a wedding is a once in a lifetime occurrence, there are no replays of emotions, gestures or situations. It is therefore very important to take the correct equipment and punctuality is also a must. A wedding photographer should try to finish his job as fast as possible without much harassment to the couple.

And in no way should he dominate or disturb the ceremony, because at a wedding it is the bride and the groom who are the two most important people."