Have you seen this man?
Authorities yesterday released this photo of one of the members of the notorious Stagefright&Panic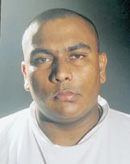 theatre group. His name is Anuruddha Fernando a.k.a. Big Mama, Big Man, Fat Boy among others. We file herewith for the reference of the general public and all loyal theatre lovers a profile of this man.

Anuruddha Fernando was born sometime between 1970 and 1980 (details are yet to emerge of this event). After a childhood spent in terrorizing fellow students at the Montessori he moved onto Isipatana College and to St. Thomas College. He claims an illustrious school career but has admitted to a close accomplice that he all he ever 'acquired' was a penchant for food and a unique walking style.

He claims to be a 'gore-met' and constantly spouts various theories on food and culinary styles. It is now believed that in his formative years he developed an insatiable appetite, which even after constant attempts at appeasement continues to grow. It is rumoured that he once finished over 10 egg hoppers and 50 plain hoppers in one sitting and upon completion of the meal, was heard muttering that he was "still, a tad hungry".

He is usually seen hovering around Colpetty (at Liberty Plaza), HFC Bambalapitiya, Ratmalana, and at the back doors of most of Colombo's restaurants. He lives under the illusion that he is a good actor and even tries to attempt acting in various theatre productions.

Anuruddha Fernando entered the Colombo University sometime in the mid 1990s. He was first seen at a lecture in February 1998. When questioned by the University authorities as to his inexplicably lengthy absence from classes he muttered the now famous lines "I will be the pattern of all patience and say nothing."

His natural expulsion from the University was met with fierce resistance and our hero even threatened to go on a hunger strike. His hunger strike of three minutes 21 seconds entered the Guiness Book as the shortest in history. In a blatant attempt to get publicity he even tried the hunger strike a second time around and had to call it off only when all the fast food outlets refused to sponsor the strike.

Anuruddha Fernando is currently part of the vicious group of people who are attempting to perform the Complete Works of William Shakespeare in 2 hours. Having been the only one of this group to have set foot inside a University, Anuruddha styles himself as an 'intellectual' and 'academic'. His recent exposure to blank verse has left him delusional and he is prone to violent outbursts of unrhymed iambic pentameter. He called the authorities yesterday and threatened to repeat an entire Shakespearean soliloquy over the phone. The public is hereby warned that this man is a blank verse freak and is extremely dangerous when under the influence of food. During the call Anuruddha also revealed to the authorities that their plot to bombard the bard will definitely go ahead in September at the Lionel Wendt theatre. He claimed to have the support of the other members of Stagefright&Panic as well as Dialog GSM (whose cellular phones they are using to spread the doctrine), YES FM (whose airwaves they are using to reach their loyal fans), Sonali White of the Haddai Label (who is preparing the outfits for this plan) and The Sunday Times Newspaper (who will publish in detail all articles of interest in connection with the evil plan to take the Bard to Bollywood!)

The Compleat Wrks of Wllm Shkspr, at the Lionel Wendt from September 13th to the 16th. Box plan and tickets at the Wendt.

---
Music all the way
By Randi Goonetilleke
Though their birthday was only about two months ago, 'Sound Journey' has been taking the local music scene by storm. Performing regularly at the Rhythm and Blues club on Duplication Road, this band of five friends have made their dream come true. Playing music of the seventies and eighties they seem to be one happy bunch of friends on a journey of music. Though 'Sound Journey' is new to the music scene individually their experiences run back to more than ten years.

Band leader Shane Berenger having played for 12 years and born to a family of musicians seems to have music in his blood. The thought of doing something and doing it differently made him bring together a group.

The others of this band include Suresh de Silva, the recording engineer who has more than 16 years experience. The key board and vocals are his responsibilities. The guitarist and vocalist Bonny Appaswamy has been playing abroad for many bands and has 16 years of experience.

M. Rez the drummer of this band being in this field for 14 years has now achieved his ultimate goal by joining Sound Journey. Also joining them is bass guitarist Rohan Nethsinghe who has played and worked in Russia.

Having achieved their goal as a band, this bunch of friends could hit the charts one day. Judging by their enthusiasm and talent that doesn't seem too far away.

---
A time to be married?
Single...and loving it!
By The Singleton
As I sat at home one day, minding my own business, in burst my mother. She had just been to the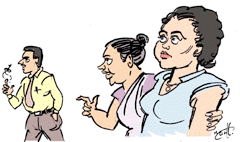 library and by the excited look on her face, I gathered she had some wildly interesting titbit that she couldn't wait to share with me. This would usually start off one our famous marathon 'chats'. But no, this time things were different; nothing had changed really and yet something had.

"I saw this nice young man at the library today," she said enthusiastically. "He was tall and good looking and had a very pleasant air about him. He's also interested in literature, I saw him in that section. He must have a car because I noticed he had a car key in his hand (when did mum get so observant?)."

"So?" I said wondering where all this was going.

"So, I thought he looked good for you. Not that I'm trying to marry you off or anything darling, but it's about time we just looked around, no."

Then it slowly dawned on me... 'Oh my goodness, she's trying to tell me that I should get married.' My rational mind told me that my mother didn't mean just yet (and hopefully not to the stranger in the library, even though he didn't sound too bad), but the rest of me, which is more often irrational, screamed, "Maaa-aaah! What's wrong with you? I'm too young to do that" (in a tone which would be deemed more appropriate to say 'I'm too young to die').

And then it sank in...I had reached that torturous, most traumatic stage in any young person's life; I had reached a marriageable age!

It feels a bit strange, after being a kid or a slightly immature young adult, to realise that people think you could get married. My mother (in all fairness to her) never really pushes or pressurises me about the marriage issue, but even she 'can't help' looking at 'prospectives', be it in church, at a play, at a social gathering or even in the super market. But from her point of view it's a little bit of entertainment I shouldn't grudge her.

But taking into consideration social norms and perspectives the whole 'marriageable age' business can become quite an issue.

Michelle: Maturity is a must

"I don't think there is a specific age for marriage," says Michelle, "But when nosy people keep poking and prying into the lives of all the single people they know, it can have an adverse psychological effect on those at the receiving end. And sometimes people remain single due to various reasons; otherwise they would've been married. Unfortunately very few see that."

At 25, Michelle is still single, but has found that special someone. Now she has to face the whole 'why aren't you getting married', 'when are you getting married', 'what are you waiting for' routine. "I have my reasons," she says, "I think before you get married you have to get used to the person you are going out with. Only when both individuals are ready should they get married. There are a whole lot of other issues to get used to once you're married, but which can be managed better if you know each other very well."

However Michelle also feels that for a girl, it is best to marry young, taking into consideration child bearing and bringing up a family. Having children young is better, both physically and emotionally, she feels, as there won't be such a big generation gap between mother and child. As for guys she feels that the more mature (mentally) they are, the better. "I think if both parties pay attention to life and growing up, they both reach a certain amount of maturity at some point in time and I think at that point they are ready for marriage."

Ranjith: Financial stability is important

"Marriage?" says 25-year-old Ranjith. "Now?" Obviously something he hasn't given much thought to. "I don't think I'm ready for marriage yet, there are so many other things to do; I have my studies and my career to think of at present. I don't think I will be ready for marriage until I'm at least 28 or 29 years, or even after, but definitely not before that." His reasoning for this being that he would by then be qualified, well established and in a position to support a family.

"I don't think there is a marriageable age, in particular for anyone, although my ideal would be over 28 years for a guy and maybe 26 years for a girl. But really this is not a fixed age; it could be higher, or lower depending on the person's level of maturity.

I believe in marriage, but I'm not sure, as yet, whether I would get married or not. I think my marriageable age (or anybody else's, for that matter) would come the day I found someone with whom I could spend the rest of my life with. And, in addition to that, I would be able to support her (and our family if we have one) both materially and emotionally."

Menaka: Start young

"I'm only 21," says Menaka, when I ask her about marriage. But then she surprisingly adds, "but I think I'm mature enough for marriage, the only hitch being that I don't know how to cook."

"Of course I believe in marriage. Doesn't everybody?

"I think every girl's dream is to be a beautiful bride (I'll manage the beautiful part somehow). I don't think a girl should marry too young, however it's also not advisable to wait for too long either."

Menaka feels that 24 would be a good age for a girl to get married and adds that 27, 28 is a bit of a long wait. "I think as far as society is concerned once you hit 22 it's the 'darling, haven't you found someone yet?' routine. The matter of whether a person is ready for it or not matters very little to them and the longer one waits, the whole issue becomes almost a burden that one could easily tire of."

Menaka is a firm believer in starting young. "For starters you've got a longer time to enjoy your years together. Also when you are younger there are a lot of things you may want to do, which you lose the inclination for when you are older.

"So if you get married young, you could probably do them together. When you're older both people have 'been there and done that' and that's no fun. Still I understand that many people wait because they have other priorities and issues they need to settle before they make that final commitment. And it's always best to wait until you understand the commitment fully and have the time and energy to devote to this whole new aspect of life; which is about learning to accommodate another person. When you really think about it, marriageable age is not a given number as such, it's more about an age of maturity."

As for guys, "They need to be much older, maybe about 29 because when a guy gets into marriage he has to really mature. And even at that age some guys just aren't ready for marriage. I think the main reason for that is that they don't have the biological clock ticking away, so they have time to settle down before they get into a marriage. As it is there are too many broken marriages because guys can't commit, we don't want any more of that."

Says Menaka, "I think I have the maturity to get married, but right now I don't have the time. There are so many other things to think about right now, like higher studies and a career.

But I am comfortable with the thought of having someone else in my life, the problem being that I haven't found that someone yet."

Mrs. Fernando: Marriage is important

Marriage doesn't concern children alone; parents play a big role in the whole issue as well. Either as the medium of, or buffer against pressure. Mother of two, Mrs. Fernando feels that marriage is very important for both her children. "Unless they are very independent, self-sufficient and can cope with the pressures of life on their own, they shouldn't consider being single. For, being single means that someday you will be completely alone and a person needs to be very strong at that point in life.

I think a life alone will be a bleak future for both my children. Although I won't push them into marriage I know it's best for both of them knowing their nature. And until they find that special person, I'll have nightmares!"

In Mrs. Fernando's opinion, the marriageable age depends purely on the person. "Those days most girls got married between the ages of 18 and maybe 22. But today I don't think my daughter who is 23 is ready for marriage; in fact if she did get married right now it would be a complete disaster because she is incapable of managing stressful situations effectively and married life would demand from her as much as (really even more than) her studies and her job do."

Her son being only 20 is far too young to even contemplate marriage, but as far as Mrs. Fernando is concerned she would like to see both her children married before 30.

"They need to be young to enjoy life together, grow as a couple and actively participate and enjoy their children's lives." Has she had to face any pressures from society with regard to her 'unmarried daughter'? "Society is the least of my concerns!" comes the answer.
---
Single...and loving it!
It's not easy being single in Sri Lanka - well it's not as bad as it used to be seeing that society is getting used to the idea that some people have no intention of getting married until they have found themselves and become established persons in society. However, there is this underlying thought that a person can never be happy as a single, one which growing numbers of Bridget Jones' and their male counterparts continuously fight against.

"Our horrible society constructs these neat little compartments which allows for true happiness only within a family. Or you can experience divine happiness in religious life. But there is just no in-between. Singles are usually dismissed as "old maids" who have simply missed the bus - and that is quite annoying, especially at family weddings or funerals when the respected elders gang up to mourn over your 'single plight'," says Shenuka who feels that men have it easier because bachelorhood is not frowned upon as is being a 'spinster'.

"Ugh! I just hate that term. And I'm really not that. I'm a 35-year-old woman who's happy, fulfilled and independent. What's more if I find Mr. Right I'll probably marry him but that's not a priority in my life. As for having children, I think that's my problem as well and I'll deal with it when the time comes."

Says 30-year-old Marisa, "The fact of the matter is that single people are often happier than couples. Okay maybe I can't make a sweeping statement like that but a person can be happily single, which some people don't seem to be able to understand. Sometimes even my own friends can be such traitors fixing me up with all the single nerds and freaks they know. And then they act all smug about how happily married they are."

After an experience like that Marisa firmly believes in her own "home made therapy", which is making a list of all the problems one may have to deal with in married life. "It's not that I want to gloat over problems but it helps dispel my nagging doubts about myself and the really negative "grass is greener on the other side" thoughts. On the more positive side, the exercise is really about counting my blessings."

Marisa feels that there really are a lot of advantages being single. "You are free to find yourself and develop yourself. You also have time to understand yourself, which gives you a sense of identity, which I didn't have when I was younger. Now I know exactly what I want of life and have some kind of direction. It's not that I'm totally opposed to marriage, it's just that I didn't think I could learn to understand and accept another human being if I couldn't understand and accept myself. As long as I am single, I intend to make the most of it. And if I am destined to get married, when the time is right it will happen."

Says Dinesh: "The problem with society is that it teaches a person to live up to expectations - your own and those of others. That's great if you can live up to all of them. The problems arise when your expectations are not in keeping with those of the society in which you live. Society expects a person to get married, because that's the normal thing to do. If you don't you've failed the 'expectations test'. The point, is do you really care?"

Dinesh at 38 years is what society terms a bachelor, but according to him though the term denotes a great image as against being a spinster, even a bachelor ("with all the jazz surrounding his lifestyle") gets a bit of pressure. "The way I see it you can spend your entire life striving to meet those expectations. But that's not going to make you very happy is it. And although it might sound a bit selfish, you are the most important person in your life, so why not just be yourself. But, being a man, it's easier for me to say. I think women have bigger issues to deal with and while they wait for marriage, their biological clock is on a countdown."

He adds though that his mother still waits in anticipation for the day when he will introduce her to the "nice" girl he plans on marrying. "Although I would like to give her that happiness, marriage is something I'll get into only when I'm ready for it. As for now I'm just making the most of being single and like everyone else am enjoying life. If I do get into marriage someday it won't be out of desperation. It will be because I've met my soul mate and have succeeded in building a beautiful and successful relationship."
---
City of lights
Tania Fernando recounts her experiences in Karachi
Standing on the balcony of the Karachi Sheraton overlooking a beautifully illuminated city, I understood why Karachi is called the 'city of lights'. And it was hard to take in the reality that I was finally there, in Karachi.
From the time I was invited to visit Pakistan, there were obstacles cropping up making me postpone the trip. There were the initial hiccups of getting a visa and a flight reservation. But for my luck the officer in charge at the Pakistan High Commission thought that I had a sweet voice and jokingly said I should sing a song. I had heard of singing for my supper, but never for a visa so I declined politely. He however agreed to give me my visa within a day (it normally takes three days), and that was just the beginning of my experience of a friendly Pakistani.
When I reached the Quaid-E-Azam International Airport one Sunday morning, my first surprise was at its size and orderliness. I emerged rather hesitantly from the arrival gate to be greeted by many, trying to offer me a taxi ride. To my relief though, there was the man from the Sheraton with a board bearing my name.
Driving from the airport to the hotel, what caught my eye were the colourful buses. Decorated with intricate designs, they reminded me of a Vesak pandal back home. In the nights the buses are lit with lights of different colours, though no one was able to explain to me the reasons for this. And taking a ride later I found the interior of the buses just as fascinating. Women rode up front, and the men were relegated to the back.
On the road, yellow and black and yellow only taxis clash with the gaudily painted lorries and cargo trucks and to add to the bustle, there was the occasional donkey cart racing in the midst of it all. One point of interest here is that the city roads are clean and well maintained, unlike in Colombo.
Finding a taxi in Karachi was an easy task, but bargaining on the fares is a necessity, for you can easily travel for about 25% of the initial offered price.
Karachi, as one would expect has its Moghul features combined with the usual signs of a modern city metropolis of towering hotels and banks. The buildings of the British era, with their unique architecture are well preserved among the new concrete and glass structures creating a colourful combination of old and new.
At the Karachi Sheraton, the very friendly receptionist greeted me with a welcome glass of Mango juice, which I found was a popular drink among all.
Sightseeing the next day took me first visit to the national museum where the exhibits include relics excavated from the 4000 year-old-city of Moenjodaro, Moghul pieces, Hindu sculptures, Buddhist artifacts and ancient coins and manuscripts documenting Pakistan's political history. There was an air-conditioned section with copies of the Holy Koran going back to 4000 years.
My next visit was the Mausoleum of Mohammed Ali Jinnah, Pakistan's founder who died in 1949. This was a combination of modern and traditional design with a simple but gigantic marble dome rising 31 metres high. The tomb has blue-glazed ceiling tiles which were donated by Japan, a glass gold chandelier from China and silver handrail from Iran.
People from far and wide come to pay their respects and watch the Changing of Guards ceremony. The white marble and the pond in the front of the tomb reminded me of the Taj Mahal.
While driving on the streets of Karachi I noticed that every time we stopped at a traffic light, there would be hawkers selling newspapers, towels, combs, and even flowers. The flowers are made in a bangle form, which all hawkers try persuading the males to buy for their female companions. Beggars at the traffic lights too are a common sight.
The rest of my visit was spent walking around the shopping areas. Saddar was a long line of shops and seemed to have clothes, especially children's garments. Tariq Road was full of shoes and handbags and I was able to buy leather shoes for as little as Pk Rs. 150 (SL Rs. 225). Being a shoe addict did not help the situation at all. Handbags were a-plenty and all within a reasonable rate of Pk Rs. 150. I picked up an evening purse for Pk Rs. 200-250 after a bit of bargaining. The price you pay depends on your bargaining skills.
Zainab market was a maze of narrow lanes, crowded with clusters of stalls with tarpaulin tops. The items available ranged from cigarettes, fruit drinks to porcelain, metal pots and onyx ornaments.
Meanwhile, the Gulf Mall was full of little knick-knacks like plastic bangles, silver chains and leather belts. Entering through one entrance, you find yourself emerging from some other place as most often the bazaars are interconnected.
Karachi also has a plush area called the Defence where the houses seem more like palaces. I was told that royalty from Saudi Arabia and other Arab countries built houses here to visit during their vacation. The walls are so high that all that you could see is a glimpse of a balcony.
Karachi has many parks and it is not uncommon to see people relaxing after a hard day's work. The eating places are always full and the aroma of chicken tikka wafting from them, makes you want to stop and forget about any diet you maybe on. The chicken/mutton karahi seemed to be another favourite, while chicken/mutton kebabs were my favourite.
Another attraction is the horse drawn carts and camel rides at the beach, which unfortunately I did not get a chance to experience.
For those who have the chance of visiting Pakistan, I would say - start packing! It's an experience not to be missed.