Many Sri Lankans may not be aware that just three weeks ago, the country's security establishment was under one of the highest levels of alert in the 18 year long separatist war. It was of much greater concern to the Government than last Thursday's United National Party led protests in the City.
Alarm bells rang after reports that Tiger guerrillas were poised to launch an all out fatal offensive to re-capture the Jaffna town. It was to come in the first or second week of July it was claimed.
The dramatic events, most of which have remained a secret, began to unfold on June 27. President Chandrika Bandaranaike Kumaratunga, was away on a private visit to the United Kingdom. Prime Minister, Ratnasiri Wickremanayake, was playing the role of acting Head of State and was overlooking Presidential responsibilities.
That Wednesday, Premier Wickremanayake's hot line at "Temple Trees" rang. It was Police Chief, Lucky Kodituwakku, seeking an urgent appointment. That was immediately granted. In no time Mr. Kodituwakku was at "Temple Trees." With him were D.S.C. Kombalavithana, head of the Special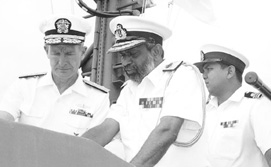 branch and Bernard Silva, SP, its Acting Director.
The Special Branch is one of three State intelligence arms barring those in the three armed services – Army, Navy and Air Force. The SB comes directly under the purview of the Inspector General of Police.
Mr Kodituwakku apprised Premier Wickremanayake of a report he had received from his Special Branch boss, DIG Kombalavithana. It revealed that LTTE leader, Velupillai Prabhakaran, had made plans to re-capture Jaffna town and was busy positioning his guerrilla cadres. The attacks were to be carried out in the first or second week of july.
Disturbed by the news, Premier Wickremanayake promptly telephoned Chief of Defence Staff (CDS), General Rohan de S. Daluwatte. He wanted him to meet the Police Chief and his Special Branch top brass. Thereafter, the Premier wanted immediate counter measures adopted. He was also to brief President Kumaratunga through a telephone call to London.
It was only a day earlier that Gen. Daluwatte had returned to his office, after an overseas vacation, thus scotching wild rumours that he had quit. He went into conference with the Police Chief and his two top most spy bosses.
The outcome was a high level conference at the Joint Operations Headquarters (JOH) where Gen. Daluwatte presided. Besides Mr. Kodituwakku, Commander of the Army, Lt. Gen. Lionel Balagalle, Commander of the Navy, Vice Admiral Daya Sandagiri and Commander of the Air Force, Air Marshal Jayalath Weerakkody were present.
Memories of the LTTE attempt to capture Jaffna last year, the worst crisis for the Government in the ongoing separatist war, were still fresh in the minds of those in the security establishment. Growing fears then forced the Government to seek military assistance from friendly countries. Even contingency plans were worked out to evacuate troops from the Jaffna peninsula in case of such an eventuality. This time they did not want to take any chances. That is even if the warnings were not altogether too serious.
Troops were placed on red alert. Leave for security forces personnel were cancelled. Senior officers who were to arrive in Colombo on various official chores were ordered to remain in their posts in the Jaffna peninsula. Several measures to thwart any Tiger guerrilla attacks were decided upon.
Main among them was a decision to resume aerial attacks on LTTE targets. They were identified on the basis of intelligence information available and on the report submitted by DIG Kombalavithana to IGP Kodituwakku.
Soon after the failed "Operation Agni Khiela," in April this year, the Sri Lanka Air Force was ordered by the Ministry of Defence to suspend aerial attacks on Tiger guerrilla targets. This was expressly in view of Norwegian peace initiatives. A helpless Air Force Chief, Air Marshal Jayalath Weerakkody, had to decline requests for air cover or attacks. This was particularly in the east where the Police commando arm, the Special Task Force (STF) launched several offensive operations.
The Sunday Times has obtained a copy of DIG Kombalavithana's report. This is what it said:
IG Police
"Reliable info has been recd that the LTTE Leader Prabhakaran has made plans to attack and recapture JFN Town and areas under Govt control in the near future.
"On 16 Jun 2001 all fighting cadre units from Kilinochchi, Skandapuram, Paranthan, Mullankavil and Thunukai-Vellamkulam had been withdrawn and are now positioned at Puthukudiyiruppu, Mullaitivu leaving only the Political and Int Wing cadres.
"Accordingly, the strength from each of these points namely Charles Anthony Brigade led by Theepan Papa, Swarnam Regiment from Mulankavil led by Swarnam, Kittu-Victor Brigade led by Banu (Artillery) from Thunukai Vellankulam, Sirithapuli Brigade led by Gadafi and the Women's Corps led by Nedusha will form almost three battalions at Puthukkudiyiruppu, with a strength of 750 cadres in each contingent.
"Prior to this during the LTTE Unilateral Ceasefire they had undergone special training. Since 16 June 2001 the 03 battalions are undergoing 02 weeks Model Training at Puthukudiyiruppu. After this Model Training, it is believed that the major offensive will be launched, in all probabilities after 30th June 2001 or during the first two weeks of July 2001.
"It is pertinent to note that on 05 July 2001 the LTTE observe "Black July" on which day the LTTE usually launch attacks. The plan is for the 03 Battalions to form one attack group and storm the Army Brigade at Nagar Kovil and overrun it. After capturing the Brigade one group will proceed to Nallur via Ampan, Kudathanai, Varani, Atthanidai and Puthoor. The second attack group will proceed to Navatkuli via Elathumattuval, Kandy Road, Mirisuvil, Kodikamam, Chavakachcheri, Nunavil and Kaithadi.
"Another supporting group of Sea Tigers is positioned at Pooneryn. They will move to Ariyalai via Gurunagar Jetty area and Thachachanthoppu. The LTTE artillery will be positioned near the Big Nuga Tree close to Old Fort at Pooneryn and will launch Artillery attack in support of 03 attack groups who would simultaneously attack Jaffna Town from 3 directions as stated above in their bid to capture Jaffna.
"The line of thinking of the LTTE is that with their acclaimed fighters Karuna being in the East, with other renowned fighters such as Rabat, Ram, Jim Kelly Thatha and Mano Master, the SF will be lulled into a false sense of security and will not anticipate an attack on Jaffna. It is planned for Karuna and others to launch heavy attacks in the East to further mislead the SF. When all attention is focussed on the East the attack of Nagar Kovil and Jaffna will commence.
"It is also interesting to note that on 02 June 2001 Prabhakaran had visited the Vattapalai Amman Kovil in Mullaitivu and offered a Pooja. He had addressed the gathering and stated that Thileepan's Commemoration Day that falls on 26 Sep will be celebrated this year in the newly captured Jaffna. It is observed that prior to Major Offensives launched by the LTTE Prabhakaran had attended religious rituals at this very same kovil earlier.
"According to the source the attack of Jaffna is likely to be launched within the first 02 weeks of July 2001."
The Special Branch re port came in the back drop of other developments. For many weeks there were reports of an arms build up by the LTTE. This was later confirmed by nine Tiger guerrilla cadres who were arrested by the Navy following deep sea battles in the seas off Mullaitivu in April, this year.
This build up and reports of preparations for attacks by Tiger guerrillas prompted security forces top brass to complain the LTTE was taking advantage of the lull that resulted from Norwegian peace initiatives. The Special Branch report changed all that. Premier Wickremanayake gave approval for the resumption of air attacks. That was after Sri Lanka Air Force Unmanned Aerial Vehicles (UAV) had reportedly observed LTTE artillery/mortar positions both at Pooneryn and Nagar Kovil. Aerial pictures also gave other unidentified objects on the ground like a shining dome and a large structure in the shape of the letter "I."
As the attacks got under way, it was to draw the attention of the international community, who feared it may be a strong impediment to the peace initiatives. In a bid to allay apprehensions, Foreign Minister Lakshman Kadirgamar gave a briefing to three Colombo based Ambassadors – Ashley Wills (United States), Gopal Gandhi (India) and Jon Westborg Norway on why the air raids were carried out. An Army official was also on hand with a map to point out locations.
But the United States expressed concern on the Government's decision to bomb LTTE positions in the Jaffna peninsula. Acting Public Affairs Officer, William Howe, was quoted as saying "While we respect the right of any nation to defend its territorial integrity, it is also true that violence begets violence." India also declared it is fully seized of developments in Sri Lanka while re-iterating that there is no alternative to peace.
Despite US concerns, particularly in view of peace initiatives, there were other developments last week. Admiral Denis C. Blair, Commander-in-Chief of the US Pacific Command, held talks with top rungers in the security establishment including CDS, Gen. Daluwatte. The Sunday Times has learnt that Admiral Blair was of the view that there should be further support to Sri Lankan security forces to improve their military and professional skills. Such assistance is already forthcoming under two different joint programmes which are periodically held – Operation Balanced Style and Operation Flash Style.
An apparent response to the US and Indian reactions came from Foreign Minister Kadirgamar. It was contained in a document titled "Press interview given by Mr. Lakshman Kadirgamar, Minister of Foreign Affairs, to a Special Correspondent" which was circulated to the media by Foreign Ministry officials on July 4.
Replying to a question, Mr. Kadirgamar not only asserted that "each sovereign State is the best judge, the sole judge, of dangers to its territorial integrity" but also declared "there came a time, a few days ago, when the available evidence had reached a point of certainty …" That was a clear allusion to the Special Branch report.
The question raised was "Was it really necessary to launch these aerial attacks at this time of political uncertainty in the country?"
The reply: "The decision to commence the aerial bombing last Saturday had absolutely nothing whatsoever to do with any political consideration. It was purely and simply a decision taken in the national interest. Every Government has to face difficult decisions when it comes to defending the territorial integrity of the State. Those decisions are never easy to make. In making them the Government must not be deterred by what political opponents and others, including other Governments might say. Each sovereign State is the best judge, the sole judge, of dangers to its territorial integrity.
"In this instance, the Government was receiving information from various sources, from aerial reconnaissance, from radio and signal intercepts, from ground observations and in other ways for well over two months that a massive build up of LTTE arms and forces was taking place around the peninsula. The Government watched this situation carefully before taking action. There came a time, a few days ago, when the available evidence had reached a point of certainty that could no longer be ignored. If the Government had failed to make a pre-emptive air strike the Jaffna peninsula would once again have been in peril of falling to the LTTE."
Now to the billion dollar question – Did the LTTE really make plans to re-capture the Jaffna town at any time during the first two weeks of July, this year ?
The Special Branch still believes they did. One high ranking source, who spoke on grounds of anonymity, claims the aerial attacks of LTTE targets put paid to their plans. "Otherwise, they would have launched the attacks as we predicted," the source claimed.
But this view is not shared by two of the country's premier intelligence outfits – the Directorate of Internal Intelligence (DII) and the Directorate of Military Intelligence (DMI). Since the LTTE declared its unilateral ceasefire on Christmas eve, last year, both the DII and the DMI have been closely monitoring their activities.
As the unilateral ceasefire was renewed every month, both agencies reported two significant developments – (1) the LTTE were resorting to a major arms build up (2) the LTTE had embarked on a fresh recruitment drive and training. They were practicing attacks on sand model targets. But, in view of the Norwegian peace initiatives, their posture still remained defensive. They had not planned on a specific time frame for attacks though undoubtedly that would have been their final aim at an opportune moment. Both felt that moment had not arrived since the LTTE was still convincing the international community of its willingness to talk peace.
During a visit to the United States and United Kingdom in the past weeks I had the opportunity of talking to sources closely linked to the LTTE. If they conceded the Tiger guerrillas had embarked on a fresh procurement drive to match the security forces, who have been re-equipped since the abortive LTTE attempt to seize Jaffna last year, they were overtly cautious of any major guerrilla thrust either in the North or East. The one and only reason was to avoid the charge of being accused as sabotaging or reneging on the peace process.
In respect of the United States, the LTTE was also conscious that the annual State Department review for classifying terrorist groups was due later this year. The were hoping for a de-classification.
But the LTTE were busy compiling a lengthy catalogue of what they see are Government's misdemeanours, ones they claim show they are not keen on the peace process. The list is being updated frequently and is sure to become public when the guerrillas deem the time is opportune. That is when there are signs the peace initiatives are decisively out. That was how they responded when peace talks with the PA Government failed in 1995 and Eelam War Three broke out on April 19, 1995.
For the Government, there appears to be confusion, both on the peace front and the war front. Worse enough, faced with a deepening political crisis, both peace and war efforts have gone into the limbo of forgotten things.
It is not only the Norwegian peace initiatives that remain stalled. Even the National Security Council, the apex body that monitors, directs and controls matters relating to the nation's national security, has not met in the past many weeks. Instead of peace or war, a prolonged stalemate continues on both fronts.

---
Lifting media ban to battle areas: the fact and the fiction
Even the Security Forces Commanders were surprised. They were unaware that restrictions on media visits to battle areas have been lifted until they read official accounts in the media.

An official "Press Notification" from the Special Media Information Centre (SMIC) dated July 16 declared "The Defence Ministry decided yesterday to abolish the system of granting approval for journalists who intend to report activities and civil life in the North and East cleared and uncleared areas. Journalists are now free to visit these areas."

Is this fact or fiction ? The answer is they are both. The fact: Media personnel will no longer require MoD approval to "cleared" or areas under the control of the Security Forces. The fiction: The MoD ban on media visits to "uncontrolled" or areas dominated by Tiger guerrillas continues notwithstanding claims made in the official SMIC "Press Notification."

Embarrassed officials at the Information Department say the translation of a Sinhala press release led to errors in the English version put out by the SMIC. But no clarification has been issued so far and news agency reports based on it have prompted several foreign journalists to plan visits to Sri Lanka. They want to travel to LTTE controlled areas.

Though journalists will be allowed to areas under security forces control, such access will become easy for them only in respect of visits to areas where road access is available. The areas are Mannar, Vavuniya, Batticaloa and Trincomalee districts.

However, visits to the Jaffna peninsula will still continue to have restrictions. For travel by air, they will be required to obtain written permission from the Ministry of Defence and pay for their fare. In the alternative, they will be required to register their names at the office of the Assistant Government Agent, Trincomalee, to book a sea passage in public passenger transport by sea.

The question of relaxing restrictions was first discussed at the regular Monday meeting at the Ministry of Defence on July 2. Taking part in this weekly meeting, which mainly reviews media activity during the previous week, are Defence Ministry officials, representatives of Information Department, Lake House, Rupavahini, Sri Lanka Broadcasting Corporation, Directorate of Foreign Intelligence and Directorate of Internal Intelligence.

On July 9, it was decided that media personnel should be allowed access to areas under security forces control. The decision was announced through the "Press Notification" though it did not project the factual position entirely.