---
Burning that fat
By Jodie Jenkins
Exercise for both health and beauty? Yes, more and more Sri Lankans are waking up to the fact that in order to stay fit, healthy and trim, regular exercise is a must.

Women particularly are becoming more and more aware of how essential exercise is in leading a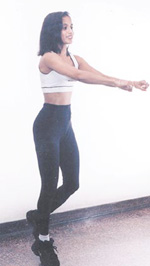 healthy life and are increasingly turning to exercise rather than fad diets in order to achieve the body they desire.
Piyali Dissanayake is a certified group fitness instructor interested in helping people reach and maintain their ideal figure. Piyali took up aerobics in 1982 to keep trim and as her enjoyment in the pastime continued she decided, encouraged by her husband, to take a course in aerobics instruction. Now certified by the American Council on Exercise she conducts aerobics classes twice a week. The energetic mother of two, is an experienced instructor. Her aim is to share her knowledge in order to help people look after their health and their body. Through her training in exercise physiology, autonomy and health screening she is able to give professional advice to people wanting to begin an exercise programme.
Asked what she thought about the general levels of exercise that most of us maintain, she commented that people are not that committed to exercise, but it is catching on. She added, "The fitness levels of Sri Lankans is on the up but it is important that people become involved at a young age. People only seem to become concerned when they reach their thirties."
Piyali's classes start with a warm up in order to bring the heart rate from its resting level to the bottom training range. She then continues with the dance-based aerobics segment where the idea is to reach a target heart rate range and then continue to work within this range. It is in this part of the class that the fat burning takes place.
After this the class slows down to conduct the toning section. The concentration here is on working the major muscle groups e.g. the abdominal, legs and chest muscles. Here Piyali pays particular attention to working opposing muscle groups. "Once you have worked on toning the tummy it is important to then tone the back as well this will help create muscle balance."
The final section is the cool down or stretching segment. This is where the heart rate is brought back down to its original level and muscle soreness is prevented through stretches. The classes are for all levels of fitness and aim to give people a trimmer physique. They are kept to quite a high intensity so that although safe they are effective in calorie burning.
Piyali's classes take place on Mondays and Wednesdays from 6.00-7.15pm at Colombo Jaycees Hall, Colombo 07.

---
How would you cope as a castaway?
If you were marooned on a desert island, would you survive?

1.If you find yourself alone and free for the evening do you:

a) Curl up with a good book or put your favourite record on and enjoy yourself

b) Make the best of it

c) Phone a friend

d) It never happens

2.If your holiday partner pulled out at the last minute would you:

a) Look for a replacement

b) Go alone

c) Stay home, too

3.If you and your partner have a barbecue, who cooks:

a) Your partner

b) Both of you

c) Either of you

d) You

4.Which of the following most appeals to you (or is least unappealing) as a sport:

a) Jogging

b) Tennis

c) An indoor exercise routine

d) A team game

5.Do you like to go out socially:

a) More than once a week

b) About once a week

c) About once a fortnight

d) Less than once a fortnight

6.How often do you invite friends home:

a) More than once a week

b) About once a week

c) Less than once a week

d) They don't want to be invited

7.How do you feel about food:

a) You enjoy trying new things

b) You eat most things that are put in front of you

c) You have a lot of fads and dislikes

d) You aren't all that interested as long as you don't go hungry

8.If you have done something you feel is wrong does it worry you most:

a) That the world will find out and disapprove of you

b) That friends and family will disapprove of you

c) That you disapprove of yourself

9.Is your do-it-yourself:

a) Quite competent

b) Very competent

c) Below average

d) Non-existent or a last resort?

10.When the weather, a car breakdown or someone else's inefficiency changes your plans are you:

a) Angry

b) Amazed

c) Philosophical

d) It's a challenge

11.If you were offered a place on a space shuttle flight would you be:

a) Delighted

b) Apprehensive

c) Both pleased and anxious

d) Quick to refuse

12.Is the style of your dress, hair and general appearance:

a) Fairly stable

b) Fun to experiment with once in a while

c) Always changing

13.In you fantasy life would you most like to be successful as:

a) An explorer or innovator

b) A film star

c) A lover

14.How do you feel about eating alone in a restaurant:

a) Quite happy

b) A little uneasy

c) Very uneasy

d) You'd go hungry first

15.Which of the following would you most like to take to your desert island with you:

a) Music

b) A radio that could pick up broadcasts from the nearest civilization

c) A book on edible plants

d) Pencil and paper

What your score means

Under 40:

The solitary survival scene is not your thing, is it? You don't like to be alone with your own thoughts, even for a short time. You've two options open. Either you can make it your new resolution to get to know and like yourself better - or keep away from cruises.

41-100:

You'd get by. You wouldn't enjoy it, overmuch. And you might not make the most of what potential the island had for making yourself comfortable. You'd put more energy and time into escaping or being rescued than into putting your island life in best order. But you'd live.

More than 100:

A desert island or living alone in civilization holds few real terrors for you. You could get to like the solitary life.

a b c d

1. 9 6 3 0
2. 3 6 0 -
3. 0 3 6 9
4. 9 3 6 0
5. 0 3 6 9
6. 3 6 9 0
7. 9 6 0 3
8. 0 3 6 -
9. 6 9 3 0
10. 0 3 6 9
11. 9 3 6 0
12. 0 3 6 -
13. 6 0 3 -
14. 9 6 3 0
15. 6 0 3 9

---
More weight in anti-Eminem campaign

Australian heavyweights have joined a campaign to stop controversial US rap star Eminem's tour of the country.
The latest personality to join the campaign is Prime Minister John Howard who on Monday July 2, publicly condemned Eminem's lyrics saying "he's sickening". Mr. Howard was responding to family watchdog movements' attempts to bar the rap star from Australia.
A Liberal Party member (part of Mr. Howard's Liberal/National alliance) said they support free speech but cannot swallow the thoughts and obscenities of the controversial rap star.
Tickets for the Melbourne and Sydney concerts are on sale, but Eminem has not applied for an entertainment application to perform in Australia as yet.
The magic formula of manufactured pop appears to be holding on. The group Hear'Say one of the most talked about recent manufactured groups, swept into the UK singles chart with a new single called 'The Way To Your Love'. The song debuted straight in at the No:1 position. It is the second release from the group and their second consecutive chart topping single. 'The Way To Your Love' comes hot on the heels of 'Pure And Simple' which landed at the helm of the UK singles chart in late March this year.
Having sold bucket loads of 'Pure And Simple' and almost similar loads of their debut album 'Popstars', the group has been able to supplement that success with the new single 'The Way To You Love'. On the track all five members of Hear'Say - Noel Sullivan, Myleene Klass, Kym Marsh, Darry Foster and Suzanne Show sing solo and it does confirm that all of them can sing.
As the Hear'Say track 'The Way To Your Love' touched the No:1 spot, the song became the 901st No:1 hit single in the chart history of the UK.
Encouraged by the success of the track 'Clint Eastwood', the dance act Gorillaz are back in the chart this week taking the at No:6 slot with '19/2000'. The vocals on the song are by Damon Alban and Jamie Hewlett.
Former Another Level frontman Dane checks into the chart at No:9 with 'Another Lover'. The single is a follow-up to 'Shut Up And Forget About It' - a track that peaked at No:7 in March. On the current hit Dane has the flavour of a Spanish guitar added, very much like Santana's 'Maria Maria'. Perhaps the reason for the coincidence if at all is because Wyclef Jean handled the controls on 'Another Lover'.
B ackstreet Boys managed to lodge another single into the Top 20 this week. The new single 'More Than That', is very much in the trade mark of the Boys who appear to have had an over heated run on the scene.
A radio friendly single called 'Baddest Ruffest' checks into the chart at No:15 by Backyard Dog. The song combines dance, hip hop, reggae and beat-backed by a fun video. More of this kind of material is likely to chart over the next few months.
Chris Evans, the ginger haired radio DJ and husband of singer Billie Piper has been sacked as the host of the "Breakfast Show' on Virgin Radio. Evans 35, was sacked for keeping away from the "Breakfast Show" for six consecutive days. He was reported to be sick but was spotted at a pub with his wife Billie drinking.
Evans defended himself saying he was really sick. Chris Evans was removed on June 28, by his own radio station which he bought from Sir Richard Branson. Evans however sold his Ginger Group - (the owner of Virgin Radio) to the Scottish Media Group for around £75 million last year. Technically he then became an employee of the SMG.
He built a reputation which did not go very well with older pop stars as he openly led a boycott of the old stars new material over his radio station.
Lima Gallagher of Oasis assaulted a photo journalist of the Evening Standard on Monday July 2, as his girl friend Nicole Appleton of the now defunct All Saints gave birth to their child a baby boy.
The incident was caught on camera moment by moment as it happened on the victims camera. Liam was celebrating the birth of his son in a pub as journalists crowded outside. It was then that he stormed out and attacked the photographer.
Cookie anyone?
A Maryland father was arrested in Pennsylvania's Sesame Street theme park for pummelling the Cookie Monster (that's right, the Cookie Monster) into submission. Lee McPhatter allegedly pushed Jennie McNelis, who was dressed as the blue fiend, to the ground and kicked her in the head and back, causing bruised ribs and a cervical sprain, simply because she allegedly wouldn't pose for a photo with his three-year-old daughter. Today's show was brought to you by the letter "Ow."