---
Misbah's brave 91 saves Pakistan 'A'
Daminda Wijesuriya reporting from Rangiri Dambulla International Stadium
Misbah ul-Haq's brave 91 saved Pakistan 'A' from a possible defeat at the hands of Sri Lanka 'A' in the first unofficial cricket test concluded at the Rangiri Dambulla International Stadium yesterday.

The 27-year-old test cricketer from Mianwali was associated with another 20-year-old cricketer Irfan Fazil from Lahore to dash Sri Lanka 'A' cricketers hopes of getting an early 1-0 lead of the three match unofficial test series.

The last three overs produced a nail-biting finish with Pakistan 'A' doing their best to survive.

Resuming at the overnight total of 176 for 6, Sri Lanka 'A' added a further 40 runs in the morning yesterday to extend their lead to 213. Samaraweera held his end, expecting his late order batsmen to score rapidly. However the Pakistani bowlers were more determined to restrict the locals to the lowest possible total, simply because they didn't have a considerable first innings lead.

As Sri Lanka 'A' were dismissed for 216 in their second innings, the tourists set a victory target of 214 runs in 69 overs.

Left handed opener Imran Farahat dispatched Ruchira Perera's very first delivery to the extra cover fence, to show that they are on the chase. It was Samaraweera's instinct to bring himself into the attack in the fourth over of the innings as Umar drove the skipper's fourth ball into the hands of Chandana Samarasinghe fielding at mid-on, and that triggered off a collapse.

Wickets fell at regular intervals as Pakistan 'A' were struggling at 28 for four. Like in the first innings, the touring team's captain Hasan Raza and the stockily built Misbah Ul-Haq appeared to carry the visitors to their target with a 43 run stand for the fifth wicket.

In the meantime, Samaraweera made a wise move to shift himself to the pavilion end, from where he claimed yet another three wickets including his counterpart Raza. The ball did not take much of a turn as much as Raza expected and a thick edge flew into the safe hands of Upeka Fernando at slip.

Humayun Farahat and Yasir Arfat, both conceded their wickets to Samaraweera. Thus the visitors were in a hopeless situation with seven wickets down for 98 runs.

By nature cricket is such an unpredictable game. This time it was Misbah Ul-Haq who made the difference and proved all predictions are wrong.

In his first few minutes at the crease Ul Haq edged a delivery from Weerakoon on seven. The ball fell between Sangakkara and Sudarshana, fielding close to the wicket, when the total was on 39 for 4, and later it proved costly.

Since then, Misbah did not look back until the 68th over in which he was caught by Samaraweera off Sajeewa Weerakoon. However by this time, the last man, Danish Kenaria had very little to do to save his side from the jaws of defeat.

Misbah ul Haq's main supporter was number 10 batsman Irfan Fazil. Fazil stayed 98 minutes at the crease while facing 82 balls to score a mere six runs. The ninth wicket stand lasted for 25.1 overs, which was the decisive partnership of the match.

Misbah ul-Haq hit 13 fours and a six in his 203 minutes stay at the middle and was the main contributor of the eighth and ninth wicket partnerships.

The second un-official test between Sri Lanka 'A' and Pakistan 'A' gets underway on Tuesday at the NCC Grounds.
Scoreboard
Sri Lanka 'A' 1st innings 220
Pakistan 'A' 1st innings 223
Sri Lanka 'A' 2nd innings
TKD Sudarshana lbw b Irfan Fazil 5
GI Daniel b Yasir Arafat 0
MG Vandort lbw b Irfan Fazil 84
K Sangakkara c Farhat b Yasir Arafat 54
UA Fernando c Farhat b Danish Kaneria 1
LPC Silva c Umar b Danish Kaneria 5
TT Samaraweera not out 20
S Chandana c & b Kaneria 0
S Weerakoon c Misbah-ul-Haq b Kaneria 12
WCA Ganegama c Umar b Irfan Fazil 7
PDRL Perera c Farhat b Yasir Arafat 1
Extras (b 4, lb 7, w 1, nb 15) 27
Total (all out, 88.1 overs, 376 mins) 216

FoW: 1-1, 2-34 , 3-146, 4-154, 5-164, 6-174 ,7-178, 8-200 , 9-214, 10-216

Bowling: Irfan Fazil 23 3 63 3 (14nb, 1w), Yasir Arafat 20.1 6 35 3, Danish Kaneria 34 12 64 4 (1nb), Taufeeq Umar 1 0 11 0,

Qaiser Abbas 7 0 22 0, Imran Farhat 3 0 10 0
Pakistan 'A' 2nd innings (target: 214 runs)
Imran Farhat lbw b Samaraweera 12
Taufeeq Umar c Chandana b Samaraweera 6
Faisal Naved c Chandana b Perera 0
Hasan Raza c U.A Fernando b Samaraweera 21
Qaiser Abbas c Sangakkara b Samaraweera 0
Misbah-ul-Haq c Samaraweera b Weerakoon 91
Humayun Farhat c Silva b Samaraweera 11
Yasir Arafat c U. A Fernando b Samaraweera 1
Shabbir Ahmed c Samaraweera b Chandana 21
Irfan Fazil not out 6
Danish Kaneria not out 3
Extras (b 3, lb 5, nb 5) 13
Total (9 wickets, 70 overs, 265 mins) 185

FoW: 1-13, 2-20, 3-20, 4-28,5-71, 6-89, 7-98, 8-134, 9-182. Bowling: R. Perera 10-2-33-1 (3nb), Ganegama 3-1-10-0, Samaraweera 23-8-55-6 (2nb), Weerakoon 25-7-61-1, Chandana 9-2-18-1.

---
CR cop Police in dull game
By Bernie Wijesekera
In a dull and dreary game CR&FC survived to maintain their unbeaten tag by defeating Police SC by 11 points (a try and two penalties) to 7 (a goal) in a Caltex 'A' league match at Longden Place yesterday. At the break the red shirts led 8-0.

Both teams were unbeaten in the ongoing league and were hell-bent to maintain their record. But rugby-wise it was a lukewarm display as both sides made mistakes and displayed sub-standard rugby which will not help the future of the sport. Those who came to see a red hot game had a boring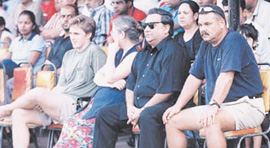 evening.
A schools game could have churned out more exciting rugby. Though CR won this tie they cannot be happy with their performance, despite their abundant rugby skills. Police on the other hand, staging a comeback, could have won this game had they played an intelligent and thinking game.
With much of the good ball flowing their way through their long throws and set pieces. The forwards played their hearts out in the loose and tackled their opponents to a standstill. But in the process they were constantly blown for unwarranted play.
During the dying stages of the game the law enforcing officers could have got the lead and the match. They had two penalties in front of the posts. They could have taken spot kicks, but instead took short taps.
With the line staring at them and the CR defence in disarray fly half Ajantha Rodrigo dropped the ball like a hot potato.
CR opened scoring when the entire back division co-ordinated well with the ball changing hands. In the process the Police were penalised and fullback Halimdeen obliged with the resulting penalty to give CR the lead at 3-0. The Police too were rewarded with two penalties but they were kicked astray due to poor direction.
In the 30th minute CR's fly-half Chirantha de Soyza chipped beautifully to no man's area. Lock Dinesh Fernando pounced on it and touched down off a forwards rush for an unconverted try.
After the turn around Police played better on the offensive but were unlucky in not having scored. CR increased the lead when Chirantha De Zoysa fired off a sleek midfield move to score a smart try. Off the ensuing ruck fullback Chintaka Perera was at hand to touch down. Fly half Harshana Wijeweera added the extra points: 11-7.
CR were lucky to win, but Police should have learnt a lot from this defeat. Coach Marso said after the game that the team has a lot to learn.
For Police No 8 skipper Lalith Leelaratne and never-say-die utility player Ajantha Rodrigo in the last line of defence for CR, stood out.
Referee Mahinda Jayawardena.

---
ICC meeting in Lord's tommorow
ICC to introduce two neutral umpires for Tests
By Marlon Fernandopulle
The ICC Executive Board which meets at Lords tomorrow is expected to restructure and reduce the International Panel of Umpires and Match Referees and also introduce two Neutral Umpires for Tests Matches and one Neutral Umpire for One day Internationals.

The recommendation to be considered by the Board proposes an elite panel of eight full time contracted umpires, who would be appointed to stand in the majority of Tests. Selection for this group would be purely on merit, reflecting the seniority and status of individuals based among other things, marks awarded by Test captains.

The most favoured proposal is for two independent umpires to stand in Test matches and one in One Day Internationals, partnered by one home umpire from the International Panel. Another group of 20 umpires - two from each Full Member- would form an International Panel.

They would be contracted to their Boards and gain development experience through appointments in other country's domestic cricket. A comprehensive accreditation process would accompany these changes involving extensive training, physical screening (including regular sight and hearing checks) and international exchange programmes.

An ICC Umpires Manager will be appointed to provide professional management of the umpire panels, in partnership with individual board umpires managers. Currently the ICC panel of Umpires comprises four from England and two each from the other eight test playing countries.Sri Lanka are represented by Peter Manuel and Asoka de Silva.It is very unlikely that either of them will be selected to the eight.

Referees Panel A similar approach will be recommended for a panel of up to five full time ICC match referees.Sri Lanka 's Ranjan Madugalle is certain to make it to to the five. A supplementary panel of ten part time referees- one from each Full Member- would cover other ICC approved international tournaments. Formal criteria will be introduced to encourage the recruitment of a new generation of referees to the panels.

A target date of April 2002 has been proposed for the introduction of both new systems.

Vijaya Malalasekara, Chairman Interim Committee and Anura Tennekoon CEO, BCCSL will represnt Sri Lanka at the Executive Board meeting. "

---
Rover Pinpoints....
Right Royal Rugby thrashing
After the Right Royal Rugby thrashing the Thomians received last weekend, Scapegoats are the order of the day at the school by the sea.

The coach is the obvious. One reason being that his Sonna was a key player in the opposite camp who ran circles round Papa's XV.

Meanwhile the school by the sea showed what they are made of when they suspended for two matches the boy who was sent to the sin bin on two occasions in two consecutive matches.

Unfortunately the Lions from Kandy apparently consider pointing fingers and using unbecoming language in front of the referee and right opposite the Heads of the two schools something to cheer about.
Much fuss
Much fuss was made of the schoolgirls returning after a tour buying bottles of Whisky which was a duty free item, may be for their parents or teachers. So what's wrong with it? How come a District Association who went on a tour of Australia branded themselves as an invitational team here and a district team 'down under!'

The point raised here is how come these cricketers were allowed to carry excess baggage all cricket material, like their own, when it was for a Sports Goods Store in Kandy. Isn't this cheating? What has the head of this association got to say?

No Rupavahini

The Asian Championships of a popular women's sport is to be conducted in Sri Lanka, involving many countries. This is to be shown live on Rupavahini. But Rover learns that an official of this sport is being pressurised to change the TV station to a private one, supported by an official of the Sugathadasa Stadium Committee promising to get it down at reduced rates. May be at a tidy commission. Not done Sir! Rupavahini is much clearer, and State owned too.
Missing 6,000
Many indoor sports are been reported for the non-settlement of fees of hiring the Sugathadasa Indoor Stadium. One such association when queried about this admitted that they have to settle a bill but not the amount mentioned, plus Rs. 6,000/- which is reappearing in their bills for the second or third occasion, which should not be accounted to them. What a way to maintain accounts!

Highhanded mess

The Assistant Director of Sports in the WP had ordered that a match not be played since a team was fielding under 16 players in their Under-19 team in an Under-19 tourney. This has been reported to higher authorities.

Furthermore a leading girls' school was disqualified for fielding players from their 'A' team in their 'B' side in the netball tournament in the Western Province.
Technical foul
A technical foul was to be given by a referee, since the coach of a team was not present, while the assistant coach and teacher-in-charge were present. Parents booed this ref.
Take note
How many sportsmen and women had done the vanishing trick whilst on tours abroad. Will the Ministry of Sports take note of this situation and let the public know as to how many had done the vanishing trick. How come permission is given for these tours by the Ministry and more naughty among them are the indoor sports. It's a clue Mr. Minister.

---
'I do the right thing all the time': President, WCASL
By Rohan Jayetilleke
President of the Women's Cricket Association of Sri Lanka who very successfully steered women's cricket into an impresive situation in Sri Lanka, is a highly valued member of the International Women's Cricket Council and has earned much admiration and respect from the rest of the IWCC countries because on both occasions when Sri Lanka played for the Women's World Cups of 1997 and 2000, our country qualified and sailed into the next World Cup 2004 to be hosted in South Africa. It is an achievement that many veterans in the IWCC could not achieve. Sri Lanka is the 'babe' of the IWCC to have achieved Test status and it will not be long when she makes it to the top.

Herath was also the President of the Puttalam District Cricket Association for many years and pioneered men's cricket in the Puttalam District that saw her becoming one of Sri Lanka's versatile cricket administrators.

Excerpts of an interview with Ms. Gwen Herath

Q: Can you tell us what happened at the World Cup 2000 in New Zealand? And how you qualified for the 2003 tour of South Africa?

A: To be honest, I was disappointed that the team did not make it to the semi-finals which I expected because everything indicated we would. Later, I was to learn that the girls played under stress and mental strain because of in-fighting among players.

Q: Would you care to elaborate?

A: Not to length, but I must mention that the girls were not motivated enough like at the World Cup of '97. Thet went with a load of experience and confidence but along the line, things changed on the eve of their departure. They had no faith in their captain and no confidence to co-ordinate. They were not motivated. It may have been different under Vanessa Bowen who was captain in 1997 World tour.

Q: What happened to Vanessa?

A: I am not sure I could answer that. All I know is that she was dropped and I was surprised that she did not even make it to the team.

Q: It surprised all of us too.

A: She was very popular with the girls and a good captain on the field. But then that is history and we have to look to the future.

Q: What are your future plans?

A: We have our domestic cricket to concentrate upon and our international calendar is not ready yet. However, the West Indies team will be in Sri Lanka end of the year and Pakistan middle of next year. We shall be playing in the Women's World XI against India.

Q: Now that Guy de Alwis is no more your coach, will you be finding someone new?

A: Not for the moment. We'll need one during an international tour or for the World Cup. The clubs have their own coaches. Guy de Alwis was a great coach and I am indebted to him for all what he did. If not owing to him, we would not have reached this point.

Q: What about your rival association?

A: I have no time to bother about them and I am not aware what they are up to.

Q: But the players; Don't you think that they are in a sad plight?

A: Well the doors are open to them if they wish to play international cricket or perhaps get selected to play in the World Cup 2004.

Q: You being the official IWCC member, don't you think you should stretch a point and invite them?

A: I do not think so, that I have to make the move. I have always invited the players not their officials, I will not touch them with a barge pole.

Q: You mean every one?

A: No, most of them. I have done right by cricket and I am not afraid of any one.

Q: Apart from women's cricket, would you like to take a swing at men's cricket?

A: May be if I am uncontested; but then, there is the gender problem always in Sri Lanka. When it comes to cricket administration, what does it matter whether it is a man or a woman. If the President of Sri Lanka is a woman, a woman heading the BCCSL is in order. Women do better than men and it is a foregone conclusion.

Our President is doing a man-size job and doing it well. No man would have survived in her position under this set-up and as a woman I am very proud of her.

Q: Would you say we have a good chance at the World Cup 2004 ?

A: It is too early to speculate because there will be more newcomers in the team.

---
Law changes kill Jnr. cricket
The Schools Cricket Association has introduced several changes in the laws pertaining to this year's junior tournaments. While not questioning the authority of the SLSCA, one feels that the changes have made confusion worse confounded and have paved the way for a spate of no decisions. Some coaches have missed the wood for the trees and by adopting ultra defensive methods, they have wittingly or unwittingly killed the game as a spectacle.

One bone of contention is law 7 (b) - "There will be no restriction of overs for any team in a match". Quite possibly the SLSCA was thinking of getting our junior batsmen to get accustomed to occupying the crease - But what happens to the game as a result.?

Consider the following cases. In a game between two Under-15 teams, team A batted 94 overs and totalled a measly 187. Team B who had maintained a good over rate was left with 19 overs in which they replied with 116/0. In oneday cricket, the side that performs best on the day wins the match. Not so in this case.

In another instance, a team declared at 278/6 after only fifty overs. Their enterprise was not rewarded as the other team ground out 200/7 in their remaining fifty overs. Here too, the side that played positively was not rewarded with a win.

I believe that junior cricketers basically should enjoy themselves while giving their talents free rein - what better enjoyment than playing for a victory for the team?

The fact that a team's innings in not limited has induced in umpires the belief that they need not be too strict with the interpretation of wides and no balls (over the shoulder of a batsman standing erect at the crease). In consequence, some bowlers are getting away with blue murder - short, rising balls are delivered with impunity and deliveries wide of off stump or leg are a dime a dozen.

It is axiomatic that the side that plays better cricket should come out on top and be rewarded. Positiveness and enterprise should have their due reward. Regrettably in this scheme of things a team that has all but lost to their opponents can gain their three points and possibly edge closer to a place in the next round.

The chances of these Under-17 and 15 games ending in draws are very high indeed. Avoiding defeat seems to be all that matters to some teams and they will utilize their resources towards that end.

In theory a side could bat a hundred overs and this would mean that the fielding side should be ready to employ seven bowlers (the maximum a bowler can deliver being fifteen overs). This could lead to the emergence of bits and pieces cricketers when the need is for specialists.

The die is cast and no return to the status quo ante is possible now. However it would make the cricket more competitive and result oriented if there is a return to last year's laws. One hopes wiser counsel and sanity will prevail.

Aubrey Kuruppu

---
Home for Volleyball
Volleyball, the national sport of Sri Lanka is in luck's way with the laying of a foundation stone for a Indoor Stadium of its own on July 5 at Kadirana, Negombo and the opening of a fixed deposit at Seylan Bank.

Furthermore a Cuban trainer is expected to train the Sri Lankan spikers before the SAF Games in Pakistan.

Another aspect thought about in the committee headed by Minister Jeyaraj Fernandopulle is to make use of the school holidays in April, August and December to conduct a coaching course for over 1000 boys and girls with the blessings of the Ministry of Education.

Also targeted is the introduction of Beach Volleyball in Sri Lanka which is an Olympic Sport where clubs closer to the beach will be given the moral support in making it popular in the beaches which could be enjoyed by the holiday crowd which no doubt will be a tourist attraction.

The Sri Lankan women volleyballers are expected to participate in the Asian Championships in Bangkok in September which will include countries like Korea, Japan and hosts Thailand.

The Junior National Championships sponsored by DSI will be played on a provincial level on June 23 and 24 while on July 10 and 11 and July 12 and 13 it will be played at National Level for both boys and girls at the Sugathadasa Indoor Stadium.

The final will be played at the National Youth Council Courts at Maharagama and will be telecast live on Rupavahini.

The provincial level tournaments will be held at Lumbini MV, Senanayake MV Madampe, Peradeniya MV, Uyanwatta MV, Matara, Anuradhapura MV, Kurunegala Parakaduwa Narada MV, and Ampara.

The champions and runners-up at provincial level from each district will be awarded Rs. 3,000 and 2,000 while the national champions will be awarded Rs. 20,000, the runners-up, Rs. 10,000, the second and third runners-up Rs. 5,000 and 2,500 respectively.

---
Navy beats Bloomfield
Navy, aided by a responsible knock of 53 by left hander Senarath Bandara, overcame Bloomfied, in a modest-scoring Div. 2 match at the latters ground.

Navy's Priyankara - match-bag of 7 for 88, also did his bit to keep his team in front.

Bloomfield - 130 and 167/8 decl.

Navy - 176 and 40/3.

- A.K.