Dazzling vibrancy
By Jodie Jenkins
Artist Iromie Wijewardene, is set to launch her 12th exhibition in Colombo next weekend. Iromie, whose first solo exhibition was in 1973, has now gained international recognition, having successfully exhibited her work throughout Asia and The United States.
The main focus of her forthcoming exhibition is colour. An artist, Iromie feels, needs to focus on colour in order to create successful work. "I felt that I wanted to take the same village theme but in a different way to previous exhibitions, focusing mainly on colour as it is in my opinion, what painting is all about," she says. It becomes obvious just how important this concentration on colour is when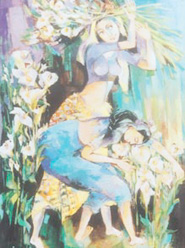 viewing Iromie's paintings, for you are immediately dazzled by the vibrancy of her work.
Iromie's traditional line drawings will not be included this time but instead the focus will be upon two different techniques, oils and mixed media. It is from these two techniques that the striking colour combinations have been so brilliantly illustrated. Inspiration for the artist's paintings comes from many sources but mainly from her travels in Sri Lanka where she has been able to observe the people and the way in which they conduct their everyday lives
Iromie graduated from the University of Kelaniya with a Bachelor of Fine Arts before winning a scholarship to study at Wilson College, Pennsylvania, USA. Her achievements in painting have led to numerous forms of recognition including her work being printed on a stamp. One of her paintings was also featured in the Readers Digest magazine. This year two of her works were selected for the Presidential collection.
Iromie's paintings will be displayed at the Artrium of the Hotel Lanka Oberoi from June 21- 25th (from 10 a. m. to 7 p. m.) The exhibition is to be opened by the Governor of Central Bank and is sponsored by Lanka Oberoi and Deutsche Bank.
---
Skilful exposé of sensitive issues
By Piyasena Wickramage
The rays of light take the shape of a blossoming flower. Likewise the girl who comes to the Free Trade Zone in search of greener pastures is fresh and hopeful! But very soon, she becomes a victim,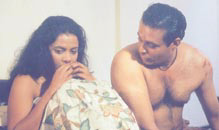 drawn into the world's oldest profession! This is the conflict of characters in Kinihiriya Mal.
H.D. Premaratne presents us with a family drama minus the sex scenes that characterise so many Sinhala movies, though the PG tag (parental guidance) may be warranted in certain situations.
H.D.P. touches on the unemployment problem of the rural poor and the problems of garment industry workers who often struggle without any proper accommodation or hostel facilities exploited by the so-called boarding mistresses.
In the village, despite the beauty of the surroundings, there is suffering. The father is a drunkard; the young lover is on the verge of getting a job and his fiancée is an underpaid garment worker who is a graduate. H.D.P. also reveals the disharmony prevailing in the town where there are gangsters and rapists. There are revenge killings and violence.
H.D.P. touches on these sensitive subjects in his professional style. I especially liked the sequence of the two girls in their lodging. Some shots were very well planned and the locations appropriate.
H.D.P's artists and the technical crew have contributed to making this film what it is - clean, wholesome entertainment well worth seeing.
---
Champagne anyone?
'A Champagne Toast- to the Musicals of Yesteryear' produced and directed by Jith Peiris goes on the boards at the Lionel Wendt on June 29 and 30 and July 1 at 7.30 p.m.
This is a show not to be missed by Broadway fans as a galaxy of the country's leading entertainers like Noeline Honter and Srimanthaka Senanayake take the stage to present those well-loved songs from musicals such as "Grease', 'Cabaret' and 'Evita'.
The show will also include some scintillating dance performances notably the Can Can, the famous dance of Paris performed by the Deanna School of Dancing. There will also be performances by the Anushan Dancers.
Also billed to perform are the Revelations, Eshantha de Andrado, Beverley Rodrigo and Hasini Halpe, the last two on the piano and violin respectively.
---
Capturing human hearts
Book Review
Lakshmi de Silva reviews 'Women Writing' translated by Vijita Fernando
Herself the author of a number of much-anthologized short stories, such as 'The Homecoming' and 'Circle of Powder' which reveal an understanding of the economic and emotional pressures which affect the lives and thinking of people she depicts, Vijita Fernando brings skill and perceptiveness to her translation of the works of twenty-five women writers.
As a result, she not only gives the reader access to well-known writers, such as Somadevi Paranayapa, Sumithra Rahubadde, Monica Ruwanpathirana and Ajantha Rajapakse but she also creates a consistent and cohesive picture of life as lived in the greater part of the country. Particularly for the foreign reader, it provides a refreshing change from the work of the Anglicised scribes who invariably present villagers as the others - inarticulate, irrational, and oh-so-different from their genteel sensitive selves. Here the best stories are clear-eyed, whether critical or compassionate.
The factors that dictated the choice of these stories is clearly stated "They are not overtly political, or feminist. They are not a platform for particular issues. That does not make them any less important as a result.... They deal with everyday, but not trivial, matters, about the concerns of human hearts……They go on to deal with wider issues of war and death, loneliness, revenge and injustice. Tenderness, even humour in flashes, plenty of verbal wit... they can move you to tears, laughter, sympathy...."
The collection provides us with a cross-section of the female populace of the island, in terms of class; there is Anula de Silva's Kumari, whose mother must work as a housemaid in the Middle East because her husband is an alcoholic, remitting her salary for him to drink himself to death; Sita Kulatunga's moneyed and money-minded teacher Priyani with her itch for upward social mobility; talented women like Somadevi Paranayapa's dancer, Rasika or Menike Muddanayake's writer, Malini; women with woes as airy as the 'heroine' of Madhubashini Ratnayake's tale or burdens as heavy as Piyaseeli Wijemanne's dauntless Yasomenika.
As a sensitive and scrupulous translator, Vijitha Fernando retains the individual tone of the writer. If occasionally, there is a surface resemblance as in 'The Bond' by Anula Wijeratne Manike, and Soma Jayakody's 'The Night Before', stories that centre on marriage, it is because this similarity exists in the case of the originals; these writers adopt the strategy of direct presentation, with no hint of authorial comment beyond the juxtaposition of incidents, objects, dialogue; in fact, an absence of any touches that might provide material for stylistics. Where there is difference of approach, however, the translator responds to the challenge, capturing flavour and tempo with aptness as well as alacrity as when she translates Sunethra Rajakarunanayake's 'A Breed Apart' with its crisp repartee, and jazzy lifestyle, poles apart from the drab routine of middle-class life. Incidentally the introduction of a bit of explanation regarding the pun on Natasha, either as a footnote or an unobtrusive addition to the text might have proved worthwhile.
Eva Ranaweera's portrayal of the aged but feisty Bo-Achchi travelling the same declining road earlier trodden by Beckett's "Hamm" comes across with telling force. The translator's deftness in catching the spirit of the original is particularly noteworthy in Kusumalatha's Diary, a riotous social parable by Sybil Wettasinghe with a vigour and gusto reminiscent of Rabelais' comic satire, where the dead-pan humour is conveyed with admirable flair. The contrast with the starkness of Tilina Weerasinghe's 'Woman Unknown' is eloquent of the translator's command of technique as well as her empathic response to the aims of the authors of the original stories. Vijitha Fernando has certainly done well by both her authors and her readers. 'Women Writing' will of course be a welcome source of material and ideas for research in the field of women's studies.