---
Muslim leader on peace mission
Spiritual leader and Grand Mufti of North Cyprus Moulana Sheik Nazim is in Sri Lanka as part of his Eastern world tour to bless his followers and to sow the seeds of peace and harmony in the minds of mankind.

A direct descendant of Prophet Mohammed (sal), Sheik Nazim (79) who arrived on Wednesday will be here for a week and would meet political leaders and address gatherings of both Muslim and non-Muslim communities.

Sheik Nazim who passed out as a graduate in chemistry from the University of Istanbul pursued studies in Arabic and Islamic Theology (Sufism) in Turkey and Syria to satisfy his yearning for spiritual and religious knowledge.

His wide spiritual knowledge and way of life has earned him followers from all over the world, from all communities.

Sheik Nazim who has visited Sri Lanka on previous occasions, travels widely meeting people and world leaders to encourage reconciliation and peace and preservation of the natural world.

He will hold an open house discussion for all communities at 5, Mahasen Mawatha, off Thimbiri–gasyaya, Colombo 5, this morning. He is also expected to meet Prime Minister Ratnasiri Wickrem–anayake on Monday evening.

---
Donor agencies defend reforms
By Dilrukshi Handunnetti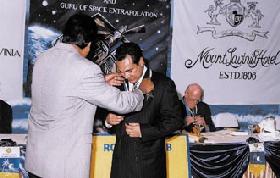 The Rotary Club of Mount Lavinia held their 57th Anniversary recently at the Mount Lavinia Hotel. Highlights of the evening was the presentation of Paul Harris Fellow recognition to Sir Arthur C. Clarke, CEBE and to Rtn. Sanath Ukwatte, Chairman Mount Lavinia Hotel. Here Rotary District Governor, Krish Rajendra honouring Rtn. Sanath Ukwatte. Sir Arthur C. Clarke is in the backgound.
The International Monetary Fund (IMF), the World Bank and the Asian Development Bank (ADB) have assured the parliamentary Committee on Public Enterprises (COPE) that the recommended reforms are for the betterment of the Sri Lankan economy.
They have called upon 'a cohesive and united' effort by both the government and the opposition to ensure an economic growth.
The IMF, the World Bank and the ADB delegation which met COPE members in Parliament on Thursday had stressed on the importance of good governance and accountability if the country was to flourish.
The high powered delegation of the lending agencies included Dr. Nadeem ul Haque, resident representative of the IMF, Brad Herbert, acting country director in Sri Lanka of the World Bank, John Cooney, resident representative of the ADB. It is learnt that the representatives have also called for the immediate utilization of the funds released so far before applying for additional monetary assistance. They also had insisted that there should be adherence to the principles and conditions of lending agencies and called for avenues to uplift the quality of financial management and the need to monitor them.
The Sunday Times reliably learns that they have welcomed the opposition participation in the talks.

---
Tough laws to protect statues
Amidst allegations that even some dayakayas are often involved in an inside coup to vandalise temples, the Ministry of Cultural Affairs is to introduce legislation to protect artefacts and crack down on offenders.

Minister Monty Goppallawa said the Buddhist Affairs Commissioner would be given more powers to stop the vandalism.

The move came after last weekend's attack on a 700-year-old Buddha statue at Gadaladeniya, following which angry villagers staged a mass protest accusing the head priest of indifference or involvement in the vandalism.

Police said yesterday they were looking for a monk who alleged to have been involved in the destruction of the Gadaladeniya statue.

In another incident, an incumbent priest has been arrested by the Kekirawa Police in connection with vandalism of statues and robbery of treasures at the Maradankadawala Purana Gal Viharaya.

Three statues of Lord Buddha and a statue of Lord Vishnu at this Viharaya have been damaged in the search for treasures.

The priest who was arrested on Tuesday has been remanded until May 30.

---
Ministry will go ahead with English
By Nilika de Silva
Despite only 925 students enrolling for the A/Level examination in the English medium, the Ministry of Education is determined that the programme must be implemented regardless of costs involved.

The Ministry's Reforms Director, R.S. Medagama, told The Sunday Times the Education Ministry would proceed with the new programme.

"If there are enough students, ten or twelve, for a class we will have an English medium class in that school," he said.

Since the programme was just starting, the costs involved would not be taken as a negative indication, he added. "This English medium A/L is a good move," Mahinda College Principal D.K. Athukorala said. He said about 20 Mahinda students were expected to start classes in Maths and Biology streams in the English medium next week.

Batticaloa Training College Principal V. Theivendran said English medium classes would begin in several leading schools mainly in the Science and Maths streams.

But some groups are protesting against the move. Education Trade Union President Premasara Samaratunga said the English medium class would create another privileged class.

---
SLT moves to cut illegal foreign lines
Sri Lanka Telecom in a statement issued over the weekend said a deal it had signed with a third British operator had helped to further curb the unauthorised international calls to Sri Lanka.

Under Sri Lankan laws, SLT is the sole authorised institution for incoming and outgoing international calls.

SLT alleged that operators in foreign countries were bypassing the SLT gateway and had brought telephone traffic into Sri Lanka, causing a big loss of revenue.

Having identified Britain as a major source of traffic, SLT entered into an agreement with a third operator, Alpha Telecom, while continuing the existing agreements with British Telecom and Cable and Wireless to stop unauthorised traffic crossing SLT's international gateway.