The annual report of the Central Bank has once again pointed out that peace and security are vital for both domestic and foreign investment. No doubt one of the reasons for the country's inability to attract the right type of foreign investment and in sufficiently large amounts is tied up with the security situation in the country.
This has been brought out time and time again by the Central Bank as well as a number of other institutions and organisations. The best analysis supporting this point of view was the one done by the Institute of Policy Studies on the cost of the war.
That the war is a costly affair and that no meaningful economic growth could take place until it is ended is a well-recognised fact. It may also be an excuse for poor performances in other areas of economic activity hardly affected by the war. Although the security situation is an important factor in reducing foreign and local investment, it is however not the only reason. Poor infrastructure, an inadequate amount of skilled labour, the work ethics and the country's labour legislation, are among the other factors which discourage foreign investors choosing the country for high-tech and more domestic value added industry.
The focus on terrorist violence and the civil war as a significant factor in dissuading investment has, however, masked another wave of violence that has crept into the investment scene. This is the sporadic and organised violence against factories located in various parts of the country. The lack of law and order and the inability of the police to ensure safety of property and persons have reached such a level that the victims consider it futile to even report instances to the police.
Instead some owners are closing down their factories. As important perhaps is the fact that this situation is a serious discouragement to new investors. The causes of the violence may be varied. Political rivalries, thugs extorting money often with political patronage, individuals seeking advantage by closing enterprises of rivals, the attempt of some political parties to disrupt economic activities as part of their agenda for coming to power, instigation of violence on communal grounds, are among the reasons for this violence. Whatever the causes, the reason why this situation could continue is the general breakdown of law and order in the country and the incapacity of the government and the police to enforce the law and bring to book the criminals without fear or favour.
The Mawanella tragedy was not isolated. It was an instance of common day-to-day thuggery getting out of hand and engulfing the entire community in the area. The business and commercial activities of this country are conducted in an environment of continuous threats to life and property. It is also by no means confined to industry and trade; agricultural holdings are constantly plagued by theft; restaurants have to pay "kappan" not merely to thugs but police personnel. When the costs of such payments become excessive, entrepreneurs have no other option but to close their establishments. These occurrences do not happen only in far off Mawanella, they happen in the heart of Colombo and its suburbs.
Whatever the reasons for the lack of law and order and the incapacity of the government and the police to ensure law and order, the effect of this situation is to dissuade investors. In fact in the current situation it not only appears to affect future investment, but even the investments in operation. The risk aversion of entrepreneurs makes them decide not to expand their activities and in some cases to even fold up. This is hardly the environment in which investment can grow and provide employment.
The main point that we wish to focus on is that the violence of the civil war ravaging the country may be masking waves of violence in other parts of the country, that are having a more than debilitating impact on economic activity. While the war is certainly sapping the economy of any vitality and the state of any meaningful role in promoting economic growth, there is this other violence, which is also retarding economic growth, by closing down businesses and discouraging investment in many parts of the country.
Unless we focus on this issue, we may soon find economic activities of various types winding down and businessmen taking out their capital in spite of controls on capital outflows.
Law and order are prerequisites to robust economic growth. The enforcement of the rule of law is fundamental, if not the primary function of government. Economic enterprises can hardly thrive where life is "nasty, brutish and short".
---
No strings attached to IMF standby facility, says Deputy Minister G.L. Peiris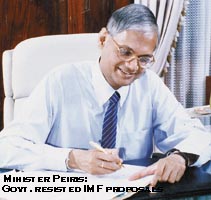 The Sri Lanka government said last week that a recent IMF bailout package would stimulate the country's economy but strongly denied suggestions that the money was obtained subject to strict fund conditions and arm-twisting.
"The infusion of this money would be of tremendous benefit to Sri Lanka. There have been no conditionalities by the IMF or any arm-twisting on their part. The money was received on the basis of a home-grown reforms programme," Deputy Finance Minister G. L. Peiris told reporters.
The Finance Ministry called a briefing to explain details of an agreement between the government and the fund on April 20 in which Sri Lanka received $253 million as a standby facility to be disbursed over the next 14 months. Details of the 18-page agreement broke out in the Sunday Times and a few other newspapers last week after it was hosted on the IMF website.
"We have nothing to hide over the agreement. We want the people to be fully aware of the details of the agreement which would be hosted on the Central Bank website for public viewing," Peiris said.
Opposition parties have accused the government of bowing to demands from the IMF in implementing tough economic reforms in lieu of the standby facility which was also backed by an additional sum of $270 pledged by others donors including the World Bank, the Asian Development Bank, the US and Japan, at the same time.
The aid package will help the world's largest exporter of tea to build up its foreign exchange reserves, eroded by the rising cost of the ethnic conflict, high oil costs and a drop in export proceeds. "As a result, gross official (foreign exchange) reserves dropped to less than 1.5 months of imports,'' the IMF said in a statement on April 20 on the new funding arrangement.
Mr. Peiris, stressing that the deal was not subject to fund requirements, noted that there were instances where the government had even resisted IMF proposals. One such issue was the government's refusal to raise the Goods and Services Tax (GST), he added.
Responding to questions as to whether subsidy cuts in fuel prices would trigger inflation and raise the cost of living, Mr.Peiris said increasing productivity levels was the only way to deal with the rising cost of living.
The government, in a March 19 memorandum on economic and financial policies to the IMF, had agreed to a set of reforms aimed at boosting the country's reserves position, cutting public expenditure, doing away with subsidies on fuel and other essentials, selling off state-owned firms and cutting the budget deficit.
It said a pay rise for civil servants was frozen this year in addition to a freeze on new hiring of civil servants. Security spending would be curbed to 63 billion rupees in 2001 from about 80 billion rupees last year while capital spending will be increased by more than 3/4 percent of GDP in line with faster disbursement of foreign financed projects.
The report said proceeds from the sale of shares in state-run Sri Lanka Telecom and the opening of the insurance markets by fourth quarter 2001 was expected to yield $275 million. Finance Secretary P.B. Jayasundara said the sale of a stake in Sri Lanka Telecom was likely to take place in the second half 2001. "We are encouraging foreign investors and investment bankers to make offers," he said. The telecom sale was postponed last year due to an uncertain external environment.
Officials said the government has also set a timetable for adjusting administered prices especially those of oil products, public transport and utilities which private sector analysts said could further trigger inflation.
Inflation accelerated to 9.5 percent in March from 4.1 percent in the same month in 2000 due to increases in diesel, kerosene, gas and electricity prices that have in turn triggered a rise in the cost of food and other goods. The price of diesel, used extensively in the transport of goods, has risen by more than 100 percent in the past year.
Central Bank Governor A. S. Jayawardena told the same news conference that under the proposed timetable, the government would pass on the actual cost of fuel to consumers when it rises and bring prices down - which would be for the first time ever in Sri Lanka - if and when world crude prices fall. "We are looking at a full pass-through system in terms of fuel prices," he added. Currently the state subsidies kerosene and has a cross-subsidy between diesel and petrol.
Nadeem Ul Haq, the IMF representative in Colombo, said the fund got involved in providing a standby facility since Sri Lanka was running short of reserves. "The set of reforms the government is undertaking would enable foreign investors to look at Sri Lanka in a positive manner," he said.
The government plans to trim the budget deficit to 8.5 percent of Gross Domestic Product (GDP) this year from 9.8 percent in 2000 and to 6.75 percent next year. GDP growth is seen slower this year at 4.5 percent from 6 percent in 2000.
Foreign exchange reserves, once at $2.5 billion about two years ago, dropped sharply in mid-2000 due to higher war spending, a bigger import bill particularly because of increase crude oil prices and exporters holding back their proceeds in anticipation of the dollar rising further. The reserves position has now recovered to over a billion dollars this year.
---
"We want to make the dreams of people come through by offering a variety of services through this bank to any customer and tailor-make a product for him or her."
Ceylinco Savings Bank (CSB), the newest bank in Sri Lanka, was launched last week with a promise to mobilise the vast potential of untapped public savings in the country's economy.
"We will offer a specialised service to the poorest of the poor in the country as well as other categories. We want to make the dreams of people come through by offering a variety of services through this bank to any customer and tailor-make a product for him or her," said Ceylinco Group Chairman Lalith Kotelawala.
The CSB is among a growing number of savings banks that have emerged in the Sri Lankan economy in recent years given the fact that there is a large amount of savings that could be mobilised from the public, analysts say.
Sri Lanka's biggest and pioneering savings bank is the National Savings Bank but the level of mobilising savings from the public is very low compared to other Asian countries. According to local statistics, Sri Lanka's rate of savings mobilisation is little over 15 percent of the Gross Domestic Product (GDP) whereas it is as high as 54 percent of GDP in Singapore and over 40 percent of GDP in Malaysia.
"There is a huge untapped market for savings mobilisation in Sri Lanka,' said R. Renganathan, a director of the bank and a senior Ceylinco group director, discussing market conditions.
The CSB has been incorporated as a specialised bank under Central Bank regulations with the license to operate being received in November 2000, nearly four years after the application was first made to the Central Bank.
"The bank has a startup capital of 100 million rupees and unlike normal commercial banks will have the advantage of not requiring to maintain statutory reserves. We can pass on that benefit to the client in the form of reduced or higher interest rates," one official noted.
Mr. Kotelawala said the bank would offer doorstep banking for the first time in Sri Lanka - with guidance executives calling at the homes of potential clients and offering a range of services.
The bank, in time, will also operate mobile banking units.
"We are not desiring to be big. That is a fruitless exercise. What we would like to do is offer the best possible services to clients and make them feel comfortable," he said.
Officials at the press conference declined to provide details of the range of attractive interest rates that are expected to be offered for savings deposits, housing loans and other loan facilities. "Wait for the 25th of May and then we will let you know the rates," smiled Mr. Kotelawala. The CSB is planning a major bash on May 25 when it opens its doors to the public at the Colombo office in Bambalapitiya.
Mr. Kotelawala said interest rates, in the case of housing loans for instance, would be very attractive and comparable to the lowest rates now on offer by other housing banks.
The CSB has put together a range of deposit and loan products including bonus savings schemes, children's savings schemes, a family package savings scheme, value plus fixed deposits, a dream plan savings scheme, home savings scheme, certificates of deposit and housing and business loans.
Mr. Kotelawala said there was no conflict of interest between the new bank and Ceylinco group's Seylan Bank. "One is a commercial bank and the other is a savings bank. They have different philosophies and operate independently," he added.
CSB's Board of Directors comprise: Lalith Kotelawala, R. Renganathan, Ms. S. Kotelawala, Col. W. Wanigasinghe, S.C.O. Livera, A.D. Jegasothy, Ms. Mala Sabaratnam, Thushara Ranasinghe and Ms. A.K. Seneviratne
---
Sri Lanka's tea industry took a major step forward last week with the launch of the country's first on-line tea sales by tea broker, Forbes & Walker Ltd. in association with Teauction.com, an Indian-based global pioneer in Internet tea trades.
The two companies announced the formation of a joint venture, Forbes Teauction.com (Pvt) Ltd, to create and operate Internet-based private sales for tea on guidelines approved by the Sri Lanka Tea Board. The trade would be conducted according to existing bylaws and conditions for the sale of tea formulated by the Colombo Tea Traders' Association (CTTA).
Forbes & Walker Chairman, Chrisantha Perera, told reporters that on May 18, the first ever electronic offer list of teas in Sri Lanka was opened for perusal by local buyers on website HYPERLINK "http://www.forbesteauction.com" www.forbesteauction.com while the historic first on-line private sale would take place tomorrow.
Private tea sales - directly between a seller and buyer - account for just 10 percent of the Sri Lanka's tea production with the bulk being sold at the Colombo tea auction, the world's largest auction centre.
Sri Lanka is the world's biggest tea exporter and officials at the CTTA, which runs the auction, said a proposal to computerise the auction is under consideration.
Ketan Desai, head of International Marketing for the Calcutta-based Teauction.com Ltd., said the introduction of on-line private tea sales in Colombo was a significant development for the global tea industry, because Colombo is the world's largest auction centre.
There are more than 200 buyers operating in Colombo and Forbes & Walker sells more than 65 million kilograms of tea annually, accounting for an overall market share of about 22 percent.
Desai said other tea brokers too could have their offers hosted on the site by paying the required fee to the joint venture. In India, where Teauction.com set up the world's first digital tea exchange in March 2000, weekly on-line sales have been successfully conducted.
Shareholders of Teauction.com Ltd., HYPERLINK "http://www.teauction.com" www.teauction.com include the B M Khaitan Group, Apeejay Group, Hanuman Tea and Centurion Bank. The company has taken strategic equity in A W Figgis & Co. Ltd., a 130-year-old broking house in North India, and in TTBL Tea and Technologies Ltd., in South India for providing affiliated services.
Desai said his company, which handles more than 100 kg of tea per week from six Indian tea auction centres, planned to launch similar joint ventures in Bangladesh in July, followed by Kenya and Indonesia for on line tea sales.
Mr. Perera said online tea trades won't undermine the current Colombo tea auction. "Private sales of tea in Sri Lanka are too small to challenge the well-established tea auction system and it is not in our interests to undermine that system," he said.
"The synergies of our companies have proven a perfect match that has enabled us to offer the benefit of leading edge technology," Mr. Perera said. "Forbes & Walker is one of the two largest tea brokers in Sri Lanka and has a historic association with the tea industry dating back to 1881. Teauction.com was the first B2B portal globally for the buying and selling of tea. We have the product, the expertise and long established relationships with producers and buyers. They have the software and technical know-how for e-commerce in this sector."
Listing the advantages of the on-line private sale, Mr. Perera said it would widen the scope of the process, enabling more buyers to look at the teas on offer. This would create more competition in the marketplace, stimulate better offers, and enable sellers to optimise the benefits of private sales. There would be no additional expense to buyer or seller, making it a "win-win" situation for everybody, he said.
Forbes & Walker Tea Brokers (Pvt) Ltd., was the first local broker to launch an interactive website in 1996 and to obtain ISO 9002 certification for tea broking in the year 2000. The board of directors of Forbes Teauction.com (Pvt) Ltd comprise Chrisantha Perera, Yshan Fernando, Ayush Bagla and Ketan Desai.
---
By Akhry Ameer
"We want to take an integrated approach to housing finance," explained Mr. Faizal Salieh, Director/Chief Executive Officer of NDB Housing Bank after the launch of the bank in Colombo recently. NDB Housing Bank is the newest fully-fledged housing finance institution to be set up by the National Development Bank (NDB) as part of its entry into retail banking.
"The first question that comes to one's mind in housing is, "Is it affordable?" This does not mean just the cost of construction, but the delays in processing loans, the legal aspects, construction time, etc. These are all in a way, costs. We don't want to be just the financier. We want to be a player to improve and remedy the constraints in the framework and uplift this sector and thereby reduce the fees involved," said Mr. Salieh on the role to be played by the NDB Housing Bank.
He added that they intend attending to all these elements, for example, talking to the legal community to improve the legal framework; and talk to other international constructors to bring in new technology and improve construction time and also to introduce alternate methods to the traditional cement and brick formula.
Asked as to why NDB started with housing, Mr. Salieh added that although there are other players in the market, "they felt there was room for an effective private sector operator". NDB Housing is hoping to target the bankable homeownership market of middle class, fixed middle income, late 20s and early 30 year-olds who are employed. "This is a safe market to start with. We want to provide them with hassle free housing loan transactions structured to each individual's needs," he said.
The bank hopes to expand its services to providing a full solution, like making available of designs, a database on lands for sale, etc. Its current range of products has been developed to provide solutions for individuals, corporates, etc. "It could be a long haul but we are out to make it work," said Mr. Salieh.
NDB Housing Bank is NDB's first step into the retail market as part of its strategic direction towards universal banking. The first market -based housing finance corporation has both a financial and technical input from Housing Development and Finance Corporation (HDFC) in India with 15% shareholding and a secondment of one of its top officers to the Sri Lankan office. HDFC is a pioneer of housing finance in India and is one of Asia's best-run housing finance institutions. HDFC had also set up an operation in Bangladesh recently. The other partners include Eagle Insurance, IFC (International Finance Corporation), ADB (Asian Development Bank), FMO, EPF (Employees' Provident Fund) and Capital Development Investment Company in which NDB has a 96% share. The bigger chunk of the shareholding is from NDB itself with 30%.
---
By Akhry Ameer
"This year there are fewer submissions for compliance certificates to that of previous years," observed Mr. Ranel T. Wijesinha, President of the Institute of Chartered Accountants of Sri Lanka at the Annual Report Awards Ceremony 2001 at the institute auditorium last week.
Mr. Wijesinha in his address noted that government organisations like the Ceylon Electricity Board, Ceylon Petroleum Corporation and CWE were notable absentees in recent years among other private and public sector submissions of annual reports for review by its panel.
He also emphasised the responsibility and the role of the private sector in contributing towards the growth of the economy citing a recent newspaper report on public debt statistics. "Nations cannot exist without a vibrant and socially conscious corporate community. The stability of a nation therefore is a function, of a stable corporate sector," he said.
Mr. Wijesinha also added that in order to attract foreign investment there needs to be greater transparency in corporate reporting for review by relevant stakeholders. To this end the corporate reporting should be upgraded in keeping with the expectation of businesses. Thus the evaluation criteria has been revised and a new criteria will be set from the next competition.
Hayleys Limited won the Cyril Gardiner Memorial Trophy for the Best Annual Report while Hatton National Bank emerged runners-up. In accepting the award, Mr. Sunil Mendis, Chairman of Hayleys, said they are happy with their win, but called upon the institute to reconsider the high standards expected and to strike a balance between standards and the business priorities of organisations.
Mr. Rauf Hakeem, Minister of Internal and International Trade and Commerce, Muslim Religious Affairs and Shipping Development was the chief guest at the ceremony. In his speech he commended the institute for having carried on the awards ceremony through nearly four decades and for having improved its evaluation standards through the years. The ceremony was well attended by the top rung of the corporate community.
---
The Central Bank has announced that the Gross Domestic Product (GDP) of Sri Lanka is estimated to have grown by 6% in real terms in 2000, up sharply from only 4.3% in 1999 and ahead of our target of 5.7%. Growth has been driven by strong expansion in the manufacturing and services sectors, by 9.2% and 6.9% respectively. More specifically, strong growth in apparel manufacture and export and higher imports of investment and intermediate goods (mainly relating to apparel production) have provided the underlying impetus to growth, Asia brokers said in a report.
However, real GDP growth in 2000 has slowed to 5%, well down from the 6.9% achieved the previous year. This follows the sharply lower growth of 4.4% in the manufacturing sector (from 5.8% a year ago) and 6.8% expansion of the services sector in contrast to growth of 7.5% in 1999.
Following a difficult 1998 and 1999 (1st half of 1999), Sri Lanka's economy commenced recovering in 1999, driven by a rebound in exports. This followed easing of competitive pressures in merchandise exports from East Asian rivals and strong global economic growth. While economic growth momentum was maintained in 2000, a slowdown was witnessed in 2000 due to slower growth in the United States of America, Sri Lanka's largest export market, and internal fiscal and balance of payments pressures.
Having averaged only 3% in 1999, Sri Lanka's real GDP growth recovered to 4% in 1999 and 6.9% in 1999. The economy continued to grow strongly by 6.6% in 2000 and 7.4% in 2000 in real terms before slowing down subsequently. Real GDP growth in 2000 fell to 5.4% and has slowed further to 5% in 4Q2000.
Growth in the agriculture, forestry and fishing sector has slowed markedly to 1.8% in 2000, in contrast to expansion of 4.5% in 1999. The slowdown in growth is attributed to a 0.3% decline in paddy output (from record levels in 1999 due to a fall in the cultivated acreage), a 9.7% drop in rubber output (due to previously poor prices having caused tapping to be abandoned in marginal lands) and slower growth of 0.9% in output of other agricultural crops (which accounts for 44% of total sectoral output). The output of rubber of 87 mn. kg. in 2000 is reported to be the lowest level recorded in the past fifty years. In contrast, output of tea and coconut reached record levels in 2000, growing by 7.8% and 8% respectively. Growth in the fisheries sub-sector has also fallen sharply to only 2.5% in 2000 (from 7.6% in 1999) due to reduced output in deep-sea fishing. However, the forestry sub-sector has recorded slightly higher growth of 1.6% in 2000, up from 1.3% in 1999.
Sectoral growth in 2000 has also slowed markedly to only 2%, from 8.8% a year ago due to lower output of rubber and other agricultural crops.
The smaller mining and quarrying sector has posted a healthy 4.8% growth in 2000, up from 4.1% in 1999. The continuing growth in the sector in 2000 follows higher export earnings of precious stones due to a demand from Southeast Asia. The quarrying sub-sector has also continued to show a healthy growth of 5%, benefiting from infrastructure related construction activity.
Sectoral output in 2000 has also improved, growing by 0.9% in contrast to the contraction of 1.8% recorded in 1999.
As expected growth in the manufacturing sector has recovered strongly to 9.2% in 2000 from only 4.4% the previous year. Growth has been driven by a 10.4% expansion in factory industry, which accounted for 81% of total sectoral output. Contributing chiefly to overall sectoral growth has been strong, 16.6% growth in output of the apparel sub-sector and 13.1% growth in textiles. This is attributed to higher utilisation of garments export quotas and increased exports of non-quota apparel. In addition, a 24.1% growth in the petroleum sub-sector (due to year round operation of the refinery) and a 14.5% expansion in the chemicals/paints/fertiliser sub-sector have also helped boost overall sectoral growth.
Further growth has also been witnessed in the tea, rubber and coconut processing industrial sub-sector following higher output of tea and coconut. This sub-sector, which accounts for 12% of the manufacturing sector, has grown by 4.2% in 2000, up from 3.8% in 1999.
However, sectoral growth has slowed sharply in 2000 to only 4.4% (down from 5.8% in 1999) in contrast to expansion of 10.2% in the 3rd quarter of 2000, 11.4% in the 2nd quarter of 2000 and 12.5% in the 1st quarter of 2000. This is attributed to slower growth in industrial exports and a likely reduction in domestic consumer demand.
The construction sector has also posted relatively healthy growth of 4.8% in 2000, as in the previous year. Growth in the sector has been driven mainly by infrastructure development in the energy, telecommunications and transportation sectors. However, growth in construction of commercial buildings and residences has slowed down.
Sectoral output has improved by 2.4% in the 4Q of 2000 in contrast to growth of only 0.7% in the 4Q of 1999 and is attributed to infrastructure related construction activity.
Growth in the dominant services sector has rebounded strongly to 6.9% in 2000, up from 4.2% the previous year. The recovery in the sector is attributed to the revival in the trade sub-sector (which accounts for 22% of GDP and 41% of sectoral output) following the rebound in external trade. The trade sub-sector has expanded by 8.7% in 2000 in marked contrast to growth of only 1% in 1999 and follows 12.9% growth in the import segment (as opposed to a contraction of 1.4% in 1999) and 18.3% growth in the exports segment (compared to growth of only 6.1% in 1999). Further, growth in domestic trade has also picked up to 2.4% in 2000 from 2.1% in 1999.
The transport/ports/storage/communications sub-sector has also posted relatively strong growth of 7.8% in 2000, although this is down from 8.1% in the previous year. Growth has been boosted by 31% expansion of the telecommunications segment on further extension of Sri Lanka Telecom's network and that of other telecom operators. Further aiding growth has been higher penetration of electronic media services. However, we understand that the transport sub-sector had grown only modestly, with increased inland transportation offsetting the decelerating growth in port activity following a drop in transshipment traffic.
Similarly, the banking/insurance/real estate sub-sector has expanded by 6.4% in 2000, up from a growth of 4.6% in 1999. The faster growth in this sub-sector is attributed to improved trade activity. Further, growth in the insurance segment in 2000 has also been ahead of the previous year, although leasing activity has been affected due to higher interest rates in the 2nd half of 2000.
Growth in the electricity/water/gas/sanitary services sub-sector has slowed sharply to 4.5% in 2000 from 9.5% in 2000. This is mainly due to slower growth of 4.5% in the electricity sub-sector (down from 8.9% in 1999) and 4.5% in water (down from 13.7% in the previous year). This was due to lower hydroelectric power generation and reduced distribution of water due to the poor monsoons.
Sectoral growth in the 4th quarter of 2000 has also slowed moderately to 6.8% from 7.5% in the 4th quarter of 1999 and is primarily attributed to sluggish trade activity the report noted.
GDP growth to slow down to 3.9% in 2001
"Economic growth in Sri Lanka relies heavily on external trade and foreign direct investment (FDI) in the manufacturing industry. As such, the slow down in the United States of America (USA), Sri Lanka's largest export market and reduced FDI flows are likely to hamper economic growth in 2001. Consequently, we are projecting GDP growth to slow down to 3.9% in 2001, on slower growth in the manufacturing sector (+4.9% vs 9.2% in 2000) and also the services sector (+4.1% vs 6.9% in 2000), with the under-performance in the latter being due to reduced growth in the trade sub-sector, which accounts for 22% of overall GDP. However, we expect slightly higher growth in the agriculture sector (+2% vs 1.8% in 2000) on higher output in the plantation and other agricultural crops, the report said."
---
The recently concluded GT Radial Dealer Convention, which was held at the Colombo Hilton, was graced by Mohammed Saleh, Ambassador for the Republic of Indonesia and Mr. Tatang Derajat, Minister Counsellor and other officials from the Indonesian Embassy.
Mr. Budhi Santoso, Senior Manager and Mr. Jamal Nasser, Sales Manager from Gajah Tunggal, Indonesia represented the client. Dealers, officials from the media, directors and staff from Douglas and Sons and special invitees from Bangladesh and other guests made up the gathering.
Chairman Mr. Saroj Perera addressing the gathering said it was co-operation and determination that had made GT Radial the market leader in imported tyres for the fourth year in succession. He was delighted that an all-time high of 150,000 tyres had been sold in the past year. He stressed that Douglas and Sons had always strived to provide dealers with high quality products in the most efficient way possible.
In the current year they were intending to give greater propaganda support for the tyres. Upto 160 First Class Awards were distributed to the dealers which included 80 air tickets, and full board hotel accommodation, to Singapore, Thailand, Japan and Indonesia. There were other awards which included air-conditioners, television sets, washing machines and computers.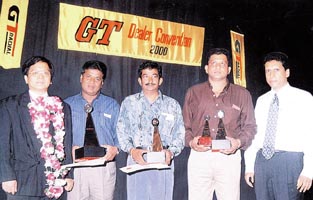 From left: Mr. Budhi Santoso Tanasaleh, Senior Export Manager PT Gajah Tunggal, Indonesia, Mr. Gemunu Gunawardane. Universal Tyre Service, Colombo 8, Dealer of the year gold award. Mr. D.D.J. Perera, Sumudu Tyre Centre, Kochchikade, Dealer of the year silver award. Mr. Ranjan Ponnamperuma, Ranjan Tyre House, Nugegoda, Dealer of the year bronze award and Mr. Saroj Perera, Managing Director, Douglas and Sons Ltd.
---
The Asian Development Bank's richest donors want the bank to become a more prudent lender by applying stricter performance criteria to its loans policy and insist on higher standards of governance from its borrowers in the Asia-Pacific region, according to reports reaching Colombo.
At its annual meeting in Hawaii, which ended last week, officials from the US and Japan - the ADB's largest shareholders - clearly staked out their vision for the Manila-based development bank under the new administration of U.S. President George W. Bush and Japanese Prime Minister Junichiro Koizumi.
Washington wants the ADB and other multilateral lending agencies to be more selective lenders and keep a closer watch on how borrowing countries are using loans, reports indicate. Japan, meanwhile, urged the ADB to get more involved in promoting regional economic cooperation and integration and prevent emerging economies in the region from falling behind on developments in the information technology sector.
The US, represented at the meeting by Treasury Secretary. Paul O'Neill, said poverty reduction should be achieved by delivering higher levels of economic growth. "A key theme behind my idea for reform of the multilateral development banks is that they be more focused on the objective of increased income per capita through higher productivity growth," O'Neill told delegates of the bank's 59 shareholding countries.
This vision, however, runs somewhat against the broad grain of the ADB's own policies, which place greater emphasis on poverty reduction by direct intervention - and it didn't strike much of a chord with some of the bank's developing-country borrowers.
"Emerging from a severe downturn with millions of Asia citizens suddenly lacking jobs, simply waiting for the benefits of prosperity to trickle down to the poor, may not be enough to maintain harmony in society," warned Philippine Central Bank Governor Rafael Buenaventura, who called for a "more direct approach to poverty reduction" in line with the ADB's vision.
ADB President Tadao Chino made it clear that promoting sustainable economic growth in the region is one of the key pillar's of the bank's new poverty-reduction strategy, along with promoting social development and good governance. The ADB estimates two-thirds of the world's poor live in Asia, where some 900 million people try to get by on less than one dollar a day. The bank is a regional cog in a global effort by multilateral agencies to reduce poverty levels by half by 2015.
Meanwhile, a senior Japan Ministry of Finance official said the ADB, which approved loans of close to $6 billion last year, should improve its own governance by strengthening its "compliance mechanism," a reference to the ADB's proposal to link a country's governance performance to tapping the bank's soft-loan Asian Development Fund.
"Governments are on notice that governance performance is a criteria for soft funds," said Cedric Saldanha, who heads the ADB's poverty-reduction unit.