On bended knees
Who is this journalist who was seen and heard begging from a JVP Member of Parliament to ask the Minister of Sports and Tourism as to why the Cricket Board was dissolved; when the votes of his Ministry was taken up, with even a file been given to this MP stating that his boss has been given an assurance by him of this question being asked. Mind you not a word was asked! What a let down.
How come?
How come a National Coach was present at the first Exco meeting of this Sport. Who gave him permission to attend this meeting. What a way in double standards.
Change coat
Who is this official, who is issuing statements to the effect of praising people where he only last year in April called the same person a thug when the AGM was held. What a change, like another who was critical and was silenced when he was given what he had been clamouring for.
Bio-Data
The Ministry of Sports has called for the bio-data of the persons nominated for the post of selectors in the AAA. Well done indeed, which will go onto show that they have a hand in coaching which deprives them of holding these posts, because they might canvass their trainees!
Checkmated
Rover learns that a female chess player who had represented Sri Lanka at the Chess Olympiad, has been knocked out with a set of scheming officials, for the World Championships Zonal play-off next month in Sri Lanka.
Relaying of Turf
A top official of the Dambulla Stadium, had confided in another top sportsman that they had decided to re-lay the turf closer to the boundary line, since it was not properly done with the ball apparently slowing down. By this there is no doubt left to be seen as to who is bluffing whom?
Strange disclosures
The talk of the town is how come two persons from Sri Lanka duty bound in Sharjah, were taken to task by Dav about their write-ups of the New Zealand match being sold. The duo (pundits) in their styles was further humilated at the Airport at Katunayake when a higher official stated that he was sorry for not being able to cash the cheque regards the match sold out.
Baggages missing
The Sri Lanka Under-19 ruggerites were put to shame when they found their baggages missing when they arrived in Chile. The poor boys, Rover learns, had to beg and borrow for one week until there baggages arrived. The ruggerites were paid 100 dollars by the Airline as compensation, but the boys were only given 50 dollars each. One wonders where the balance monies went.
Club loyalty
A selector was asked as to why a certain player was picked to the Sri Lanka team. Pat came the reply: How can I drop him? What will the club think about it? What will my position be. Club loyality indeed.
Media refused entry
How come a leading rugby club in Colombo, has issued orders to their security personnel to stop media personnel entering this club. It never happened before.
What a way
The Nuwara-Eliya road races saw the father of a competitor ordering the car to be stripped for verification, since he came out the winner, defeating his son into second place. What a way to support his off- spring! Awaiting the outcome of the report. How crazy can one be!
---
Trevor Croner, the former Josephian sportsman who excelled in Cricket and Soccer Captaining both these sports was also the Schoolboy Cricketer of the Year in 1976. He who is now domiciled in Australia has been diagnosed with secondary renal cell cancer in his lungs, bones and right adrenal gland. The Doctors who examined him in Australia have said that he has only 8-10 months to live. He's visited a top specialist in Minnesota in the US who has said there is a 1 in 10 chance treatment that could work for him. This treatment which is called interlukin 2 (IL 2) is very expensive. Two types of help would be important and appreciated very much. Moral and Spiritual support and Financial. Shamilal De S. Wijeratne, his former cricket team mate at College along with a few other College mates and friends have launched a fund raiser for Trevor in the US and UK. A few friends of his are compiling a special get well card listing out all names of friends and well wishers here, and have opened a bank account in his name to raise some funds. Your contributions to help this outstanding sportsman will be most welcome. Please send in your contribution to: Trevor Croner Benefit Fund A/c No 001-437417-001 at HSBC City Office, Colombo 1. Trevor could be contacted in Australia on Tel: 7-3880-1815 or email Croner@bigpond.com. Anyone of his following friends would be able to update and clarify any queries. Lalith De S. Wijeratne - 074-304027, Wayne Jansz - 077-388831, Susilough De S. Wijeratne - 875934, Adrian De J. Seneviratne - 071-274029.
---
It is a few weeks since Sir Donald Bradman was moved on his final journey to a private funeral at Adelaide's Centenial Park Cemetery. In Austrlia newspapers and magazines devoted acres of coverage and radio phone-ins went into overdrive from the time of his passing away until the funeral. In England and in other parts of the Cricketing world the most talked about and written about sports person's death was mourned as the curtain closed on an exemplary life.
The obtituary in the Times in England was unconditional: "The world will be poorer to many of us for the passing of the greatest of Cricketers. To those who knew him he was more than a great Cricketer. He had many characteristics of a great man. In fact those were the very words that Sir Arthur Conan Doyle wrote on Dr. W.G. Grace. The words apply to both.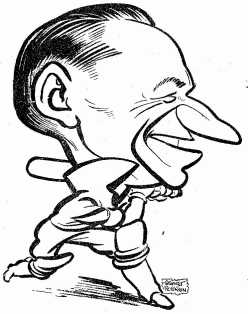 Born on the 27th of August, 1908, from small beginnings, the boy from the outback allowed Australians to feel proud at a time of terrible economic depression. During the days of pre-TV and minimum radio communication of 1930's Bradman was idolised by millions (not just in his homeland) who could only read of his miraculous deeds. In a time of despair against the punishing enconomic conditions of the depression he represented the little bloke from the "bush" whose honest skill and brave determination brought him fame and fortune.
Sir Donald's grandfather emigrated from England during the nineteenth century. Like so many Australian boys of his time, Bradman first tasted cricket while he was still in short pants gripping a cumbersome adult bat on a tarmac pitch. He practised alone for hours at a time, hitting a golf ball with a stump against a round water tank. That exercise perfected timing and sharpened the eye. To the end of his days he carried out that meticulous way of training and preparation. He was always a perfectionist, aiming to achieve nothing but the best results.
Jack Fingleton his former team mate and subsequently famed Cricket Journalist wrote this in his book "Brightly fades the Don." "Bradman's mind was always cool, calm and analytical, and in its sphere, was as a great a taskmaster of the body as man could posses. His mind gave his body no rest. His mind called the tune and his body, gifted as it was in peerless footwork, eyesight, judgement and a perfect dynamo of ceaseless energy, danced to it.
Neville Cardus, the legendary English Journalist for many decades had this to say in the Wisden Cricketers Almanack of 1963. "After he had scored a triple century on a warm day at Leeds in 1930, he came from the field apparently cool, no sign of perspiration, not a buckle out of place, flannels immaculate and, as the crowd roared him home, he seemed withdrawn and impersonal. People said he lacked emotion. Personally I have found in Sir Donald plenty of friendliness and honour. I am happy to say that he was for me a constant spur to ideas. A newspaper column could not contain him. He was, as far a Criketer can be, a genius.
Here are some lesser known facts on Bradman's career
o Bradman averaged 130.08 in Tests that Australia won (30 times) and 43.27 when they lost (12 times).
o Bradman scored a Test double century every 6.66 times he batted. The next best rate among batsmen who have scored multiple 200's is - Marvan Atapattu every 19 innings.
o In Tests Bradman hit 618 fours and only 6 sixers, 5 against England and 1 against India.
o Bradman averaged 112.29 in 19 Test hundred was 11 games. (1933034).
o Bradman shared 164 century partnerships in first class cricket (17 with Alan Kippax) and 35 in Tests (7 with Bill Woodfull).
o Bradman was run out only four times in first class cricket and only once after December 1929. Run outs made up 1.3% of his completed innings.
o Bradman was dropped 24 times in Tests and 93 times in first class matches. 269 of his 338 innings were chanceless.
o Bradman was never dismissed twice for single figures in the same Test.
Bradman's record in Tests was, 52 matches, 80 innings, 6996 runs, highest score of 334, 29 centuries, an average of 99.94.
UN Secretary General Kofi Annan paid his final respects saying, "Sir Donald matched his extraordinary record on the field with grace and honour off it. I join Cricket lovers around the world in expressing my sincere condolences to his family, the government and people of Australia and the game of Cricket".
---
Our present Cricketing genre hardly needs to be reminiscenced of a local Keeper who excelled behind the stumps in his hey-day, way back in the pre-Independence era. Ben was a wicket-keeping prodigy who could hardly be rivalled either in the local scene or elsewhere, for such was his brilliance, of which we need to recall with nostalgic memories, even after five decades, since he shone in the cricket grounds, be it school, club or National or why not even in the International scenario.
Ben was our local version of his Aussie and English contemporaries Don Tallon and Godfrey Evans. For young Benjamin Navaratne, wicket-keeping was a fine-art, a fact that none of his admirers would deny. He first played cricket for St. Benedict's, and then St. Joseph's and later for Zahira, where he made a name, even before his entry into the Sinhalese Sports Club. After graduating from school cricket, he played as opening bat at SSC, prior to showing his excellence at National level, where even foreign critics did admire his own brand of keeping. Ben was gifted with an athletic body, an alert mind and quicksilver reflexes, as Neville Abeygoonawardene was later to write. His Tarzan type voice mesmerized umpires, as his "How-zat"s were genuine more often than not, resulting in seldom being turned down.
With Ben as Keeper it is said that Captains could dispense with the 1st slip, Leg slip or even the short Third man, for his acrobatic fielding rendered them redundant. Neville in the same article said that when the late Sir Don Bradman played us in 1948 said after that match that he would have been delighted to have Ben in his Aussie team, which Neville says is a true assessment and a handsome compliment. (vide The Island of Sunday 18th January 1987) Almost all sportswriters were full of praise for BN and a veteran commentator of yesteryear, Lucien de Zoysa described him as "The dynamo on the field" in the series "Giants of the past" - in the same paper. Like Lucien, Ben too, had come under the tutelage of ace cricket coach Chippie (LDS) Gunasekera, whose advice to wicket keepers was "set the tone for the fieldsmen" which Ben just did and that explains why every captain liked to have Ben in his team.
Ben Navaratne was an enemy of the batsmen, who feared his style of keeping wickets, while bowlers were happy with him, for his cooperation resulted in their success. The local lads caught up Chippie's advice to such heights that it is chronicled that when the Royal College team toured Down Under way back in 1936, Aussie sportswriters had not only commented on Lankan fielding, but recommended this axiom of 'wicket-keeper setting the tone to fellow fieldsmen' to the Australian cricketers to follow.
Ben was a nightmare to batsmen who loved to step out and have a bang at the ball, for with lightening speed he would knock the stumps, leaving the batsmen bewildered, much to the excitement of spectators.
A conspicuous act, which was almost a ritual with Ben, was that he passed the ball straight to the bowler, and never via the slip, the gully etc. as we see nowadays, killing the game and precious time. Stealing a single was taboo with BN, and such attempts were proved suicidal often, for he would collect the ball and hit the wicket in no time with batsmen failing to crease in time. Lucien once lamented in one of his articles that, had there been movie-cameras, as we do now, such videos would have schooled our young cricketers with the technicalities of Ben's actions.
- Lenard Ranjith Mahaarachchi
---
By Rex Wijewardene
In the past Sri Lanka has produced wicket keepers of rare quality such as Ben. Navaratne, who's brilliance behind the wickets even impressed the late Sir Don Bradman in one of those whistle-stop matches, at the Colombo Oval. Then there was Dr. H.I.K. Fernando who wore his wicket-keeping gloves with distinction and of recent vintage Mahes Goonatileke whose brilliant career came to an abrupt end due to his involvement in the rebel tour of South Africa. Since then there has been a drought in Sri Lankan cricket to find keepers of their class. Whatever opinion the critics may have of "Little Kalu", as he is fondly referred to by the former England Captain Tony Greig, is the best we have at present in this vital department of the game. His wicket-keeping has improved a lot in recent times. He is a bundle of energy, he has a keen eye and his reflexes are perfect. He is a gutty player who has a gift of inspiring his bowlers. His magical smile adds colour to the game, like those colourful cricketers from the Caribbean.
As for the young and promising K. Sangakkara, his performance behind the sticks left much to be desired. Romesh who was left in the dark even though he headed the batting averages in the tour of South Africa was also edged out of O.D.I in New Zealand and the three Test matches against England.
To him disappointment means little, he is made of sterner stuff. Sanity did prevail on the selectors and he was brought back to the squad for the O.D.I. against England. He made his presence felt in no uncertain terms with a swaskbuckling inning of 102 not-out. In his onslaught he made a mockery of the England bowlers.
I met 'Little Kalu' at the engagement of my niece Kishani on the 31st of March. They work together and the little chat I had with him was refreshing.
He never had a bad word for any of his team mates or the selectors. That's what sportsmanship is all about. He has a lovable personality. As for his critics I am sure 'Little Kalu' would have had the last Laugh.
---
As suggested by Daham Wimalasena contd. from last week… A report of the administration of the fund for each calendar year together with a copy of the Audited Statement of Accounts of the fund for that year accomplished by the report of the Auditor General on such accounts shall be placed by the Minister before Parliament as soon as possible. Definition of Established Sports and other Sports To define Established Sports on the basis of managerial availability to administer the NSA. This would further encourage and enhance professional management of NSA. Continuity Continuity of Policies, Programmes and Contacts here and abroad is very essential to the well-being of any sport. Personal contacts with their counterparts abroad, facilitates financial and technical assistance as well as organizing Tours and Competitions etc. The Term of Office should be 2 years. Elections should be held once in 2 years unless the Ministry is convinced of mismanagement. In which case an election could be held after 1 year for another 2 year Term. Any case an AGM should be held every year. The maximum number of consecutive Terms and President can hold will be 2 Terms (4 years). As recommended earlier Executive Secretaries should progressively replace Honorary Secretaries; and Treasurers will be appointed by the Minister every year for every sport.
---
contd. from last week… Sports are the socializing and civilizing agents of mankind aimed at inculcating discipline, patience, tolerance, ability to accept victory or defeat based on fundamental rules and regulations. The games of wrestling conducted at these centres are the reversal of those age-old traditions of civilized society. If this trend is allowed to continue very soon other sports too will follow suit. Justice and fairplay would be replaced by injustice and foulplay. Many parents expose their beloved children to spine-chillers with the hope of role-modelling their personalities in the realm of warrior spirit. Fascinated by the pictures and portraits of corrupt wrestlers available in the form of picture postcards, stickers, commercial ads etc., schoolchildren decorate their text books, exercise books, living room walls with them as a source of inspiration. They display their loyalty to their idols by wearing T-shirts that carry the war slogans of wrestlers. By nature the young minds are uncritical of what they see and hear. Sadistic pleasures derived in the early stages of life are absorbed in their crude form into the young minds quite unfiltered and unsorted. Thus frequent exposure to events of horrific violence and blood-shed as entertainment contaminate the young minds nurturing unhealthy thoughts such as aggressiveness, hostility, belligerence and blood-thirst. Children nurtured on this forte of entertainment send shock waves around the world when they terrify school/college premises at gun point, brutally murder their classmates or teachers, shoot at their own parents and brothers and sisters particularly in the USA. There had been many instances of decapitating of schoolchildren and fixing the heads on school gates as fun in Japan. If this entertainment industry is allowed to continue with its barbaric shows unabated future generations too will fall prey to its influence. Therefore world leaders including the President of the USA and UNO chief, International sports governing bodies, particularly the Olympic Federation, Educationists, Psychologists, Religious personnel - all humanists should take immediate action to ban this corrupted industry or to revise and regularize it based on fundamental rules and regulations. Madduma Bandara Navarathne, (Technical College, Embilipitiya.)
---
By Tania Fernando
The phrase 'looks can be deceiving' would just fit Aravinda Premadasa one of the youngest racing drivers in Sri Lanka, who has been winning many competitions against those who have been involved in it for years. While relaxed at his home he looks a typical young adult with no cares playing with his baby son, but on the track and behind the wheel its another story all together.
The feeling of sitting behind a wheel when on a race track could be a nerve wracking experience for most, but for someone who has been doing it for almost 15 years describes it as 'cool'. The thought of maybe more than ten people in line trying to break a record should send anyone's heart pumping faster than the breakneck speed of the racers on the track, but yet Aravinda seems to take it in his stride and does not get ruffled about the hype created about this very exciting sport.
He might be a champ on the race track, but yet he is a man of few words, who said that the first thought that is racing through his mind when on track waiting to be flagged off is "What am I doing here", he said. "I keep saying it all the time, but after two laps I am into it and I actually enjoy it".
Aravinda whose father was a well known racer took to the racetrack from the tender age of seven years. He says that from the time he can remember he has been at the track with his father. Aravinda is the son of the famous racer Suranjith Premadasa.
His first step onto the track was when he was seven-years when he took part at the Go-Cart races where he won the Rover Championship. He took to formula racing at the age of 11 and at the age of 16 he went to England for a two-week course at the Jim Russell Training School, and won the final race with the fastest timing when he participated at the Graduation Race with 30 drivers from around the world. He said at the Jim Russell Training School he was taught how to handle a crisis situation which has helped him stay calm and collected.
Returning to the track after a break of one year, he achieved the fastest timing at the just concluded Fox hill and Mahagastota Hill Climb. Aravinda who is just 22-years seems to be heading to make his niche in the racetrack. The timing he achieved at Fox hill was 44.58 and 36.32 at the Mahagastota for the fastest timing that day for the formulas in the Subaru Impreza. Aravinda missed breaking his own record at the Mahagastotal Hill Climb by 0.03 seconds.
"I crashed into the wall at last year's Fox Hill, and this time when I reached the same place I was a bit nervous but it was OK", Aravinda said. He added that he has met with accidents, but so far it has been nothing serious therefore he continues.
An incident that clearly sticks in his mind is when in 1993 he was at a Go-Carting Competition held at BMICH and he met with an accident. He did not want to give up the race so even though he was rushed to the Accident Service he returned to the track after having taken X-rays and went on to win the other race that he was participating in.
In another accident he said how at the Fox Hill in 1998 he was leading for the first two laps and then had to stop because the car was on fire.
Aravinda who has made his name in the racing circles in Sri Lanka has also raced in tracks overseas. He took part in the go-cart races in Dubai with the Sri Lanka team and was placed sixth. He has also participated in Singapore, Sweden, England and India.
Talking about the difference in our tracks and those overseas he said that most often there were run off areas in the case of a crash, but here it just a wall that you crash into.
He also said that it is very competitive and even for the timing they use electronic timing and there could be no human errors.
According to Aravinda when someone overtakes him when he has been ahead he just goes behind the person and be so close to him that you are a nightmare to that person and because of that he just might make a slip. "Never worry about those behind you, but only about those in front of you", he added.
When you think of a racer you think of someone whizzing away even off the track, but he says no, "people who race are very careful drivers off the track because they know the danger and only those who aspire to be a racer, drives fast on the roads", he said.
Aravinda has taken part in races with his father whom he beat in 1995 when they both took part at the Katukurunda Races. Aravinda had come first and his father Suranjith was placed second.
Although his career raced off to a start with go-cart racing he said that he has stopped and only takes part in formula cars. "I have stopped Go-cart racing as it is not very safe", he said. Adding that it is so light that in the event someone does knock you, it is possible to do a flip.
While he might be enjoying whizzing past hair pin bends, the spectators are at the edge of their seats or on their toes trying to catch a glimpse of the race and of the driver who is going to walk off the winner.
---
2000 marked yet another historic year in S.Thomas' College waterpolo. The team enjoyed one of the finest seasons in the history of the sport by winning six tournament titles and remaining unbeaten throughout the season. They achieved an atypical feat of being Novices, National, School, Club and Royal- Thomian Champions in one season. Captained by Nabil Mubarak and coached by his elder brother Nawaff Mubarak the experienced under-19 side comprehensively thrashed all opposition that came their way.
On the 4th of April 2000 the Thomian team made its first appearance at the Novices Men's Waterpolo Tournament played at the Royal College swimming pool. The first game with Nalanda College was a comfortable one for the Thomian Novice team (5-0). In the semi-finals they were drawn with RCUAC. Here too they scored a convincing 8-1 win over their opponents. The final was a Royal-Thomian situation, which went on to two extra halves of play. The Thomians were able to find the net in the dying stages of the second extra half and win the game 2-1. This was the Thomian teams first victory and Royals first taste of what was in store for them in the coming season.
The Inter Club waterpolo championship was the second tourney on the waterpolo calendar. In a well contested final, the Thomian lads, pulled off an exciting 2 goals to 1 win over the favourites RCUAC (Royal College Union Aquatic Club) team. In the 20 minutes of actual playing time, the scores stood one all and in the extra 3 minutes each way, saw S.Thomas' scoring the winning goal. Ranga Warnapura and Dayan Ranasinghe scored a goal each for the Thomians.
The Thomians were also able to win the Kinross knock-out waterpolo tournament. In the finals they were able to get the better of the Otter Aquatic Club waterpolo team by 4 goals to three, after trailing them by 3 goals at the end of the first three quarters.
In the Inter School circuit, the most coveted tournament is the Inter School Waterpolo Knockout Tournament conducted by the SLSASA (Sri Lanka Schools Aquatic Sports Association). S.Thomas' College, Mount Lavinia dethroned their arch rivals Royal College Colombo to become senior champions, winning by the largest margin of goals (9-2) in the ten year history of the tourney. Rajitha Warnapura who was in superb form had a haul of 5 goals to his credit, Wayne De Silva scored 2 while Nabil Mubarak and Dayan Ranasinghe scored a goal each. Earlier in the semi-finals they were able to annihilate Royal B by a convincing score of 14 goals to nil.
The most important match of the season was the Royal-Thomian for the Dr. R.L. Hayman Trophy. In a very exciting encounter this year S.Thomas' retained the trophy for the ninth successful year. The Hayman Trophy itself is played on the same lines as the Bradby Shield which consists of two legs. The first leg was played on Monday the 6th November at the Otter Aquatic Club swimming pool. The first match turned out to be a tense battle in the water, with Royal making a spirited effort to make amends of their 9-2 Inter-School defeat at the Sugathadasa Stadium swimming pool two months back. However this did not do any good for the Reid Avenue boys, for the Thomians rallied around well to trounce them 5 -2. Skipper Nabil Mubarak was in superb form and scored 4 goals while Wayne De Silva scored the other.
The return leg was played at the newly constructed S.Thomas' College swimming pool on Friday the 10th November. This leg was no pushover for the Thomian players who had to fight tooth and nail against a well knit Royal side. The host team kept up the pressure and at close, swam out winners 6-4 (Nabil Mubarak 2, Thanura Abeywardena 2, Rajitha Warnapura 1, Ranga Warnapura 1.)
The final tally was 11-6 in favour of the school by the sea. The principal of Royal College Mr.H.L.B. Gomez was the chief guest and presented the winning team with the Dr. R.L. Hayman Trophy.
On the 18th of December NAASU (National Amateur Aquatic Sports Union) organized the National Men's Waterpolo Tournament. This is the most competitive tournament in the calendar. A total of seven teams participated in a very keenly contested tournament. The tournament was played on a knock out basis and the Thomians were drawn with the Otter Aquatic Club waterpolo team in their first game. They were able to win that game comfortably and later received a walk-over from the OTSC (Old Thomians Swimming Club) waterpolo team to enter the finals. Here they were challenged by a very strong RCUAC waterpolo team. After a very hard fought game the young Thomians were able to overcome the more senior and experienced team of old Royalists and national players (3-2).
College waterpolo colours were re-awarded to Nabil Mubarak, Rajitha Warnapura, Dayan Ranasinghe, Ranga Warnapura, Senura Abeywardena, Wayne De Silva and Eranga Fernando. Colours were awarded to Dilhan De Silva, Thanura Abeywardena and Rajiv Nagaraja.
Two senior players namely vice-cptian Rajitha Warnapura and goal-keeper Senura Abeywardena made College and Country proud by representing the national team in the 2nd Asia Pacific Waterpolo Tournament which was held in Hong Kong.
Discipline, keenness and teamwork combined with a lot of dedication and knack by the coaches of moulding players into different positions proved to be the key factors in becoming a winning outfit.
The Thomian team was sponsored by Sky World Express (PVT) Ltd., and Braitrim (PVT) Ltd.
---
By Bernie Wijesekera
The Sri Lanka Cricket Foundation in Sydney, Australia (NSW), has decided to donate new cricketing gear worth $9,000 to be distributed among the less affluent schools in the rural districts; with a view to promoting and encouraging the game among them.
This was revealed to The Sunday Times by Harry Solomons, one of the committee members of the Foundation. Solomons is here with the St. George DCA cricket team.
Solomons said, that the Sydney wing headed its president, Errol Graham, secretary Michael Berman and treasurer Pauline Gunawardena and committee members Harold Christie David, Sandy Sandrasekram etc., like their counterparts in Victoria are doing much to help promote and develop sports in their motherland.
An order has been placed with the manufacturers in India, for cricket bats, pads, batting gloves, wicket keeping gloves and protectives for distribution.
It's expected to arrive in early May 2001. Bertram Jayasuriya at this end, will co-ordinate with the distribution. Mercantile Shipping will handle the cargo.
Assistant Australian High Commissioner Ms. Cathy Klugman, will help toward the distribution.
Solomons, who is the director of the Kings Grove Sports Centre has been regularly sending cricket gear collected from clubs in Sydney and well-wishers for distribution.
Last Tuesday (April 17), the St. George tour party on return after their match against Kandy Youth CC visited a childrens home in Rambukkana run by an Australian couple, distributed books, sports gear and clothes among the children.
This is run by the International Children's Association (NGO) is being entirely sponsored by the Australian community, for the kids (orphans) to enjoy a better future. The tour party, spent much of their time with the children even playing cricket.
They promised regular support. Jon Jobson, the manager of St. George DCA said, besides playing cricket - it helps build fellowship among your friendly people and a big boost for tourism in Sri Lanka.
On April 19, they held an 'End of the Tour Dinner' at the 'Beach Hut'.
Guest of Honour: Acting H.C. Ms. Cathy Klugman.