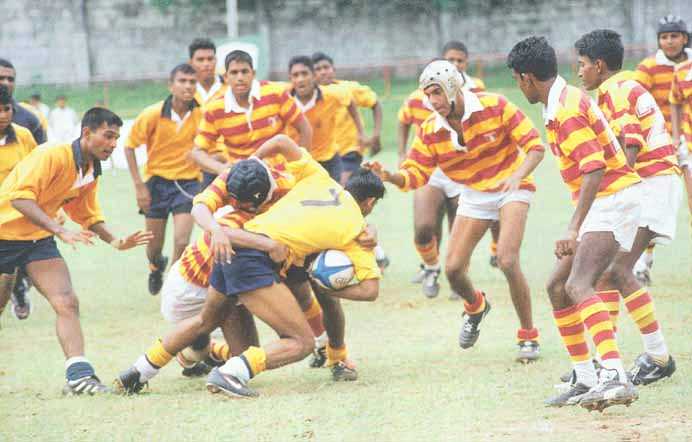 St. Peter's beat Ananda by 32 points to 5 in their Milo inter school rugby encounter played at Havelock Park. St. Peter's forward being tackled by two Ananda players Pic. by Bandula Wijesurendra
---
By Tita Nathanielz
It is comforting that several top executives of massive blue chip companies have identified the great need to support all sports. Golf has got its pride of place and many c0.
ompanies are contributing to the coffers of the Royal Colombo Golf Club helping them to improve playing conditions and also providing desirable comfort in the Club House where celebrations at the 19th hole are pleasurable rituals.
Orient Lanka Ltd., the local representatives of the Johnnie Walker Scotch combine stepped in superbly to sponsor the April 2001 Medal Round lavishly. The competition was a rousing success and much credit to Lionel Almeida of the Golf Club and Roger Pietersz representing Orient Lanka. The two merged masterly to conduct a well organised competition which was near blemish free.
The 18 hole Ridgeway Course is not ready. The competitors had to use nine holes which they had to repeat to complete 18 holes. Conditions were trying. The placement of the pin on many greens was sadistic and the weather was very hot making the beers refreshingly great.
Thurai wins
Doc. C. Thurairaja's winning streak continues even though his nett 76 was not praiseworthy. An elegant stroke player he was beaming at the end of the day's play explaining why his card was not better. Here it must be recorded that the cup should never be placed on a slope on the green. Chutti Munsoor raised hell to return far behind. Thurairaja won the classic.
Ron shines
Ron Bakelman is huge by all standards and off the tee he can be huge too. On a restricted course, untidy in some areas he came off good with measured shots and positive putting. His nett 69 was the best for the day and he took the "B" Division Medal from Joe Perera who came hot behind on nett 70.
Sarinda impressive
Young Sarinda Unambo-owe is stylish and can be impressive if he stays closer to the game more frequently. The son of Stanley Unamboowe, an outstanding sportsman of yesteryear, Sarinda played a great nett par round to beat another clever player Dr. N. Wijemanne and take the "C" Division Medal.
Renman excels
L. Renman of Skanska was in great form among the Seniors and Lalin Samarawickre-ma, Bernard Fonseka and I had the distinct pleasure of listening to a ball by ball, stroke by stroke commentary of his round which was marred by 4 putting more than twice. He was delighted with his victory to be champ of the Seniors. Basil Amerasinghe, Siri de Silva and Johann Leembruggen cracked stunning centuries all before lunch.
---
By Saif Izzadeen
Royal scored a run away 65-10 win over D.S.Sen-anayake in their inter-school rugby match at Reid Avenue yesterday.
At the breather the Reid Avenue school led 34-10.
Royal made up their points through five goals and six tries while D.S.Sen-anayake responded with a goal and a penalty.
In the first half Royal scored their tries through full back Zukir Hameed, winger Lakshman Dissanayake (2), flankers Kushan Atukorale and Channa De Silva and centre Haren Kaluarachchi.
Russel Weerasinghe sco-red a try for D.S.Senanayake in the first half. He converted it and also put over a penalty. In the second half Royal scored their tries through hooker Mafaz Iswan, winger Indika De Silva (2), fly half Ishan Perera and No 8 Suren Mendis. Dev Wijewardena converted five tries.
Referee - Mahinda Jayawardena
---
Grant Flower and Heath Streak shared an unbroken sixth wicket stand of 87 to lift Zimbabwe 77 runs ahead of Bangladesh on the third day of the second test on yesterday. Zimbabwe inc-reased their overnight 144 for two to 331 for five at tea, with Flower unbeaten on 54 and captain Streak 50 not out, in reply to Bangladesh's first innings of 254.
The day started on a rousing note when Alistair Campbell sent the first four balls, bowled by left-arm paceman Manjural Islam, speeding to the boundary for four.
Campbell pulled the first three deliveries through mid-wicket and cut the fourth past gully. He took two more runs off the sixth ball to finish with 18 runs from the first over of the day.
Eight balls into the day's play Stuart Carisle pushed too firmly at a delivery from medium pacer Mohammed Sharif and was caught at short leg by Habibul Bashar for 21, ending a third-wicket stand of 60.
Sharif should have struck again in similar fashion in his next over, but this time Bashar dropped the catch which would have dismissed Andy Flower for three.
Instead, Campbell and Andy Flower added 46 for the fourth wicket.
---
Gajan honoured
Gajan Sivabalasingham the child golfer in Canada has received a certificate of congratulatory him from the House of Commons in Canada. Gajan, the son of Sri Lankan M. Sivabalasingham received this certificate in recognition of his commitment to the excellence and sporting achievements in golf. This certificate was signed by Maria Minna, PC., MP. Beaches-East York who is also the Minister for International Cooperation.
Cricket today
A limited overs cricket match will be played between the Four Seasons Pest Control Services team and Synnex Computer Systems today at the Parliament grounds, Kotte. The match will commence at 10 a.m. The two teams will be led by Travis Ferreira and Rizan Hamsatul respectively. Suhaniya Pelpola will be the chief guest.
Connaissance Monthly Medal
One hundred and thirty golfers will tee off at the sixth Connaissance Group Monthly Medal 2001 at the RCGC on May 12. This was revealed at a press briefing held at the RCGC, chaired by Lalin Samarawickrema (Club Captain), in association with Lalith Ramanayake (V. Captain) and Lionel Almeida Secretary RCGC on Friday. This popular Monthly Medal sponsored by Connaissance Group will be played in four groups: A, B, C and Seniors (Veterans). The winner and runner-up in each group will receive prizes. In all probability there will be an award for the overall champion with the lowest score. An added attraction will be for the longest drive on the 15th hole and hole in one in the 16th. It will be played over 18 holes and will tee off at 6.30 a.m. Quite a number of expatriates will take part. This sport promoting sponsorship campaign by Connaissance is part of their policy to promote tourism via sports. Recently they organized the St. George DCA cricket tour from Sydney, Australia and a team from England handled by Tony Opatha. Both proved an instant success. The visiting team from Sydney played cricket in Colombo, Galle Kandy and followed up by playing golf at the N' Eliya golf course. (B.W.)
Archery finals today
Over 150 participants both men and women will compete for honours at the Second Archery Nationals conducted by the Archery Association of Sri Lanka on Saturday and Sunday (April 28 and 29 at the Sugathadasa National Sports Complex. The affiliated clubs participating are: Army, Navy, Air Force, Police Archery Club of Uva, Archery Club of Colombo, Race Course Archery Club and the Negombo Rifle Club. Events will be held for boys and girls under 16 and 18 too. The Minister of Sports, Lakshman Kiriella will be the Chief Guest with Jo Yang Lae the Counsellor of the Embassy of the Republic of Korea as the Guest of Honour. Bill Wes, the national archery coach of Singapore will arrive tomorrow (April 30) in Sri Lanka in order to conduct an advanced course in archery. The course will take place at the Sugathadasa National Sports Complex for one week. He will coach the archers of the Sri Lanka Archery Association who will thereafter proceed to Korea toparticipate in the Asian Archery Circuit meet.
Football trails
Trials to select the Colombo Football League Under-19 team to play in the Eveready Junior Inter- League Championships - 2001 will be held on Sunday April 29th at Cooray Park, Wellawatta at 8 a.m. The Colombo FL team coach will be Balendra Anthony, with M.S.M.Faiz as manager and B.D.Buddhadasa, S.R. Ramanayake and R.A.Mahatun as League Co-ordinators. Meanwhile the Colombo FL will hold a special council meeting on Wednesday May 2 at the FFSL Dormitory, at the Race Course at 6.30 p.m. to monitor and finalize arrangements with regards to the FIFA President J.S.Blatters visit.
Youth Bridge Training Camp
Bridge Federation of Sri Lanka invites all youth interested in playing Bridge to attend in the Training/Familiarization camp on May 12 from 2.00 p.m onwards at the Race Course premises, Reid Avenue, Colombo. These classes are free of charge. For further details contact the Secretary on 075 517465.
Powerlifting in New Delhi
Sri Lanka will be represented at the Asian Senior and Junior Powerlifting Championships in New Delhi from May 2 to 6. The Sri Lankan participants for the meet are: Sub Junior - Ransalu Jayatilleke. Junior - Dinuk Anthony. Seniors - R.W.J.K. Bernard Fernandez and D.U.M. Jayatilleke. Chef-De-Mission - Siridasa Liyanage. Coach - Kapila Perera.
St. Joseph's win 10-0
St. Joseph's beat St. Benedict's by 10 points to nil in their Milo Trophy Inter-School rugby game at Kotahena yesterday. The Joes led 5-nil at the breather. Roshan Gunewardena and Kamal Jayatilleke scored a try each for St. Joseph's.
---
An event to be witnessed, never to be missed for both young and old. Vintage racing at its helm.
Over 40 magnificent machines of yesteryear will race against each other with the start and finish opposite the Town Hall in Colombo today between 2 and 5 p.m.
Although many decades have passed, these magnificent machines,remain daring as ever.
They have braved many decades in Sri Lanka and most of them are well over 60 years of age.
Fiats, Austins, Standards, Rileys, Chevrolets, MGs, Morris, Benz, Jaguar, you name it and they are here.
The list of entries is as follows:
Event No 1 (Six Cylinders): 1. E.L.M. Saleem (Chevrolet - Z 9825); 2. Sidath Fernando (Morris 25 Z 84; 3. S.C. Karunanayake (Humber Z 7286); 4. Hatim Akbarally (SS1 Z); 5. D.Hewakuruppu (Chrysler Q 567). 2.30/2.45. Three Laps.
Event No 2/No 3 (10 HP Group A & B): Group A - Shirley M. Seneviratne (Austin X 8156); 2.Ranjith Illangakoon (Austin X 6497); 3. Hercil Fernando (Fiat X 5459); 4. Rajini De Silva (Hilman X). Group B - 5. Sapumal Edirisooriya (Hilman CE 7569); 6. Asgi Akbarally (Benz Z 4447); 7. Rajinda De Silva (Benz Z). 2.50/3.05. Three Laps.
Event No 4/No 5 (7 HP Group A & B): 1.Yohan David (Austin Opel Z); 2. R.P.A.Rajapakse (Austin Z 1573); 3. Mahendra Samarasinghe (Austin Z 6791); 4.Amal Peiris (Austin Z 2162); 5. M. Balasubramanium (Austin X). 3.10/3.20.Three Laps.
Event No 6/No 7 (8 HP Group A&B). Group A - J. D. P. Gunawardena (Austin 8 - CY 5097); 2. Lalith Munasinghe (Austin 8 - CY 5943); 3.Yakoob Bin Ahamed (Standard 8 - Z 7978); 4. Carlyle Edwards (Wolseley 8 CY 6006). Group B - 5. S.C. Karunanayake (Austin BIG 7 - Z 4705); 6, J.L. Thambavita (Austin BIG 7 Z 5097); 7. Neil Fernando (Morris 8 Z). 3.30/3.45. Three Laps.
Event No 8 (9 HP - 16HP): 1. Farih Fauz (Standard 9 - A 3334); 2. Sanjeewa Tampoe (Standard 9 - H 711); 3. Hemapala Silva (Austin 4/12 K 753); 4.Ali Azeez (Riley-Lynx Z 2776); 5. Freddie Alles (HUPP Mobile - E 89); 6.Shirley Rodrigo (Willies F 593); 7. Bri Ponnambalam (Fiat - U 1618). 3.50/4.10. Three Laps.
Event No 9 (8 HP Tourer Handicap Event): 1. Kumar Samarasinghe (Austin Z 9478); 2.Hemapala Silva (Morris 8 - Z 3477); 3.Wipula Jayantha (Standard Z 7867); 4.Neville Fonseka (Austin - Z 4375). 4.15/4.25. Three Laps.
Event No 10 (7 HP Tourer): 1. Lalith Ruberu (Austin - G 710); 2. Lalith Munasinghe (Austin - A 3340); 3. P.N. Pestonjee (Austin - D 2720); 4. J.D.P.Gunewardena (Austin - X 2381); 5. Primal Peiris (Austin - X 2230); 6. Priya Mapitigama (Austin - X 1947); 7. Bri Ponnambalam (Austin - V 541); 8. Neil Fernando (Austin - R 138); 9.S.W.Rajakaruna (Austin - X 2360); 10. Tilney Peiris (Austin - D 2456). 4.30/4.45. Two Laps.
Event No 11 (Sports/Open): 1.Clive De Silva (MG TC); 2. Ranjith Jinasena (MG PA) 4.50/5.05. Five Laps.