Comment
---
Exports bounce back
Last week we commented on the dismal performance of our exports in January this year. We expressed our concern that if this trend was to continue for the rest of the year, it would have a serious impact on the balance of payments and foreign exchange reserves. Fortunately, the trade statistics for February show a considerable improvement and allays our fears to a significant extent.

As noted last week, in January this year exports declined by 21 per cent compared to that of January 2000. In February exports of especially manufactured goods showed a healthy improvement that appears to reverse the unsatisfactory performance witnessed during the first month. Exports grew by as much as 36 per cent in February.

Garments, Sri Lanka's main export, increased by an impressive 60 per cent compared to the exports of January. Leather and rubber goods exports increased by 85 per cent compared to their export earnings in the previous month. Other industrial exports increased by 18 per cent.

Our hope that January's export performance in manufactured exports would be an aberration has fortunately materialised. We hope that in the next few months there would be further export gains, as the total export earnings for the first two months of this year is only a modest gain of 3.6 per cent compared to the exports of the first two months of last year.

Despite these improvements in the export performance, it is inadequate to ensure a manageable trade deficit.

In the first two months the trade deficit was as much as US$ 216 million, somewhat lower than in January when it registered a deficit of US$ 231 million.

The trade deficit for the first two months is also lower than the deficit of US$ 288 million in the first two months of 2000. Yet we cannot be complacent with this level of a trade deficit, as the expected global recession, uncertain oil prices and the inflationary trend in Sri Lanka could impact adversely on our exports.

In the first two months agricultural export earnings increased by 3.2 per cent over that of the corresponding period last year. This too was a modest gain. There are indications that tea prices would decline in the forthcoming months. This too would affect our export earnings.

The country's import- export structure is such that we are extremely vulnerable to international forces. We must therefore ensure that we manage our monetary and fiscal policies with an eye on our trade account. We must not let higher domestic costs of production render us less competitive in the fiercely competitive international markets for our exports. There is also a need to look at whether we could reduce our imports of consumer items that continued to increase by 8 per cent in the first two months of this year.

The reduction in our trade deficit is vital to ensure that we do not aggravate our balance of payments problem.

---
I challenge UCL Chief
Point of view
The workforce, the way I see it, is entitled to negotiate for a just wage and have its own choice of labour union. So why can't the management and the unions work out a just deal?

I was shocked to read recently in the Sunday Times the challenge thrown at Sri Lanka by Mike Thompson, Chairman UCL, where he says that Unilever would pull out of Sri Lanka its manufacturing facilities, if the labour situation is not in accordance with management requirements.

As a Sri Lankan I am deeply with its people, and I would say that if Unilever accedes to Thompson's proposition, U.K. business would lose a gold mine out of several the British have on our soil. It is no joke! Lever Brothers of Sunlight fame set up a soap manufacturing plant prior to Independence because Sri Lanka had nearly 100 percent of the ingredients, including labour for such a venture.

While third world countries produced coconut and palm oil, their populations were told by soap manufacturing conglomerates, not to consume the same for health reasons resulting in prices falling for these oils to the detriment of producer countries.

Unilever is one among those that has continued to harvest massive profits for a considerable length of time in the recent past. With people having found out the truth that the coconut gave some of the best things for food and cosmetics, soap and cosmetics makers cannot now hope to buy these natural oils for a song.

It is no secret that Unilever plants in Sri Lanka make some of the best known brands in the world market and marketing of those brands are driven by super advertisements

The workforce, the way I see it, is entitled to negotiate for a just wage and have its own choice of labour union. So why can't the management and the unions work out a just deal?

May be Unilever will have to share a chunk of its earnings with our people - that is just and fair!

If this is not possible I challenge Unilever to agree to Sri Lanka codifying the same English labour laws for our labour. Then our labour will have to contest for price related contracts. Isn't that fair?

I am compelled to be drawn into this controversy because the people of this country are being deprived of a better quality of life - though blessed with some of the best natural resources and human resources in world - due to external exploitation. I do not think the government should change the labour laws to suit foreign entrepreneurs.

I think our country is mature enough to manage our affairs. Why should our people also not have a better quality of life instead of the current slavish mentality? For how long more must our people leave our shores to work as labourers and maids?

One thing is very clear in the minds of the ordinary people the world over and that is, the businessmen and the World Trade Organisation must in the immediate future work with a human face.

Unilever can set an example here.

Denis Speldewinde Armstrong

Palatuwa
Coarse bread for the Sri Lankan palate but times are changing
---
It's chicken run for Prima
"Chicken eating is growing here and we have the capacity to increase production," said Dr Lim. The chicken plant produces meat from 2,000 birds per hour and works at 60 percent capacity which is also because of a shortage of day old chicks in the past few months.
By Feizal Samath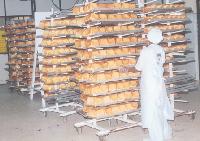 Sri Lankans prefer coarse or hard bread compared to the soft bread produced in Singapore, Malaysia or in other Asian cities, bread experts say.

Soft bread is slightly sweet and does not mix well with the Sri Lankan tradition of eating bread with a hot, spicy curry, noted Dr. Lim Beng Joo, General Manager of Ceylon Agro-Industries Ltd, makers of Prima bread.

But old habits seem to be changing -with softer bread fast catching on in Sri Lanka – at least among the middle and upper middle classes - after it was introduced in the market in February. In a test marketing exercise, Prima sold 3,700 loaves of soft bread through supermarket outlets.

"It was a successful launch," said Dr Lim in an interview at the company's factory and office at Seeduwa recently. Last month Prima upped its sale of "premium bread", stocking 6,000 loaves on supermarket shelves. Premium bread is of course more expensive at 42 rupees per loaf against a price of 26.50 rupees of normal bread, which is produced at the rate of 10,000 loaves per day.

Bread is however not Ceylon Agro's main product. Chicken represents 60 percent of the company's output and turnover and judging from the production facility at the old Oils and Fats Corporation premises, the company – part of the Singapore-based Prima empire – is planning to expand chicken production in a big way.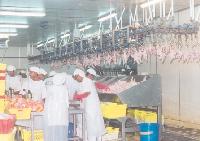 Sri Lanka's chicken consumption is currently 3.5 kg per person per annum compared to 800-900 grammes per person about 10 years ago. But chicken – the cheapest source of protein – is consumed at the rate of 45 kg per person per annum in Singapore and 34 kg per person in Malaysia.
"Chicken eating is growing here and we have the capacity to increase production," said Dr Lim. The chicken plant produces meat from 2,000 birds per hour and works at 60 percent capacity which is also because of a shortage of day old chicks in the past few months.
Ceylon Agro's chicken is sold under the Prima label and the company is Sri Lanka's biggest producer of a range of chicken products but it says there no level playing field. Dr Lim said that chicken was the only agricultural sector to be taxed. "Tax free raw materials like maize and animal feed are taxed. If we get the same benefits as other industries in the same sector, we can cut prices and pass on the benefit to the consumer."
An increase in output, which is planned by the company, would also bring down costs.
The chicken production plant is fully automated. The chickens are brought in lorries from the company's outlying farms and private breeders and loaded onto an assembly line. The chickens are slaughtered according to the Halal tradition, and go through various processing until chicken meat products in different forms including sausages are received for packaging at the end of the line.
The recent Mad Cow disease and Hoof and Mouth scare over beef eating has helped to boost chicken-sales though beef consumption is very low in Sri Lanka. According to latest available figures from the Department of Census and Statistics, chicken production rose to 56.68 tonnes in 1999, up sharply from 14.8 tonnes in 1991 while imports rose to 1.8 tonnes against 0.47 tonnes in the same period.
Chicken producers including Prima agree that consumption patterns are moving towards a preference for white meat over red meat as a means of cutting down high cholesterol levels widely prevalent in society today.
Ceylon Agro was recently awarded the HACCP (Hazard Analysis Critical Control Points) ISO standard by the Sri Lanka Standards Institution and is the first meat processor in Sri Lanka to be given this certification.
This means Prima chicken is free of any antibiotics and chemical residue while the bacterial content is low, Dr Lim said.
In addition to its own farms, the company has buyback arrangements with 2,000 small and medium scale farmers where the day-old chicks are provided to farms and the fattened chicken purchased after a 42-day period.
The company exports about US $ 3,000 worth of chicken sausages to South India every week while exports to the Maldives are being considered. The company's other products are a range of noodles and cooking oil while flour milling is handled in the Prima plant in Trincomalee.
---
Advertorial
Seylan Bank Debentures open
Seylan Bank, issue of Unsecured Subordinated Redeemable Debentures 2001/2006 opened recently. The Debentures are available at par value of Rs. 100/ each. They can be traded at the Stock Exchange and is payable in full after a period of five years.

The issue is for Rs. 300 million and the Bank has the option of extending it up to a further Rs. 300 million in the event of over subscription, making it in all Rs. 600 million.

The Debentures consist of three instruments for the investors to choose: 15% p.a on par valuie payable monthly, or 16% p.a on par value payable annually or on a floating rate.

Applications will be accepted at all Seylan Bank branches and the closing date for the issue is May 15th 2001.

Among the key benefits are a fixed interest income up to five years at the discretion of the investor, no capital loss if held to maturity, opportunity to exit through the Colombo Stock Exchange and the opportunity to realise capital gains with the fluctuations in the money markets.

Mrs. Rohini Nanayakkara, Director General Manager and CEO, Seylan Bank, on the Issue, said "Our debenture issue offers a safe yet high yield investment. We have had a very positive response for both our previous issues, which were, oversubscribed on the opening day itself. We are confident of meeting our targets this time too."

The objectives of the proposed Unsecured Subordinated Redeemable Debentures 2001/2006 are to expand the capital base of the Bank and meet the new capital adequacy requirements of the Central Bank by improving the Capital Adequacy Ratio beyond the statutory minimum of 9%. It will also help mobilise long-term funding source to match long term lending by the Bank. Seylan Bank also expects to minimise interest risk and gap exposure in its Asset/Liability portfolio with this issue.

Deutsche Bank AG has agreed in writing to act as the Trustee to the Debenture holders.

Seylan Bank was incorporated in 1987 as a Public Limited Liability company. With more than 90 branches island-wide, Seylan Bank is Sri Lanka's fastest growing and most innovative bank. Its customer-orientated policy has dramatically changed the banking environment in Sri Lanka.

It has introduced a host of innovations like night banking, weekend banking, credit card for farmers etc.
---
United Motors launches the Magna & Verada
United Motors Lanka Ltd launched two of Mitsubishi's Flagship cars the Magna and the Verada for the first time in Sri Lanka. These two models are two of Mitsubishi's top end sedans.

The launch took place at the Colombo Hilton recently. It featured a spectacular choreographed show, revolving around the theme of Love & Roses and a Romeo and Juliet type story.

A young couple depicting "Romeo" and "Juliet" took the centre stage, charming the audience with a dance to the love theme from 'Romeo & Juliet'. This was followed by the dramatic unveiling of the 2 cars. The cars were covered with red and white roses and were driven up a gently inclined ramp.

The lissome models who alighted from the cars made a pretty picture. One of the models presented a sheaf of flowers to the Chief guest Peter Rowe, High Commissioner for Australia, who graced the occasion amidst a distinguished gathering.

The two cars are significantly large and on par with the BMW 5 series, the Mercedes C class, the Audi A6 & the Volvo S60. Options such as leather seats, sun roof, centre wood print panel and CD players are available. Both cars have 3.5 litre petrol engines. The cars have a stylish and prestigious appearance. The Magna will be available in island Blue, Glacier Green, Creuna Red, Kashmir, River Sand & many other shades.

The Verada will be available in Burra (Burgundy), Pewter, Daintree Green, Sienna Red, Mawson, White & many more shades.
---
Bairaha Super Mart at Millennium Park
The Bairaha Super Mart chain opened its fourth and the largest supermarket at the Millennium Park, T.B. Jayah Mawatha, Colombo 10, recently. This state-of-the-art supermarket is open from 10.00 a.m. to 11.00 p.m., seven days a week. It has a modern pharmacy, a well-stocked grocery store with ample supplies of fresh and frozen meats, fruits and vegetables, a variety of tinned foods, confectionery, a complete range of stationery items, etc.

Shopping at the Millennium Park Bairaha Super Mart is real fun for the whole family.

Whilst you buy your groceries, clothing, electronics and other goods, there are plenty of outlets offering a variety of dishes for an enjoyable meal, and it is the place for the whole family to relax and participate in games and other entertainment activities.

The Millennium Park Bairaha Super Mart is a member of Bairaha Farms Ltd. with branches located in Colpetty, Thimbirigasyaya and Dehiwela.
---
Crescat goes for innovative solution with Metropolitan
Crescat Development Limited, the Developers of Crescat Residencies & Crescat Boulevard, signed an agreement for a Business Centre with Metropolitan recently. The Business Center will be called the "Pay As You Print" (PAYP) digital solution. Individual customers will only have to pay for the copies processed on a monthly basis based on a pre-agreed charge per copy, which also includes the cost of consumables and regular maintenance costs - with no upfront capital expenditure on the machinery. This PAYP scheme is such that the cost per copy is reduced when the volume of prints increase and is based on damned for copying, printing and faxing.

It is an innovative way of managing risk to both parties where the income to Crescat and Metropolitan both are dependant on the minimum downtime of the copier, as such supply of consumable and regular servicing has to be promptly addressed by the Metropolitan service team. This total solution is convenient to administrative procedures because of the single point of contact for consumables and servicing for printing, faxing and copying which otherwise would have to be managed by 3 separate contracts. This integrated system of copy, print, fax compared to the conventional stand lone machines will give a better return on investment.

The canon GP 335 by Metropolitan is a fully loaded system which includes the copier with 1200 DPI resolution and and 33 pages per minute copying speed, printer and Board reserve Automatic document Feeder, Duplex Unit, Sorter with dual position stapling Network board and Fax model.

The new system is connected online to approximately 60 users via the Crescat local and wide area network and the copier could be negative by changing setting on the user printer drive on their own PC's.
---
Abans felicitates their Service Agents
The Second Annual Covention of Service Agents of Abans Electricals Limited was held at the Hotel Galadari on Saturday 27th January 2001. Abans Service Agents from all over the island attended this convention.

The convention presented an excellent opportunity for Abans Service Department to get together with their Authorized Service Agents, to review and discuss ways and means of implementing improvements.
---
Riverina Hotels shows excellent third quarter results
Riverina Hotels Limited, a Company managed by Confifi Management Services Limited has published its results to the 3rd quarter ended 31st December, 2000 showing a 28% increase in gross turnover from Rs. 156mn in 1999 to Rs. 197mn for the nine months ended December, 2000.

More importantly, the Net Profit before Tax has gone up by 62% from Rs. 24mn in 1999 to Rs. 37mn in 2000. All in all Riverina Hotel, which has been enjoying a fairly good occupancy in the course of the year is once again expecting a good bottom line for the financial year 2000/2001.

A Company spokesman confirmed that the land and buildings of the Company have been revalued, as a result of which the shareholders' funds have been increased to Rs. 734mn. The Company's Balance Sheet indicates that the Riverina Hotel's debt equity ratio is very attractive as the long term loans are virtually being reduced to a small level leaving only the redeemable dividend debentures to the shareholders shown as a major debt.

Palm Garden Hotel, Beruwela encouraging results

Palm Garden Hotel which is one of the first All-Inclusive Hotels in the South-West coast has released the unaudited results for the nine months ended 31st December, 2000 from which it could be seen that notwithstanding the closure of the hotel in May and June 2000 for refurbishment, the gross turnover is still continuing to be buoyant.
---
Shipping and Aviation
Maersk Logistics wins two Asian Freight Awards
Maersk Logistics has been named "Best Forwarder - Seafreight" and "Best Forwarder - Multimodal" in this year's Asian Freight Industry Awards (AFIA).

The AFIA is an annual event organized by Cargonews Asia, to acknowledge excellence in global freight transportation.

In the AFlA's 15th year as a definitive poll of distinction, senior industry professionals throughout Asia were invited to nominate the best companies in 37 categories, differentiated according to industries, spanning Asia, Europe, North America and the Middle East.

In the final ballot, only customers were given the mandate to vote for their service providers. This year, the awards ceremony has taken place on the 16th of March, in Hong Kong.

Maersk Logistics views the awards as an encouraging vote of confidence from its clients. "This experience further fuels our motivation to continue to deliver leading edge logistics services with a dedication to quality and results," affirms Mr. Henrik Ramskov, Managing Director for Maersk Logistics,L Asia.
---
Evergreen buys 30 ships -
Evergreen will order 30 container ships to replace outdated vessels. Chairman Chang Yung-fa said Evergreen would order the 6,000-teu (20 ft equivalent unit) container ships for a total cost of US$30 billion, The Guardian reported. "Delivery will begin in 2005," Mr Chang said. The Evergreen Group has a fleet of 130 container ships used by its three shipping companies - Evergreen Marine, Uniglory Marine and Panama-based Evergreen International.

Source: South China Morning Post
---
APL Logistics launched in India
NEW DELHI - APL, the container arm of Neptune Orient Lines, has launched its APL Logistics brand for Indian customers.

While APL provides container transportation services, APL Logistics is responsible for end-to-end supply chain management services through its global network.

"India is a high priority area for APL Logistics," Justin Kent, president of APL Logistics, told reporters in Mumbai. "Ever since 1910, when the first vessel of APL called at Mumbai Port, there has been no looking back."

Kent said in 2000, APL Logistics handled 400,000 cubic metre cargoes, equivalent to 16,000 TEUs, from India. "Our objective is to have the same standards of service existing worldwide," he said.

Country manager Sheila Naravane said the focus of APL Logistics is on China and India, where the company is moving to retail business and local distribution, a previously neglected area.

APL Logistics previously operated in India under the banner of American Consolidation Services, APL Logistics India Pvt. Ltd. was set up last month under its new name.

APL Logistics India operates six facilities, at Mumbai (Bombay), New Delhi, Chennai (Madras), Cochin, Calcutta and Tirupur.
---
Samsung to build world's largest container ships
China Shipping Group and Korean shipbuilder, Samsung Heavy Industries, have signed a letter of intent to build up to three of the world's largest containerships.

The agreement, which has just been signed, carries a number of technical and commercial provisions which relate to service considerations, and planned partner CMA CGM's final ideas on a new shuttle service between Hong Kong and Los Angeles.

The first of the new 9,800-TEU ships will be in service by 2004. Samsung has reached the intention-to-build agreement stage ahead of other shipyards, including Hyundai Heavy Industries, the world's largest shipbuilder.

Another Korean yard, Daewoo Heavy Industries, was in the running for the contract, but has since lost ground in the race.

Both China Shipping and Samsung acknowledge that the letter of intent contract "should be seen as a positive move ahead to build the ships, but that observers must not lose sight of the real implications of such ships in the marketplace."

Said a source today, "We can acknowledge that an agreement has been reached to build the ships, but this is not like other letters of intent. Both sides have certain clauses drawn up in the contracts beyond the usual agreements of this nature".

China Shipping Group plans these ships to run a shuttle between Hong Kong and Los Angeles, which would take ships to operate on a weekly schedule.

CMA CGM sources have confirmed that discussions have gone on with China Shipping Group over the service, but nothing from the CMA CGM side has been agreed yet on the commercial and technical viability of operating ships close to 10,000-TEU capacity.