Contents
---
'I Do' for romantic Valentine
By Sanath Weerasuriya
Valentine's Day is celebrated widely in Sri Lanka now a days and music plays a major role in this celebration.

Valentine or no Valentine the Love Songs are all time favourites .

'I Do' is one of the special Valentine albums with a collection of top sixteen love songs . It will create the exciting mood for romance. This week we have something else in store for you .To win this romantic 'I Do' cassette all you have to do is to write and fell us how you met your soulmate.

There are five cassettes or CDs of I DO to be won for the Love Story of the Week.

The address is "Listen to Original Love Songs Contest, C/o Maharaja Entertainments (Pvt.) Ltd., 330, T.B.Jayah Mawatha, Colombo. 10.

Tel: + 941672425-8, Fax + 941699070. E Mail: me @ lgo.lk

All the entries must be originals from the TV Times and no photocopies or faxes will be entertained.

All correct entries will be drawn by a panel of judges. The entries should reach the above address by February 20, the latest.

The decision of the judges will be final and the names of the winners will be announced in The Sunday TV Times accordingly.

By now I believe you are convinced that this is probably one of the best selections of love songs for your Valentine and..I guess so.

So without further, do drop into the closest M Entertaiment dealer and pick a CD or Cassette.

The side 'A' of the audio comprises eight songs by Boyzone (No Matter What), Lionel Richie & Diana Ross (Endless Love), Boyz ll Men (I'll Make Love to You) ,Bee Gees (Words), Kool and the Gang (Cherish), K-ci and Jojo (All My Life), Michael Ball (because U Loved Me) and INXS (Beautiful Girl).

The opposite side has eight songs too. It features Glenn Medeiros (Nothings Gonna Change My Love for You), Barry White (Just the Way You are), Extreme (More Than Words), 98 Degrees (I do (Cherish You), Stevie Wonder (My Cherie Amour), Let Loose (Make it with You), Code Red (This is Our Song and Paul Carrack (Love Will Keep Us Alive).

Do not forget that still you can win this romantic album by writing Love Story of the Week.

Here are the winners of contest no. 36. The winners of two Sony Original CDs are Chris Frazer of Dehiwela and Anushka Silva of Dehiwela. The two audio winners are Sunara Fernando of Badulla and Ramani Suriyalatha of Puwakpititya.

The gift vouchers go to Sanlakshi Liyanagama of Dehiwela, Irwin De Silva of Dehiwela, T.W. Junoos of Kolonnawa, Priyankara Perera of Dehiwela, P.K. Dulara Maheegree of Galle and Suranga Weerasuriya of Walapone.

The Poster winners are Eric N. Emmanuel of Colombo 15, Previn Jayawardena of Beliatte, Lakshan Siriwardena of Moratuwa, Manilka Leange of Colombo 8 and Mario Perera of Piliyandala.

---
Axel: the pianist at Goethe
Axel Zwingenberger a pianist from Hamburg will be in action at Goethe Institute on February 18 at 7.00 pm.

He has been playing the piano and entertaining for more than two decades.

With his ardour for the boogie woogie, "the hottest music that was ever invented for the piano" (Axel), he has cultivated this almost forgotten African-American folk music art and contributed decisively to the revival of a flourishing boogie piano scene in Central Europe.

When Axel Zwingenberger comes on stage today, he will scoop from skills gained in thousands of performances all over the world from Vienna to Ouagadougou, from Hamburg to New York.

Admittance by donation in support of the Goethe Institute. Snacks on the house, drinks by the glass at cost price.

---
Valentine Fever at GOH
Natasha of Dream Team will perform solo for the first time alongside Ginger at the Valentine's Day celebrations' at the Grand Oriental Hotel.

The Grand Oriental Hotel will, once again, host a 4-course Sit-down dinner at the Harbour Room on February 14 and at the Blue Leopard Night Club will also be open on this day with toe-tapping DJ Music to keep the lively couples busy.

Every couple who enters the Harbour Room for the KANDOS VALENTINE'S bash will receive gifts. Every lady will receive a Kandos Chocolate Heart, a fragrant Red Rose and a surprise gift from the Hotel. Gentlemen, too, will receive gift pens. Tickets for the Kandos Valentine's Dinner are priced at Rs. 1000 per person.

Continuing with the Valentine's Day celebrations, the GOH will also celebrate the 2nd Anniversary of the Re-opening of the Blue Leopard Night Club on Friday, February 16 and Saturday, 17.

The 'Dream Team will provide the live music for 'Valentine Fever ' with 'Ginger' taking the vocal spotlight and Natasha doing guest spots. DJ Manjula will belt out the 'now sounds' at the Disco.

---
Manila's 'Magic Touch' in Colombo
"Magic Touch' a three piece Filipino band is now in action at the Hotel Galadari.

They sing in five different languages and have developed a unique sound that not only pays tribute to one tradition or style but goes through a diverse range of musical styles. The trio is popular in Philippines for their Chinese, Japanese and Spanish songs.

'Magic Touch' comprises Julia Villapando on vocals, Noel S. Manait on keyboards, guitar, Micro composer/Programme back up and vocals and Jerry Cornelio on sax and vocals.

The trio will perform at the lobby on Tuesdays, Wednesdays and Thursdays and at the 'Colombo - 2000' on Saturdays and Sundays.

'Magic Touch' will be at Galadari till March 1.

They have performed in many popular venues in Thailand, Korea, Malaysia, Singapore and of course the Philippines.

The "Magic Touch" has widely travelled in Europe and this is their first trip to South Asia.

---
'Kahala Nadaya' focuses on child exploition
Popular comedy, 'Pem Kekula' by Roy de Silva is now at the Regal Cinema, Colombo. The star cast of the film are Sanath Gunathilake, Dilhani Ekanayake, Wilson Gunaratne, Sanoja Bibile, Jayantha Bopearachchi. W. Jayasiri, Sweneetha Weerasinha, Anjela Seneviratne and Wilson Karunaratne. Music composed by Somapala Ratnayake; Pem Kekula is produced by Buddhi Keerthisena for Darshana films.
By Susitha R. Fernando
Since the beginning of history a much discurssed topic has been the child and his exploitation in various form. Today a teleplay titled "Kahala Nadaya" sensational issue of child exploitation, has been made and is telecast every Saturday at 8.30 pm on Rupavahini.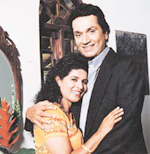 The tele serial with nearly 20 episodes brings back veteran silver screen stars Ravindra Randeniya and Nita Fernando together after two decades. The veteran stars acted last in the film "Duhulu Malak".
The story revolves round Ravindra Randeniya in the role of 'Jayananda', a kind hearted Hotel Manager. He also runs an orphanage helped by his wife a school teacher, who is also equally kind to the children. The chief priest of the nearby temple too lends a hand in this charitable act.
A businessman Dhanapala though a close friend of Jayananda did not possess the qualities of a genuine friend nor did he show any warmth towards children.
As the story unfolds this friendship shows signs of strain (marred by) a misunderstanding which leads the two friends to distance themselves from each other over a land dispute.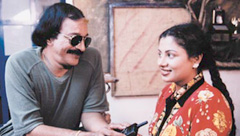 Dhanapala looks of an opportunity to take revenge from Jayananda and with the assistance of a worker in the orphanage he plans to sell a child from the orphanage as a domestic servant. On a tip off Police begin to investigate in to the matter. The search ends in police getting to the child and Jayananda is held responsible for this.
With the arrest of Jayananda troubles begin in the family which love the children. In the midst of these problems the orphanage is closed down. The attempts by Jayananda on his release to restart the orphanage fails despite help from the chief priest.
In a country where there are thousands of parentless children the story brings out a strong message that the responsibility of the elders in the society is to protect the younger generation.
The teledrama is directed by Santhusa Liyanage and is produced by Mavo Laksitha Karunathilake.
Ravindra Randeniya and Nita Fernando apart the the rest of the cast includes Neil Alles, Dilani Abeywardana, Visaka Siriwardana, Edward Gunawardena, Grace Ariyavimal and Ritani Ratnayaka.

---
Asian Documentary Film Festival
The British Council Auditorium in Colombo will hold 'Travelling Film South Asia 2000', a festival presenting some of the best recent documentary films on the South Asian region, from February 13 - 17.

The festival consists of 15 outstanding documentary films from or about South Asia which were either prize winners or highly commended at the Film South Asia '99 held in Kathmandu, Nepal, in October 1999. In addition, the sole Sri Lankan entry at the festival will also be screened in Colombo.

The festival, organised by the Himal Association in Kathmandu, arrives in Colombo after having had successful screenings in key South Asian cities as well as at many venues in North America and Europe. The festival is being hosted in Colombo by the Sri Lanka Environmental Televison Project (SLETP) in collaboration with the International Television Trust for the Environemnt (TVE) and the British Council. The same organisations collaborated in May 1998 to host the previous edition of the travelling festival which drew packed houses everyday.

"The Film South Asia'99" festival attracted more than 140 entries, spanning the entire region, from Assam to Sindh, and from Sikkim to Sri Lanka. The winners were selected from among 50 short-listed films by a three member jury. The line-up of films offered at the festival proved that South Asia is producing more and better documentaries according to the organisers, who started the festival in 1997 to promote documentary marking and viewing in this region.

The films in TFSA 2000 - which between them offer more than 13 hours of viewing cover an extremely wide range of subjects from geopolitics to socio-economics, and from cutltural diversity to developement issues. They have been made by some of the best known documentary film makers in South Asia or elsewhere. They include the top winners of the festival: No one Believes the Professor (Pakistan) and Thin Air (India) which shared the first prize. The second prize was presented jointly to Pure Chutney (on the Indian community in Trinidad & Tobgo) and Three Women and a Camera (India) Ragi Kana: Ko Bonga Buru (Buddha Weeps in Jadugoda, India) received the third prize.

The Colombo festival will also screen Sathveni Sandeve Geethaya (Song of the Seventh Evening) on Sri Lanka's dwindiling tribe of gypsies. Directed by Sudath Mahadivulwewa, it was the sole Sri Lankan entry at the festival.

Admission to the screenings will be through passes that can be collected free of charge from the Information Resource Centre at the British Council, or from the SLETP office at No 24, First Lane, Koswatte Road, Nawala. Passes are available on a first come first served basis.

'No One Believes the Professor' (Pakistan) and The Forgotten Army (India) will be screened on February 13.

A letter to Samten (India) 'Words of Freedom' (B'desh) and 'Three Women and a Camera' (India) will be on Wednesday.

Sri Lanka's 'Sathveni Sendeve Geethaya' (Song of the seventh evening) will be on Saturday at 3.30 pm.

"Don't Pass Me By' (Nepal), Listening to Shadows' (India) and 'Skin Deep' (India) will be screened on February 15."

On Friday, February 16, will be featured B'desh "A Mother's Lament" and India's Fishers of Men'.

'Puri Chutney' on Indian Community in Trinidad & Tobago will come alive on Saturday.

Pakistan's 'Voices of Distrust' will too be screened on Saturday.

---
Comedy 'Blue Streak' hits Colombo
An action comedy movie "Blue Streak", a Ceylon Theatres Ltd., presentation will be released at Regal Colombo and Milano,-Kegalle from February 16, 2001.

Logan (Martin Lawrence) is a master jewel thief and in tandem with the shady Deacon (Peter Green) and two sidekicks, manages to steal a $ 17 million diamond from a seemingly impregnable LA skyscraper. However, when Deacon double crosses him, Logan escapes to neighboring block- which is under construction- and tapes the precious stone in a hidden vent before being arrested by the police.

Two years later, Logan is released and ready to claim his bounty. However, the building under construction is now a thriving police precinct, with the jewel secured deep within the confines of the Robbery and Homicide Department.

So how on earth do you break into a 24 hour police station?

With the help of fake badge, forged papers and a whole lotta chutzpah Logan passes himself off as a cop. But what was to be a brief sojourn onto the right side of the law turns into something entirely lengthier as Logan unwittingly becomes an Icon to the constabulary. Blue Streak, a Colombian Picture release is a direction of Les Mayfield and stars Martin Lawrence, Luke Wilson, Peter Green, Dave Chappelle, Nicole Parker and William Forsythe.

---
After Dark
'No Border Music'
'No Border Music' with Musicians from East and West will be held at the Le Kandyan Resort in Kandy on February 13.

Musicians who will represent Sri Lanka are called Triveni. Triveni compises Ravi - Traditional Sri Lankan, North Indian & Ethnic Percussion, Vishnu - Traditional South Indian, Afro-Cuban & Ethnic Percussion, Priyantha - North Indian & Western flute.

From the West Prof. Erich Bachtragl (Austrian) who is the fourth link in this live concert will try to delta the Triveni at the Le Kandyan Resorts.

---
'Kala Pola' on Bonsoir
Yet to discover your hidden talents? It's never too late! In France, we meet Bruno Nini, an artist who has discovered his ability to paint, in the twilight years of his life.

We then invite you to join us and take a walk down Ananda Coomaraswamy Mawatha this Monday enjoying the works of the artists who participated at the Kala Pola 2001.

"Bonsoir" 12 February on ITN

---
Dejavu to rock the Den
'Dejavu' will be in action at the Retro Night at the 'Den' on February 17.

A new bunch of young dedicated musicians calling themselves Dejavu formed the band four years ago, and have come a long way and impressed many audiences with their fabulous and wide repertoire from late 70's to 80's from the Beatles, Simon & Garfunkel, Eagles, James Taylor, Bryan Adams, etc.

The band comprises - Krishan Jayaratnam, Shandwell Weerasinghe, Dinesh De Mel and Kevin Farnke- Vocals, Ranil Goonawardene on Lead Guitar, Nalin Samath on Bass, Senaka De Silva on Drums, and Sanith S. Wijeratne on Keyboards.

Rock band 'Crib Cycle' will be featured on February 16 at Rock Friday with Den Djs.

'The Reggae Night' will come alive with 'Exodus' on February 23.

---
Love train to Kandy
It is true that the two rails of a railway track never meet. Some people say lovers are also like that.

But the train needs both rails of the track to go even a foot. Sometimes lovers chat is also like a running train. Those are some similarities between a train and lovers.

Popular radio station Hiru FM will organise a train journey for lovers on Valentine's Day.

The Journey starts at 08.00 hrs on February 14, 2001 from Fort railway station. Within a few hours the train will reach Kandy the Hill capital.

All the lovers will be invited for lunch at a luxury hotel. They will be entertained with fun games and competitions and also the winners will be rewarded with gift packs.

The Love Train will reach Colombo on the same day.

If you can imagine what it is like, don't only dream about it. Listen to Hiru FM and find out how to be selected to go in the Love Train.

---
TV Aid to IT studies
The ICT, which has introduced the Bachelor of Information Technology (BIT) (External) Degree , will be telecasting a series of programmes on the Rupavahini aimed at providing assistance to those students who are preparing for the 1st Semester Examination of BIT.

The programme is on February 15, 22, March 1, 8, 15, 22 and 29; on Channel 1 at 10.00 pm each day.

---
Old, yet a golden show
By Poorna Rodrigo
Many songs of the golden '70s revived memories of yesteryear to thrill many in the audience when they were sung on stage last week.

Stars of 70's - a musical event jointly organized by the Wesley College Old Boy's Union and the Old Wesleyites Sports Club was held on February 3 at BMICH.

The event, the purpose of which was to raise funds to establish a fully equipped computer centre, was also a call to remember some of the long forgotten singers.

Annesley Malewana the architect behind the event sang some of his favourites like Mango, Kalu Nende and darata Kandukaraye. When talking about Annesley Malewana there is one person, whose name is automatically coupled with his, that is Clarence Wijewardene.

Had all in the audience closed their eyes just for one second and listened to Rajiv Sebastian,they could have easily mistaken his voice to that of Clarence. Gifted with an identical voice for Clarence, Rajiv no doubt kept the audience wondering to whom they were listening to as they heard him singing "Manju"

Then came on the stage another singer of 70s, who was discovered and fostered by Clarence. Anil Bharathi got the bulk of the audience to dance to his famous songs, Ma Adare Nangi , Tikirimale and Adawe Erudina.

Three Sisters and The Dharamaratne Brothers reminded the captivated audience of a trend set in the 70's when a trio of the same family took the local musical world by storm with their hits like Varcity Kollo.

Ronnie Leitch sang the widely acclaimed "Randunuke Malase" of Clarence as a tribute to his guru who taught him to sing in such manner as to captivate the crowd.

'C.T. Fernando though a legend in the history of Sinhala songs remains just a memory today' Ronnie observed. And many wouldn't know what C.T. stands for. As a gesture of tribute to late Cyril Tudor Fernando he sang one of his evergreens 'Mee Amba Wanaye'.

It's not only Moratuwa that has a reputation for producing a great number of singers but Negombo too has its fair share. Joe B. Perera is one such singer who hails from Negombo. His famous songs Yakada Thalanna and Mala Giravi(Adare Karala) were sung reviving the memories of those old favourites yet again.

"Manike Obe Sinawe" was another song that couldn't be left out on a show like this. The song sung by Errol Fernando and his daughter was complemented with the dance presented by the students of Kulasiri Budawatta.

When Vijeya Corea broadcast C.T. Fernando's "Piyume Peni Bothi" for the first time over the English commercial service it changed the whole scenario. It even attracted a majority of the English audience to his songs. Mr. Corea came up with wonderful narrative pieces introducing each singer, which many of the members of the audience may have not known.

Malbara Himidiriye yet another old melody kept the andience toe -tappping as a very pleasant show came to an end.