---
Time to dress up
By Ruhanie Perera and Laila Nasry
The elephants have come to Colombo. Unlike the scare and confusion when "Koti" came to Colombo, there was a clamour as word spread that 'kolambata ali avilla'. Men, women and children in their hundreds converged on the Vihara Maha Devi Park, and later in the evening near the Gangaramaya to see the jumbos.

Yes, elephants in their numbers walked the streets of Colombo and took over the Park last week.

In Colombo's answer to the Kandy pageant- the Navam Perahera _ 55 elephants were here last week from all over the country, with curious onlookers getting a first-hand introduction to these magnificent and adorable creatures. To all those gathered at the shady park what was most striking was the parent-child bonding between the 'Ali Baasunne' and their precious 'aliyas'.

D.M. Punchi Banda raises his shirt and shows us a half-inch thick scar on his stomach. He has been stamped on and swung at, but manning elephants still remains his life. "I went home to recover from my injuries many times. But I could never stay away from the elephants completely. My master used to send for me and coming back was never a question." At 73 years he is still going strong, having worked as a mahout since 13.

"Sobhani's her name," he says lovingly, pointing to his elephant who is 45 years old. She has been his companion on his trips to both the peraheras in Kandy and Colombo from Dompe. "For the past 12 years we've come from there," he says, recalling the days gone by, when they walked for a week to get from one destination to the other. "But now she tires soon," he says, this time having come all the way from Habarana where she gives rides to foreigners. "So I brought her in a lorry."

Abruptly, Punchi Banda ends the conversation. He has no time to chat since Sobhani, now well-rested, has to be dressed for her big moment. Shaking out a grand costume in red and gold his helpers climb atop Sobhani to fix it. And she waits calmly till everything is in place before ambling around in all her glory.

Not far off, stands another. But no move is being made to doll her up as yet. "We can't dress up our Kumari too early because she starts fussing," says mahout Premadasa making her sound like a little child who is about to go to a party. "Since she is towards the end of the line of elephants we can wait awhile."

Thirty-five-year-old Kumari, looked after by Premadasa and his helper Diveris has been a part of the perahera for years. "We prefer to walk, whether it's Colombo or Kandy. It can be dangerous taking an elephant in a lorry because they are not used to it." To add weight to his observation he relates the story of a sleepy elephant which tried to lie down in a lorry, while being transported, and eventually toppled it. "Sadly, the elephant died. Hearing such stories how can I even think of taking my Kumari in a lorry?"

However, going by foot has also its fair share of problems. "Drenched in the rain and burnt by the sun we walk tending to our elephants. At night we hardly get any sleep because we have to watch over them in case people try to pluck out their hair. Some even try to cut off the ends of their tails, because elephant hair brings luck." He looks after his Kumari as if she were a child, giving her needs first preference. "I don't do any of my work until she is bathed, fed and asleep."

Young Sumith joined the 'elephant brigade' at just 16. Quitting school two years ago to help Premadasa and Diveris with their work, he is training in the art of being a mahout. "He's in love," Premadasa says grinning, "with the elephants."

'Aliya Maama' as he is fondly known to his nieces and nephews is the proud owner of Kumari and Bandara, the mother-and-son duo at the perahara. "Kumari was just six when she came to us. Now she's 35 years and had two sons. Unfortunately, Jayatu, her elder one died in an accident."

'Aliya Maama' is accompanied by his extended family, babies and all. All passersby are anxious to catch a glimpse of little, caparisoned Bandara, who is like a child taking part in a fancy dress parade.

It's obvious that the life of Aliya Mama's family is closely linked with that of the elephants. A new human entrant to the family was also named Jayatu, after the baby elephant which died. The children's school projects are based on the elephants and even human and elephant pregnancies coincide.

As dusk begins to fall on Poya day, it is time for the elephants' big moment and the throng of humans too suddenly increase. The Deva-Adithya family has been here to watch the elephants for many years. "We are animal lovers by nature," says Rukshan Deva-Adithya. "Although there is no close contact with the elephants, we recognise some of them."

His daughter Shehani loves elephants. Having seen them since she was six, at close range, she has no problem writing essays on them.

Just outside the park, stands a disappointed foreigner with his children. They had come late and caught a glimpse only of the last of the ambling elephants. "We can't stay for the perahera since the kids have school and can't stay out too late," said Philip Smith. They too had been here last year and leave with the resolution of coming earlier next year.

Looking their best in shimmering evening wear in every imaginable shade, the elephants then walk up to the temple. It is time for the pageant to begin. The gentle giants in their finery, sedately walking in homage to the Buddha on Navam Poya, looked more like beauties than beasts.
Jumbo task
"There hasn't been a great change over the years, but at that time we had to train the people who took part to be disciplined," says Ven Galboda Gnanissara Thero, Viharadhipathi of the Gangarama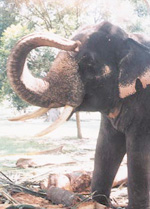 Viharaya talking of the early days of the Navam Perahera in 1979.

The perahera is a well-planned event since they all work hard to make it so. "Today I have teachers in charge of training the participants," he said adding that more often than not it was actually the men who needed the training. "The elephants, have always been disciplined and never posed a major threat as such."

The elephants which take part in the event are invited and come from all over the country. The temple takes on the responsibility of feeding, providing garments and sometimes, even transporting them. Even the mahouts are provided clothes by the temple for the perahera. "Little things like that make all the difference and we have always managed, thanks to the help we get from all our friends," the Thera said.

Meanwhile, the Chief Veterinary Surgeon of the Colombo Municipal Council, Dr. S.D. Eleperuma has been involved with the Navam Perahera, from its inception. Caring for the elep-hants is high on his agenda. "The food for the elephants, generally coconut leaves and kitul, is provided by the temple. The water is supplied by the CMC including an opportunity for elephants to have a dip in the pond," he explained.

His main role, however, is to observe the behaviour of the elephants to determine whether they are in the right mood to participate. If an elephant seems restless then he advises the temple not to use the animal. "There has never been any instance where an elephant has run amok. There have been disturbances but none that was a threat to the spectators."
This trip was for my future good- The Sunday Times/Superlink Traveller
B.M.J. Balasuriya only hoped to win a gift pack, but fortune had different plans for him. For on January 1, he got the good news that he was the winner of the grand prize of a tour to the Holy Land, in The Sunday Times-Superlink Triple Win.

"Although I am a Buddhist, I was happy that I had got this opportunity," said Mr. Balasuriya, an office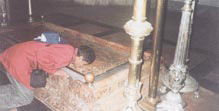 assistant at Grant Mccann-Erickson, last week, soon after his return from the Holy Land.
"I participated in all the activities. I felt that perhaps it was even better for me as a non-Christian. I was able to put all my problems away and be at peace."
Recounting how it all began, he said, "In the last week of this travel promotion, I just thought I would send in an entry. I never dreamed I would be the winner. When I heard that I was the winner, I was overjoyed and the whole office rejoiced with me."
Though Mr. Balasuriya was thrilled about his luck, he was in two minds. He wondered how he could go on such a trip. His only overseas trip had been to India. When he realised that he needed about Rs.10,000 as visa fees he almost called it off. Living on his monthly salary at Grants, he could not raise that much money. However, Grants Chairman Reggie Candappa and Managing Director Neela Marikkar came to his assistance and gave him the money he needed. The other staff members too contributed towards his expenses so that he could go on the tour.
"Finally, I obtained my passport and paid the visa fees. Superlink Travels attended to everything. All I had to do was pay the fees and collect my travel documents. Before our departure, we had a get-together of all the tour participants so that we could get to know each other," he said.
Despite the hostilities between the Israelis and Palestinians, the Superlink Group was able to visit all the places on the itinerary. They also went to Bethlehem. At the border, a bus and a tour guide from Bethlehem had met them and conducted them there. "We spent about two hours in Bethlehem," Mr. Balasuriya says. "We visited the manger where Jesus was born and prayed at the church. We were fortunate that we were the only group at the time." Calvary, where Christ was crucified was one of the sites that made a strong impression on him. He along with the rest helped carry a cross that had been gifted by previous pilgrims from Sri Lanka, up the mountain.
He spoke with awe of his visit to the Dead Sea, where no life can survive due to salinity, and the arid earth surrounding it. "This must have happened to the sea and the land when Jesus was crucified," he remarked.
"When a person observes any religion well, he will have a good life. I am very happy that God called me to undertake this tour. I feel it is for my future good," he said.