Music from the heart
He feels that the most important thing is to draw one's own balance from the best of any type of music
By Ruhanie Perera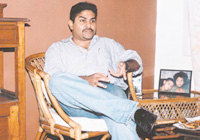 Singing is his life. As a kid he loved music; today as an adult he revels in it. So much so that despite his tight work schedule, singing is his "after-six passion". Yes, he really loves it - he even sings in the shower!

Druvi de Silva first started singing at the age of 11 while he was in school. "I really liked singing and being part of the school choir was something I enjoyed," says Druvi who has sung both tenor and bass parts while in the school choir at St. Joseph's. Looking back he feels that it was the training that he received from school, under Rev. Claver Perera, that has made him the versatile singer he is today.

Although Druvi projects himself as a Gospel Singer, he doesn't alienate himself from secular music. "I sing for the glory of God," says Druvi who switched to the gospel forum after getting involved with the Charismatic Christians in 1985. He feels that the most important thing is to draw one's own individual balance from the best of any type of music. "I also enjoy singing rhythm and blues, soul, rock 'n' roll, ballads..." and his list continues - evidence enough of his versatility.

Today he is recognised as a solo-artiste, but Druvi who incorporates variations and harmonies into his music has had bands, quartets or choirs to back him up on occasion. His most recent appearance was at the Jaic Hilton with an 'Elvis Tribute' at the beginning of the year. Druvi recounts his most memorable singing experience to be the 1998 Showboat Karaoke Championships where he was place second. "I also sang at a gospel concert 'Eagles Wings' held last year. That was a wonderful experience."

With ample experience when it comes to singing in public, Druvi laughs as he tells me that a singers worst nightmare is a messed up sound system. "The sound system is an integral part of the show and it can either make or break your voice." Having had to deal with an experience like that, he says the only thing to do is to have a fantastic rapport with the audience and keep them going by cracking a few jokes, although the situation is far from funny.

"I strive for perfection," says Druvi and is quick to add with a grin, "in all my music endeavors." To him a perfect concert is one which combines flawless vocal ability with creative presentation. "It's important to remember that the presentation should serve to complement the performance. It's the vocal ability that is the most important," he stresses.

His source of inspiration? Black Gospel Music. "Other than the fact that they are fantastic singers, they sing from the heart," says Druvi who firmly believes that it makes a world of a difference. "When you sing from the heart you mean what you say."

---
The mysterious female mind
By Norm(an) De Plume
If you've read a story about an ugly duckling who didn't grow up to be a swan, you've probably been reading my biography. Being blessed with an 'adorably cute' brother and best friends whose only drawback (from a selfish view point) are their good looks,I was left lacking in attention from the opposite sex. So for a long time, I probably knew more about the breeding habits of the Galapagos Marine Iguana than about girls.

All of that, however, changed after my ALs, when I began a certain course of study. I still remember the surprise and delight I felt, and the lively beat to which my knees knocked when I found out that I was the only guy in a class of 26 people. In the next 10 months, I learnt more than just the course material. Since then, I've moved on to an educational institute where the women outnumber the men 4 to 1. Thus I know quite a bit more about women than before and since not everyone may have my good(?) fortune, I thought I'll share what I found out about that great mystery that continues to puzzle mankind from the stone age - the female mind.

I've learnt that some truths should not be spoken, however noble the intentions may be. This is especially true with regard to facial hair. Even though you point it out because you think she may not have noticed, or just want her to know that she can borrow your razor anytime, women seem particularly adverse to such good sentiments. Oh yes, it applies to weight as well. Steer clear of comments on these two, and you'll do just fine.

Be careful about what you say. One wrong word here or there can be disastrous - and that's no exaggeration. A close friend of mine once made the fatal error of referring to some girls as 'pretentious' compared to others, while they were around. Only to get bombarded with accusations which left him quite befuddled - even though he is reputed for using the wrong words at the wrong time!

Watch out for feminists. The leading feminist in my class was in the habit of calling me 'boy', but she meant well - I think. Probably the strangest thing you could be called by a girl is 'machang' though we guys use it all the time. However, colloquial language doesn't work the other way around. I once tried getting a girl's attention by saying 'Oi' - and I got her attention all right! Unfortunately graphic violence is edited. A smattering of 'baba' and some such might come your way. Some of the more common phrases I hear are - 'Cow!', 'You demented nut!', 'Meanie!!' - and you thought only your aunts called you silly names. The latter adjectives were usually accompanied by rather sharp kicks to the shin, so let me tell you that calling women the weaker sex is somewhat inaccurate.

Another thing you should know is that girls don't know some of the finer things in life. Of course, I am referring to gross limericks, jokes and the sort. They will sometimes plead with you to enlighten them on certain things and then thank you with comments like - Eewww! Sick! Gross! May I advise you to accept them gracefully; you probably will never receive such sincere thanks again.

I've saved perhaps the most important for the last. No matter how much a guy may claim such knowledge, knowing the female mind completely is beyond all of us. Even my knowledge on the subject needs constant updating.

Finally, a word of tribute. I'd like to dedicate this article to all the girls who taught me this (sometimes the hard way). Hopefully you've educated a lot more guys than just me!

---
He's not Mr. Pertect, but he's My romeo
"The forest overgrown with thorns and thistles for thousands of years parted for the handsome Prince. He entered a palace long forgotten and there lay a beautiful Princess fast asleep. He placed a gentle kiss, the Princess awoke and the evil spell was broken...."
By Juliet
Haven't we all grown up with the fairytales of Sleeping Beauty, Cinderella and Snow White? Dreaming of dashing young knights in shining armour, fair maidens in dire need of help and of living happily ever after.

Let's face it. We grow up and yet the fantasy continues..... About our lives, our goals and especially about the one we'll eventually fall in love with. If you've got your eye on a Julia Roberts or a Ricky Martin look alike or pined for hunky dory Tom Cruise or sexy Jennifer Lopez well, you'll know what I mean.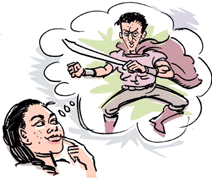 When I was a teen (not so long ago), I had my future Romeo all sketched out. Yup! He was going to be a tall, good looking Italian hunk with melting brown eyes. But it wasn't just any Italian, it had to be a US Marine, a pilot or an engineer. Exciting and adventurous, who'll brave all storms to rescue me from danger. Most important – he had to be someone I could be myself with. He had to be my best friend, my pal. Someone who'd love nature and love to travel around the world with me. Quiet, dependable, understanding, honest, faithful (I doubt many of them are), loving, great sense of humour, gentle and kind etc..etc...
Books were a part of my life and had to be in his as well. It was my key to a mysterious exciting world where I could forget my pain and loneliness. I hoped he would be the sort who'll never lose the child in him. A lover of cartoons, who could weave stories into the clouds in the sky and have imaginary friends. I wanted someone whom I could help through a major problem. In fact I wanted the song 'Because you loved me' to be real in his life. Somebody who would turn his life around because I introduced him to God.
He had to love music and movies and not be a male chauvinist. A person who could understand my mood swings. Romantic? Definitely. Woo me with flowers, romantic candle-lit dinners, letters and cards by the dozen and whisk me off to magical, beautiful destinations. He would also have to love dogs of all shapes and sizes. Even the scrawny, and dirty, strays on the road. But above everything he had to be willing to love and accept me with all my faults and shortcomings. My Italian hunk was then oh so real, I even had a name for him. Rick it was and Rick it was going to be.
Time passed... things changed. I made mistakes and stopped believing in my fantasy. Until one day...I didn't find my Italian hunk and somehow I didn't want to either because I found someone even better. Perfect? Nah! I wouldn't say that but he's everything I ever wanted (give or take a few) and reality was well, as every bit as good as my fantasy (minus Rick the brown eyed Italian hunk).
He's not as tall as I would have liked him to be but who cares, he has a sweet innocent face and he doesn't smoke or booze. The best thing is I can be myself with him. My crazy, impulsive absent minded self and he still wouldn't think I needed to be locked up in the mental asylum. With him I can talk and laugh about anything and everything and he understands. But oh how I wish he was more romantic. He hates writing and if I'm lucky I'll get a letter once in a blue moon, whereas I love to write letters whenever I can. As for gifts he prefers to take me around and get me what I want, while I thrive on surprises.
But he's dependable. I can count on him for anything and I love the fact that he walks me home on the evenings that he's free because he thinks it isn't safe. He's gentle and kind, especially to people whom most others would yell or ignore – I think that's great in a man. However, he can be brutally honest and sometimes I can do without the 'brutal' part. He's sensitive, loving and I believe will be faithful although my mother warns me to trust no man.
I didn't find my melting brown eyes but he's been blessed with eyes that smile and I think that's so much better with a great sense of humour. Unfortunately, he'll rather run a mile than read a book or watch cartoons and I don't think he sees stories in the clouds or has imaginary friends either. He likes martial arts and movies but he's more into horror and thrillers – blood and gore – yuck!
It's his dream to travel around the world and visit beautiful places. Music is also something we both have in common and one of the main reasons I was able to drag him to church. Thank God for music, hymns and singing. As for God he says it's best not discussed but I think he believes that there is power in prayer. He just doesn't want to admit it because then he'll have to do something about it. But he can't fight with God and he's going to learn that sooner or later.
Something I really admire in him is his ability to 'never cry over spilt milk'. He just puts it out of his mind and gets on with life. Unfortunately for me, he loves to bug me and nothing annoys me more when it comes from him. He knows exactly what to say to get on my nerves and when I get really mad he tells me he won't do it again and then conveniently forgets it. Of all people, my mother along with him thinks it's great fun. I, however, don't.
But he likes dogs. Although he says ever since his dog died it hurts too much to keep one, when the time comes hopefully I'll be able to get around that. Thank goodness he appreciates the real me with all my faults. I think very few people could.
Well, there you have it. I guess no one ever gets everything they want in life. As for Mr. Perfect or Miss Perfect, they just don't exist. Finally it all boils down to understanding one another. Despite our many dreams and fantasies, when love steps in the reality can sometimes be a far cry from fantasy, but does it matter? Our prince or princess may be shorter, darker or stouter yet they reign in our hearts just the same.

---
Looking 'love'ly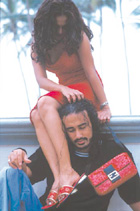 Once again, it is that special time of year when love is in the air. And as Valentine's Day draws near, the question uppermost in the minds of all those gals would be what to wear for that special occasion. To help you make that choice, here's a hint of what's in vogue — red, pink, lilac and mauve are 'in' this season.

For the guys, of course, that all-important question would be what to give their extra-special gal on this day filled with romance and flowers.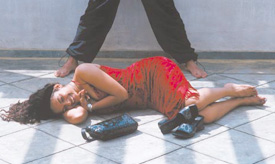 They could select from a range of items including embroidered, beaded and sequinned bags, shoes and accessories that are the height of fashion.
On our cover and featured here are some exotic fashions from Cotton Collection modelled by Rushika Weerasooriya and Merash Mahajuodeen , with accessories from Leather Collection. Photographs are by Harsha de Silva, well-known.