Contents
---
Stars of 70s
'Stars of 70's', featuring the Sinhala pop sensations of the seventies era, will be on again at the B.M.I.C.H. on February 3 at 7.00pm .

This musical extravaganza is organised by the Wesley College Old Boys' Union in collaboration with the Old Wesleyites Sports Club in a bid to raise monies for the Wesley College development fund.
It will bring together a galaxy of artistes of yesteryear singing a repertoire of perennial favourites - songs which have stood the test of time, having the ability of tugging at the heartstrings with nostalgia and to have audiences stirred with emotion.
"Stars of 70s"will feature Annesley Malawana, Indrani and Irangani Perera, Anil Bharati, Priya Peiris of La Bamba fame, Maxwell Mendis, Ronnie Leitch, Dharmarathna Brothers, Joe B. Perera of Mee Messo fame, Errol Fernando of Los Cabaralos fame and Noel Ranasingha of La Ceylonians fame.

"Stars of 70s" promises to be a unique evening which will bring back the irresistible melodies, lyrics and music of the "Los Cabelleros" which brought out the musical prowess of the late Neville Fernando who, on this occasion will be represented by his equally gifted brother, Errol Fernando whose rendering of "Master Sir" will send music lovers into raptures.
Then of course, there will be the straw hat and batik sarong clad Noel Ranasinghe who led "La Ceylonians" to sing again those catchy favourites ranging from "Hoiya Hoiya" to many others that the audiences will be shouting for those who remember "Kammal Karuwa" or the familiar words of "Yakada Thalanna" will be delighted to see the return of Joe B. Perera and "Meemasso" on stage.
To add splendour to the occasion there with be the heart-throb of many, Annesley Malawana. It will be wonderful to see and hear again Christy, Maxwell and Milroy - the famous Dharmaratne Brothers who will undoubtedly bring back memories of yesteryear. No doubt, the audience will be surprised to hear Priya Peiris with 'La Bambas' and that familiar refrain "Cock a Doodle - Do he's up at half - past two."
Maxwell Mendis of the 'Mendis Foursome' and of "Mama Bohoma Baya Una" fame will come up to inject much excitement and to provide an unforgettable audio visual treat. Scintillating dance sequences will add to the choreography provided by the Kulasiri Budawatte Dance Troupe while musical accompaniment will be provided by "Simple" led by Mahesh Silva.
The show will be compered Wijaya Corea.
Parakrama Wijemanne, is the project chairman of this event.
Tickets priced at Rs.1000/-, 750/-, 500/-, and 250/- will be available at Torana, Pearlrich outlets, OWSC and Wesley College Office and Sawsiri Shopping Complex.
---
Rich film fare at Liberty
Cinemagoers are in for a rich line-up of top notch films in 2001. The best of the latest from Hollywood will provide variety in super entertainment for fans and discerning connoisseurs at the Liberty Cinema.

The current film at the Liberty 'Chicken Run', is presently drawing large crowds.

Next attraction, Universal's 'Shaft', a detective action thriller, starring dynamic Samuel J. Jackson, is guaranteed to keep audiences on pins from beginning to end. Also on line is 'Saving Private Ryan', a blockbuster with five Academy Awards - directed by Steven Spielburg. Tom Hanks plays the star role.

'U-571' is a gripping drama of the high seas with unending suspense and excitement.

For the entire family's viewing pleasure family movies such as 'Adventures Of Rocky & Bullwinkle', 'Fintstones 2 - Viva Rock Vegas' are also on board.

Among other greats in the 2001 Film Roundup are such masterpieces as 'Jurassic Park 3', 'Meet the Parents', Lara Croft: Tomb Raider', 'Mummy's Return', 'Grinch', 'Along Came a Spider', 'The Mexican', 'Hannibal' and 'Castaway'. These films are due to be released even in the USA in the New Year.

Film fans can also expect similar extravaganzas at the New Olympia Theatre. Unforgettable films to be released are 'LIAR LIAR' starring Jim Carry, 'Road Trip' with Bracken Meyer, an adult comedy. Also, 'Mercury Rising' with Bruce Wills in major role, and ever popular box office film 'The Lost World: Jurassic Park 2', which will be released shortly.

With these Hits, New Olympia will also be resurgent under the liberalized film policy of the Government, and continue with classic films in keeping with this Cinema's past record.
---
Patrick, the master chef
The Executive Chef Patrick Phillips with his kitchen brigade of Deer Park Hotel, is all geared up for the forthcoming season.

Sous Chef Ajith and Chefs Sarath and Ratnayake are there to give a hand to the Executive Chef.

With over 27 years in hotel industry Patrick is an Associate Member of the Hotel & Catering International Management Association (HCIMA) based in UK.

"I was directly responsible for setting up two new restaurants in Madras with a budget of Rs. 25 million. As the General Manager of these restaurants I was also in charge for the day-to-day operations of these star class restaurants", he explained.

Patrick is a visiting lecturer of the Hotel School of Maldives while at Taj Samudra Colombo he participated in seminar and training courses such as "Train the Trainer' seminar in Bombay, New Delhi and Rajastan.

'I have been appointed as an Expert (Food Preparation) at the regional work of the South Asia Tourism Seiter of Maldives," he said.
---
'The Rock' comes under Aura
'The Rock' is a small hotel in the heart of Nuwara Eliya noted for its service and food. This cosy ten roomed hotel located amidst picturesque green hills overlooking Lake Gregory and the Race course is the perfect place to relax and savour the cool air of the hill country.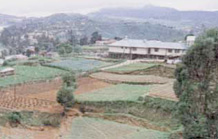 The main attraction of the place is a bird's eye view of Nuwara Eliya from the hotel's deck. All rooms have attached bathrooms, hot and cold water, radio and piped music. The atmosphere here is very homely and the friendly and attentive staff will make every effort to make the stay most comfortable. The restaurant serves a combination of Eastern and Western cuisine and a unique feature is its tree trunks made tables.
The Rock is also a good base from where trips could be made to Horton Plains, Seetha Eliya, Hakgala Botanical Gardens etc. The hotel is now marketed by Aura Hotel Services (Pvt) Ltd. The Rock came under Aura management recently and gearing up for the coming season. This is the latest addition to Aura Hotels who also manage two unique type hotels in Bentota - Club Villa and Taprobana.
---
Eco-tourism:PATA 2001 theme
The 13th PATA Adventure Travel & Eco-Tourism Conference & Mart will be held at the Kandalama Hotel from January 30 to February 3. This will be hosted by the PATA Sri Lanka Chapter, an affiliate of the Ceylon Chamber of Commerce, in association with the Ministry of Tourism and Sports, Ceylon Tourist Board, Sri Lanka Convention Bureau, SriLankan Airlines and the members of the PATA Sri Lanka Chapter.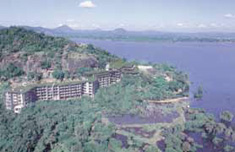 The PATA Sri Lanka Chapter's mission is to enhance the growth, value and quality of Pacific Asia Travel and Tourism for the benefit of its membership.
Hosting this conference and mart in Sri Lanka will provide tremendous exposure to Sri Lanka as an adventure travel and eco-tourism destination. Eco-tourism is one of the fastest growing segments in international tourism with more travellers seeking destinations with good environmental management policies.
The four-day conference and mart is expected to bring together industry members in the field of adventure and eco-tourism to discuss and identify market opportunities and execute business ventures. It is also expected that this event will provide an ideal platform to launch Sri Lanka into the Adventure Travel & Eco-Tourism market.
The inauguration ceremony will be held on January 30, 2001 at the Kandalama Hotel and will include welcome addresses by Mr. Joseph McInerny, PATA CEO, the Minister of Tourism & Sports, Minister Lakshman Kiriella, Minister Mahinda Wijesekera and PATA Sri Lanka Chapter Chairman.
Many specialized buyers from Europe, the Americas, Australia and Asia as well as sellers from the entire South Asian region are expected to participate at both the conference and mart, which has also attracted a number of media personnel from world renowned publications in this market segment.
The venue of this conference and mart will be the Kandalama Hotel, which was the first hotel in Asia to receive the prestigious Green Globe 31 certification. The distinguished delegates to the event will be accommodated at Habarana Lodge, Culture Club, Sigiriya Village and Sigiriya Hotel. The respective hotels that have provided much support and assistance to the PATA Sri Lanka Chapter in organising this event will host all evening functions during the conference and mart.
The programme for the conference will include speeches by prominent international and local personalities in the fields of Bio-Diversity, Adventure Travel, etc., a Tree Planting Campaign at Kandalama and an outdoor mart with on-site appointments, Pre and Post Tour Programmes, etc.
The keynote address on January 31, 2001 will be made by Professor Sarath Kotagama, who is also the Vice President of the Eco-tourism Society of Sri Lanka.