Weddings - the do's, dont's and all you need to know
By Ruhanie Perera and Uthpala Gunethilake
Is there anything more romantic in the world than a beautifully dressed, radiant bride? May be not. But to ensure that all goes well on your wedding day, and that you will look as beautiful as you always dreamed, there are lots of preparations to be taken care of. At a loss for where to start? Maybe this can get you going...
Dress to thrill
Perhaps more than anything else, it's the wedding dress which defines the bride. This is what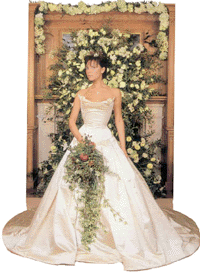 Ramani Fernando says about choosing your wedding attire.
*The choices available to brides are unlimited today but when it comes to your wedding an element of tradition is very important, whatever may be in fashion at the time. The sari is draped in various drapes today and made-up saris are in vogue along with various types of embroidered saris.
*Fabric depends entirely on the individual. For example, a petite or slim figure would be best in organza, raw silk or silk. For a voluptuous figure very soft fabric like chiffon, gorgette will be very flattering.
*Colours also depend on your complexion. White is good for those with fair skin, and colours like off-white, champagne and gold are for darker skin
*It's important that the accessories -shoes, jewellery, the headress and boquet- all compliment the outfit. Jewellery should be kept to the minimum and not overbearing.
*Make sure the retinue is dressed simply since the bride is the most important person.

Get the look
Your wedding is the day when you specially want to look your best. These tips by Ramani Fernando may be helpful.
*You have to see your hairdresser and beautician early enough to make necessary appointments. If you have problem skin you have to attend to it 3-4 months before the wedding. It should be treated with professionally done clean-ups. If your skin has severe acne problems it's best to see a skin specialist as early as possible.
*If you have facial hair and hair on arms and legs, these should be removed by waxing or threading quite early because you can't take chances with any reactions or irritations. It greatly enhances your appearance to have unwanted hair removed and eyebrows shaped.
*If you usually don't wear make-up, have a trial early and make yourself comfortable with the look.
*Decide on your hairstyle with your hairdresser early and if it's going to be put up, have a few trials. If it's to be worn down, get your hair cut and shaped or re-styled two weeks earlier, so that hair will look its best around the time of the wedding. If you are getting any chemical treatments done, such as perms and straightening, these should be done 2-3 weeks before so that it gives hair time to settle.
*If you are overweight, go on a diet and excercise, and do your utmost to get in shape for the big day, since you'll want to look your best on your wedding day.
*Without good carriage and posture you looks will be lost. Carrying yourself well is essential for your clothes to look good. The bride and the retinue should be ready at least three hours before the ceremony and it's important that you take the photographs before the ceremony, since you'll look your best at this time.
*Make sure that at your wedding you don't take on too many responsibilities and become a nervous wreck in the end. Delegate responsibilities and and make sure that you are calm and collected; this always makes a bride radiant.

Plans and Preparations
Today you find more couple coming to the forefront to arrange their own wedding. To them the more convenient option is to hand over the preparations to 'wedding co-ordinators' equipped for such occasions.
At the Taj Samudra the 'Banquet Department' in keeping with this trend, sees to all the arrangements from the moment the 'bride and groom-to-be' step into their office till they whizz off on their honeymoon. Some suggestions offered by their executives...
It's best to start planning for the wedding 6-8 months before the date. Some people book almost a year ahead.This is impractical since no one is really sure of the time so early. Especially in Sri Lanka where 'auspicious times' are very important, it's best to finalise that before making reservations.
If families are involved in the planning, we encourage the couple to come along with their parents when making the arrangements for the wedding. So that the plans ultimately made suit both the couple and their parents.
Other than the hiring of a hall, we also provide all other services in connection with the event. Planning of menus, attending to decorations and flower arrangements, hiring of a band and a photographer are all handled by the hotel.
New ideas or special themes are always accomodated. Couples can choose from the set menus and hotel interior decorators, photographers and bands, or they can make their suggestions and we will make the necessary arrangements in accordance with the couple's ideas.
Additional arrangements that vary according to the type of wedding (i.e. Buddhist, Catholic, Muslim, Hindu, etc) are also handled by the banquet department.
Some couples come with very innovative ideas and we do our level best to see these ideas through. For example if it were a 'Sri Lankan' theme the staff will be appropriately dressed and the decorations will also be in keeping with the theme.
Outdoor wefddings are very popular among couples today. Our north lawn is perfect for that occasion, the only hitch being our country's irregular weather patterns.
Although the couple would like to have many people with them on their wedding day, their guests also need to be comfortable. Seating arrangements need to be made taking into consideration the space needed for the band and the dancefloor. Two weeks before the wedding all arrangements must be finalised. From that point onwards we advise against a change of plans. With the finalised list of arrangements the hotel staff then coordinate in order to ensure that all plans are carried out smoothly.

Personal touch
Sash had been a part of 'the gang' from its inception. We were a motley group of choristers who loved to have fun and amongst whom a strong bonding developed with time.

After many years of togetherness, Sash was to leave us. She was getting married.

It was as if the excitement she was feeling was coursing through our veins. We practised the wedding hymns at every possible opportunity at every possible time. We wanted to do our best for Sash. We wanted to make her wedding extra special - for she was more than a friend - we were like family. We racked our brains to think of what else we could do for her. Then someone came up with the bright idea of surprising Sash by decorating the reception hall.

We could have qualified for the Secret Service the way we conspired with Sash's mom (who had been entrusted with the task of organising decorations.

Hurried secret meetings were called. Telephones kept ringing to ensure smooth co-ordination amidst all the excitement. One of us was to buy the flowers, one the candles, one the gold paint, one the brushes, one the regifoam, one the gold and silver paper. One had to clean out her garden of all its 'harthevariya'. It was tiring work -no wonder with just TWO days left for the wedding.

We gathered on the morning of the wedding - huddled in a corner of the hall and put together the decorations.

5.30 p.m. The Service was over. Rats couldn't have scurried faster than the way we did in order to reach the hall to add the finishing touches. After all, we were not professionals. This was our love gift to Sash.

Time for the bride and groom to arrive. Surprise! A radiant Sash positively 'glowed' when she saw our handiwork.

The reception came to an end. Sash stopped to thank us. But it was really not necessary. The very fact that we had been able to DO something that had added to Sash's happiness, was thanks enough.

And as Sash left with her groom, we knew that her wedding was not just 'Great', it was 'Great' in an extra-special way for her - and for us - because we had been able to personally be a part of Sash's wedding.

That day our special bond grew even stronger. Even though Sash would no longer sing with us, she would always be a part of us.

And as we celebrated love on that day, our love for each other increased tenfold - nay - many many fold. It sure was one of the best weddings I've ever been to.
- RJ

Wedding Superstitions
*Perhaps the oldest and wedding rhyme known is the one which advises the bride to wear; "Something old and something new, something borrowed and something blue," - for luck on her wedding day.

*It's supposed to be unlucky to marry in May and on a Friday, especially if it's the 13th.
" Monday for health - Tuesday for wealth Wednesday's the best day of all - Thursday brings crosses And Friday losses - but Saturday, no luck at all"

*February, June (the 'month of roses'), August, September, November and December are considered lucky months and the bridegroom's birthday is supposed to be the luckiest date.

*It's fortunate for a bride to meet a lamb, a dove, a spider or a black cat on her way to church: but a funeral or a pig are bad omens.

*It's supposed to be unlucky for the bride to try on the wedding dress or the veil for the bridegroom to see before the wedding day. ItÕs also also not good for him to see her on the wedding day until he meets her at the altar.

*After the wedding the bride should break up her boquet, tossing the flowers amongst the bridesmaids and girl friends. Whoever catches one of the blooms will be married before another year has passses.

*After the honeymoon, the husband should carry the wife over the threshold of their new home in order to be bring good fortune.