---
Mahout's death at Pinnawela raises disturbing questions
Jumbo threat
By Hiranthi Fernando
It was not a happy new year at Pinnawela. Its peaceful atmosphere had been rudely shattered when Mathali, the gentle matriarch of the elephant orphanage kicked and trampled to death, Ranasinghe, a mahout whom she was accustomed to. The reason for her aberration is still not known and as there were no eye-witnesses, the authorities can only attempt to piece together the tragedy.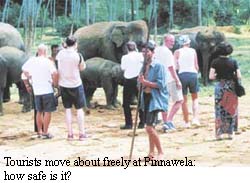 Mathali, who has had four calves at Pinnawela, was one of the jumbo orphanage's founder members, having been brought there in 1975 as an orphaned baby from the jungles of Matale, hence her name. Her youngest calf named Pinnawela, just six-months-old was beside her at the time of the incident, on Sunday, December 31.
"This was where it happened," said a mahout at Pinnawela pointing to a spot by a tree. According to the mahouts and other workers at the orphanage none of whom was close enough to see Mathali's attack, the incident had taken place shortly before the elephants' afternoon bath. Just before 2 p.m. every day, the elephants gather together preparing to move towards the river. Ranasinghe, the mahout who was killed, was squatting on the ground near Mathali and her calf, waiting for the other elephants to gather. There were apparently only three mahouts in that section at the time.
The first sign the others had that something was amiss was when they heard the visitors shouting. They suddenly saw Ranasinghe being kicked and trampled by Mathali. It all happened in a few seconds, said the shocked mahouts. Although they rushed to the spot and tried to rescue Ranasinghe, they failed. Finally they managed to make the elephant back away by using their goads and take the seriously injured man to hospital. However, he succumbed to his injuries.
The veterinary surgeon at Pinnawela was unable to give us any information without the approval of the Director of the Zoological Gardens. Zoo Director, Mr. Senarath Gunasena, said that an Assistant Director of the Zoo was conducting an inquiry and he could not comment until the inquiry was completed. The inquiry is expected to be completed in a week.
Some workers at Pinnawela believe that it was the barking of a dog that upset the elephant who reacted by attacking the mahout seated nearby. Others say that the mahout may have hurt the elephant or the calf in some way. Whatever the reason, the death of the 38-year-old mahout, the sole breadwinner of his family is tragic. Ranasinghe had stayed single to provide for his mother who has cancer and his sister who suffers from a weak heart. One can imagine his family's plight now.
The incident at Pinnawela also raises some serious questions. How safe is Pinnawela for the numerous visitors, both local and foreign, who flock there? "People wander around freely because it has been safe," said Jayantha Jayawardena, Managing Trustee of the Biodiversity and Elephant Conservation Trust and frequent visitor to the elephant orphanage.
Mr. Jayawardena earlier last year expressed his serious concerns about the danger the elephants constitute to visitors. "Maybe the authorities should consider cordoning off a section from where visitors can view the elephants instead of wandering around freely,a" he said.
The lack of properly trained mahouts is another cause for concern. "We have always stressed that in places like Pinnawela, it is essential that both mahouts and elephants are trained," Mr. Jayawardena said. "It appears that about 20 of the 28 mahouts at Pinnawela are employed on a temporary basis. They should be trained and undergo a test before they are given permanent employment." He also expressed concern about the elephants' twice-daily treks to the river for their baths. The road should be closed when the elephants are using it as the jostling elephants rushing for their bath could injure, maim or kill an onlooker not intentionally but even by accident, he says.
Secretary of the Captive Elephant Owners' Association Mr. Dhamsiri Karunaratne, was equally concerned about the situation at Pinnawela. "We had warned the Zoo and Wildlife Department authorities that such an incident could occur," Mr. Karunaratne said. "Controlling the elephants when they are still young calves is not too difficult. As the elephants get older however, there could be more problems."
Too many elephants and too few mahouts to look after them, is his assessment. About half of the 63 elephants at Pinnawela are males and when they come into musth, they become aggressive and could be a danger to mahouts as well as visitors, Mr Karunaratne says. He strongly feels that the number of males in particular should be reduced.
"Although there may be 30 men employed at Pinnawela, all of them are not looking after the herd. They attend to the other work as well," Mr. Karunaratne said. "Only six or seven mahouts accompany the elephants when they go to the river for their bath. They go through a street that has many shops alongside. People crowd this area. In our experience with elephants, they could attack if something frightens them. Even tame elephants when frightened have turned on their keepers."
Mr. Karunaratne says it is very possible that Mathali, who is known to be a gentle animal who had never harmed anyone prior to this incident, was frightened in some way. In such an event, if the mahout was squatting on the ground it is very likely that she would have kicked and trampled him in her fear. He added that experienced mahouts know to maintain eye contact with the elephants and also how to anticipate an attack.
He related an incident where the Diyawadana Nilame Neranjan Wijeyeratne was feeding a young tusker of the Dalada Maligawa recently when a cat ran across and frightened the elephant. Alarmed, the elephant had turned suddenly injuring Mr. Wijeyeratne with his tusk. Such incidents can occur even with tame elephants he said.
Mr. Karunaratne added that often it is found that elephants which do not normally attack people have a fear or dislike of the mahouts. "With our elephants, we give them special treats they love like jaggery or chocolate and they run to us and show their affection," he said.
He commented that the elephants at Pinnawela do not receive as much nourishment as they require nor any variation in their diet. "It is not easy to find sufficient leaves and kitul trees for such a large number," he said.
The lack of trained mahouts is another serious drawback, Mr. Karunaratne said. To be a mahout requires adequate training. Having a goad is not enough to control an elephant. It needs experience to use the goad lightly on the correct spots, to control without injuring the elephant.
The Captive Elephant Owners' Association plans to hold a training programme at the end of this month for mahouts in three districts, Kegalle, Kandy and Ratnapura. "We will write to the authorities of the Zoo and Pinnawela to send their elephant keepers for this programme," Mr. Karunaratne said. "We have experienced men from families who have been mahouts for several generations. They have special skills in the art of controlling elephants. Their experience and skills could be imparted to the younger mahouts. We hope that by this we could produce well-trained mahouts to care for the captive elephants."
Meanwhile at Pinnawela, Mathali's daily routine continues unchanged. The mahouts keep a watchful eye on her, but more importantly, the Wildlife authorities need to act on the findings of the report so that Pinnawela remains a haven for elephants and a safe attraction for its many visitors.