Up, up and away
By Faraza Farook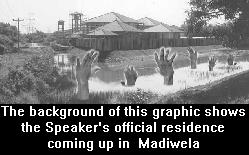 While Government members enjoy luxuries including foreign trips and other perks the expenditure incurred has been passed on to the public who are fighting a never-ending battle for survival amidst soaring price hikes. An additional Rupees sixty million was recently approved in Parliament for the Speaker's residence while a presidential mansion is coming up in Kotte.
Last week's price hike on domestic gas, kerosene and diesel has burdened the public who had to bear a series of price hikes during the year.
While contradictory claims are being made about what happened at the Paris development forum meeting and how much Sri Lanka will get next year, The Sunday Times learns that donor agencies have put the aid package on hold till they fully assess the ground situation here.
The price hike came amidst speculation that Sri Lanka has begun implementing reforms called for by the lending institutions. The recent hikes have brought condemnations from all corners of society including politicians, businessmen, trade unions and analysts. As in previous occasions, political parties and trade unions are planning to greet the Government with a series of protests.
The serial increase in LPG, the fourth hike for this year has brought a lot of criticism against Shell Gas whose monopoly ends this year. While charges and protests continue, Shell Gas attributed the hike to increasing world oil prices and the devaluation of the rupee.
The 8.3% increase in the domestic cylinder has had a drastic effect not only on the consumer but also on food items.
LPG dealers anticipating the hike were prompted to hide stocks causing pandemonium in some areas in the city on the eve of the Ramadhan festival. People were turned back as agents claimed that stocks had finished.
Though yet undecided, many eating outlets are planning on an increase in food stuff including hoppers, rotty, rice packets etc.
Meanwhile vegetables, cereals and other consumer products are heading for an increase with transport costs shooting up due to a Rs. 3 hike in diesel just weeks after its last hike in mid-November this year.
A spokesman of Nihal Brothers, dealers in food items said, "prices of rice, sugar, onions and potatoes, articles of common consumption will go up."
All imports will also be affected with traders expressing concern over an unsteady business in the coming year as consumers refuse to accept the increase.
"It is becoming difficult for us to survive. The prices have already gone up. The tragedy is that the public and merchants are holding us responsible for it!" —Kiruba of Design Textiles, in Galle Road said.
The public who are being hit from every side will also be compelled to bear with increasing bus fare and school/office transport charges.
Office and school transport services have already jacked up prices to meet the ever increasing costs.
Leslie Weerasooriya who is running a school transport service from Maharagama to Musaeus College said he will be increasing his fare with the new term next year. "I am planning on a Rs. 100 increase. Parents often oblige because, if they were to go by bus, they have to pay the additional amount when there is an increase," he said.

Another van service provider said he had no option but to increase fares. Operating from Piliyandala to Colombo his average charge was Rs. 800. "I didn't increase my charges the last time there was a hike. So I shall increase the charges by Rs. 200 this time to cover both price hikes," he said.
Parents reacting to the chain hikes were naturally unhappy and saw a bleak future ushering them to the new millennium.
"The increase is just on one side, there is no equivalent increase in our salaries," said T.I. Jamaldeen of Thalawathugoda. The rising cost of living was definitely pinching him hard as he said, "If I have to pay Rs. 1000 each for school transport for my two children, I'll be spending Rs. 2000 just for that".
Robin Jilla, a retired service officer of the Air Force said he was unable to meet his basic aspirations such as housing and education for his children under the tight economic conditions.
The legislators who don't feel the pinch of the high COL, attribute the price hikes to the devaluation of the rupee and increasing world prices.
---
The hike saga
By Tania Fernando
Shop keepers who are renting out premises from the Municipal Council will see an increase in their monthly rent by more than 15% with effect from January 2001.
The monthly rent charged by Municipal Councils for supermarkets etc will be increased depending on the square area rented out by them.
An official at The Colombo Municipal Council said this increase takes effect every five years. He also said that although they charge a very minimal sum ranging from Rs. 600 plus GST, the owners who hire it from them rent the premises for more than Rs. 20,000.
A wholesale stall holder at the Fish Market in Pettah has to pay Rs. 3000 plus GST to the Municipal Council, which would be increased by 35%, while a stall holder in the Borella Market will see an increase of 15%.
He also said that the cost varies depending on the square feet area and on which floor they are located.2
With the escalating cost, this increase too would be an added burden to the consumer who has to bear all the price hikes.
---
No laughing matter
By Tania Fernando
The government will have no authority to control gas prices in future, with the opening up of the market, the Board of Investment Chairman Thilan Wijesinghe said.
Following the liberalisation of the market no specification of the price structure and increases have been specified leaving room for them to increase prices when the necessity arises.
Mr Wijesinghe said although the new entrants to the market come under the BOI they have no mandate to specify how the pricing structure or the increases should be done.
But, the new entrant to the market Lanka Auto Gas (Laughs) Chairman W K H Wegapitiya said that they would be entering the market at a price lower than Shell.
He said their company has proposed to the government that they would purchase gas from Ceylon Petroleum Corporation (CPC) and help CPC expand their production line in order for them to be able to sell LPG at a lower price.
Mr. Wegapitiya said that as a fully owned Sri Lankan company they do not wish to manipulate or cheat their customers. But he also added that there may be unavoidable circumstances where they will have to increase prices.
At present 10% of the gas sold by Shell Gas Lanka is purchased from CPC, which they claim is insufficient to cater to the local market.
With the ending of the monopoly of Shell Gas Lanka, the government will have no control on their pricing structure.
The increase this week by 8.3% is due to the devaluation of rupee and the increase in world gas prices and has nothing to do with Shell gas ending its monopoly said Shohan Chandiram, Executive External Affairs and Brand Communication.
He said although their agreement with the Sri Lankan Government is now null and void, they are presently continuing to fall in line with the agreement and no pricing structure has been decided so far.
The agreement signed with Shell Gas during the monopoly period specified that price increases should not be increased by more than 10% per calendar year or in the event that world prices do increase by 30% they could increase the price accordingly.