---
I won't be home for New Year
"We can't think of New Year or home when on duty, even when we go home, our minds are at the front"
By Hiranthi Fernando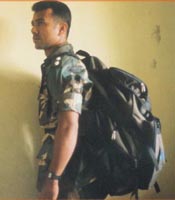 The dawn of a New Year is heralded by the sound of firecrackers reverberating through the air. At the war front in the north, the dawn of a New Year is greeted with gun-fire and not firecrackers.

Thousands of soldiers in the operation areas see their New Year in a bunker, ever watchful for terrorist gunfire.

G.W.K. Senaratne, of the Gemunu Watch, serves in Muhamale in Jaffna. He has had a brief respite from his duties in the north to attend the Regimental Parade at Kuruvita. Senaratne is married and has one child of seven months. During the nine years Senaratne served in Jaffna and Vavuniya, he has been at home for the New Year on two occasions.

"Last year, I was at Pallai," Senaratne recalled.

"The terrorists attacked Pallai in December last year. So, although no operations were on during the period before the dawn of the Millennium, at the forward defence lines, we had to be alert and ready for an attack."

In the meantime, in the base camps, some preparations were made for the New Year, he said. The Army Seva Vanitha Unit also sends parcels of sweetmeats for the soldiers.

"At the defence line at midnight, we mark the dawn of a New Year by firing our guns in the air or ahead of us where our men are not stationed," Senaratne said.

"This year, I have been given a few days of leave after the parade, so I am fortunate to be able to see the New Year in with my family after a long time."

T.P. Ratnayake Harischandra also of Gemunu Watch has been lucky to see three New Years in his own home. However, they have no special ceremonies in their homes for the New Year in January he said.

"During Sinhala New Year, we try to observe the customs and auspicious times as far as is practical at the front," Harischandra said.

"The Battalion headquarters sends special food for the New Year. Within our platoons we partake of the food at the auspicious times if we are able to. One soldier from each bunker is brought to the camp for the New Year meal.

"Kiribath which is prepared at the camps and other sweetmeats are sent to the other soldiers on bunker duty."

According to Senaratne, the army does not attack on New Year's Day unless attacked, particularly during the Sinhala and Tamil New Year. As it is inauspicious for any home to receive a corpse on this day, they try to avoid it if possible.

Although the soldiers miss their families particularly during special occasions such as a New Year, they accept it as part of their duty Senaratne explained.

"We joined the Army of our own free will. So we have no regrets. I joined the Army for employment as well as to do something for the country. We feel we are doing a useful service for our country and we are happy. If our young men keep away, who will fight the terrorists? Senaratne questioned.

"Prabhakaran enlists by force. The Army does not enlist by force. So we have to join and serve our country."

Having obtained a spell of leave this December, both Senaratne and Harischandra expect to spend the next Sinhala New Year in their camps. They are quite resigned to it as part of their duties.

At the Transit Camp in Ratmalana, 501 soldiers were waiting to get back to their posts after leave.

Due to the cyclone warning and bad weather situation, the flights to the north had been suspended for a few days. Sgt. Bandara, who serves in Ariyalai went home on leave on December 11 and was due to return to his post on the 24.

"It is seldom that we can celebrate a special occasion such as a New Year in the north," said Sgt. Bandara, who has served in the north since 1995.

For the last five years, he has spent the New Year on duty.

"We have to think of our duties first," he commented.

"We perform our usual duties, whatever the occasion. If an operation is in progress it is difficult to think of New Year celebrations.

If no operations are in progress, Sgt. Bandara said they try to enjoy the New Year within their units, as best as they can.

"We have games and competitions or we light a camp fire and sit around it singing," Sgt. Bandara said.

"What we have at home by way of food and sweetmeats, the Army supplies us. We think of our homes only when our leave is drawing near," said Sgt. Bandara, the father of two young children.

"If we think of our homes and families, we cannot perform our duties properly."

"It is a rare opportunity for us to spend Christmas or New Year at home," said Cpl. Nimal, who is the father of two children.

"For those in bunkers there is no celebration. We are more watchful on a New Year's day, because we get the feeling that we may die. Last year, I was at Kanakarayankulam for the New Year. The attack on Elephant Pass was going on and we had no time to think of the New Year."

However, Cpl. Nimal said, at the base camps, Kiribath is prepared for the troops.

If there is a lull in the operations, Kiribath and sweetmeats are taken to the soldiers in the bunkers in a tractor if available.

Lt. M.G.S.A. Bandara just returned after a few days' leave spent at his home in Kandy. Having signed in he has to wait for flights to be resumed to return to Jaffna.

"This will be my seventh New Year in Jaffna," Lt. Bandara said.

"I no longer have an idea what people do for the New Year except from what I read in the newspapers. Last year, there was an operation on and much tension during the New Year period.

We had plans to light lamps for the Millennium but we were only able to carry it out in a small way due to the operation."

"All ranks have a meal together on special occasions like the New Year, Lt. Bandara said.

"According to the situation, we try to do what we can to mark the occasion. The Brigade Commander makes a speech and wishes the men. I joined the Army straight out of school so to spend these special days on duty is second nature to me."

Sunil Shantha, serving at Nagarkovil echoed his words.

"During my nine years in the Army, I have spent one Sinhala New Year and one January 1st at home," Sunil said.

"Last year I was at Thanenkilappu. We were on standby duty, ready for attack. Eight of us were in ambush.

"We cannot think of New Year or home when on duty. Even when we go home, our minds are at the front."