Dark secret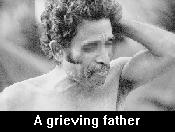 After two years of suffering a nine-year-old girl reveals a horrible tale of sexual abuse allegedly at the hands of the acting principal of her school
By Kumudini Hettiarachchi
Nine-years-old and maybe pregnant. The result of alleged continuous rape over two years or more by the acting Principal of the school where this little girl went for nurturing and education.

A young life shattered, allegedly shattered by a trusted adult who was supposed to protect her from such evil, not ravage her. Now she lies on a bed in the Kuliyapitiya Base Hospital, with her mother by her side, wondering how and when she and her family would be able to pick up the pieces of their humble lives and go on as before, taking one day at a time.

In her blue skirt and blouse, she looks as if she's in hospital for a minor ailment. But closer scrutiny reveals sorrow and hurt in those big dark eyes. She's puzzled too, for she cannot understand what went wrong. She's just a pretty nine-year-old, maybe slightly more developed than others her age, furtively glancing this way and that, terrified of what her parents would say, worried whether it is her fault, fate took this turn.

She was too frightened to tell anyone, the first time "Sir" did things to her. He threatened she would never be able to come to school again if she let out a word. She was scared out of her wits that her education would be disrupted, for she loved to learn her letters. She was also terrified her father would turn violent if he ever heard of this.

According to her statement to the police, "Sir" would call the children in her class at around 1 p.m. for lessons, assign them something to do, but when they were leaving call out her name and tell her to stay behind.

Then he would take her to the inner room of the "Guru Nivasa" (teacher's quarters turned into a staff room) the windows of which were closed, shut the door and do things to her. He would also give her pills and use other things.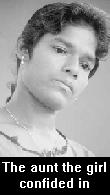 Her pitiful trauma, lasting over two years or more, came out only recently. One day she was in tears, after an hour with him, because it hurt. She went back to her class, and two friends questioned her closely. She told them the whole sordid tale.
They advised her to tell her parents as she may soon "become a mother". She went home at 2 p.m., straight to bed. She was tired, feeling nauseous, she wasn't hungry and her tummy hurt.
Her father was a watcher on a large coconut estate in a remote part of Bingiriya. She dared not tell her parents, so she sobbed out her tale to two "aunts" working as labourers on the estate. They in turn told the owners of the estate, as they too feared that the father would do something violent. The owners broke the bad news to the father and mother and took them to the police.
"We looked after her like a flower. She has never spent a night out of our home. She never goes anywhere alone. She is our only daughter and the youngest, after three sons. She attained age when she was five years and 11 months due to some hormonal problem, the doctors told us. After we did all the customs and gave her the ritual bath, I myself took her to school and handed her to Sir, telling him to look after her. This is what he did," tough-looking Wimalasena laments, as he breaks down and cries. The sexual abuse and rape are alleged to have begun soon after the child attained age.
We are in their home on the coconut estate. Wimalasena calls out to his third son to tell us what he saw in school. This 10-year-old hesitantly recalls the umpteen times when "Sir" kept his sister behind, after sending the other children to their class. They thought he was giving her extra lessons.
"I have known the Acting Principal for 20 years because he is from the same village where my wife comes from," Wimalasena interjects, adding, "Me mona aparadayakda" (What a heinous crime this is).
On our return journey, we stop by the tiny school, set before wild pastureland, just as the children troop in, in their twos and threes. This primary school has 45 children, 22 girls and the balance boys, in the age group five to 10.
There are three male teachers including the Acting Principal and a female volunteer in this 'difficult area' school. It has only three buildings to boast of - a brand new two-classroom building opened by the important politicians of the area just last week, another dilapidated 'hall' classroom close to the first and the unkempt and filthy teacher's quarters a distance away which has been turned into the staff room.
The room in the quarters where the alleged rape took place is strewn with brown-paper covered books on one side and printed government textbooks neatly kept in rows on another. In a corner two childish mud sculptures of a fruit and an animal adorn a scuffed desk.
Two children's tables have been put together on a side forming a slightly long table.
The village is also buzzing with talk of an earlier incident where a girl had claimed the Acting Principal molested her, but when the parents brought her to confront him and he questioned her, she denied it.
Whether this incident is true or not, now that doctors have confirmed rape on the nine-year-old, the relevant authorities such as the police and courts need to take speedy action to bring the culprit to justice. The rape of a nine-year-old is not just a crime against the innocents of the world, but also a crime against humanity, for which the heavens cry for justice. Letting the alleged culprit who has been specifically mentioned by the victim, walk free - to intimidate, buy over or even harm the victim - even during the period of investigation, will only send the wrong message to others. Justice is what this little girl needs and justice is all she is asking for.
(Name of victim's father has been changed to protect the family's identity)

---
Protector turns alleged perpetrator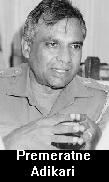 The suspect named in the rape complaint has been the Acting Principal of the school where the victim was studying, for about four years, said Kuliyapitya OIC Inspector Premaratne Adikari. He is married, but his wife is working in a garment factory abroad. He is also the father of a six-year-old girl who attends the same school as the victim, he added. The OIC told The Sunday Times that the girl, once released from hospital, would be sent to a rehabilitation centre on the order of court, until investigations and trial are over. The educational authorities in Bingiriya have been informed of the incident verbally. When contacted, Kuliyapitiya's Zonal Director of Education B.M.H. Banneheke said though they had inquired from the police on hearing about the arrest of the Acting Principal, no official confirmation had been given to them. "I have asked the Divisional Director to go to the Bingiriya Police personally and check on the matter. We cannot do anything unless we have something in writing. Then we will carry out procedure, such as interdicting the suspect officer and conducting an inquiry immediately," he explained.
---
New medico-legal forms
"We are monitoring the Bingiriya incident," said Prof. Harendra de Silva, chairman of the National Child Protection Authority (NCPA). According to him, the NCPA is also trying to introduce medico-legal examination forms specifically with regard to assault, abuse or rape of children. If they are introduced, the doctor examining a child who has been brought with such signs will have to fill one of the tear-off pieces of the form and the police the other. Both slips would have to be sent to the NCPA, so that it could follow through and see each and every case to its close. What happens at present is that the doctor fills up a form and sends it to the police, who then sends it to the Attorney General's Department. Such reports are reviewed collectively annually, but it is difficult to see what happened to one particular case, he said. NCPA's Law Enforcement Officer, retired SSP S. Thavalingam said he had faxed SSP Lionel Goonetilleke who is in charge of Kuliyapitiya seeking more information on the Bingiriya incident. "We will monitor the progress of the case."
---
A tale of suffering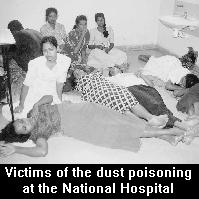 Many young women in their early twenties were lying huddled together recovering from the after effects of dust poisoning.

Niluka Priyadarshani (19) who was one of the 49 casualties brought to the National Hospital following the second episode of chemical reaction in the factory had also been a victim of the first episode.

Niluka from Dambulla was suffering from coughing, fits and nausea when we met her at the hospital. "This is the second time that I have been hospitalised due to inhaling the dust in the factory. Last time I was in hospital for three days."

Coughing, nausea, itchy throats, tearing, headaches, and vomiting were some of the common symptoms seen in the victims.

Twenty-two-year-old Sriyani Malkanthi, was another victim. Lying on the floor in a weak condition, she complained of a burning sensation in her chest and found it difficult to speak.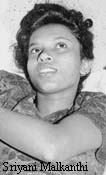 Describing the events that led to her being warded, Sriyani said she had fainted overcome by the substance she had inhaled.
However, she said this was the first time she had experienced such a thing in her four years working period at this factory.
"We were only given two injections, one to fall asleep, the other to control our coughing," Nandani Appuhamy (23), complained saying the medical attention was insufficient.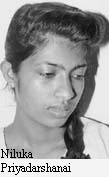 She said oxygen was given to those with breathing difficulties
However, National Hospital director Dr. Hector Weerasinghe said the patients were fit to be discharged the following day and would not suffer from any long term effects.