---
Bulldozers dash from Colombo to Matara
The demolition of unauthorised buildings moved from Colombo to Matara last week with over a 100 such structures being pulled down under the supervision of the Urban Development Authority (UDA) on Wednesday.

The demolitions were met with less resistance than in Colombo although many of those affected were angry at the government's move to bring down their shops without finding them alternative venues to carry on their businesses.

The removal of the structures has been spearheaded by the newly appointed Minister of Urban Development, Construction and Public Utilities Mangala Samaraweera who was under criticism by Colombo based PA politicians that his cleaning up project of the cities had started in Colombo and not in his home town of Matara.

The demolitions in Matara are likely to strengthen Mr. Samaraweera's hands as more illegal structures are to be removed in Colombo in the coming weeks.

---
Doctors under pressure, but situation normal
Doctors serving in the north and east are reported to be under pressure from their families to come back to the south following the Batticaloa bus bomb blast in which one doctor was killed and two injured.

Reports said 21 doctors in the Batticaloa districts had pulled out of hospitals but an official of Batticaloa's main hospital said most of those who left were post-interns and work was going on as usual.

Health Minister John Seneviratne who is expected to meet GMOA representatives today said more security, insurance cover and risk allowances were being given to doctors in the north and east.

He said he saw no reason for panic, citing the case of Colombo where doctors had carried on normal work despite bomb blasts near the main hospital.

He said special transport would be provided to doctors in conflict areas while the incentive with arrears would be paid from next month.

GMOA Secretary Anuruddha Padeniya said the Health Ministry promises had not been kept and doctors in the north east were under pressure from their families to come back.

He said they would call a media conference today to explain tier position after meeting the Health Minister.

---
Another UNPer to turn blue
Former UNP chief minister of the Central Province D.M.P.B. Dissanayake is expected to join the SLFP shortly.

Sources said that Mr. Dissanyake had a meeting with SLFP general secretary S.B. Dissanayake and the talks centred on his dwindling political fortunes.

During the previous provincial council polls, Mr. Dissanayake was requested to step down and make room for Keheliya Rambukwella. However, Mr. Dissanayake stayed with the party and was involved with the Presidential and general election campaigns of the UNP in the Central Province.

With the UNP decision to appoint Chitra Manthilake as the opposition leader of the Central Provincial Council, opposition has grown among the UNP ranks about marginalizing the old guard.

---
Laughs gas from next year
By Tania Fernando
A new company which enters the market to supply domestic gas has promised to offer gas at a lower rate than the current market price.

The monopoly held by Shell Gas Lanka Ltd came to an end on Friday ending their five- year hold on the Sri Lankan market.

The market which has opened for competition will see a company which is presently a distributor of auto gas commencing operations as a supplier of LPG.

Lanka Auto Gas Industry (Laughs) will commence operations in Sri Lanka from January 1, 2001 and will be selling LPG to the local market at a price less than what is offered at present.

"We believe we can sell at a lower price and as a Sri Lankan company our intention is to do whatever possible to create a healthy competition", said W. K. H. Wegapitiya, chairman of Lanka Auto Gas Industry.

They plan to initially introduce the 12.5kg cylinder and will later look at other alternatives. Mr. Wegapitiya also said their initial investment was Rs. 120 million for the first stage and were also looking at the possibility of constructing a terminal in the southern part of Sri Lanka which would cost US$ 15 million, but no definite plans had been made.

"We plan to put back the money we make into the setting up of the terminal but are also looking at the possibility of using the terminal which is owned by Shell, said. Mr. Wegapitiya,

Meanwhile, Caltex Lubricants Lanka Ltd., has also been given Board of Investment (BOI) approval. However no plans have been made for their entry into the market.

General Manager of Caltex Lubricants, Shibly Latiff told The Sunday Times, that they were coming in but are presently working on some details.

"We are still looking into it in a very positive manner, but we have no decision as to when we will be entering the market", Mr. Latiff said.

Colombo Gas Company which was government-owned sold 51% of its shares to Shell Overseas Investments in 1995 with a monopoly period of five years for approximately US$ 38 million.

---
Longest jail term for rape
By our Galle correspondent,
One of the longest jail sentences passed on an accused in a rape case was recently handed down by Galle High Court judge Sarath Ambepitiya.

After a lengthy trial, the judge sentenced H. A. G. Almeida, a soldier, to 20 years hard labour and ordered him to pay Rs. 500,000 as compensation to the victim.

In default of the payment of compensation the accused would have to serve an additional jail term of five years, concurrently.

The accused, himself a father of three girls, had committed a sexual offence on the victim on December 31, 1989.

The victim, according to the prosecution, had gone to see her boy friend at the Army camp in Galle. As he was away from the camp, the accused had asked her to come later. When the girl came back later in the evening, the accused had given the same answer, and advised the girl not to go back home as it was too late but had invited her to spend the night at the waiting room of the railway station.

After locking her up in the room the accused had left taking away the room key. Later in the night, he had visited her and said her boy friend had not yet turned up at the camp and stayed inside the room.. After threatening her he had raped her. The next morning the victim had lodged a complaint at the police station.

When the case came up in court, the accused had told the Magistrate that he had married her.

As the victim was not in court that day, the judge had asked the accused to produce the marriage certificate to verify his claim.

The accused, however, had on a later day pleaded guilty to the charge of rape.

State counsel S. Dissanayake prosecuted while attorney A. Dahanayake defended the accused.

---
Meet the new MPs
This week we introduce two young faces in the 11th Parliament. Naveen Dissanayake has been returned to Parliament to represent Nuwara Eliya like his late father Gamini Dissanayake. Bimal Ratnayake represents the JVP in the Kurunegala district. Interviewed by Dilrukshi Handunnetti
---
JVP is the alternative voice: Bimal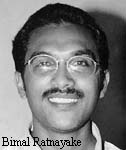 At 27, Bimal Ratnayake is among the youngest legislators. Driven by a passion to prevent social injustice and to `advocate leftist ideals in a more practical sense, this qualified engineer has dedicated his life to politics.

Excerpts:

Q: What made you enter politics?

A: I have been a political animal since my childhood. I regretfully watched the unfolding scenario in the '87-'89 era, when the state suppression created a backdrop for a massive eruption of youth frustrations. I entered mainstream politics in 1994 from the JVP with the firm belief that we could cleanse the political arena through a party which lives by example.

Q: Why is it that the JVP, despite a history of 35 years is finding parliamentary space only now? Isn't it only very recently that the JVP actually created a political impact in society which was dominated by the PA and the UNP alone?

A: Our political successes cannot be measured by our recent years alone. We have always been pro-active. It is the harnessed public spiritedness in the JVP that people find so refreshing.

Why people feel that we have been recently galvanized into action is because only recently did we gain the opportunity to play a vibrant role, which should have been ours many years ago. We were denied mainstream politics for 29 years and our leaders executed, but we are like the proverbial phoenix.

Q: Do you think the JVP would have earned better representation in the House if the party was not proscribed?

A: The rulers of the day clearly feared the rising popularity of the JVP and its leader. We were different to their right wing camps and people were rallying round us. President J. R. Jayewardene gave two main reasons for the 1982 Referendum- alleged Naxalite conspiracies and the possibility of Rohana Wijeweera entering Parliament. We posed a potential threat to his administration, so he kept us out.

Q: Why is it that the JVP is still youth-concentrated? Is it because the JVP appeals to the revolutionary instincts of the young?

A: Young people are ready to evolve, accept challenges and new ideologies. With the JVP's image of giving the suppressed youth 'appropriate representation', it is natural to trust us. Youth are also more pro-active and vibrant, hence their desire to change the world. This country has got used to a two-party system of the capitalistic forces. It took us time to introduce a new school of thought and years to convince the older generation about our vision.

Q: Considering the kind of vote bank you have, isn't it a protest vote than an actual vote that you attract? Isn't it the people's disgust that you turn into election victories?

A: I think people don't vote for us with their eyes closed. It is a trust built over the years. Those who cannot effectively counter us, scoff at us. But we have sincerely represented the masses. Our Presidential and general election campaigns would demonstrate that vilification and false promises never entered the campaign. We spoke policy, and did not distribute bricks and sheets to bribe electorates.

Q: With the erosion of the traditional left in the political arena, aren't you attracting those disgruntled voters who are reluctant to side with the PA and are looking for a temporary alternative?

A: We appeal to honest leftists. The JVP actually came into being due to the erosion of the traditional left. The so-called left parties have often entered into unholy alliances with SLFP-led coalitions and lost face. In truth, there is no difference between the UNP and the PA today. We are the alternative voice.

Q: Nevertheless, isn't your party mostly based on catch-phrases and bashing of the PA and UNP?

A: We have a policy we are proud to advocate. Those who have no campaigns or need foreign experts to learn the art of addressing the masses may feel envious. It is we who educated the masses about the massive expense of maintaining parliamentarians. It is we who informed that an MP received Rs. five million from the decentralized budget, while the state spent Rs. 3 million annually on the maintenance of a single legislator. Voting for us is not a negative but a positive act. This doesn't mean the people buy our theory sans query, but it has a higher acceptability.

Q: The JVP is renowned for its fiery attacks and attractive slogans. Aren't you being extremely populist by harping on the weaknesses of others while there has never been an explanation on your side with regard to the atrocities committed by the JVP in the past?

A: There is no way to deny that we have erred. At the 1997 Convention, we made an unqualified apology to the country at large for our mistakes. We have proved that we have turned a new leaf, rectified mistakes and our polls conduct amply demonstrated this fact.

Q: In hindsight, how do you feel about driving the country towards anarchy, murder and mayhem during the second uprising?

A: The seeds of dissension among us were sown by the rulers and not by us. The Jayewardene Government had no mandate to govern in 1982 and adopted violence as a modus operandi in governance. The violence on our part was not by choice. We were pushed towards that when all avenues were closed to us. When you push someone to the extreme, an eruption is inevitable and that is a historically proven fact.

Q: What are the specific issues ailing your district?

A: There is a glaring inequality in the distribution of resources. Eighty per cent of the land is owned by an affluent few who are not even living in Kurunegala. This is despite the fact that Kurunegala has the country's third highest population.

Beyond the city, there is no infrastructure. Wayamba has the perfect geographical setting for cultivation. It also boasts of the country's biggest tank system. But there is under-development and inadequate supply of water for drinking.

---
No illusions about politics: Naveen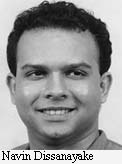 Young Naveen Dissanayake entered the competitive arena of politics, in a sense, to carry the mantle of his assassinated father Gamini Dissanayake. A barrister and attorney, Mr. Dissanayake claims that he has no wish to bask in the reflected glory of his father but has a desire to contribute to the cause of re-establishing democracy in the land.

Excerpts:

Q: Are you in politics because it is a family tradition to enter the power game?

A: Politics cannot be a birthright. I have no illusions about politics, having breathed it at home and having lost my father to it at the peak of his career. There is civil strife in the land and other issues like development, corruption and democratisation of society. I am willing to pitch into it in some way and feel that I have earned the right to be here. As for my success, I believe it is a combination of my work and my father's commendable track record as a man who served his motherland.

Q: How difficult is it for you to be a legislator while also building a legal career?

A: Law is only a stepping stone to my political career. Law is a family tradition of sorts. Many celebrated politicians also have had a legal foundation which created the school of thought that these two were inseparable. Personally, I think it would enhance a legislator's ability to gain a better understanding of the legal aspects of legislation.

Q: Do you consider it important to have prior political experience before getting into the legislative picture?

A: It is a practical and educative process, but not mandatory. Some of the finest political leaders have learned the ropes by simply playing the game. The Sri Lankan electorate is mature. They have measured candidates, which has resulted in the fall from grace of many senior politicians. Much could be learned by active participation and that is what I have done.

Q: How difficult is it for you to live in the shadow of a famous father? Do you feel constrained by the level of public expectations?

A: It could be a little unnerving. It is natural for anyone to remember the final years of a person's life. My father was riding a wave of success when he died. His oratory, work and leadership qualities had reached their zenith. He also had a powerful image as a Presidential candidate. Nobody recalls his 'raw' days when he stuttered and had to be encouraged. It is unfair to compare someone inexperienced and lacking political sophistication like me with a colossus like my father.

Q: As a young parliamentarian, how do you view the role of the legislature?

A: Having been a legislator only for a few days, I am not qualified to judge the institution. But I feel it should be a dynamic, pro-active institution, a status that we should try to achieve soon.

It could be more effective if we adopted a common agenda and shed our differences for the welfare of our motherland. On our deliberation on the draft Constitution, the two main parties reached effective consensus. We can build bridges, provided the walls are first brought down.

Q: Isn't it the lacklustre performance of the UNP against a backdrop of growing public discontent, which has created the perfect platform for the JVP?

A: The JVP effectively uses its limited resources. We also should use our members to our best advantage. But the people are unhappy because we have lost again. It is a natural phenomenon to dislike losers. The SLFP also found itself in the same predicament for 17 long years. People hardly see flaws in winners. Despite the undemocratic defeat we suffered, we cannot go berserk, create civil war or anarchy which was never the UNP's role.

Q: How do you view the influx of young legislators? Do you believe it was a political experiment of sorts?

A: People don't experiment with their future. It is also a clear message to the old guard that people had little affection for representatives living in Colombo. Voters have decreed a certain change in the composition of Parliament.

Q: When you entered the fray for the first time, how was the political climate in the district? What is the level of competition you faced?

A: Creating a slot was no easy task. There were battles inside and out. I had to work hard in my district, and we all had to work twice as hard considering the violence unleashed particularly in Nuwara Eliya. If we are to win, we have to build a counter network for Samurdhi- which is highly political unlike its counterpart Janasaviya.

I also think we should tap our original bastions and derive strength from our strong points like agriculture and the economy.

Q: But how do you explain the defeat in Nuwara-Eliya, a traditional stronghold of the UNP, which marked a landslide victory for the PA? How do you explain this defeat and do you believe that the final outcome affected the overall picture and the final result? If you believe the equation changed due to the PA's alleged rigging, what counter measures has the UNP taken since then?

A: There were great expectations this time. If we had the general election before the Presidential- if we agitated and got Parliament dissolved, we would have had a better edge. It was difficult to counter the use of resources, machinery and the display of power directed against one party.

On our part, our grassroots network was weak. At the Presidential poll, our margin in Nuwara Eliya was a paltry 5,000 votes. It was a war and not an election, and next time it will be more difficult. We should find new methods of preventing daylight robberies of that nature and ensure the reflection of the public will. For this, we need to structure the district organisation and cover all loopholes. Our biggest mistake was in resting on our laurels and our over-confidence in securing bastions.