WEI: It's discovery channel
By Hiranthi Fernando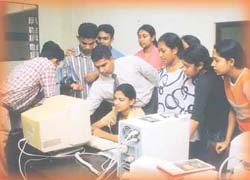 Recapturing true values' is the motto of the Worldwide Educational Institute (WEI), which offers school-leavers an opportunity to equip themselves to earn a living. By developing effective English language and business skills, the young people are prepared for the business world or for higher studies. Above all, they are helped to discover their potential and develop self-confidence.

"When I came here, I had no confidence to speak in English," said 21- year-old Achini, from Kandana. "The course was really good. Now I can speak confidently. I have learned about personal development, team building and how to face an interview."

Achini who sat the A'Level exam from Sirimavo Bandaranaike Vidyalaya, was just four marks short of the required marks for university entrance. Having heard of WEI from a cousin, she enrolled with the aim of finding employment in the banking sector.

For many like Achini, WEI provides an avenue to improve their knowledge and fluency in English, which is essential for employment in the banking or mercantile sector in particular. An old Trinitian, Chaturanga, also 21, comes from Kurunegala. "I am interested in a career in banking or pharmaceuticals and wanted to improve my English," he said. Chaturanga and his sister are both following the course at WEI.

"The Worldwide Educational Institute was established in 1986 as a non- profit organization dedicated to teach youth from a non-English speaking background," said Spencer Kramer, Director, Administration of WEI.

"In Nuwara Eliya, where we first set up as the Waterfield Institute, we catered for kids from the area. They were taught English language, business skills, computer studies, marketing and public speaking."

Principal Robert Reeves explained that the Institute was founded and run by the Ambassador Foundation, an outreach arm of the Worldwide Church of God (WCOG). When Mr. Herbert Armstrong of WCOG visited Sri Lanka, he asked President Jayewardene how he could help the country. President Jayewardene put him on to Minister Gamini Dissanayake..
Mr. Dissanayake helped to obtain some land at Waterfield Drive on a lease and the Waterfield Institute came into being with funds provided by the Ambassador Foundation. They also funded the running of the Institute for ten years. No fees were charged from students.
In 1996, the WCOG was unable to continue funding and the Institute was closed down. However, people in the area were so eager to have it reopened they were even willing to pay fees. And so in 1998, the Institute moved to its present location at Wattala, on WCOG-owned property. The school was constructed with funds from WCOG together with a loan. Renamed as Worldwide Educational Institute, it now runs as a fee-levying institute.
The institute has the capacity to take in 110 students each year. A one-year diploma course and a six-month certificate course are conducted. The diploma course costs Rs. 15,750 per term, while the certificate course costs Rs. 12,750 per term. The advantage of being close to Colombo, is the availability of experienced teachers, Mr. Kramer said. There are 13 teachers on the staff, while professionals from the mercantile sector come in to give lectures on job opportunities.

Teaching English at WEI is former hotelier Raymond Barthelot, a member of WCOG. Confined to a wheelchair, since an injury in 1982, Raymond says he wanted to keep himself gainfully occupied. "The Director in Australia thought I should get involved in teaching. I enjoy what I am doing and now have a full life."
Robert Reeves and his wife Zephanie have worked at WEI since 1997. The system is patterned on the American system of continuous assessment, said Zephanie who teaches an Introduction to Business and Business English. "We have mid-term and end of term exams and tests and pop quizzes in between. There are assignments and oral testing depending on the subject. We also give them written projects like a mini business plan and market research."
Some students found it difficult initially since all lectures are in English. However, they picked up as they went on. "English teaching and vocabulary are included within the subject," Zephanie said. "What we find is that they come out of school with a different outlook and attitude. They begin to set their goals and plan their lives. It really changes their life. Parents often tell us how different the children are."
Many of the students come from Kandy, Galle, Anuradhapura, Matale, Nuwara Eliya and even one from Jaffna. For some of them it is the first time away from home. With training in personal development, the students are not afraid of taking challenges, Zephanie said.
Some mercantile companies request WEI to recommend students for vacancies in their firms. "We give them mock interviews to help them face an actual interview," Zephanie said. "They dress suitably for the interview and are also helped to do up their curriculum vitae."
Learning is not just academic but involves developing the whole individual. WEI encourages the students to participate in many formal and non-formal events to help them develop social skills, leadership qualities etc. Speech Banquets where students are taken to a hotel, where they give their speeches and sit down to dinner, are held to help them acquire social graces. Events such as sports days, talent shows and success parties give them the opportunity to socialize.
Principal Mr. Reeves who handles the subject of public speaking and personal development says he teaches Stephen Covey's 'Seven Habits of Highly Effective People'. "it is an internationally renowned course. What we try to teach our students is to be valuable people in society."
"We get them to recognise their individual abilities and develop them without comparing themselves to others," Mr. Reeves said. "We try to help them understand their strengths and weaknesses. They begin to discover themselves and the marketable skills they have learned. Their chances of employment are then quite good."
The Chairman and Regional Director from the Australian wing of WCOG are here for WEI's graduation ceremony today at the Pegasus Reef Hotel.