Try Nedra Wickremasinghe's party guide
Countdown to Christmas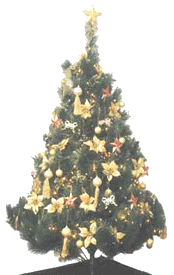 It's December and Christmas is round the corner. If you ever need an excuse for giving a party, this is it. Christmas dinner is, in most homes, a festive affair, whether you have just four guests or a larger number. Some homes have to cope with guests from abroad and then the whole Christmas season becomes one huge party.

This useful Christmas party plan - if followed carefully - could help you plan that festive dinner party with minimum hassle.

December

o Send your invites out (first week)

o Place orders and book the caterers (if you choose not to cook) (first week)

o Shop for gifts (second week)

o Shop for table-top items, decor, candles, music and linen (third week)

Days ahead

o Check out the R.S.V.Ps (7 days ahead)

o Spruce up your home (out-door/in-door areas) (5 days ahead)

o Make the Christmas pudding (if your wish) (4 days ahead)

o Buy groceries and stock up on the wines and alcohol (2 days ahead)

1 Day ahead

o Set the scene for entertaining-get ready with cutlery, crockery and glassware

o Hang the festoons and do the floral arrangements

o Chill the wines and beverages

If you are cooking

o Prepare any of the cold dishes, other than the salads and chill them.

o Make meat loaves or pies (if they're on your menu) or similar (warm) dishes and refrigerate them

o Make the desserts like Parfaits and chill them

That morning

o Prepare the balance food (if you are cooking)

o Set the table

That afternoon

o Get your hair done

o Have the dishes ready for warming the food and serving

o Check that the bar is ready and well-stocked. Don't forget the shakers, corkscrews etc.

2 Hours to go

o Assemble the canapes (if serving)

o Light the oil burners with scented oils. Try out fragrances like pine, dewberry and woodland spice.

1 hour to go

o Dressing up time: a red slinky number?

o Slip into a pair of evening shoes

o Light the mosquito coils and then the candles

Party time

o Turn on the music

o Take your place to receive the guests

o Mix the cocktails

o And for the rest of the evening - just play it by ear. And have fun.......

But – don't forget these formalities

o Greeting your guests

o Introductions

o Drinks before dinner

o Serving the dinner

o After dinner - decide (before hand) who remains at the table and for how long!.... for coffee, liqueur and pralines.

Setting the scene

Christmas provides the best opportunity for decorating not only your table, but your entire house. Elegance is achieved only through simplicity. Keep in mind your colour scheme and theme for the season and continue it throughout.

Although red and green are the dominant, and traditional colours this month - why not opt for a change - Start with the Christmas tree decor which will set the pace. Lampe Berger of 353, R.A. De Mel Mawatha, Colombo 3 have imported a lovely collection of Christmas decor in every imaginable shade. Items range from baubles to Christmas trees to Santa Claus outfits. This unusual but striking Christmas tree has been arranged especially for The Sunday Times.

Some of the unusual combinations:

o Cobalt blue and silver

o Old rose and claret

o Deep burgundy with sheer gold tulle ribbons

o Grey heather with silver and pewter

o Tartan bows with bead chains only or

o Go all natural with sprigs and sticks

Fresh holly arrangements, wreaths, poinsettia in a variety of colours, mistletoe, streamers, ribbons, bows, baubles, holly and ivy are all a part of the festive decor.

Table Top

For a different kind of elegance, mix and match table linen in ivory, white, pewter and silver. Use an under-layer in white damask. Try place mats in satin brocade in hues of pewter, silver and charcoal. Stark white linen napkins with grey on white cut-work embroidery and a silver on white accent in porcelain and serving dishes will present an elegant table.

Centrepiece

To continue the colour theme, a mixed arrangement of poinsettias and roses in hues of ivory and champagne colours enhanced with crystal dust with tiny, silver cluster baubles and swirls of ivory tulle ribbon arranged on a heavy silver stand make a striking arrangement. Bon-bons on the same theme should be placed above the place setting or on the side plate. Spread holly and ivy along the centre to complete the picture.