---
What fresh terrors for Sri Lanka?
By Jail Karawita
Sri Lanka after their inglorious exit, from the ICC knock out one day tournament, will next embark on a one week tour of Sharjah, with India and Zimbabwe lining up against them, from October 20 to 29, to form a one day triangular contest, which will catch the interest of cricket fans not only in the desert, but the world over.

Lankans who were installed as the third favourites, for the ICC knock out trophy, following their fluent 108 run win over an inexperienced West Indian team, in a pre-quarter final clash, fell from grace within days, when they were routed by Pakistan, by a handsome margin of 9 wickets in the quarter-final.

Thus their standing in the International arena, in the limited overs version of the game, took a severe beating and how they will take that loss in their stride, and prepare for the challenge in Sharjah which could be anybody's guess.

When up against a class bowling attack as that of Pakistan, the Lankan top and middle order, was simply swept aside thus, proving their vulnerability in no uncertain terms.

Lack of experience was clearly evident here, and a recall for the veteran batsman former vice captain Aravinda De Silva, by selectors for Sharjah, cannot be ruled out at all. Even two of the most promising batsmen in the local scene, who have strangely been cold shouldered for no fault of theirs, T M Dilshan and Indika De Saram, should also be considered to further strengthen, the brittle batting of the Lankans.

So it seems that the Lankan think tank, comprising coach Dave Whatmore, manager Neil Perera, skipper Sanath Jayasuriya, and vice captain Marvan Atapattu, will have to take stock of that reversal in Kenya, seriously and iron out all deficiencies, before they take wing to do battle with India and Zimbabwe.

Meanwhile India fresh from their giant-killing effort over the world champions Australia, in the ICC knock out trophy, where they humbled king kangaroo in the quarter final, will be the team to beat, in this year's Sharjah Cup.

Led by experienced left hander Saurav Ganguly, they will go all out, to roll over Sri Lanka and Zimbabwe, and prove their famous triumph over the Aussies, was no flash in the pan. Their team comprises a wonderful blend of experience and youth, and the inclusion of talented all rounder Yuvraj Singh, in place of veterans Mohammed Azharuddin, and Ajey Jadeja, has paid rich dividends.

At the time of writing this piece, India was scheduled to take on tournament favourites South Africa, in the second semi final in Kenya on Friday, and irrespective of whether they make it to the final or not, the mere fact that they thumped, a well drilled Australian side, has given them confidence to take on, Sri Lanka and Zimbabwe in Sharjah.

Zimbabwe having fared well against New Zealand, in a recent three match limited overs series at home, where they beat the Kiwis by 2-1 will also be in the running to clinch the Sharjah Cup and they cannot be written off, as easy meat. Led by paceman Heath Streak, they have a good enough team, if they perform to the best of their ability on their day, they could surprise both Lanka and India. So rest assured Streak's men won't be there, just to make the numbers as it were, but to stun their two established cricketing powers, and make this year's tournament one to be remembered, for a long time to come. Coached by former Aussie Test paceman Carl Reckermann, Zims will be the surprise package of this year's Champions Trophy tourney, in the world's most popular neutral cricket venue.

---
Letter
LBW decisions
There is a lot of concern and discussions going on regarding L.B.W. decisions made by head umpires. The TV commentators question the decisions of the ground umpires when given out or not.

It has to be understood that L.B.W. decisions can only be judged by the head umpire and not referred to the third umpire. L.B.W. appeals could be made only by the bowler, wicketkeeper and the first slip, if he is placed fine. No other fielder is entitled to appeal for L.B.W. in favour because they simply cannot judge whether it is out or not.

During the Australian tour of Sri Lanka in 1999 McGrath appealed for L.B.W. against Kalu when he was on the 60s and it was turned down by the head umpire in the Aiwa Cup final and Sri Lanka defeated the World Cup Champions Australia to clinch the cup.

Sri Lanka's commentator, Bandula Warnapura made a big fuss that Kalu was definitely out and that Sri Lanka does not want to win by cheating etc.

As later revealed by Rupavahini, the TV camera work was done by some other company and not by Rupavahini where cameras are better and record correctly.

This reveals why TV camera pictures cannot be fully relied upon.

Hence, I think the ICC decision not to refer L.B.W. appeals to the third umpire.

The foreign commentator on this day said it was a doubtful decision, and the benefit of the doubt should go to the batsman.

Later on replay recording, Tony Greig said it was definitely not out as the ball was pitched outside the off stump.

This will illustrate how difficult a job it is for the head umpires when it comes to close decisions.

To avoid all these heartburns, disappointments, doubtful verdicts even by the TV commentators, with the help of the "mat" I think the "mat" should be permanently drawn on the pitch as batsman's crease, bowler's crease, no ball crease and wide crease are presently drawn.

Only two lines to be drawn. One from the off stump of one wicket to the leg stump of the other wicket. The other from leg stump of the same wicket to off stump of the other wicket.

It could be easily done and it will last the full five days as this L.B.W. crease will not be trampled upon as other creases.

The batsmen being on either sides of this L.B.W. crease.

This will immensely help the head umpire to see where the ball pitches and its turn and so forth.

Why not we try it out in Sri Lanka.

Let the ICC and our administrators take this up.

V.K.B. Ramanayake, Maharagama.
---
Cathy's win, a reconciliation
From Bernie Wijesekera in Sydney
Cathy Freeman, the little aboriginal girl, who ran the race of her life by winning the Olympic "400m gold" - the 100th for Australia since the Games in 1896.

This she achieved at the Millennium Olympics in Sydney on September 26. In the process she carried the nation to a "reconciliation gold" before a rapturous crowd, who backed her to the hilt.

She lapped it in 49.11 secs. with Jamaican girl, Lorrian Graham - 0.47 secs. behind.

After the win humble Cathy, compared the medal to lighting the Cauldron 10 days ago. She could not imagine life, any better. "Running comes more naturally than doing the creative stuff".

I was nervous about falling into the water, when walking across to light the Cauldron."But running is like breathing to me", she added. It was great to light it. After her "gold" she said, "it's more personal to me, than lighting the flame." She further said her "simple world" would not change, after her. Olympic Gold". But only the people, who treat her will be different.

Seeing was believing. I was fortunate to have watched her final run and Susanthika Jayasinghe's great effort to enter the 200m. final. She was unassuming and humble in victory. She's aware it's all temporary and all forgotten. She is a Steve Waugh in athletics. Aussie skipper Waugh, too is a fervent believer in this line of thinking.

This is something some of our big-headed new sportsmen should strive to emulate.

Cathy believes sport isn't everything. "One must strive to be humble and must not forget from where one started life." Pride and fame could be compared to a fading flame.

Even after winning the "Gold" she never ran down her staunch opponent Marie Jose Perec, "who fled Australia before the Games under speculation that she could not face losing to me. I know her well. She's obviously a proud athlete, you have got to respect her.

She didn't want to run, that's that." Finally she said, she hoped that she was healthy and happy. Never indulged in character assassination even after achieving the "400m. reconciliation gold". But it's sad to mention how our local athletes thought it fit to abuse and humiliate Susanthika Jayasinghe, the Warakapola village girl even whilst training in Sri Lanka. Apparently due to outside instigation but she still became the second athlete to win a medal after Duncan White in 1948.

Susanthika received much support from the Duncan White Sports Foundation, which is being run by men that matter sans political affiliations. Jayasinghe is likely to join Cathy in Australia before long. In contrast, the little oboriginal girl from Mackay, Queensland, received all support and encouragement afforded to her by her parents, lovers of track and field sport who backed her to the hilt.

Cathy said, her win should inspire other fellow Australians, not to give up on their dreams. After the race she said with emotion, "I am just relieved, it's over. Well I dreamt as a little girl from a humble abode and sometimes when something like this happens to a little girl like me, it's unbelievable." Her humility is such she says, "I'am still a little girl and have to grow up sometime." But her immediate joy was with her mother, Cecelia Barber, step-father Bruce and the rest of the family.

They say their daughter had united Australians, be they Anglo-Saxon, Asian or whatever. She's being admired by all. Prime Minister, John Howard, summed up the jubilant mood of the nation and Cathy's wonderful win. Howard said, the Games have brought the nation together. Her win was a reconciliation milestone.

Opposition Leader Kim Beezley said, as a politician what I would say, it was 400m. of national reconciliation. Her hometown is Mackay, Queensland, where she started her slippery climb, for others to emulate.

Antonio Samaranch, the IOC President described it as a great victory which she richly deserves. This young aboriginal won for all Australia.

Ironically in Australia there is no politics in sport nor do politicians strive to gain political mileage through sportsmen by giving all sorts of promises. The 27-year-old Cathy said, she would celebrate the "Gold" with her family. "That's where I feel at ease and safe and secure," she said.

There will be more Freemans coming from Mackay, in the future to do proud for Australia.

Despite a torrid political climate that often engulfed the Olympics preparation, when aboriginal activist, Charles Perkins warned of demonstrations in protest. But Cathy somehow managed gracefully to steer a middle-path between pride in her aboriginality and loyalty to the nation. Evils of racial prejudices is the cause for most problems.

One world, one earth, with different tongues. Freeman's victory vindicated the organisers who controversially bestowed on her the greatest honour - lighting the Cauldron at the opening ceremony.

---
How they finished
Marion Jones (USA) 21.84
Blew her rivals away from the start and recorded her best time of the year. Confirmed her status as the best female sprinter in the world.
Pauline Davis-Thompson (BAH) 22.27
At 34 she ran out of her skin to grab the silver medal, a nice reward for a long international career.
Susanthika Jayasinghe (SRI) 22.28
In the best form of her career and was in the medals a long way from home. She now wants to join Cathy Freeman's stable in Melbourne.
Beverly McDonald (JAM) 22.35
Ran through early on the inside of Freeman after being fastest away from the blocks and sustained her form before being run over near the end.
Debbie Ferguson (BAH) 22.37
In her second sprint final of the Games, was another to be blown away by Jones' mid-race surge but still ran her best time of the season.
Melinda Gainsford-Taylor (AUS) 22.42
Fourth coming into the straight, a relaxed Melinda almost realised a dream, but a season-best time was not enough to get her into the placings.
Cathy Freeman (AUS) 22.53
Her reaction time to the gun was measured at 0.235sec - the worst in the race by 0.03sec., leaving her to chase all the way.
Zhanna Pintusevych (UKR) 22.66
Found the class too slick from her position in lane eight but ran a respectable time.

---
Susie will always be in our hearts
By Rex Wijewardena
Susanthika Jayasinghe, the legend of her times, will remain in the hearts of all Sri Lankans, at home and abroad.

A village lass from Uduwaka in the Kegalle District, she had no affluent background, nor did she study in the elite schools of the country, she had her earlier education at Uduwaka Junior School, and finished at Athnawala Maha Vidyalaya.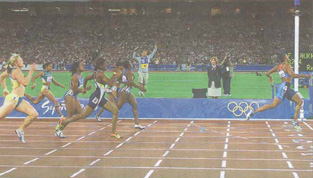 The women's 200 metres final run at Sydney Olympics shows Marion Jones emerging an easy winner. Susanthika was third with Pauline Davis of the Bahamas second.
She grew up among the hills, where she loved the peace of the countryside. It was in these surroundings that her love for running surfaced.
While her parents toiled from dawn to dusk to keep the home fires burning, little Susanthika ran among the hills in delight. I presume she was born with a vision for the love of athletics. She came to the big city unspoiled with a determination to make the best use of her inborn talents. She was not concerned about the bright lights of the city. She was on a mission to bring honour to herself and the country and she has proved her mettle in no uncertain terms.
She tooka Asian athletics by storm, with her brilliant achievements in the region and was rated the fastest woman in Asia. Her crowning moment of glory was when she won the Silver medal at the IAAF world championship in Athens. Since then she has not looked back.
Her rise to fame was not a bed of roses. There were some unscrupulous elements, who were hell-bent on making things miserable for her, having failed to have achieved their sadistic desires. She was a woman made of sterner stuff. She was fearless of calling a spade a spade.
Big names mattered little to her, she had the courage of her convictions. Having to face much humiliation on her native soil, she made her way to the USA where she came under the expert coaching of Tony Campbell where she made much headway.
She returned to the country for the National Sports Festival, where she ran with the vengeance to shatter her own records. She had a short stint in Japan, where she won the 200m. to better her own record. The dream-girl of Sri Lankan athletics was in peak form as she came under starter's orders for the track event - the 200m. for women, one of the most colourful events in the meet, where she lined up with the cream of the world's women athletes.
She ran the race of her life to grab the Bronze for her country.
It was a sad twist of fate that she missed the Silver by just 0.01 of a second. Yet her Bronze was worth more than gold for this little Island, and for the entire Asian Region.
All Sri Lankans are proud of you, for the honour and glory you have brought to your motherland. Do keep running with greater vigour and don't look back till the dawn of the next Olympics at Athens where a Gold would be well within your reach.

---
Singapore gold for Kumara
Ravindra Kumara (23) of the Sri Lanka Army won a gold medal in the men's 100 metres at the recently concluded 62nd Singapore Open Track and Field.

This up-and-coming athlete who hails from Ampara excelled in sports while at D.S. Senanayake College Ampara but found it difficult to pursue his talents but the doors opened for him after joining the Army where his athletic prowess were discovered.

Ravindra took first place in the 100 and 200 metres at the National Sports Festival in 1996. Other achievements included his first visit to India for the SAARC Games in 1997 where he obtained second place in the 100 metres SAF Championship, as well as second place in the Sri Lanka National Championships in 1998.

He also did well at the National Sports Festival this year where he came first in both the 100 and 200 metres. He is being trained by Derwin Perera.

Sponsorship for his nutritional programme is provided by Vanik Insurance Brokers Limited.

---
Carrying the torch
By Hugh McIllvanney
The Sydney Olympics will be remembered for positives that have nothing to do with the results of drug tests. Long after the world has only a fading memory of the nandrolone-nourished bulk of C.J. Hunter, and of the well-timed tears that flowed as the mountain of suspicion brought forth a squeaking mouse of denial, there will be clear pictures in countless minds of what was done at these Games by Cathy Freeman, Steven Redgrave, Ian Thorpe and many others who made us feel happy and privileged to be members of the same species.

Fairness demands that Marion Jones be included in that honours list, for it must require more than the mere fact of her marriage to Hunter to invalidate the achievements of a 24-year-old who may be the most talented of all the nearly 11,000 athletes assembled here. Jones herself had a serious brush with the anti-doping authorities when she was a teenager but it is generally accepted that her failure to take a urine test was due to a breakdown in communications. It is the condemnation of Hunter, the world shot-put champion who is not only her husband but her coach, that has cast a huge, cold shadow of doubt over her historic feats on the track.

Speculation surrounding the ill-matched pair was bound to be intensified by the presence at Hunter's press conference last week of Johnnie Cochran, a "family friend" best known for spearheading the notoriously successful defence of O.J. Simpson on grisly murder charges. If Cochran should decide to intervene professionally, his forensic skills may work to the benefit of the disgraced shot-putter but the lawyer's involvement will do nothing to dispel the cloud of public uncertainty that has settled over Jones.

Courtesy The London Sunday Times

---
Radcliffe's gold for guts
A half-hour after the race, tears welled in Paula Radcliffe's eyes. Mere mention of the word "fourth" and she blinked, as you do when trying to deal with tearful emotions. Every couple of minutes, she would remember that despite everybody's congratulations on her performance, she had finished fourth. She had come to win: to leave with nothing was too much.

Yet who could say she had left-empty-handed? Great Britian have won nine gold medals, 10 silvers and six bronze - enough metal to capsize Steve Redgrave's boat. But, for 30 minutes at the Olympic Stadium yesterday, medals seemed not to matter.

At the end of the 10,000m. race, Radcliffe was wasted and drained. No medal, but a performance and an offering as precious as anything that went before.

It wasn't the time to say there are things in life more important than medals. But she has them. Does the courage, ambition and sheer bloody-mindedness of the front-runner not count for something?

Courtesy The London Sunday Times