Clean politics pay dividends
By Hiranthi Fernando
Elections in Sri Lanka today are characterised by increasing violence against rival candidates and supporters, intimidation of voters, stuffing of ballot boxes and an intensified war for preference votes even between fellow party members. Millions of rupees are spent plastering every available surface with posters, hanging banners, displaying candidates' numbers on walls and across road surfaces.

Even trees and rocks are disfigured in the fight for 'manapa'.

In this scenario, it is a welcome change to find a few candidates fighting a clean battle for election.

Susil Premajayanth, Chief Minister of the Western Provincial Council contested the general election as a candidate for the Gampaha District under the PA ticket. Despite having a far more low key campaign than many others in the District, Mr. Premajayanth obtained 165,905 votes, leading the PA list. He attributes much of this success to the policy of gentlemanly politics, which he practised.

"Even at the last Provincial Council Election, Karu Jayasuriya and myself had an understanding to conduct gentlemanly politics", Mr. Premajayanth said. "We acted in the same manner during the recent elections. The people recognize and appreciate this. Even when some people tried to sling mud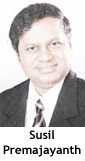 at me, shortly before this election, I replied and the people accepted my reply".
Mr. Premajayanth said his expenditure on the election campaign was less than 10% of that spent by most other leading candidates. "People know I work hard", Mr. Premajayanth said.
"During the past five years, as Chief Minister, we did some development work in Gampaha, Colombo and Kalutara. The funds were divided equitably on the basis of population and area. I have done a lot of work in the 13 electoral divisions of Gampaha district as Chief Minister as well as under the other ministries I handled. These are the two reasons why I was able to do well at the election without resorting to violence and thuggery or spending vast sums of money" he said.
Dallas Alahapperuma contested as a candidate in the Matara District under the PA. He has been a PA Member of Parliament during the past six years. Mr. Alahapperuma was elected to Parliament with 48,721 votes.

I had faith only in the people, Mr. Alahapperuma said.
"I did not place my faith in money or other inducements to win votes. As a Member of Parliament for the last six years, I believed that the people would know me for what I am. I did not need to advertise myself or entice people by doling out incentives. I did not use posters, cut-outs, or banners. There was no writing on roads, no caps and no T-shirts. I only spent Rs. 65,000 on my entire campaign. This works out to Rs. 1.34 per voter, considering the number of votes I obtained. One can only buy a toffee with this money" he said.
"In politics, we must have faith in the people", he reiterated. "I promised to show a new path to go to Parliament and I have shown it" he said.
One hopes that even in the future, more politicians would follow this new path to Parliament.

---
NUA demos for national list slots
Supporters of two prominent NUA candidates held demonstrations calling for the appointment of these candidates on the national list.

More than two hundred supporters of NUA Colombo district candidate M. J. M. Muzammil demonstrated at party leader Rauf Hakeem's Kollupitiya residence on Friday night. Mr. Muzammil told The Sunday Times his supporters were perturbed when they came to know that he would not be included on the NUA national list. In Kandy, more than 500 supporters of Dr. M.Maharoof protested at the NUA office at Mawilmada last morning. The NUA will have three slots on the national list — one on its own and two on the PA list.

---
New cabinet tomorrow?
The PA government's new Cabinet is likely to be sworn in tomorrow, Minister Alavi Moulana said last night.

When the new parliament meets on Wednesday it will go straight into the elections of Speaker, Deputy Speaker and Deputy Chairman of Committees, before taking up the motion for the extension of the emergency.
---
Dirty tricks part of third world practices: polls chief
Elections Commissioner Dayananda Dissanayake explained that while the October 10 Parliamentary election cannot be called free and fair, we should accept the fact that violence and rigging was part of the election trend in third world countries.

Mr. Dissanayake told journalists after announcing the final results that considering the violence that has taken place one cannot say that this election was free and fair, like those in developed countries.

this is the normal trend in many developing countries, the Commissioner said at a briefing last Thursday.

He added that the annulment of elections in certain areas would not bring much change to the results. "Will 16,000 votes make much difference to the parties? " he asked.