High drama continues for feuding wives of ministers
By Shelani de Silva
The Seva Vanitha saga took a new twist last week, with President Chandrika Kumaratunga appointing a three-member committee and calling for a full probe on the allegations of corruption.

The committee comprises two officials from the Presidential Secretariat and the Secretary to the Ministry of Women's Affairs.

Although the two VIP wives in the centre of the controversy called for independent officials in the committee the appointment of the Secretary to the Minister of Women's Affairs, L Sugunadasa in the committee has raised doubts as to the outcome of the findings.

Though the committee was appointed early last week up to Friday they had failed to talk to the people involved, neither had they been informed of such a committee being appointed.

The Sunday Times learns that the committee has decided not to make public the findings of the inquiry.

Speculation was rife that the committee will delay to carry out the inquiry until the elections are over. However, a committee member told The Sunday Times that the inquiry will be completed within a few weeks and the report will be handed over to President Kumaratunga to take necessary action.

Committee member and Secretary to the Minister of Women's Affairs, L Sugunadasa confirmed that President Kumaratunga did appoint a committee to inquire into the corruption allegations in the Seva Vanitha.

The scandal which is centered around Ms. Kusum Wickremanayake, Secretary of the Seva Vanitha Movement and Ms. Pamitha Jayakody, ex-Treasurer of the Movement, has created much concern within the Government with allegations of corruption running into millions of rupees.

Just four days after President Kumaratunga appointed the committee, Ms. Jayakody has charged the committee will not carry out an independent inquiry since the Secretary of the Minister of Women's Affairs is in the committee. Ms. Jayakody told The Sunday Times that she was not aware of President Kumaratunga appointing a committee.

"I was informed through another source and I questioned a committee member who confirmed it. I asked how they could carry out an inquiry without talking to me since I have all the documents.

"From the outset it is clear that it won't be a fair inquiry," she said.

Mrs. Jayakody added that she will be taking legal action since she does not believe that the inquiry will serve any purpose.

However Mr. Sugunadasa declined to comment on the progress made so far and on the statements to be taken from the two VIP wives.

Following the corruption allegations which were exposed, ex- Treasurer of the Seva Vanitha Ms. Jayakody last week lodged a complaint at the Kirulapone police station of death threats to her.


The sacking of a private secretary
The Seva Vanitha controversy which erupted over misuse of funds has invariably dragged the senior Cabinet ministers into the fray, making it a political issue with one of the VIP's wives charging that there was more to the allegations.

Attempts by The Sunday Times to contact Minister of Public Administration and Plantation Industries Ratnasiri Wickremanayake failed, while Minister of Cultural Affairs Lakshman Jayakody was out of the island. Kusum Wickremanayake, wife of Minister Ratnasiri Wickremanayake faced a similar ordeal three years back, where the Minister ordered her removal as the Private Secretary over tåhe assault of a Ministry Secretary.

In a letter to Ms. Wickremanayake, the minister had stated 'I hereby inform you that you have ceased to hold office as Private Secretary with immediate effect' A copy of the letter which was forwarded to the Additional Secretary who was ordered to withdraw all the facilities given to the Private Secretary.

Although the order was made on February 5, 1997, Ms. Kusum Wickremanayake continues to hold the post of Private Secretary, entitling her to a salary amounting to Rs. 22,000, along with other benefits.
---
Grinding out a living in Pitigala
By Faraza Farook and Tania Fernando
With the demand still existing for the age old mirisgala ( grinding stone for chillies) and the wangediya (mortar) many men and women engage in the making of these products in order to earn a living with little regard to safety, exposing them to serious health hazards.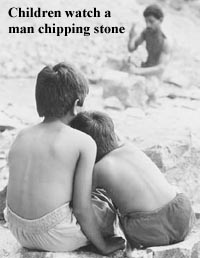 Pitigala, about 35 kilometres from Galle is well-known for the production of grinding stones, mortars and pestles. The problems associated with turning them out are many, yet without any other means or method of earning a living, workers engaged in producing them have no alternative.
Despite the risk factors – loss of sight and hearing, lung problems etc., these workers are not guaranteed a steady income. When graphite in one quarry is over they have to move to another quarry, making their life gypsy-like.
Some workers train their children in the business. While the parents do all the hard work like the initial shaping of the stone, the children add the final touches.
Twelve-year-old Dharshana works with his parents in the quarry. Though engaged in the final polishing of the products, he too is exposed to the many hazards involved in the trade.
"I come to work after school and help my parents so that we could at least finish one item which could be sold that evening," Dharshana said. However, he does not work late. He finishes his work by about 5.30 p.m. and goes home with his two younger brothers while his parents work long hours to ensure that they complete at least one item so that it can be sold. Though there seem to be many modern electrical appliances freely available in today's market, the demand for the traditional mirisgala and wangediya has not faded with time. The task of turning out these products does not depend totally on skill alone. There is an element of luck too. There are instances when a product in its finishing stages could break into fragments.
A.W. Kulatunga has been in the trade for almost 10 years. Having been on temporary jobs before, he feels that this job is more stable as he is guaranteed a job as long as the graphite is available "The work maybe hard and risky, but we still do it at our own pace, because we understand that if we don't finish a product we don't get paid, and that's our motivation" says Kulatunga, adding "we don't have to answer to anyone, making us our own bosses".
It takes at least a day to make a grinding stone, while a mortar and pestle takes almost two days. Prices for these items are set by the shop owners and these producers of stone implements cannot demand for more, as then they will have to suffer the consequences. "We have to give it at the price that is offered failing which we will be turned away, since there are many willing to supply these items", said Kulatunga.
The fact that there are no labour standards stipulated for quarry workers, make them easy prey to shop owners who buy the products of their hard work for a minimal price and sell them at a higher rate. As such the Labour Department has now decided to set up a Wages Board for quarry workers, Wages Board Secretary Mrs. W.N. Ratnayake said. The price of a grinding stone sold to a shop depends on its size with an inch costing around Rs. 14 to Rs. 17. A mortar and pestle costs around Rs. 750. After much effort and additional expenses such as coal for sharpening the chisel and the cost of transport, the quarry workers feel that the meagre sum they get is insufficient.
While to some, the art is a recently learnt one, there were others to whom it was the family trade. Swarnalatha's husband Jothipala has learnt the trade from his father. "Finding some other job is difficult and he'll be poorly paid," Swarnalatha, a mother of two girls aged eight and five said.
Jothipala settled for the family trade after having tried other odd jobs like welding.
He is suffering from a heart disease and has been asked to leave the job as it is too strenuous and could worsen his condition.
"We have no choice, because if he is to work elsewhere, he has to spend for his daily transport and meals. That would leave hardly anything for us at home," Swarnalatha said.
Explaining the health hazards in engaging in this type of trade, a medical officer said that these workers are likely to develop lung problems, sometimes cancer, and have their sight and hearing impaired.
The dust that settles in the lung can lead to asthma and if they are smokers, they will suffer from complicated lung problems like cancer.
The medical officer said that little pieces of shrapnel that go into the eye while breaking the graphite can result in serious eye damage.
Another possible risk is that a worker may suffer from 'selective deafness' which means that he will not hear certain sounds. "They don't wear goggles or face masks and thus they are exposed to these hazards," he said.
Forty-five-year-old Wimalasiri said, "shrapnel has gone into my eyes so many times and there have been instances where the hammer misses the chisel and my hand gets injured".
He goes on with his work regardless. Medical treatment is sought only when there is a serious injury, Wimalasiri said. While the risks that come with this ancient trade are many, it is the only means of livelihood to hundreds of people in this village.
Though they have had many unpleasant experiences in their work, the quarry workers have been little educated on the precautions they should take.
---
Short-term solutions for nagging paddy problems
By Tharuka Dissanayake
The controversy over the paddy price continues despite the government's move last week to buy excess from farmers stocks in the Polonnaruwa District through co-operative societies. Co-operative societies have bought close to 15,000 MT of long grain paddy at Rs. 10 per kilogram, officials stated on Friday.

But problems are far from over. The co-operative societies have sparse facilities to store the bought paddy, until they dispatch it to the market. The buying procedure is fraught with many obstacles, making it difficult for farmers to sell their entire stock of the last six months. Meanwhile, farmers in Ampara are demanding equal treatment.

Last Thursday Minister Ashraff asked the government to move in and purchase excess stocks from Ampara farmers as well.

Paddy prices, normally between Rs. 10 to 14 a kilo, dipped to a rare low last month, when the market price came down to Rs. 7.50 to Rs. 8. Farmers who normally release stored paddy into the market around this time — when prices are traditionally high — were left struggling to sell their stocks.

A farmer's production cost according to government estimates is around Rs. 9.40. Agriculture Minister D.M Jayaratne stated last week that he is not answerable for the plight of the paddy farmers. He reportedly said that since the Paddy Marketing Board (PMB) was dismantled in 1996, his Ministry has little to do with marketing of paddy. Queries on the purchase price should be directed to the Trade Ministry, he said.

Meanwhile the CWE has bought 50,000 MT of paddy in the first half of this year. The CWE's storage capacity is only 22,000 MT. The excess is stored in borrowed PMB warehouses.
---
Moves to curb corruption in school admissions
By Chandani Kirinde
Education authorities are formulating new guidelines for school admissions in the wake of serious allegations of bribery, corruption and other malpractices in this area, an educationist said.

National Education Commission Chairman Lakshman Jayatilleke said they were receiving submissions from the public before finalising the guidelines which were intended to make the system fairer.

" We want to eliminate as much of the corruption and malpractices as possible," he said.

Prof. Jayatilleke said they had received about 200 written submissions so far and many had highlighted the problems parents had to face in school admissions.

The Old Boys Unions of Royal College and Ananda College are among those who have made submissions on how best to handle school admissions in a free and fair manner.

Professor Jayatilleke said once the new guidelines are finalised, they would be submitted to the President who could choose to implement them.

Meanwhile, according to some parents they have had to resort to various illegal acts to get their children admitted to a leading school in the country.

According to one parent who wished to remain anonymous he was forced to acquire addresses in his name close to three prominent government schools in Colombo so that he had a chance of getting his son into one of the schools under the area rule, where children living within a two mile radius of a school can seek admission to it.

He said he was forced to get forged deeds for the houses in his name as well as electricity and telephone bills and various other documents to prove he lived in one of these houses even though in reality he lived miles away.

Asked why he was going to so much trouble to have his son admitted to a leading school in Colombo when he had a better chance of getting the child admitted to a school close to his home, he said that in today's society, the name of the school one attended carried a lot of weight in later life.

He said the name of one's school could make the difference between a person finding a proper job, being given membership of certain clubs or even being accepted in certain social circles.

Meanwhile social justice groups have criticised a number of Catholic schools for asking for donations running into thousands of rupees to admit a child into one of their educational institutions.

Some schools, both in and outside Colombo have asked parents for donations amounting to as much as Rs. 50,000 to admit a child.
---
Thus Have I heard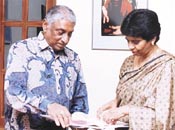 Gnana Moonesinghe, presented her book — 'Thus Have I Heard' on Buddhism and Buddhist sites in India to Foreign Minister Lakshman Kadirgamar on Friday. Ms. Moonesinghe is the wife of Mangala Moonesinghe, the High Commissioner designate for Britain.
---
JSL: end of an illustrious lesson
St. Thomas' Preparatory School was in mourning yesterday, over the death of its veteran headmaster, J. S. L. Fernando, who did yeoman service to his alma mater.

John Shelton Les–lie Fernando who died on Friday was a dedicated educationist and disciplinarian whose entire life was centred on St. Thomas' Prep School since he was invited by the school's founder W. T. Keble to join the staff in January 1942. He served for 52 years till he said farewell to the school at the end of 1994, but till he heard the final bell from God on Friday, JSL's heart and mind would have been on the school he helped to mould to the stature it enjoys today.

JSL after serving on the tutorial staff succeeded J.T.R. Perimpanayagam as Headmaster in 1966, and he held the post of headmaster for 28 years.

As headmaster, he expanded the classes upto GCE ordinary level — an achievement that will be recorded in gold in the history of the school. He was also a key player in the restructuring and the resurrection of the Old Boy's Union.

JSL died at 85, leaving behind his wife and three children. After 52 years as a teacher, JSL would have heard the final call with the treasured Gospel words — "Well done, thou good and faithful servant." May he rest in the peace of God.