The Lankan flair
By Yvonne Gulamhusein
Sri Lankan fashion designer Dinesh Chandrasena was in Colombo recently to fine-tune local production for a new line that the company he works with hopes to launch in the U.S.A. next season.
Designer for "Claire's Collection" in Los Angeles since 1996, his duties include designing the couture line for Spring /Summer and Fall /Winter.
He also sources fabrics, trims and accessories and supervises first production out of Xiamen, China. The gowns designed by Dinesh for Claire's Collection retail at prices between US$ 3,000.00 and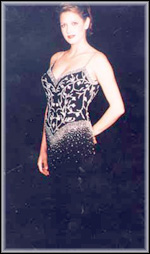 US$ 9,000.00 per gown.
This new line to be produced in Sri Lanka has Dinesh, for Claire's Collection, start a ready-to-wear line bridging couture and pret-a-porter ( ready to wear). These creations are aimed to retail at Neiman Marcus/Bloomingdales and would cost between US$ 500.00 and US$ 1,000.00 at retail level per ensemble.
Dinesh began his career in fashion designing when he took part in the Dress Designer of the Year Contest at the age of 17. While doing his A'levels he continued to design for fashion shows and for private clients.
He left Sri Lanka at the age of 19 and joined the Fashion Institute of Design Merchandising (FIDM) in Los Angeles, where he followed a four-year degree course. He then won the Michael Novarese Scholarship and was selected for a further year's study at the end of which he presented his debut collection at the Bonaventure Hotel in Los Angeles.
Recently, Dinesh's creations were displayed at the Miss U.S.A. 2000 Pageant when Miss Tennessee, who won the title Miss U.S.A. 2000 wore the gown created for her by Dinesh. He also designed gowns for Mindy Burbano, Entertainment Anchor, KTLA Channel 5, who wore them at the Academy Awards Ceremony, Steven Spielberg's "Dreamworks" Oscar Party and the Vanity Fair-after-party in Los Angeles in March this year.
Shaun Robinson, Entertainment Anchor for Access Hollywood, NBC Channel 4, also selected creations designed by Dinesh for her appearances at the Golden Globes Awards Ceremony 2000, and Screen Actors Guild Awards 2000 in Los Angeles in March this year.
Yet another personality who opted to have Dinesh design for her was Julie Moran, co-host at the Miss Universe 2000 Pageant who wore gowns designed by him for her appearances at the Miss Universe 2000 Pageant in Cyprus recently and at the Cannes Film Festival 2000 in Cannes, France.
---
Reach for the stars
You've heard of ancient art, conservative art, modern art and several other art forms. But you know you've definitely entered the age of technology when people start talking about computer art. And that exactly is what 23-year-old Chandima Rajakaruna, or Chandi as he is more popularly known,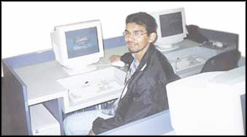 has made his forte.
Born in Zambia, he first saw the movie 'Starwars' after he moved to London with his family when he was just five years old. And then began a love-affair with computer graphics and digital technology. From early sket-chings of 'Starwars' figures in which an art teacher saw immense potential, he developed his skills under the tutelage of Mrs. Fatima Ismail when his family settled down in Sri Lanka.
But while he satisfied himself with volunteering to do artwork for his school's (St. Joseph's) scout movement his mind was still on 'Starwars' and the technology behind it's creation.
Having completed the first two years of his degree in computer science at ITS he went on to complete his degree at the University of Wisconsin-Superior. While at the university Chandi was entrusted with the task of creating a three dimensional computer graphic of what his university should look like 20 years hence. His work earned him the rare distinction of a personal letter from the Chancellor of the university thanking Chandi for his work.
Chandima graduated 'magna cum lauda' in May this year and has already been offered a job as a Software Development Engineer with a leading software development company in Chicago.
But the dream which began almost 20 years ago has not been forgotten. He eagerly dreams of the day he will be able to work with 'Lucas Arts' - which is owned by George Lucas, the creator of his Chandi's dream world 'Starwars'.