Ganging up on gangsters
Pre-dawn raids unearth a hi-tech underworld operation
By Hiranthi Fernando
Two suspected gangsters and a haul of sophisticated weapons including alarm systems that could alert them of possible police presence or rival gangs, were taken in by the Colombo Detection Bureau (CDB), in pre dawn raids this week.
One of these much wanted gangsters was Bandula Weerasinghe alias 'Fiat' who was taken in along with his mistress Devika Mallika and three other henchmen in Kohuwela last Sunday,while the other Gnanasekeram, alias Ambiga was arrested with three accomplices at Dematagoda on May 30.
The weapons found at the time of arrest included high-tech equipment, grenades, bombs and other ammunition.
CDB chief Bandula Show Wickremasinghe, said they believed Fiat, was the henchman of another notorious gangster, Nawala Nihal who appears to have fled the country.
"Both these gangsters extorted money from various business establishments, job agents and drug peddlers in Colombo and the suburbs," Senior Superintendent Wickramasinghe said.
Describing the dramatic events that led to the arrest of Fiat, he said:
"Having received a tip off that Fiat was living at Woodlands Avenue, in Kohuwela, we planned a raid comprising three police teams led by Inspector Nuwan Wedisinghe who surrounded the house at about 3 a.m. that Sunday morning," he said.
"We had information that the house was equipped with sensor lights, alarm and closed-circuit TV cameras.
The Police were also aware that there was a machine gun in the house, so they were prepared for all eventualities when they set off on the raid," he said.
"The police party kept watch for about three hours in the pouring rain. At 6.10 a.m., they moved in. One group first scaled the 10 foot wall and overpowered the two members of the gang who were on guard. The gangster known as 'Fiat', his mistress a 25 year old girl from Kurunegala, and another member who was the collector of 'kappan' or protection money were taken in without much resistance. They had all been drinking heavily so they were quite dazed, SSP Wickremasinghe said.
Describing the gangster's house at Kohuwela, Inspector Wedisinghe said it was a large house with five bedrooms and five bathrooms.
The floors were of granite. It was equipped with closed circuit TV while two air conditioners were still in their packing. A watch room fitted entirely with tinted glass gave the occupants an eagle eye view of the surrounding area, without being seen themselves. There was also an escape ladder for emergency exit at the back. The police also found a Sterling machine gun, an AK 47 rifle similar to those used by the LTTE, two revolvers, four grenades, two Rambo knives, a tear gas canister, two walkie talkies and 500 mixed ammunition. A car and motor cycle bearing false number plates were also recovered.
An account book found in the house revealed a collection of six million rupees on interest.
'Fiat' who is now under police custody, confessed to about five murders, which have so far not been solved, SSP Wickremasinghe said.
In the second raid at Havanawatte, Dematagoda Road, Gnanasekeram alias Ambiga was arrested along with three henchmen.
"I have been hunting for this man for the past one year," SSP Wickremasinghe said. Ambiga is allegedly responsible for the killing of a jailor, and also the 7th suspect in the assassination case of Nalanda Ellawela.
Ambiga who was apparently a dreaded gangster in his area, had a hideout at Havanawatte, where weapons were concealed in a cell between two walls.
Police said his modus operandi was to give phone calls to businessmen demanding that they come over to see him. If they did not come to him he would go and bring them along. He used to then display his stock of weapons and threaten them with death unless they paid him during a given period. The last victim was reportedly a bar keeper, from whom he had extracted 200,000 rupees.
Among the items recovered by the police at this hideout were, three revolvers, five grenades, one pistol, a sawn-off shotgun, two detonators for explosives, a rocket hand fired illuminating para L5A4,smoke bomb, T 56 magazines, a collection of mixed ammunition, two cylinders, a spray to make victims unconscious and a haul of ganja.
There was also a sophisticated signal personal kit pistol that is usually used by the Army in night operations.
He had reportedly told the police that he obtained his weapons from the Wanni which is under LTTE control.
---
Shelling from all cylinders
By Faraza Farook and Tania Fernando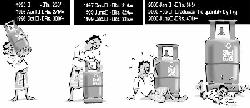 In the aftermath of a plundering LP gas hike an angry public has reacted against a serial price hikes that have come into effect this month.
In blow after blow, electricity and telephone rates have been increased from this month with water said to be next in line- but the most explosive blow was the 105 rupees hike in gas with the often criticised Shell company defending itself to make matters worse.
"The government has given us its full blessing to go ahead with the price increase", Shell's Managing Director Idris Jala said indicating that discussions on the matter had been on for some time before the announcement was made.
With charges and counter charges being made, Shell gas claims the hike was due to world prices rising. It said a governmnet subsidy of 400 million rupees given from September to December last year had been withdrawn and thus the company was compelled to increase the price. Shell also claimed it would have been justified in raising the price even beyond Rs. 500. But it stopped at Rs. 470 . Customers said they were not impressed with the gas tears with the Shell company.
The fumes have not yet been blown away from the last gas hike on February 7 of Rs. 30.00, just 37 days after an increase of Rs. 15.00.
The price of industrial gas has been increased from Rs.- 1095 to Rs 1400. This string of increases has left the domestic and industrial sector baffled as to how they are going to survive in a competitive world.
One area that might be severely affected is the food and beverages industry which has a heavy gas component for cooking.
"We don't want to lose our clientele by resorting to sudden price increases," Hilton Food and Beverages Manager Jagath Wijetillake said indicating the hotel would bear the extra cost at least for now.
Inter Continental Sales & Marketing director Anil Udawatte said "gas prices will definitely affect the food cost, but our tariffs are given and we cannot increase our prices overnight like Shell does, but we will eventually increase it."
Some hoteliers were annoyed with the statement made by SHELL that they should revert to saw-dust and kerosene if they felt the price of LPG was too much.
Not only star class hotels but even the popular wayside bathkades patronised by hundreds of people and may be seriously affected by the hike.
Susiripala of Sena Café at Jampettah Street said "this hike is ridiculous, we will have to increase the prices eventually, may be a hopper by cents 0.50, and a lunch packet from Rs. 30.00 to Rs.40.00.A plain tea will be increased to Rs. 3.50 from Rs. 3.00. We use one cylinder for three days, so how are we going to survive."
Another hotel owner S. T. Gunapala of Danushka Hotel in Bloemendhal Road said "we depend on the days business, so how are we going to keep up with this escalating costs".
Other hotels have found a way out - but as usual it is the customer who will be undercut. Instead of increasing prices they will reduce the size or quality of their products- smaller hoppers or string hoppers and one vegetable less in the packet of rice.
If you are among those who go to the Galle face green for an evening stroll during the weekend don't blow hot when you are told to pay more from today for those oven fresh Naan, Kebabs, Chicken Tandoori, Pakodas and even the spicy 'murukku wade.
Among the ordinary people there was despair and disbelief as to how they would service and why more and more burdens were being heaped on them through an insensitive and unjust system.
Housewife Kanthi Rajapakse, said, that with delivery charges and all they would have to pay Rs. 500 for gas."Do they think our husbands are earning lakhs," she fumed.
Hemalie Karunathileke who workd at a private firm said everything seemed to be going up.
Farha Azafer an executive in the hospitality trade said it was time for women to come forward and act against this buffoonery and fairy tales of monopoly companies. She said most politicians appeared to be talking too much about all sorts of fanciful things and precious little about a vital area such as the cost of living.
Socialist and trade union leaders are also furious. Though restrained under current emergency regulations some of them are determined to come out and tell Shell to go to hell.
Communist Party leader Raja Collure said the Government and the Fair Trading Commission should intervene to review the price and closely monitor the situation in future.
A spokesman for the Ceylon Mercantile Union said they were working out a protest campaign against Shell and others who were exploiting the people.
Gas tears?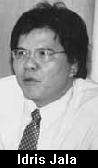 Following the shock hike Shell's Managing Director Idris Jala defended the move saying though there was a 100% increase in the contract price (CP) Shell had increased their price only by 22%, despite the price having doubled since May 1999.
He said the global price of LPG was influenced by Saudi Arabia, who is the major OPEC (Organisation of Petroleum Exporting Countries) LPG producers.
Although Shell increased its prices in-keeping with the increasing world prices, they were not able to reduce the prices when world prices declined, due to the large losses that had been incurred on Shell since entering the Sri Lankan market in December 1995, he said.
Claiming that Shell prices here were the lowest in the world, Mr. Jala said this meant that every customer in Sri Lanka was being subsidised by Shell at the rate of Rs. 105 a domestic cylinder.
"We are not increasing prices to make a profit, but to just recover the cost and break even", said Mr. Jala. He claimed that Shell gets a mere 21.54% from Rs. 470/- (the new LPG price), while the LPG supplier gets 53.39%, and the rest is distributed among the dealer, distributor, government as taxes and the shipping companies.
For this year alone (January 1 - May 31), Shell Gas had incurred a loss of over 500 million. Its loss since entering the market in December 1999 was a staggering Rs. 1.25 billion, he claimed.
"Despite this huge loss we still have hope and we came with a long term plan," he said. Mr. Jala dismissed claims that there would be a reduction in the demand for LPG after the price increase. He said there had been a steady increase of 19-20% a year despite previous price hikes.
"There is a possibility that customers would opt for alternative fuel, but considering the convenience they might continue usage of LPG", he said.
He hinted that the price could remain stagnant if the government pays a subsidy to Shell.
He said Shell had resorted to every possible means to cut down costs. In 1999 they released 112 employees mainly through a voluntary severance scheme and reduced their expatriate staff from nine to three.
In an additional effort of cost cutting Shells global arm decided to tender out the supply of LPG to Sri Lanka on a competitive basis. This move was necessary due to the highly adverse trading conditions brought about by very high contract prices of imported LPG, Mr. Jala said.
---
Hike absurd says Batty
Whilst Shell Gas Lanka Ltd claimed the gas price hike was taken after lengthy discussions with the government since last year, Minister of Science & Technology Batty Weerakoon has hit out at the claim.
"There is no question of the government giving permission since the Colombo Gas Company has been sold to Shell on a certain agreement. The agreement allows certain increases, but this hike is absurd".
He further said it was unlikely that a multi-national company like Shell would stay in the market without making any profits, though they attribute this increase to losses they have been making in the past few years. "These multi-national companies are clever at concealing the actual picture".
"It is not fair for Shell to talk about increasing world prices, and thus increase their prices. It is indeed a burden on the people. We should investigate into the actual scenario behind this", he said.
Speculation surrounding the Rs. 400 million subsidy paid to Shell by the government from September to December last year to keep the gas price stagnant in view of the elections was dismissed by Minister Weerakoon.
Refuting claims that it was an election stunt, he said, "even now the government would like to subsidy the consumer, but can't afford to do it because of the steep war expenses".