Words don't come easy, but strokes do
By Ruhanie Perera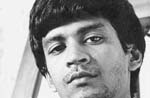 From the time Sujith Rathnayake was just a child all he wanted was to be an artist. But as he grew older, with the education he received, his concept of what an artist was, changed. "I realised that I have a part to play in this universe, that I have a responsibility. That I had to express myself - I had to make myself heard."

Today, Sujith who was once a kid with big dreams, is a final-year student at the Institute of Aesthetic Studies (University of Kelaniya). A student very much inspired by the works of artist Jagath Weerasinghe, Sujith is an artist with a distinct style of his own, who started off by turning his sketches into paintings.

To him art is not just about drawing - "my art is filled with photos, pages from magazines, photocopies, pieces of cloth..." - look hard and there are even verses from songs written on his canvas. Sombre though it may seem, his art is all black and white. Red is used to highlight something but that is very rare. "My technique is really about making the painting black," says this artist who finds black a very potent colour.

"My paintings are in keeping with academic art. You have a concept, composition and brush strokes," he explains. Yet, there is nothing technical or traditional about his art. His paintings have composition all right, but unlike paintings of old where composition was used to enhance the beauty of the painting, Sujith uses composition to enhance his idea...his concept. "That's what makes my art contemporary and not traditional."

Sujith's style stems from the theory of abstract expressionism, which deals with moods. Only he moves away from 'mood' and goes onto analyse the mood.

Sujith struck me as a man trying to find answers to many questions. His questioning mind takes his art to an analytical plane. And the answer that looms ahead is always that things cannot be controlled - "you could probably call that a theme in my paintings. People try to think out things in theory and when it doesn't fit in, confusion reigns".

One particularly thought- provoking painting of his is a sequence of a man trying to figure out for himself the question 'Who am I in the world?' He is seen trying to fit into a stereotype - trying to find himself in a world ruled by languages. He needs to come to terms with spirituality, while living in a consumerist world, where even love and religion are bought.

Finally, he ends up in a confused state - realising that sometimes you just can't fit in. "Turn into yourself and look at yourself and anyone will feel this confusion." Yet, this is a confusion that leaves us wiser. Wiser because we know that theory just bogs you down; it doesn't help you control. "Most of my paintings are symbolic of moments in time when you stop and try to figure yourself out."

"What I paint is not something you can call a mood. It's my statement of contemporary life - the way I see it." Sujith is an artist who finds himself trapped in a universe of words. A universe where the man without words is condemned. "I'm not fluent in English and my Sinhala is not perfect. But I don't need words to communicate; my medium is my art. All I want is for people to understand me ...without words."

Sujith Rathnayake's exhibition of paintings is being held at the Paradise Road Galleries (2, Alfred House Road, Colombo 2) till June 14 from 10 a.m. to midnight daily.

---
There was joy and creativity in her classroom
By Alfreda de Silva

Cora Abraham, the extraordinary school teacher whose original, stimulating and liberating style of a life-time of teaching brought enjoyment to the school room, was born on May 28, 1895. She died in 1979.
In retirement, she moved onto her magnum opus - the opening of the first full-time art classes for children, in 1949, in this country, then known as Ceylon. This was also a season for opening the collective mind's eye of children.
The only space she had for these classes was the garage of her home in Melbourne Avenue. Characteristically unostentatiously, she named them The Melbourne Art Classes, a concept and venture that have made their mark both here and on the international level. A number of the artists nurtured there are still prominent on the local art scene.
Mrs. Abraham's courage matched her convictions. Her integrity worked hand-in-hand with the vast fund of knowledge on how children respond to artistic stimuli.
The Austrian writer, Franz Cizek's treatise on education through art had influenced her greatly and convinced her that freedom of expression through art and a guided observation and absorption of the world around him led to the total development of a child through the formative years. Geoffrey Beling, Inspector of Art in the Department of Eduction, gave her enthusiastic support. Soon news of the Art Classes spread and more and more children began to enrol in them to savour the delights of exploration and experimentation. To handle paper, brushes and paint in an uninhibited space of their own.
Mud, sand, potter's clay, wire cork, bits of tin and anything else that was grist for the mill, produced objects that did something wonderful for their self-esteem.
Mrs. Abraham was not a painter, nor was she a sculptor. She was an inspired innovator and catalyst, whose perception of what she was doing matched her restless energy. She enlisted the support of two splendid teachers - Richard Gabriel and Sita Kulasekera.
In 1950 came the first exhibition of these art classes at the National Art Gallery. I remember my first glimpse of the pictures on those resonant walls and the sense of wonder they evoked. All the artists were children, their ages ranging from four to 14.
The paintings defied the conventional and the run-of-the-mill. They were original, colourful and exciting .
Purple elephants lifted their trunks to the sky, green cows champed red grasses. There were curled fish and whorled flowers. And people. Children playing, laughing, crying, quarrelling, depicted as the artists' imaginations had placed them.
Through water colours, pastels, oils, gavache, acrylic and charcoal, the children had expressed themselves. There were emotions here like love and hate, joy and sorrow, courage and fear.
One could see that this art was therapeutic as well as enjoyable for the children - a release, a secret spring of information.
Cora Abraham was gifted with the knack of meeting children at their own level , a friend who ironed out their difficulties with an unbeatable sense of humour.
Among those who distinguished themselves were the sculptor-painter Laki. Senanayake; the architects Suren Wickremasinghe and Nela de Zoyza, the choreographer and designer Seneka de Silva, painters and teachers like Neville Weeraratne, Sybil Keyt, Lateefa Ismail, Noeline Fernando, Narasingham and Chandra Thenuwara who chairs the present Board of Management of the classes; and Nalini Weerasinghe who is the chosen successor to Mrs. Abraham. She keeps the old traditions alive and has bright visions for the future.
Exhibitions by the Melbourne Art Classes, now rightfully re-named The Cora Abraham Art Classes have won acclaim both here and abroad. At one of them titled ' Ceylon a Land of Painters' presented some years ago, by Ranjit Fernando in London, Sir Herbert Reed, the eminent art critic wrote in the preface to the catalogue:
"The children's paintings are beautiful and significant, and prove once again the universality of the basic impulse in art, the communication of delight in expression. They serve to remind us that all national and historical styles are modulations of the same plastic language..." Ranjit Fernando and Anil Jayasuriya, together with Hillary Fernando also serve on the Board of Management of the Cora Abraham Art Classes.
It was my privilege and pleasure to have had Mrs. Abraham as my English teacher from Fifth Grade to Matriculation at Girton school, which her sister-in law, Constaner Blacker founded.
She used the same unconventional methods there as she did in those art classes. Freedom was what illuminated them. After an excursion to some place of interest we'd return to class. She'd say: "You've gathered a lot of specimens. You've also gathered a good many words. Write about your experience but you need not stick to one form of written expressions. You may choose an essay, a story, a poem, a letter or a play." There were no marks for composition just remarks like "continue your adventure into the realm of thought".

---
Reminder of the 'Lion in you'
"Is there a Lion in you?" is the title of the editorial in 'The Buddhist', the bilingual Vesak Annual published by the Young Men's Buddhist Association (YMBA).

"What seems to be a lion's challenge is seen wherever one turns in Sri Lanka today. Is this a call to the people to pull themselves together? One would be justified in so thinking, for the lion, regarded as the king of beasts, has long been endowed by folklore and legend with attributes that a human being would envy - regal power, nobility, wisdom, courage, integrity and the like. Thus the lion adorns our national flag. The state emblem of India is an adaptation from the Sarnath Lion, capital of Emperor Asoka. In Britain the lion supports the royal court of arms," says the editorial quoting some evidence of the prestige enjoyed by the animal.

The hard-hitting editorial points out that no one in this country, ruler or ruled, would be unaware that one of the precepts followed by Buddhists discourages the use of intoxicants, and trading in them is to be avoided by those treading the Noble Eight-fold Path.

The Presidential Committee for developing a policy and a national plan on alcohol, tobacco and illicit drugs had recommended the prohibition of advertisements of alcohol products of any form. "Yet, what has the lion on walls, shopfront, billboard and hoarding sparing no city, town, village or hamlet to offer? Dutch courage to a demoralized nation to drag it down to deeper degradation," the editorial ends. Among the many interesting articles are Dr. Ananda W. P. Guruge's thesis on 'Thervada Buddhism — Past and Present' and Alec Robertson's 'How to attain the first state of Sainthood'. (DCR)