Contents
---
18 years of Ecstasy
By Sanath Weerasuriya
Eighteen years ago, young journalist, attached to now defunct newspaper 'Sun', left the job to take up music as a full time occupation.

Nobody expected him to lead his band for almost two decades, but he did through storms, ups and downs.

Sajith Muthukumarana, the leader of the band 'Ecstasy' has never taken 'no' as the answer.

Since 1982 the band has performed in at all the top venues regularly.

1985 - Little Hut night club of Mt. Lavinia Hotel 1986 - 87 'Sunset Night Club" of Browns Beach Hotel, Negombo, 1988 - 89 "Colombo 2000" of Le Galadari Meridian, 1990 - 91 "Peacock Night Club" of Mount Royal Beach Hotel, and again from 1991 to '96 'Little Hut' for a second time and then Taj Samudra Hotel from 1997 - 2000 to name a few.

'Other than these venues, special mention must be made about 'Coral Gardens Hotel' Hikkaduwa where the band played long contracts since 1986, and "Bentota Beach Hotel" where we still continue to perform,' said Sajith.

In addition to local commitments, 'Ecstasy' has performed a three month contract in Singapore in 89/90 and a couple of shows for the 'Lanka Lions' in Doha, Qatar in 1996.

A unique feature in the band is the versatality that they have shown in adopting well to the musical requirements of the venue, be it night club or hotel lobby.

The present line up is a mixture of experience and youth, which has been combined correctly to create a feeling of 'Ecstasy'.

Sajith Mutukumarana who has been leading the band from the inception is in overall charge, looking into all aspects of the business. All practices and musical arrangements too are under the strict scrutiny of Sajith.

Then there is Ranjith Perera on bass who has been a steady part of Ecstasy far a long time since 1991, and Clifford de Andrews who needs no introduction in the field of guitar artistry also has been with the band for over 7 years. Then comes the talented drummer with a voice to remember Marian Francis who joined the line up about 3 years ago.

The newcomers to the band who joined this year are Nishantha Abrew on keyboards and Chaminda Dantila, a very versatile singer on vocals, both of whom have rock/folk inclination as well as oriental flavours in their music.

The band is on the lookout for a dynamic frontline female vocalist who could be ready by the season. "If we find someone good and matching we will take her on permanently, otherwise we intend to session work with the present day female vocalists in the scene as and when the need arises," says Sajith.

Ecstasy is now ready for the kill in the new century and is looking forward to the first ever season of the new millennium with a wider repertoire than even before.

---
Jazz on board
By Sanath Weerasuriya
The fourteenth 'International Jazz Festival' will be held from May 20 to 27 on board the 'Azur Festival Lines' Cruise Ship.

Azur - festival line cruise ship is a floating three star hotel with all modern facilities including swimming pool, a cinema, casino, a gym, a couple of specialized restaurants and five bars.

The Jazz Festival will feature over fifty musicians from around the world and this will be the first time this type of festival being held on board a ship.

The popular groups include 'The Festival All Stars' (USA), The Three Divas (USA), Oscar Kleins Jazz Show, 'Blue Galore' with Guitar Crusher & Tommie Harris Trio', 'The Swing Men 2000', 'Lady Bass and Jazz Ladies', 'Johnny Rogers and The Midnight Soul Show (USA), Ron Ringwoods Gospel Messengers (USA), and Paris Washsboard (France).

The whole Festival includes 80 concerts on five indoor and outdoor stages. The music ranging from New Orleans and Mainstream Jazz, Blues, Gospel, 'Rhythm & Blues', Dixieland to 'Swing and Soul'.

The Cruise starts at the Greek port Pireaus and sails for seven days through the blue waters of the Mediterranean - Italy, Malta and Greece. The ports of call are Savona, Capri, Catania, Malta, Katakolon, Corfu, Dubrovnik and Venice.

The local agents for this cruise is 'Kontiki', which brings a new wave in the local travel business.

There will be special programmes with constantly changing line- ups. The open jam sessions will be another attraction.

The exciting trips in the ports of call to places of historical and cultural interests will also be arranged through 'Kontiki'.

According to a spokesman from Kontiki, Festival Cruise has a special workshop for Gospel, Jazz and Blues on board.

'This would be an extremely relaxed atmosphere without a dress code required elsewhere,' he added.

---
The Lodge : Hotel which turns to a park
By Sanath Weerasuriya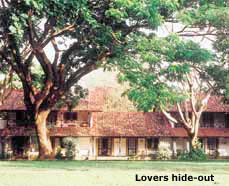 I have gone past 'Habarana' many times, but never bothered to take a look around.

When they say 'Habarana', the main thing that got into my mind was dry, dusty and sticky heaty weather.

But I never expected the 'Lodge' to be different from most of the hotels in the area.

Swimming pool, A/C rooms, posh dining area, wild life excursions, are the common sales points of the hotels in the Cultural Triangle. But the 'Lodge' has something more with extra weight. The trees.

The main attraction of the hotel is the greenery. 'Most of the trees were saved in the area, when the hotel was built nearly eighteen years ago'.

That's what I believed before the Manager Suraj Perera explained and said that they all came from Mahaweli area now under water.
The 'Lodge' is set in a 27 acres land with hundreds of big trees by the beautiful Habarana ancient irrigation lake. The air is pure and filled with the songs of exotic Sri Lankan birds. Some people do come for 'birdwatching' and to spend the night by the lake on a tree top.
This sounds mad but believe me it's facinating and romantic. The lake was tranquil and beautiful and it is out of the world for lovers. Apart from the scenic beauty, the 'Lodge' provides 53 chalets with 150 rooms with A/C, balcony or terrace, hot and cold water, and with absolute privacy.
'The Lodge is the first resort hotel in Sri Lanka to get ISO 9002 certificate and is now working towards the ISO 14,000 top grade certificate from the ISO,' said the Manager Suraj Perera.
The main restaurant is by the pool and a spacious open sided place. This serves Western, Eastern, Chinese and International Cuisine with Seafood Specialities.
'But most of our guests both local and foreign like to taste the traditional Sri Lankan food specially from the area,' Mr. Perera said.
Theme nights, special Bar-B-Q buffets are some of the attractions of the restaurants.
'We serve local cuisine on traditional clay pot style and show cooking is another attraction,' the Manager said.
The Lodge is centrally located in the Cultural Triangle and is just one or two hours drive from important places. The Lodge is a plendid place to explore the ancient cities like Anuradhapura, Polonnaruwa, Sigiriya, Dambulla and Minneriya Wildlife Park. Ritigala, Pidurangala and the surrounding areas.
The architecture used in the Lodge are more similar or has the influence of Ritigala of 5th century BC.
'The pathways and the buildings were almost similar or influenced by that era,' Suraj said.
Veda Aspuwa with traditional herbal treatment draws large crowds at the 'Lodge' .
Large grounds for cricket, tennis, badminton, jogging track, indoor games, fishing, elephant safaris and calypso music are some of the recreation and entertainment activities available at the hotel. Also 'Lodge' has conference facilities with a large hall for 90 pax.
With all these modern facilities and the scenic beauty, 'Lodge' has become a "Park".

---
Fifteen years of Neil Alles
By Susitha R. Fernando
It is after15 years, Neil Alles is bringing his stage play "Sihina Sappuwa" (the dream shop) in to the limelight again.

The play that won the most popular stage drama award at the Sama Drama festival as a new production was first staged in 1984 and had to stop due to many reasons.

"'Sihina Sappuwa' which speaks about the problems of the youth is more appropriate to today's society than the time that it made. The problems discussed at that time now has worsened, said Neil reasoning that made him to bring back the play.

" I made the play after 1971 insurrection where thousands were killed and highlighting the problems relating to education unemployment and war and poverty," he added.

" Compared to eighties era, the war has become a part of every one of us and one reason that lead me to bring back the play was that at least some one must be alert about these problems".

According to him the problems of the youth are now just covers up without searching permanent solutions.

Starting from the part he played as " Chutte" in " Kelani Palama" (Kelani Bridge) Neil Alles has been playing over 50 stage dramas up to recently staged Dharmasiri Bandaranayke's"Trojan Kanthawo" (TheTrojan Women) and Sunethra Sarathchandra's " Yerma", including famous plays like "Tharawo Igilethi", "Avi", and " Gajaman Puwatha," etc.

Neil Alles, an actor in profession also had played over ten tele dramas including "Bumuthurunu", "Du Daruwo", "Gajaman Nona" etc.

Playing many roles in the stage for last three decades, Neil Alles still believes that the stage which gave him the recognition in the world of arts is above the cinema or the teledrama.

"As one can not forget the mother who gave birth, I can not forget the stage", said with his loyalty to the stage.

The professional stage drama actor is not in a happy tone when he is speaking about the present youth who are taking in to stage. "Nowadays the younger generation use the stage only to make a name for them. They come to stage not with the idea of staying there whereas we played without expecting any financial benefit,". "But we really enjoyed those hardship instead of thinking about them as burden," said this well experience actor.

Speaking on the stage dramas that brings nothing except humor and the plays that are produced for only commercial benefits, Neil said " people are ready to pay a price to get momentarily happiness. This has lead to produce plays with any taste just to earn money. But the with the hardships we experienced we can't make the stage a place of a business".

When asked about the steps to make the stage more popular place among the public Neil Allas said " firstly everyone must go for stage drama. And must find solution for the main problem face by the producers, the way to find the finance".

"There are so many sponsors for sports but no one going to sponsor for a play which is also important for the upliftment of our culture and tradition", he said. He also admitted that there are lot of talented youngsters among us whom without anyone to back them to come up.

Neil Allas is ready to take his 'Dream Shop' through out the country. "My idea is to put all earning from the play to produce another," said with many plans to take more people to theatre in our country.

---
Local cinema in new direction
By Susitha R. Fernando.
Prasanna Withanage must be one of the few directors in the country, who were fortunate enough to have won awards locally and internationally for all the films he made.

Prasanna Withanage, is now waiting to release his internationally acclaimed film Purahanda Kaluwara soon.

Though quantity wise the film done by Prasanna is not immense he has take the film world by storm.

Born in 1962 Prasanna became involved with the theatre on leaving school.

The four films he directed were 'Sisila Gini Gani' (Ice on Fire) in 1992 which won nine OCIC awards including Best Director, Best Actor and Actress, "Anantha Rathriya" (Dark night of the soul) in 1996 participated in several international film festivals and won Jury's Special Mention at the 1st Pusan International Film Festival and won main awards at the 1996 Sri Lanka Film Critics Forum Awards including most outstanding film, best director and script writer. "Pawuru Walalu" (Walls within) in 1997 won the best actress award for Nita Fernando at the 1998 Singapore International Film Festival and ten awards at the Sri Lanka Film Critics Forum Awards.

After viewing his film 'Anantha Rathriya' (which is not yet released here) , Japanese Broadcasting Corporation (NHK) selected Prasanna Withanage among the Asian film directors for sponsorship of his next film.

"Speaking of his latest film Purahanda Kaluwara he said "We started the film in July, 1997 planning to finish by December.

From the day I received the letter from the NHK selecting my next film for production sponsorship, we had to work really hard on the film. It was a hectic period where we worked 18 hours a day. The full period was unforgettable", Prasanna said.

When asked about his latest creation he said," It is too early to comment but if I am asked to redo the film "Purahanda Kaluwara" I would do it in the same way".

The award winning film maker describing the encouragement that awards bring he said "awards are not to be kept in showcases but they give stability to filmmakers to stand independently and bring out their creative talent.

Purahanda Kaluwara is not his first war related creation. Involving himself in theatre on leaving school Prasanna translated and directed Bernard Shaw's "Arms and the Man" in 1986. War related themes in works of art can be seen in the country, he said " my idea was not to make a film in praise of war or against the war. But what I want was to share what I felt when I go to rural areas of the country in Anuradhapura, Madawachchiya etc. And I believe that a work of art is something that comes from the heart and it should penetrate others heart",. The film is a self expression of its maker using the medium of the picture to tell his story in visual language".

When went to Madawachchiya to find locations for this film I had to mould the script according to what I saw there.

The half built houses started by the youths who had joined the Army and were killed in battle; the parents who are waiting for their sons and the Gramasevakas who has lists of people who had joined the Army are part of the scenario. When I was going there for three years there had been no rain to cultivate in the area and youths had no other job than joining the war.

Of filmmakers who thinks only about its commercial benefits, Prasanna Withanage said, "The film is not a commodity for sale. It is an expression of ones self . There are two kinds of people I know in this world. They are people who exploit the world for the mere purpose of earning money and people who genuinely care about human beings".

---
'Salelu Warama':a tragic love story
"Salelu Warama" is the latest film of creative script writer and director Wasantha Obeysekara.

The film in which the major part is over and is to be mixed soon.; said the Obeysekera . 'Salelu Warama' an adaptation from a true incident was filmed in the areas of Horana and Akuressa took 27 days.

Starting from the film "Wesgaththo" in 1970, Mr. Obeysekara's tenth film is his latest "Salelu Warama". Among the films he made some of them were landmarks in Sri Lankan film industry.

Award winning films "Palagatiyo", "Dhadayama", "Kedapathaka Chaya" and "Maruthaya" were some of them which became very popular among the filmgoers in this country.

The film maker's last film was "Theertha Yathra", in which he made a story around adopted girl, who later go in search of her parents. There he brought out the idea that we are not belonged to anyone and it is meaningless going on thinking about who am I.

The story in "Salelu Warama" is around two university students and one student who passed out from there.

The film is based on a triangular conflict a around tragic love story . Speaking on the completely different theme from all his other films, Obeysekara said that the film tells 'how far correct is the judgment we make about others and how dangerous they could be'. Sometimes we tend to hide the real side of us due to this judgments make about us and the judgment we make about others.

"Ultimately we are not what we are we have given a different picture about us", he said.

The cast in the film comprise Tony Ranasinghe, Kamal Addararachchi, Sangeetha Weeraratne, Pradeep Senanayake, Nayana Kumari and others. Jayanath Gunawardena is behind the camera in "Salelu Warama" , while Elmo Halliday was the editor.

Film score of the film is by the well experienced music director Rohana Weerasinghe and the script written by Wasantha Obeysekara.

The film was produced by Sarath Abeysena who produced Mr. Obeysekara's earlier film "Dorakada Marawa",.

---
'Blindfolded' wins award
By Yashodhara Sarachchandra
The award for the best short film at the Mumbai International Film Festival for documentary, short and animation films this year was bestowed upon S. Sriram, for his debut film titled 'Blindfolded'. Hailing from Chennai, this young cinematographer is equipped both with experience as well as a Diploma in Film from the Adyar Film Institute. He has gained practical experience from the training and guidance he achieved through assisting Santosh Sivan, a renowned Indian film director, in the making of 'Malli' and 'The Terrorist'.

Sriram's twenty-four minute short film is based on the theme of child abuse in cities. This is a social problem that is occurring profusely in all the mega cities in Asia. Sriram himself admits that as far as social change is concerned his film is but only a 'drop in the ocean'. However, his debut attempt in directing has at least created some awareness among the public.

The film portrays the life of a little girl - Selvi, in a slum community, with a drunk for a father and a trollop of a mother. The whole film is shown through the eyes of the little girl who struggles valiantly to improve her miserable existence despite the constant physical and mental abuse by her uncaring parents.

The giant wheel at the fair symbolises the fantasy-like aspirations of the child whose eventual desire is focused on riding it.

She gets the chance to ride it after all, but her actions culminate in disaster. She is accused by her demented household of stealing ten rupees to go to the fair, and is thus brutally punished by being doused with kerosene and burnt alive.

The child Selvi is portrayed by Shweta and Ghanapriya takes the role of her friend Amuda.

As most child actors, both little girls were quite spontaneous in their actions in front of the camera and relied very little on direction. Hence, Sriram adapted his techniques accordingly in order to make the children's spontaneity an attribute. Despite the director's modest appraisal of himself, 'Blindfolded' is sure to attract a lot of international attention throughout the coming year.

---
Bim Kaluwara: The story of environmental change
Another new teledrama named "Bim Kaluwara" is now being telecast every Tuesday on ITN at 7.30 p.m. The teledrama based on a youth who is traumatised by what he saw in his environment during his childhood.

The story revolves around the difficulties faced by this young man both mentally and socially in his day to day life.

Anil(Gamini Jayawardana), who lost his father when he was a kid, was living with her mother (Suwinitha Weerasinghe) and his step father (W.Jayasiri). His step father is a funeral undertaker. Anil grows up with a disturbed mind as he always see the coffins brought to his step father's shop.

When he becomes a young man he sees one of his friends being murdered by an unidentified gang. This incident aggravates his weak mental state further and he gets scared whenever the incident comes to his mind. His mentality does not allow him to reveal the incident to anyone. Even though the family of his murdered friend wants him to testify before police he refuses to do so.

Worried over his unstable mind his parents decide to send him to his aunt's place which they believe would give him an opportunity to overcome the situation. While at his aunt's place he gets married. But the change of environment or the marriage does not help to change his mentality but worsens it. As a result he loses his job and unable to bear the poverty his wife commits suicide.

What happened to him next ? The answer can be found in the new teledrama Bim Kaluwara". Every scene of this drama was shot in Kandy.

It was written and directed by Nimal Ratnayake and produced by Kapila Kumara Atupalage. The casts as follows: W. Jayasiri, Suwinitha Weerasinghe, Gamini Wijewardana, Chamila Sanjeewani, Granville Rodrigo, G.R. Perera, Luxika Fonseka, Raja Sumanapala, Sriyani Mahawatta and Neela Liyanage.

---
Sudath's stories on screen again
'Wanawadule Wasanthaya' and 'Badde Gedara' two top teledramas of veteran director Sudath Rohana are ready to roll in again.

'Wanawadule Wasanthaya' will be retelecast from May11 on Rupavahini at 9.30 pm every Thursday and 'Badde Gedara' will be telecast from Sunday May 21.

'The two new time belts are created for this repeat telecast and we are looking the response from the viewers about the new belt' director Sudath Rohana said.

'Wanawadule Wasanthaya' includes some of the leading artistes on its cast. Champa Sriyani, W. Jayasiri, Mahendra Perera, Wally Nanayakkara, Palitha Silva, Hamasiri Liyanage, Susantha Chandramali, Deepani Silva, Indrajith Navinna Buddhi Wickrema.

'Wanawadule Wasanthaya'is directed by Sudath Rohana on a book written by Piyasena Kahandagama.

The story about 'Polyandry' will be seen in the Badde Gedara.

Champa Sriyani , Trelicia Gunawardena , Sriyantha Mendis star in this teledrama.

---
Priyantha loves new creations
By Sanath Weerasuriya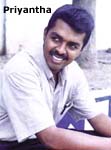 Every kingdom has a king and a prince and every team has a leader and the deputy.

Priyantha Samarakoon is the second in command of now running popular teledrama 'Rajina'. So he is virtually the prince of the scene.

Priyantha is the right hand of the veteran director Jayantha Chandrasiri for most of his massive creations.

Priyantha was the 3rd assistant director of 'Dandubasnamanaya', and the second assistant director of 'Akala Sandya'.

He is the first assistant director of 'Rajina', who was always behind the creator Jayantha Chandrasiri.

"I am so proud to be a part of 'Regina', which is considered as one of the biggest productions in the field of teledramas." Priyantha said .

He also assisted different directors. 'Sapa Nokaran Daruwane' directed by Rodney Vidanapathirana, 'Yuda Bimaka Poojava' by Sudath Samarakoon and 'Pahan Siluwa' by Gamini Fernando were the teledramas ,Priyantha worked as a first assistant director.

"Also I was involved in many tele productions from 1989. Jayalath Manoratne's 'Ransirige Sangramaya' was my first teledrama." he said.

Priyantha also involved in theatre.

'I studied about tele production under D.B. Nihalsinghe and Ariya Vithanage. I will continue working with Jayantha Chandrasiri in future, because he is a creative director" he said.

Julietge Boomikawa, Anthima Re, Bawa Duka and Bawa Karma were some of the films Priyantha was associated with.

---
'The Bungalow' for exclusive arts
Walking into "The Bungalow" a newly opened exclusive cafe/gallery cum guest house on Havelock Place, one's attention is caught by the unusual paintings displayed in the cafe and guest lounge areas. This is the ongoing exhibition by four young artists, three of whom are Sri Lankan while the fourth is South Korean. Out of the three local artists, Pradeep, Chandrasiri and Pushpakumara Koralegedera are the most well known having taken part in several solo and group exhibitions such as "Nawa Kalakaruwo" organised by the George Keyt Foundation. In addition they have jointly received awards for the "best set and costume designer" at the Youth Awards Drama Festival And State Stage Play Festival. Pradeep Chandrasiri's paintings reflect his views on ongoing social conflicts in our country. His work consists of caricatures of people in deep agony and the titles of his paintings such as "Scream for Love" and "Life of a Sufferer" reveals this clearly. To an outside viewer it appears as if he has begun all his paintings with bright, hopeful colours and then gradually painted over this in morose blacks and browns as if in personification of a young life stifled by violence. His work is a must see for those who believe that paintings are not for mere pleasure but must provoke profound thoughts on the meaning of life itself

Pushpakumara Koralegedera's work is of a lighter vein and represents his free spirited, happy-go-lucky approach to life. Surprising since they both live together and obtained their Bachelor's Degree in Fine Arts from the University of Kelaniya. His medium is acrylic on canvas and he utilizes subtle whites with bright blues, reds etc. and also uses newspapers and other materials on his canvas. He seems to be experimenting with his paintings and trying to achieve different facets and dimensions on his canvas.

Helaka Ruwanpura is exhibiting his work for the first time although he has been painting since the mid 1990s. His medium too is acrylic on canvas. Unlike the former two, he has had no formal training in art but his work is very dynamic comprising of huge canvases depicting hunting scenes and portrayals of Sri Lankan nomadic tribes such as "Rodiyas". His paintings in contrast to the colourful work of the others are in stark brown and white which highlights the wild, untamed beauty depicted in his work.

He is deeply influenced by Sri Lanka's dry zone and derives inspiration for his work from the fierce wild animals and equally robust people that inhabit these areas of our Island.

Seo Spider is the only foreign artist exhibiting her work. She has studied art in South Korea and had exhibitions in England, South Korea and Sri Lanka. She performed a fascinating "Ceremony of Life" ritual on the opening night of the exhibition. It involved vigorous activity by her which included banging on a Chinese gong, ritual cleansing in the in-house jacuzzi and the sacrificing of a fish.

Not unnaturally she had the complete attention of all the invitees to the exhibition during this riveting performance! According to her it was a depiction of the give and take situations that we come across in our day to day lives and also an attempt to convey the fact that a true artist must be free enough to act out his or her thoughts in this manner.

Coming back to her paintings, they comprise of colourful oil on canvas abstracts for the most part. As in her performance, her paintings are completely free of all restrictions and reveal her innermost thoughts in the most uninhibited manner.

What struck me most about this group exhibition was the complete individuality of each participating artist. There is no overlapping of styles but an honest reflection of each artist's personal views and aspirations. A good exhibition to go and view if you want to see an intriguing cross section of the work of young artists.

---
New concept from Russel's
Russel's Tea, one of the popular tea merchants and caterers in the country, has introduced Ceylon tea as a health drink for the first time in Sri Lanka.

This has come out in unique pack in the shape of traditional 'Pettagama' but in smaller size.

The annual tea convention held in October 1999 by the Tea Association of USA strongly emphasises the health aspects of tea.

Various scientific research programmes in the USA and Canada have established that tea contains antioxidants called flavonoids which will strongly combat against cancer, heart disease and strokes.

A Dutch study found that older men who drank more than four cups of tea a day reduced their chances of getting a stroke by 70 % and other surveys revealed a few cups of tea a day, lowered the risk of heart disease by cutting down levels of blood cholesterol.

Regular tea hot or cold is a good source of vitamins B2 and Calcium, Manganese and Iron.

Unfortunately Sri Lanka, one of the biggest exporters of tea, has not given any publicity to the health values in our tea while packers and sellers in foreign markets publish health messages in their tea cartons of Sri Lankan tea. To correct this malady even at this stage the chairman of Russel's Teas have taken the initiative to emphasise the "Tea and Health" message in their various packs of tea in order to publicise and bring to the attention of the consumer the vast beneficial relationships of tea consumption against chronic diseases such as heart diseases, cancer, strokes, skin diseases, etc.

---
Listen to Anton's Titanic
Anton Silva, of popular cricket song ,'Wills Cup' fame has released his latest audio cassette titled 'Titanic'.

Titanic comprises of four songs , all were penned by Anton himself.

'I wrote this Titanic song when I was in Oman in 1998. It was the time the film was storming the cinemas around the world.' Anton said.

Though Anton was in the music scene from 1974, he came to the limelight with his ever popular 'Punsanda Paya ' cricket song in 1996 and followed by the 'Titanic".

Anton started singing in his school days at St. Sebastian's College Moratuwa. His first commercial song was about Duleep Mendis, who was also an old boy of the College.

'Nil Guwan Gabe', 'Pulun Wala Atharin','Moratu Kollo' are some of the popular songs sung by Anton Silva.

"I got the push and the encouragement from SLBC and Rupavahini and all private radio and TV channels during my long career as a singer.There are also many people who helped me to come up as a singer.I have to thank to all the senior musicians , who helped me in various ways." Anton said.

He is now working on another couple of songs dedicated to cricket and cricket lovers.

---
Padmasiri: Two different feilds
To-day under the subject new generation, TVTimes wish to introduce to you a person who does something that is polarized from his normal profession.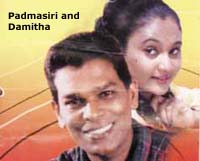 The young man that we are introducing to you today is an STF officer, Padmasiri Dissanayake who though a police officer today has been a lover of art from his school days
Often it is invariably by instinct, that some get into the field of art, while there are those who in due course of time take to the field of Art. But Padmasiri's case is all together different, in that he became a lover of art almost from his birth. Art is Padmasiri's birthright one could say.Today singing has become his sole occupation and preoccupation and his inborn talents are climaxed in his maiden venture "Raththaran Mawbima" which was made in 1993. It was not till 1995 that his second attempt saw the light of day. That was "Supipi Malak Right now, Padmasiri is high in the firmament of singing stars and can be a challenge to anybody.
Today there aren't many who can compose songs to felicitate our heroic soldiers. As if to fill the now prevailing gap, Padmasiri has succeeded in making his own lyrics in honour of them and in 1996 his first such composition was introduced under title, "Mage Deshaya". It was an instant hit and became popular in double quick time. At the same time Padmasiri found an opportunity to study music under a famous musician, Lakshman Silva of Ragama. In the writing of lyrics he was assisted by Chandradasa Fernando ably helped by Jayananda Cassettes of Malwatte road.
Lately Padmasiri has found a singing mate to entertain his fans. It is none other than Damitha Abeyratne who has become the heart-throb of millions in Sri Lanka. The duo's songs now come in the latest cassette "Me Seetha Yame" with 16 songs. Music has been provided by Super Stars with Mahinda Silva at the helm.
Padmasiri resides at Batapola, in Elpitiya, and is presently attached to the STF, Kadawatha. He loves the job at the STF just as much as he does his music. We wish him well and we are grateful for his concern to the soldiers of our nation

---
Sing-along unearthed new talent
'GAYAMU EDA GEE' the Sinhala old favourites sing along organised by the Moratuwa Arts Forum (MAF) was held recently at the Buddhist Hall, Moratuwa. This could be described as an outstanding first attempt.

Similar to 'Down Memory Lane' the Western equivalent, this inaugural programme saw a full house of singing enthusiasts thronging to the venue to spend an absorbing two and a half hours to sing over 30 local all time favourites.

The show commenced with the immortal evergreen 'Ase Madhura Gee' with Project Chairman doing a great job giving lead to audience participation from centre-stage while the experienced Derrick De Silva mingled with the crowd, microphone in hand, also urging the crowd to sing along.

The MAF singers in their numbers formed as a choir on the right flank of the stage and took turns to come upfront to sing and encourage community singing.

Merril Fernando of 'Ruwan Ambara' fame performed his singing act with the youthful Anuradha Mendis while the charismatic Christopher Paul gave lead to his favourite original 'Ruwan Thoran Thanaa'.

Among others who gave lead to the singing were Lankika Perera, Ushan Anamaldeniya, Somasiri Fernando, Sumangi Perera, Kumari Silva, Shimali Gomes, Chandani Silva, Lincoln De Silva, Lilanthi Jayaratne, Herbert Silva, Jayagra Mendis and Priya Peiris.

The show ended with the audience standing to attention for the patriotic 'Pera Diga Muthu Atayai' sung by everybody.

Rolinson Ferdinando did an untiring job as music director and along with the dynamic orchestra performed 'near original' sounds to generate great nostalgia.

The lady compere Lanka Perera won the admiration of one and all for her close rapport with the audience throughout the show.

---
ETV takes MC by storm
Saturday April 8 and Sunday April 9 saw Majestic City transformed into a wonderland of fun and fantasy by our English entertainment channel ETV. The lobby area of Majestic City was tastefully decorated to go with the theme of the ever popular soap, The Bold and The Beautiful.

The stage area was also decorated with a arch of colourful balloons. The stage was set, and no sooner had the Majestic City doors been opened the crowds came flooding into the mall.

The crowds that came experienced a mall promotion like none other ever witnessed to date. The day began with the DJ's spinning the latest mixes from the charts. Then the popular group Dream Team played their first session that got the shoppers groving and moving to the pulsating and captivating music. After this came the games and competitions that had the audience enjoying themselves and participating to their hearts content.

There were competitions ranging from the 'longest hair' to 'the most glamorous lady' to say the boldest thing you have done' to ' name the Liril girl' competitions. Then came a hair show for the ladies that was conducted by the versatile hair stylist Ramzi Rahaman. He created an amazing hairdo in a record breaking time of just ten minutes. If this was not amazing enough, there was a mesmerising magic show by Ron the great Magician. The kids and adults alike were kept spellbound with all the different acts of magic. To keep the magic in the air it was followed by a fashion show with the top models displaying an elegant and fashionable range of dresses.

The day ended with Dream Team playing some of the current chart hits that were well received by the crowd.

There were loads of entertaining events and games for the little ones and they were entertained by Wonderclown and a variety of cuddly cartoon characters.

---
Future Leaders at USE
The 10 Sri Lankan students who will join 200 more outstanding students from around the world at the Future World Leaders Summit 2000 in Washington DC this July met the US Ambassador for Sri Lanka and The Maldives, Shaun E. Donnelly at his office in Colombo. This is the first time a delegation of Sri Lankan students will be participating at this summit.

The Summit calls for outstanding student leaders in the age group 16 to 19 years to become active citizens in their countries and communities. The students who participate at this summit gain an enhanced university resume with credit and preference for admission to Universities in the USA.

All participants must demonstrate extraordinary academic achievement in their school curriculum and leadership in their community. This annual summit is organized by Presidential Classroom Inc., a leading non-govermnental civic education organization in USA. Details of the 2001 March summit are available from Rtn. Ananda Rajapakse, South Asia Representative for Presidential Classroom on e-mail, futureleader@eureka.lk or Tel: 077-609739. The Future World Leaders Summit annually brings together student leaders from around the world to explore International Relations from an insider's view and to develop Diplomatic skills.

The Ambassador explained to the delegation that during the week's stay in Washington, they would have unprecedented access to Washington's halls of power and the people shaping international relations.

He discussed in detail with each student of the specific topics they have selected to research on and helped with diplomatic advice. The Sri Lanka delegation was selected by the Rotary Club of Colombo Metropolitan, a leading civic organization in Colombo. The delegation consists of 8 girls and 2 boys.

Seen in the picture with the American Ambassador are L to R: Ashanya Alles, age 17 of Colombo International School; Thoshanthi Herath, age 16 of Musaeus College Colombo; Michelle De Saram, age 17 of Asian International School; Raniya Waheed age 17 of British School of Colombo; Kamillka Malwatte, age 16 of Visakha Vidyalaya, Colombo; Team Manager Rotarian Damitha Dharmasena Group Director of BAM group of Companies, Sajeeva Pallemulle, age 19 of Royal College, Colombo; Thanuji Shanmugaretnam, age 18 of British School of Colombo; Imeshi lndigahawela, age 17 of Girl's High School, Kandy; Thilakshani Dias, age 17 of Stafford International School; Kesara Ratnavibhushana, age 16 of Colombo lnternational School.