---
...Till divorce do them part
By Chamintha Thilakarathna
A dashing young man and a beautiful woman marry, have children and live happily everafter. That's the dream at every wedding. Unfortunately, this seems true only to fairytales. The tale takes a dramatically contradictory twist in Sri Lanka.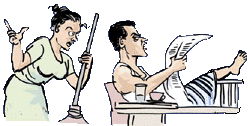 The proof lies in the increasing number of couples filing for divorce these days. Why is marriage viewed as a prison sentence, from which couples are in such a hurry to get themselves paroled or freed? Or is it that divorce has become a dangerous, yet fashionable trend? While it is more common in the high and upper middle classes, the middle class still seems to be getting used to the idea. Comfortingly, with second thoughts.
"Divorce certainly is a destroyer. It is a bomb that blows to shreds your sense of who you are and what you have become. It is a series of landmines, going off in your face when you least expect," I once read. Yet, people do get divorced.
From 1971 to 1981 there has been a marked increase in the number of divorces (including those who have married under the Kandyan and Muslim laws). In 1971, according to the Department of Census and Statistics, there were 1,816 divorces and by 1981 the number had shot up to 2,572.
While the population increase needs to be taken into account, when comparing the 1971 and 1981 figures, The department's bulletin confirms that the number of people marrying has also come down drastically.
It points that women seem to have changed their attitude towards marriage with the passage of time. The 'never married' category has risen by seven percentage points in respect of women between 1946 and 1994. In contrast, a percentage of three points has been seen in men who 'never married'.
Believe it or not, those who do divorce are mostly below 30.
What drives couples to divorce?
In one case, after 32 years, Fathima recently decided to call off her marriage to the consternation of her family. A member of a conservative community with stern marriage laws, Fathima knew her chances of getting a divorce were slim, but felt that if she did not, the chance of a decent life for herself and her two children was nil.
Although many decide to avoid divorce for the sake of the children, ironically, that was the very reason Fathima had filed for it.
"I never realised that my dream husband was a heavy gambler and boozer. Even after having children he continued to indulge in these. He harassed the children and did not support the family at all. Though he did not batter any of us, the verbal harassment and the life he dragged us into was a nightmare and one that all three of us regret," Fathima said.
She feels that divorcing was the best decision she made in her life and hopes that her children will be fortunate to have successful marriage.
This was a rare case of intolerable harassment leading to divorce but in many instances, the reason is lack of communication or misunderstanding.
Psychologist and marriage counsellor Anne Abeysekara says that the problem lies not in the people themselves but in the modern age and the way we look at events.
The communication barrier has resulted in many single parents. "Women are usually proud. It is the way in which they have been brought up. As a result, they would not want to come down from their abode in heaven," she said.
She cites the case of a working couple. The wife complains that her husband relaxes or sleeps, but she is burdened with household chores, when they return from work. Why doesn't she ask him to help her with the chores, even once in a while? Her reply had been that he should think of it by himself, without having to be told.
"It is this kind of pride and lack of understanding that create the background which finally ends in separation or divorce. Thus, communication is very important," Mrs. Abeysekara said.
According to her people's-especially women's-expectations, demands and wishes have changed. But society tends to look at things in the same manner as it did in the last century. This is the case with a majority of men. They still expect wives to be dependent, obedient and available. They fail to realise that today women work as hard as they do and chores need to be shared. At the same time, women value independence a lot more nowadays than 50 years ago. Such attitudes lead to divorce.
Women no longer wish to stay in a bad marriage 'for the sake of the children', because they are 'dependent' or it is considered a 'social taboo'. The options are wide and there are many support systems now. Of course, it is important to have divorce as a last resort.
In any kind of relationship 'I am sorry' are the most important words that need to be spoken. People must be humble enough to accept their mistakes for their own sake and also for their children. "Sad to say, the more educated one is, the more difficult it is for them to say sorry, even if they want to. Marriage is a lottery and you do not know till you get one whether you will be a winner or loser," Mrs Abeysekara says.
She added that with time people tend to forget the good qualities in their partner and see only the negative features. Why? No one knows. The goodness they see in each other before marriage and during the first few years of marriage suddenly disappears. "From then onwards the partners focus on the negative aspects and nag each other," she said.
At least two women arrive at 'Women In Need' — a non-governmental organisation working for and supporting women's wellbeing — in search of advice on divorce each day. Often the problem is lack of communication. On the other hand, a reasonable number of women stay in marriages due to lack of financial stability.
A marriage can be dissolved by a judgement of divorce 'a vinculo matrimonii' either on the grounds of adultery subsequent to marriage, malicious desertion or incurable impotency at the time of marriage. But most divorce cases are filed by mutual consent on both sides and not due to any of these reasons.
According to Prof. Savithri Goonasekere, prominent lawyer and lecturer, divorce is definitely on the increase, although getting a divorce could be very difficult.
However, if both spouses agree to a divorce on reasonable grounds then it could be less of a hassle. Most divorces are attained by mutual consent, she said.
Sociologists are convinced that it is time to view divorce as a societal issue and not as a personal, family affair. Lack of children usually considered the bond in a marriage, lack of a large network of relatives or neighbours for emotional and economic support, common influences such as individual rights and liberties and excessive freedom are cited as reasons behind this issue.
"The socio-cultural and living environment has changed today . Families live in isolation with no support system. Those days the larger family network helped couples to cope with their problems, but today they have been isolated. A lot of people can't get used to this idea of volatile relationships. We tend to question everything nowadays while no one wants to sacrifice anything for the sake of marriage. Basically, people find it difficult to adjust to contemporary society," Prof. S. Hettige, sociologist at the University of Colombo said.
There is an urgent need to establish support systems for families. Creating a new mechanism accessible to people in need of counselling and mediation is essential. "Maybe the state needs to come forward as well," said Prof. Hettige.
While counselling is available, very few couples approach pre-marital counsellors. According to psychologists pre-marital counselling is very important for it helps identify weaknesses, for a better understanding between the two partners after marriage..
Couples vow to love and to hold, in sickness and in health till death do them part. Unfortunately, the rising statistics say otherwise. Keeping in mind the physical and emotional trauma that divorce drags you through, may be it is time to be a survivor and not an escapist who resorts to divorce which may be the easy way out.

---
How to save your marriage
* Be humble enough to say 'I am sorry'.
* Spend time with each other and have a heart-to-heart or recall happy memories.
* Try to look at your spouse's point of view every time you disagree.
* Learn to appreciate and see the goodness in people instead of their bad points.
* Be honest and frank with each other.
* Since women are often reluctant to ask their husbands' help, men should make an attempt to share the chores.
* Learn to listen to your partner
* Make a recommitment to your relationship when things look tough.
* Get away from busy schedules and give love a chance.
* Learn to forgive and be patient.