---
Rising from the ashes
By Kumudini Hettiarachchi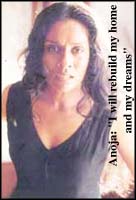 "What wrong have I done?" is Anoja Weerasinghe's heart-rending plea as she struggles to rise up from the ashes and rebuild her dreams, while going about her work. The work she knows best and which has brought international fame not only to her personally, but also to Sri Lanka.
And as she plays the tragic role of Hecuba, the Trojan queen who has faced it all - the death of her husband, the loss of her children, the destruction of her land and a life of humiliation as a slave to the victors - in the popular Greek anti-war drama Trojan Women, the pain is doubly intense. For there is real-life heartache for her. She has lost all her life's precious work and the country a record of the history of cinema at the hands of goons.
"Twenty-two years of work as an artiste has gone up in flames along with a dream. The dream to set up a museum back in my home in the remote and tiny village of Hitikula in Moneragala.
"This yearning to set up a 'chuti' museum got into me, when I visited Stratford-upon-Avon, while studying in England," Anoja explains, adding hastily that she never compared herself to Shakespeare.
She had collected photographs, paper clippings, books, clothes and shoes throughout her career.
"I even had costumes from my first film, Monaratenne. There were also boxes and boxes of valuable books. Though many people do not know, I have been holding workshops on acting for underprivileged children in remote areas in Polonnaruwa, Anuradhapura, Tangalle and Moneragala. I have visited government rehabilitation camps for JVP members, army camps, all parts of Jaffna and worked towards helping the disabled through the Sunethra Bandaranaike Trust.
"When the monk in my village was renovating the temple I did not have money to help him financially, but I promised that I would set up a well-equipped library there for the village children. I intended to raise funds through a musical show there, after taking all the well-known artistes. Now only ash is left in place of all those books I collected with difficulty."
In the past few years, there have been several Retrospective Film Festivals for her in some International Film Festivals.
"In my country and abroad I have many who are fond of me and I can easily rebuild my life with their kind assistance," she says, adding, "but what really broke my heart is that the flames that engulfed my dear home, have destroyed what I can never again buy with money."
"Among them were subtitled copies of movies including 'Sirimedura', 'Kelimadala', 'Gurugedera', 'Surabithena' and 'Juliatge Bhumikawa'. Another is the copy of Paul Cox's film 'Island' in which I acted and which won acclaim worldwide," she says with a break in her voice.
"That was the price I paid for just three days of getting involved in politics and addressing two press conferences," Anoja who turned 45 on January 21 said.
"I never planned to enter politics, I'm not a politician. I will only do what I am good at and that is acting. As a person who follows Lord Buddha's word, after the torching of my home in Moneragala I realized how true it was that everything is impermanent. But one consolation is that no one can take away my talents and achievements and also the love the people have for me.
"Seeing the plight of women in the country and the fate of artistes I felt that I should speak out against these injustices. I am not pointing my finger at any one politician, but am appealing to all of them: Don't destroy culture after getting into power."
"All of us, myself, Rukantha and Chandralekha are innocent, unarmed people. We are not criminals and I hope what was done to us is not done to anyone else. I hope that through the flames that engulfed my precious home in Moneragala, those responsible would assuage their hatred and never do such harm again. Then, though I have lost everything, some good would come out of the losses I have suffered."
In a fervent appeal to President Chandrika Kumaratunga, Anoja said, "She is a woman who has suffered every possible sorrow and nearly lost her life recently. I urge her to do something about this situation.
Regarding speculation that the attack was due to enmity, with implications that her ex-husband was involved, she said though divorced, they are very good friends.
"As unarmed, innocent civilians we depend on the police and the law to safeguard us from harassment. Therefore, I appeal to the authorities to find the culprits, the goons who committed the crime, whoever they are and bring about justice."
Stressing that the heaps of letters which awaited her return from Lucknow, India — where she had gone to do a Hindustani classical singing examination — and the tremendous show of support at the recent plays gave her courage, Anoja said, "After the attack, I was disturbed, I did not know what to do. But you can't live in another country forever. The show of support from my beloved fans, artistes and media made me realise that the country needs me. I have a duty by my country. As so many fans told me, politicians may come and go but there are only a handful of great artistes in a millennium."
"I feel strong now and I tell all women in the country to be strong. I will rebuild my home and my dreams — but it will take time, for I am not a millionaire. I am just an actress. But I know I can do it with the support I have received and I tell my countrywomen: Manasikawa binda vatunoth, ballekuta hari kakulen adan yanna puluvani. (If the women break down mentally, even a dog can drag them away by their feet.)"

---
The attacks
Anoja Weerasinghe's home and farm in Hitikula, Moneragala came under attack twice — the first in December, when an armed gang had driven into her farm, fired a T-56, lobbed two grenades and gone away. The damage was negligible. At that time Anoja had been in Colombo.
The second, in January was the "death blow" to her dreams. While she was in Lucknow, a gang had stormed her home and farm once again, climbed the roof, poured fuel all over and set ablaze the place where she had spent her childhood, leaving a trail of destruction.