Army prepares for new thrust against Tigers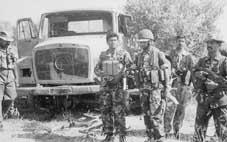 Almost ten weeks after the devastating debacles in the Wanni, the military machine is being activated, for the first time in the new millennium, to crack down on the Tigers .
Army Commander Lt. Gen. Srilal Weerasooriya, on Friday heard a presentation from his senior officers on how they will tackle the Liberation Tigers of Tamil Eelam (LTTE) in the coming weeks. Sad enough, one of the senior Army officers who was to be a key player in the presentation and did a great deal of home work, Security Forces Commander, Jaffna, Major General Nihal Jayakody, was a notable absentee. He died of a heart attack on Wednesday. More on that later.
President Chandrika Bandaranaike Kumaratunga, top officials of the defence establishment and senior security forces officials will hear the same presentation, possibly next week.
What the security forces are planning against the LTTE, for obvious reasons, will have to remain secret. However, one is not discussing strategy or revealing military secrets in saying that a future crackdown would take into consideration two areas which have been of much public concern – the loss of almost the entire Wanni sector in November, last year and the gains made by the Tigers during attacks they launched on the Jaffna/Elephant Pass sector since December 11, last year.
In what they termed "Operation Oyatha Alaikal Three" (Unceasing Waves Three), Tigers overran military positions in Kanakarayankulam, Mankulam, Oddusuddan and Nedunkerni in the Wanni mainland. These were areas that came under the operational commands of two Army Divisions – 55th and 56th.
The move led to the loss of almost a thousand square kilometres of re-captured territory, lives of over 300 soldiers (Censored, Censored, Censored, Censored, Censored)
Angered by the developments, the Government sent the GOCs of the two divisions – Brigadier T.M. Bohran (55th) and Major General Gamini Gunasekera (56th) on compulsory leave. A three member Military Court of Inquiry headed by the Army's Chief of Staff, Major General Lionel Balagalle, probed the military aspects of the debacles in the Wanni.
A top level CID team headed by its Director, Keerthi Gajanayake, probed the other aspects of the incident including criminal negligence. Their report is learnt to have already reached the Ministry of Defence.
President Kumaratunga is expected to receive the Military Court of Inquiry report next week. The Sunday Times learns that one senior Army official has come under severe stricture by the Court on grounds of both negligent conduct and for being responsible for other lapses including failure to inform higher command after the Wanni defences came under attack. Courts martial have been recommended against at least two other officials whilst many shortcomings and failures have also been highlighted in the functioning of the chain of command.
According to highly placed security sources, President Kumaratunga is determined to act on the recommendations of the Court of Inquiry. "As Commander-in-Chief, she will not only take into account the findings of the Court's recommendations but also the circumstances under which the Wanni debacles occurred," the source said. "The idea is to ensure all those responsible for the lapses which not only wiped out the military gains made by the PA Government but also placed in peril the country's national security are dealt with irrespective of the positions they hold," the source said.
A subject of immediate concern has been the attacks the Tigers launched in some areas of the Jaffna peninsula and the Elephant Pass sector beginning December 11. These attacks have led to the Tigers making some significant gains.
In the Jaffna peninsula, after prolonged artillery and mortar attacks, (Censored, Censored, Censored, Censored, Censored). Some 150 cadres who had positioned themselves on a land area adjoining the Jaffna lagoon were engaging security forces positions ahead. This was whilst artillery and mortar fire from LTTE positions in Paranthan provided cover. Troops have, however, pinned down the Tiger cadres to their positions and have prevented them from advancing.
In the Elephant Pass sector, as reported in these columns earlier, (Censored, Censored, Censored, Censored, Censored, Censored, Censored, Censored, Censored, Censored). From these positions, a large group had infiltrated into an area just outside Iyakachchi. Their idea is to cut across this area, go past the A-9 (Kandy-Jaffna) highway and reach the Jaffna lagoon. The move, if successful, would in effect isolate the Elephant Pass sector. It would also mean the severing of the Main Supply Route to Elephant Pass which ran along the A-9 highway from Jaffna. On the southern side of Elephant Pass, tactical (Censored, Censored, Censored, Censored, Censored, Censored, Censored, Censored, Censored, Censored). These ground realities were reflected during Friday's presentation.
(Censored, Censored, Censored, Censored, Censored, Censored, Censored, Censored, Censored, Censored). This came when the Army's Director of Operations, Brigadier Nissanka Wijesinghe, briefed Colombo based defence and military attaches at Army Headquarters. (Censored, Censored, Censored, Censored, Censored). The Tigers had moved into the area thereafter. (Censored, Censored, Censored, Censored, Censored, Censored, Censored, Censored, Censored, Censored, Censored, Censored, Censored, Censored, Censored).
Despite these developments, claims that Paranthan still remains in security forces' hands are continuing to be made by State run television quoting unnamed military sources.
Barring intermittent artillery and mortar exchanges by troops and the Tigers , there has been relative calm in the Elephant Pass sector. Intelligence sources say Tiger cadres were being put through training and a surprise resumption of fresh attacks cannot be ruled out. They also believe that a group of some 400 recruits, who are reported to have "passed out" last week from LTTE's "Beirut base" in the Batticaloa district, were being detailed to the Elephant Pass sector.
The Elephant Pass sector has remained home for the Army's 54 Division. In addition, troops from the 53 Division, which includes commandos, Special Forces and the Air Mobile Brigade have taken up position in the area to thwart any attempts by the LTTE to make incursions. In the past three weeks, they have not only resisted Tiger advances but also engaged in missions to attack infiltrators.
Since December 11, last year, until last week, 12 officers and 215 soldiers have been killed in the fighting in the Jaffna-Elephant Pass sector. A further 36 have been reported missing in action. Military officials claim they have confirmation that at least 250 LTTE cadres have died but there is no independent confirmation. Moreover, media visits to operational areas are banned. The only exceptions are conducted tours.
Fears of fresh outbreak of fighting has led to strengthening of security measures in the Elephant Pass sector. Forces Commander, Jaffna, Major General Nihal Jayakody, presided at a top level conference at a military installation near Iyakachchi last Tuesday when mortar fire began to fall in the area. The meeting was disrupted. Later, after consultations with senior officers, Maj. Gen. Jayakody, flew to his headquarters in Palaly. The same helicopter also carried the mortar casualties for medical attention at the Palaly base hospital.
The next day, Maj. Gen. Jayakody was in his office with his Brigadier, General Staff, Brig. Mohan Rockwood. He had just finished a telephone call to Maj. Gen. Nihal Marambe, who is now in Colombo as Operations Commander, Colombo (OCC) when he had fallen ill. He was pronounced dead upon admission to hospital. Maj. Gen. Jayakody took over as SF Commander, Jaffna, soon after his return from an year long stint at the National Defence College in New Delhi.
Major General Chula Seneviratne, who had just assumed duties as Deputy Security Forces Commander, Wanni, has now been posted as SF Commander, Jaffna. Maj. Gen. Seneviratne is very familiar with the Jaffna peninsula having served there during his mid-career years. He now faces the formidable challenge of directing military efforts against the LTTE in the north where all battles have been raging.
The sudden demise of Maj. Gen. Jayakody, the first high ranking officer to die in office due to natural causes, also missed an opportunity of addressing a group of local media personnel. They were flown to Jaffna on a conducted tour to generate publicity for the Army's upcoming recruitment drive. The Army is to embark on an ambitious plan to recruit 15,000 new troops in the coming weeks.
If the publicity exercise for this task was being carried out by the Operation Headquarters of the Ministry of Defence, a news release issued by them on Wednesday (the same day the media team was flown to the north) raised eyebrows in the upper echelons of the Army. This is what the news release said:
"It is reported that around 7 pm on 18 Jan 2000 17 deserters who were taken into custody by civil police and Military police held at Panagoda cantonment escaped overpowering the staff who opened their cells for the purpose of distribution of dinner. These deserters were held under close arrest pending inquiries. Civil police and the Military Police had taken necessary steps to re-arrest these escapees. Already one escapee had been arrested by the Military Police at the Habarakada check point."
Some senior officials were of the view that a formal announcement of the breakout would have an adverse impact on the upcoming recruitment drive. They argue that the media would not have published reports on the incident in view of the ongoing censorship. Since it came as an official announcement, it received wide play, particularly in the Sinhala media raising fears that it might deter would-be recruits.
This is another clear example of amateurism at the Operational Headquarters badly hindering and even damaging the public image of the security forces and Police who are making great sacrifices in the ongoing separatist war. With the total censorship now in force, news releases from the Operational Headquarters have become the only source of official information, both for the local and foreign media. The need to have officers who are conversant and professional at the Operational Headquarters has continued to remain a long felt need.
So much so, moves were afoot to set up a competent body under the Ministry of Defence to oversee the conduct of media related matters connected with the ongoing separatist war. A proposal to set up an elaborate mechanism for this was to be placed for Cabinet approval by none other than President Chandrika Bandaranaike Kumaratunga. However, the move has been delayed in view of other urgent developments.
Since the clamping down of a 12 hour curfew and a house to house search on January 5, the security authorities have been continuing the same exercise. Last week, a similar search was conducted in Wattala area. On Friday night, an extended search under curfew went on in a number of areas including Hendala, Kelaniya, Wellampitiya and Negombo. Whilst this went on, Police conducting investigations into the recent suicide bomb attacks also launched a limited search in the Wellawatte area. This followed information that suicide cadres were hiding in that area.
Measures in the security establishment this week – presentations for a fresh round of offensives against the LTTE, a major recruitment drive and stepped up search operations – all point to a new wave of concerted thrusts against the LTTE. In the very first year of the new millennium, the signs are clear – the separatist war is poised to escalate.
New Army postings
Army Headquarters have announced a string of new postings. Here are some of them which will come into effect from January 25:
Brigadier C.J. Ranaweera ceases to function as Principal Staff Officer at Headquarters, Sri Lanka Army Volunteer Force (SLAVF) and will be attached to Army Headquarters.
Brigadier D.U. Munasinghe ceases to function as officiating Deputy GOC, Headquarters 54 Division and will function as Principal Staff Officer, HQ SLAVF.
Brigadier P. Pannipitiya, ceases to function as Commander, 544 Brigade and will function as Brigadier GS, Security Forces Headquarters, Jaffna.
Colonel S.M. De A. Rajapakse ceases to be attached to Headquarters 11 Division and will function as SG staff officer. He will also function as officiating commander, headquarters 223 Brigade.
Col. A.M.B. Peiris ceases to be attached to Headquarters 11 Division and will function as Col GS at Headquarters 11 Division.
Lt. Col. V.R.L. Anthonisz to function as officiating commander, Headquarters 524 Brigade.
Lt.Col. S.A.A.L. Perera ceases to function as officiating commandant, Regimental Centre and to function as Deputy Commander, HQ 513 Brigade.
Lt. Col. M.P.U.C. de Silva, ceases to be attached to Regimental Headquarters, GW 1 and will function as SO 1, Inspectorate of Infantry, Army Headquarters.
Lt. Col. H.N.B. Herath ceases to function as GSO1 (ops) Hq 56 Division and will be attached to RHQ, Military Intelligence Corps and function as officiating Commanding Officer, Directorate of Military Intelligence.