She shares her flair
By Roshan Peiris
Born in Sri Lanka and now living in Canada, Sherie de Mel (nee Cader) began experimenting with flower arrangements as a hobby. "Today my hobby is a thriving career which I am proud of," she says.
Sherie has her own TV show in Canada, on how to arrange flowers. "My mother and grandmother both loved growing flowers. So even as a child I used my pocket money to buy flowers such as roses, while my friends bought sweets," she recalls.
Sherie studied flower arrangements at the Inchbold School of Design, London.
She is now writing a book for both beginners as well as experienced designers.
"Learn to create arrangements symmetrically, so that the arrangement stands out, and does not give the appearance of being chaotic and confused," advises Sherie.
In Singapore too, she had a flower shop, when her husband lectured there at the university. She has also done demonstrations at the Ottawa Garden Club.
Bubbling with enthusiasm, Sherie said, "I now teach both young and old to arrange flowers. Flower arrangements have aesthetic value and so I think one must share one's knowledge and flair with others." She does arrangements for hotels, conferences, weddings and banquets.
Sherie will hold an exhibition of her work using local flowers such as Araliya and Pol Mal as well as dried materials such as ekel and mats which she has cut up to help prop her arrangements, at the Liberty Ballroom of the Holiday Inn, on January 25. The exhibition will be held in two sessions, the first from 3 p.m.ending at 5 p.m. and the other from 6 p.m to 8 p.m. Tickets are available at the venue.
---
Book review
That old familiar feeling
It's the kind of book that creates a certain nostalgia in those of us whose memories go far back, for the 'good old days' of D.S. and Sir John and Sir Oliver and others of that ilk and that time. "Lanka's Yesteryears - Facts and Fiction' by Alfred Gogerly Moragoda (available at Vijitha Yapa, Bookland and Sarasaviya - Rs. 400/-) is a collection lovingly put together by his elder daughter, Amithi Moragoda Alles with the help of her sister, Nirmali Wickremesinghe, after she came across "two cartons filled with newspaper cuttings of short stories and articles written by him" in days gone by.
Reading through the first section of the book (it's divided into 4 parts) headed "Arsenic and Old Wine", recreated for me a time in our history that had almost passed into the limbo of forgotten things. It is meet and right that our memories should be jogged by a writer who played an active role as a civil servant for 35 years and who knew at first hand the people and events his pen portrayed. Alfie used the pseudonym "Ganymede" for his regular articles in the then Ceylon Daily News. The younger generation's knowledge and understanding of the two decades that preceded 1956 would be increased by a reading of these articles. Some of them, however like that on the 1965 General Election, a reflection induced by the Olympic Games held in Los Angeles and the account of the MP who went public wearing only a span cloth to register his protest about a prevailing textile shortage in the country - recall post-1956 events.
Words like 'State Council' and 'hartal' may be unknown in the vocabulary of today's young people when even the terms Government Agent and Village Headman have become obsolete. They will find much that is both informative and interesting in accounts such as "When Civil Servants Were Magistrates", "The Exercise of Power", "A 1936 State Council Election", "The Bachelor's Maid", "Participatory Management" and so on. A piece on "The Orient Club", - although written with a light touch - is revealing of the central part it played in the lives of men who mattered in olden time. So much so that no less a person than the illustrious "O.E.G." (although his name is not divulged in the article), is quoted as having said that he joined the Orient Club "mainly to find a place in the Ceylon sun for myself," the son of a former postmaster_ "The elite of Ceylonese manhood - at that time class distinctions were taken for granted - formed the membership of the Orient Club, and I was there, working my way upwards."
My favourite piece, however, does not concern any political or official personage, but gives a delightful pen-portrait of one of Ceylon's outstanding cricketers of all time - M. Sathasivam who was a personal friend and cricket idol of Alfie's and whom the latter visited in the remand jail when this gentleman was on trial for the alleged murder of his wife. We women came out badly in this episode, for, as Alfie points out, almost without exception the female of the species judged and condemned Mr. Sathasivam before the case was heard.
Sadly, not even his acquittal changed their minds. Alfie describes a hilarious incident of an earlier time in which "Satha" figured in an encounter with the Principal of Alfie's wife's old school (and mine), which is thinly veiled as "Maiden's College" and where the Principal's composure and good humour took the wind out of Satha's and his companions' sails! If Alfie's concluding statement is true - that "the female of the species turned out in deadly strength at the next parliamentary elections to ensure the defeat of the brilliant lawyer-politician who had defended him", it doesn't speak well for our sex and our sense of fairplay.
Part 2 contains short stories, some of them amusing, some full of gore. "The Lord of Nanneri", based on fact, is the one I like best and concerns an impressive personality by the name of Lamasuriya, derived from the more ancient Westernised origin of "Le Mesurier". There is even a quite plausibly written detective story featuring an ace police sleuth by the name of Jim Bandara. In Part 3, Alfie's classical education comes to the fore (he obtained a First Class Honours Degree in Western Classics from the University of London). It is in serious vein and features three lengthy and imaginary conversations between the writer and Aspasia (the highly-cultured Athenian lady who was wife to Pericles, the renowned statesman who guided the destiny of ancient Athens in its Golden Age), and Socrates. The interview with Aspasia deals with lessons that post-independence Modern Ceylon might learn from the code of civilised behaviour that prevailed in Ancient Athens; the first of the two dialogues with Socrates dwells on the failure of humankind in general to apply the truths revealed in their many great religions to their daily lives; and the second is all about what it really means to love your neighbour as yourself.
The fourth and final section is entitled "A Little Bit of Verse and A Little Bit of Prose" and includes the Minneriya Serenade written when he fell in love with the lovely lady with whom Alfie had a lifelong romance, Ariadne Wickremesinghe, his wife for 52 blessed years. An article relating how D.S. Senanayake restored the Minneriya tank ends with a second lyric which, the reader is informed, was sung as the 'Mahaweli Symphony' by the late Lylie Godridge in connection with the Mahaweli Project. We are also given the inside story of how Sir Oliver Goonetilleke after the acceptance (with some reservations) by the State Council of the Soulbury Constitution in November, 1945, was sent to London to meet the Secretary of State for the Colonies, Mr. Creech Jones, to ask for full national independence. Sir Oliver came back with nothing less.
The book ends on an intriguing personal note - a poem entitled "To Marcia The Flirt", written by the author when he was in his teens and, doubtless, experienced calf love! The collection is well produced and is singularly free of misprints. The cover picture and the illustrations within, by Vajira Jayasinghe, enhance the script. There is a Foreword by another eminent civil servant, Victor Wirasinha, who preceded Alfie at his old school, Richmond College, Galle, and whom Alfie regarded as a role model. Mr. Wirasinha too was a first-rate Classics scholar who adorned the old Civil Service. He was seated by Alfie at the well attended launch of "Lanka's Yesteryears" at the Bishop's College Auditorium on January 5, 2000 - a happy occasion that was compered by Alfie's niece, Nirmali Hettiarachchi, and at which excerpts from the book were read by Amithi and Nirmali and others. Amithi is to be congratulated on a labour of love well executed and for giving us a volume that should certainly find a treasured place on our bookshelves.
---
D.I.N. by Amirun Boange nee Abdul Cader - Reviewed by Siromi Fernando
A winning D.I.N.
"D.I.N." is a small booklet of poems by Amirum Boange (nee Abdul Cader). Half of the profits of this book are to be donated towards the building fund of the Sri Lanka Federation of the Visually Handicapped. Amirum Boange herself is a disabled person. She was stricken with polio at the age of eleven months and was disabled neck downwards. Despite her disability, her writings have won her international acclaim.
In 1995, her poem "D.I.N. (Disabled-In-Need)" won the Best Poets' Award from the United States National Library of Poetry. Another poem of hers, "Amirun!", an autobiography, was selected by the same library for that year's anthology. Her present booklet of poems is an anthology of 36 short poems, including both "D.I.N. (Disabled-In-Need)" and "Amirun!". Each poem is accompanied by interesting photographs of the people she writes about (many of them infants or children); or by imaginative pertinent drawings.
Her poetry is characterised by her sense of life, vitality and joy. Her innovative poems lead us to abandon grammaticality and conventional ideas of rhyming for their own sake. Instead the poems guide us to concentrate on human life and themes of nature. God and "God's own way", freedom and liberation. Susil Siriwardana, an Oxford graduate in Arts and English, writing in Preface to her collection says: "Amirun Boange's slim volume of verse is a joyous threading together of natural emotions. The disabled, society, Sri Lanka, nature, girl, resistance, the writer herself, mystery spirit, beauty and harmony are the subjects."
Her poems are the best illustrations of the characteristics of her poetry and their content. "Amirun!" uses her first name as the title. Characteristics of her poetry are conveyed through these words:
A victim of polio from neck - downwards.
My parents schooling made me think up - wards.
Although physically I am weak and deformed,
I am very capable for my mind is well formed.
"D.I.N. (Disabled-In-Need)", which also gives the title of her anthology, is the other award-winning poem. Again we turn from the accuracy of grammaticality and poetic conventions to meaning and warm expression of life. Her opening lines are given below:
I will make such a D.I.N. (din)
For all our rights and win -
The cause of the handicapped.
For whoever is being tricked and trapped.
Amirun Boange writes a large number of poems about children. Most of these poems express her delightful sense of humour. Two poems about a pair of children, sisters, are printed on facing pages of the anthology. She first writes about the younger sister, referring also to the elder sister.
Don't be a coward,
Always come forward
And box her proper -
That mischief cropper!
She thinks she can boss,
And with a twist she can toss.
On the opposite page she writes about the "Fatty", the elder sister who is the boss.
Oh, darling fatty!
I heard that you're naughty.
When you get a thrashing,
Your teddy gets a bashing!
In other poems she dwells on the themes of nature, God, liberation from the city and pollution.
Stop replacing nature with useless machinery and concrete,
Space away from the cities let nature secrete
If man lives with as much nature,
As God meant for his creature -
There will be harmony and peace
Which will never, ever, cease!
One last example is taken from the poem "Peaceful New Year". Her simplicity and harmony of thinking are reflected through the poetry.
If among the cities they don't clash,
Then within the country, unity will flash.
If unity flashes from one country to another,
Then there'd be peace in the world, my dear brother.
These illustrations will give you a good idea of the poems themselves. I read through these with delight. I recommend that you should read these poems too. The collection is priced modestly at Rs. 75/-. Enjoy your reading.
---
Humanising the trade organisation
Britain's announcement last month that it will write off all debts owed it by developing countries will boost its initiative to get the stalled World Trade Organisation (WTO) talks going again this year.
London's appeal to other wealthy nations, particularly European, to follow its lead and cancel all outstanding debts will not only give an impetus to an international debts relief programme but also enhance its image among the developing nations as a reliable partner.
Chancellor Gordon Brown said that Britain, which had already committed itself to writing off the major share of the money due from the developing countries, would now waive the Sterling Pounds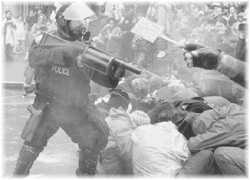 640 million of the debt still outstanding.
It appears that Britain's new Labour government wants to grab the initiative to befriend China and the developing world, thereby taking a lead through the Commonwealth in getting the world trade talks that ended in a fiasco in November, back on track.
The widespread demonstrations in November in the streets of Seattle espousing varied and even colliding causes seemed to reflect the conflict among participating nations inside the conference hall. There, the clash of wills was not only between the major powers and the developing nations but also among the rich industrialised nations themselves.
Recriminations over who was to blame for the failure of the talks that some countries had looked forward to with hope, did little to mend the fences. As it is, there is little chance of the WTO meeting again soon, unless the sharp differences between the major powers and the developing world are narrowed to permit a meeting of minds.
It is difficult to see any attempt to restart the talks till after next spring when the political situation in theUnited States could allow a less hardline position on the most vexatious issue- that of labour standards.
If the 54 -member -nation Commonwealth is to play a leading role in trying to bridge the gap that now divides the world particularly over the labour issue, the timing would be right from the standpoint of this London-based organisation.
The new Secretary-General of the Commonwealth, New Zealand's former foreign minister Don McKinnon, will be assuming office on April 1. He will be consulting member governments on calling a meeting of Commonwealth ministers responsible for international trade, to generate some progress in WTO negotiations.
The issue of labour standards that the United States and the European Union are raising has long term effects for Asian, African and Latin American countries where labour is cheaper than in the western industrialised nations and joblessness and underemployment are high.
The United States and the European Union insist that the WTO "humanise" itself by taking a more active role in setting labour standards. At Seattle, President Bill Clinton went even further than the stated official US position until then, when he urged the WTO to incorporate core labour standards in trade agreements and eventually use sanctions to enforce them.
Although Washington tried to lessen the impact of President Clinton's remark by arguing that this was only a long term objective, it did little to appease the developing countries which saw this as yet another Western ploy to place obstacles in the way of the emerging nations.
Those who demand greater WTO vigilance on labour argue that some developing countries violate human rights by using prison and child labour in manufacturing goods for export. The use of prison labour for producing export commodities was one of the major criticisms levelled at China in recent years.
The use of child labour is a charge used against India, Bangladesh and several African and Latin American countries. The West has conveniently forgotten about their own sweat shops during the industrial revolution when labour worked under the most appalling conditions, manufacturing textiles and other exportable commodities.
Britain itself seems to turn a Nelsonian eye on the use of child labour so vividly portrayed by Charles Dickens in his novels such as Oliver Twist.
This attempt to blacken the image of developing countries which have gone into manufactured goods after decades of dependence on cash crops and minerals, has naturally angered the developing world which comprise four-fifths of the total membership of the WTO.
They in turn condemn the Western effort to link trade with labour standards as a thinly disguised attempt to continue protectionism by other means, depriving developing nations of entry to Western markets despite the promises held out earlier.
Most of these countries which have suddenly awoken to plead the cause of labour unions, were strangely silent when their own multinational corporations and other big businesses investing in the developing world wanted themselves excluded from trade union laws in place and cared little about the human rights of their own employees.
Thailand's Deputy Prime Minister Supachai Panitchpakadi, the WTO's director-general designate, remarked recently that having the WTO impose trade sanctions on the basis of labour rights would be highly detrimental.
The Commonwealth Heads of Governments Meeting (CHOGM) in Durban, South Africa last month prior to Seattle had anticipated the dilemma in the Fancourt Declaration issued at the end of the summit.
"We fully believe in the importance of upholding labour standards and protecting the environment. But these must be addressed in an appropriate way that does not, by linking them to trade liberalisation, end up effectively impeding free trade and causing injustice to developing countries," the Declaration said.
Although the vast majority of the Commonwealth membership- like that of the WTO- consists of developing countries, the Fancourt Declaration actually underlines the "importance of upholding labour standards" rather than shutting the doors on it.
That element of flexibility gives some hope that the members of the Commonwealth, who are all also members of the WTO, could help in finding a way out of the current impasse.
There are several ways in which the Commonwealth could play a constructive role, says Dr John Eyers, Deputy Director, Economic Affairs Division of the Commonwealth Secretariat.
"One is to contribute an element of political purpose, shared among its 54 diverse member countries," said Dr Eyers who attended the Seattle meeting. He pointed out that Commonwealth leaders at their recent summit urged the WTO to give its negotiations a pronounced developmental dimension. The Fancourt Declaration implied that while upholding labour standards was important, the WTO might not be the appropriate agency for doing so, leaving the door open to other institutions to play a role in pursuing the idea.
The United Kingdom has already taken the initiative in trying to work out a via-media which might assist in kick-starting the negotiations. Even as the Seattle meeting headed for collapse, UK Secretary for Trade and Industry Stephen Byers saw the opportunity to build an international consensus through the Commonwealth. He worked at building developing country support for a proposal by the European Union that would see a standing joint committee on labour standards established.
This joint committee would have organisations such as the International Labour Organisation (ILO), United Nations Conference on Trade and Development (UNCTAD) and the World Bank team up with the WTO.
This could be a more acceptable arrangement to the developing countries than the WTO playing the sole arbiter over issues that are not really its concern. That is one reason why the WTO is already suspect in the eyes of many developing countries which believe they have been marginalised and their concerns largely ignored.
That is why the Commonwealth summit urged the Seattle ministerial meeting to ensure that the next round of negotiations on trade would be "balanced in process, content and outcome".
"The WTO needs to present itself in a more favourable light. It has got to recognise that it will be seen as a global player in the 21st century. It is acting like a 50s body," Trade Secretary Byers said. By calling for an overhaul of the WTO and a fairer deal for the developing countries, the UK aims to build a broad consensus that will permit it to play a major role when the next round of crucial negotiations begins.