United colours of Iromie
Lankan artist Iromie Wijewardena's painting graces the Reader's Digest February cover
By Ayesha R. Rafiq
Sri Lanka is on the international map once again as for the third time around a Sri Lankan artist's painting is being featured on the back cover of the world renowned Reader's Digest magazine's February issue -Asian Region edition.
That honour belongs to Iromie Wijewardena, a respected figure artist whose work has been widely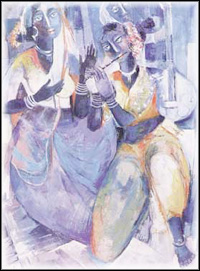 acclaimed for over 20 years.
How does one set about getting your painting onto the cover page? It's not that easy.
Firstly the magazine does not ask for entries. They approach artists, requesting them to send photographs of their paintings. So the first and biggest hurdle is naturally how to get noticed.
"It doesn't come easy. You have to work hard at your paintings and you can't treat it is as a hobby. You have to be a serious professional artist," says Iromie.
Recognition, says Iromie, is slow to come in the artistic world where there are so many wannabes and genuine talent often takes a while to emerge.
So you have to work that much harder, and hold that many more exhibitions if you're going to let anyone know that you're here, is Iromie's advice. And right now there is likely to be precious few. Iromie at first did not send in any entries, as she did not have any good photographs of her work. But after her exhibition in mid-1999 she sent in 10 photographs, and voila, in October the selections were made in America and before she knew it her painting 'Musicians' was selected for the February 2000 issue.
The note at the bottom of the painting says 'In "Musicians" Sri Lankan artist Iromie Wijewardena depicts the harmonious uniting of the three main ethnic groups in Sri Lanka - Sinhalese, Tamils and Muslims. A figurative expressionist artist, Wijewardena uses rich colours and layered perspective to create a sense of rhythm and unity between the three women'.
Heady stuff for any artist, but Iromie seems less impressed than I am. After all, she says, she's not the first Sri Lankan to have the honour.
Before her, widely acclaimed artists Senaka Senanayake and Raja Segar have both had the honour of their paintings gracing the back cover of the Reader's Digest.
For her in this instance the victory lies in the fact that she has once again managed to break through the scores of Vietnamese, Chinese and Japanese artists whose work is often featured in the Reader's Digest.
But for Iromie, who draws her inspiration from travelling out of Colombo frequently, her real victory was when in 1985 one of her paintings 'Royal Procession' was featured on a Yugoslav stamp, 'something which is very very rare in the life of an artist and which most artists may never be able to attain."
She was the first Sri Lankan to have a painting on an international stamp. Her work is displayed permanently both locally and internationally including in countries such as Yugoslavia and Bulgaria where her work hangs beside those of the great French masters and other internationally acclaimed painters.
Having her work displayed in many countries such as Japan, India, USA, Germany, Cuba, China and Paris among others and having made her mark internationally Iromie has also been featured in the Asiaweek magazine.
To Iromie who likens painting to meditation in that one has to sit at it for a long time and concentrate as colours and moods and perspectives change each time you sit at a painting, she's happy that the talent she inherited from her mother seems to have been passed on to her seven-year-old daughter, whose childish decorations on the bedroom door are testimony to her early artistic forays.