Classical dazzle
Two top Indian artistes to perform at Dr. Neelan Tiruchelvam's birth commemoration
Afestival of intellec-tual exchange, art, music, film and book exhibitions has been organised to commemorate the 56th birthday of the late Neelan Tiruchelvam which falls on Jan. 31.
The International Centre for Ethnic Studies, Colombo, the Law and Society Trust, and Tiruchelvam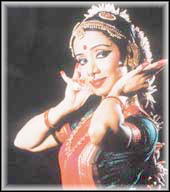 Associates are organising this two-day event on January 31 and February 1.
Two of India's top artistes Alarmel Valli, (the foremost exponent of Bharata Natyam in the sub-continent), and Dr. M. Balamuralikrishna, a legend in today's Carnatic music will perform. Alarmel Valli's dance recital is on January 31 at the Bishop's College auditorium and Balamuralikrishna's classical music recital on February 1 at the BMICH.
Acclaimed not only for the exquisite perfection of her dance, Alarmel Valli, the foremost exponent of the Pandanallur tradition in Bharata Natyam, is also a creative artiste, who brings to every one of her items intensity and naturalness.
Trained by renowned gurus, Shri Chokkalingam Pillai and his son Shri Subbaraya Pillai, she has extended the frontiers of her dance tradition.
Recipient of numerous awards, she was conferred the State award of Kalaimamani in 1979 and was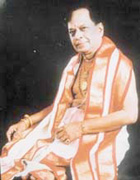 made the State Artiste of Tamil Nadu between 1981 and 1984 among numerous other awards.
Valli has also performed at the famous Bolshoi Theatre - Moscow, at the Theatre De La Ville Festivals in Paris, in 1973, 1997 and 1998, the Cervantino Festival - Mexico, the Vienna International Dance Festivals, the Harbourfront Festival - Toronto, the New York International Festival of Arts, the Avignon Festival, the Basel Dance Festival, the Helsinki Biennale, the Min-On Association Festival of Japan and at the Festival at the Hague Palace for the birthday celebrations of Queen Beatrix of the Netherlands. She has also danced at the International Festival of Norway in 1997, the Festival for The Silver Jubilee Celebrations of Pina Bausch's Wuppertal Dance Theatre in 1998 and the Cultural Festival at the Royal Albert Hall for the joint celebrations of the 50th year of Independence of India, Pakistan and Sri Lanka.
Writing of Dr. M. Balamuralikrishna, India's Ambassador to Kuwait B.M.C. Nayer says:
"Dr. Balamuralikrishna is a legendary figure in today's Carnatic music. He is a unique person who has indepth knowledge of both Hindustani and Carnatic - North and South- classical music styles."
Dr. Balamuralikrishna is the founder trustee of the MBK Trust, the objective of which is to develop art and culture and do extensive research in music therapy.
He was conferred the Padmashri in 1971, the Padma Vibhusan in 1991 and honoured with five doctorates from various universities.
He has 400 compositions to his credit which include varnams, kritis, javalis, devotional songs and thillanas.