A tribute to G.G. Ponnambalam Jnr.
He lived according to his conscience
By Dr. T.C. Rajaratnam
"The awful shadow of some unseen power
Floats though unseen among us; visiting
This various world with an inconstant wing
As summer winds that creep from flower to flower;........
Why aught should fail and fade that once is shown,
Why fear and dream and death and birth
Cast on the daylight of this earth
Such gloom; why man has such a scope
For love and hate, despondency and hope.....
Love, hope and self-esteem like clouds depart
And come, for some uncertain moments lent ......"

-Hymn to Intellectual Beauty - Prometheus Unbound: P.B. Shelley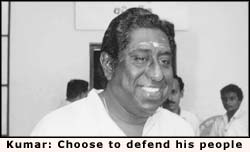 G.G. Ponnambalam Jnr., fondly remembered as Kumar, was an outspoken gentleman, a great defender of the rights of man, an eloquent orator in all three languages of Sri Lanka. But his honesty and integrity were a threat to some members of his own race who had been contemplating his death for quite some time.
Although speculations indicate otherwise, as one writer quite rightly pointed out in the Sunday Observer, the letter alleged to have been written by the "National Front Against Tiger - Sri Lanka" is to mislead the public. The circumstances of the killing point at a Tamil group.
In fact, when Kumar Ponnambalam's name was being suggested to contest the Presidential elections by some political parties, I told Kumar to take care, as one of them could take this as an opportunity to assassinate him.
Kumar used to visit my father's home to meet A.Vinayamoorthy (Kumar's trusted colleague) who used to have combined studies with me. I soon came to know Kumar well and when I took oaths as a lawyer in Colombo he came to Court and to my home in the evenings. The first fee I received was from Kumar.
I worked in his chambers for a short time and soon we appeared in the Eros Electricity Board bomb case where he appeared as counsel for the first accused and I appeared for two other accused persons. Later Manix Kanagaratnam appeared for the others. Kumar was quick to appreciate and encourage his colleagues.
In 1994 when I was in Australia, he tried to contact me before sending his nomination papers for the 1994 Parliamentary General Elections. Kumar submitted his forms on the 6th, the month preceding the election as this was an auspicious day for him. I returned from Australia on the 8th to receive a message from my cousin Dr. Neelan Tiruchelvam asking me to contact him.
Neelan informed me that I should contest under the PA ticket in Colombo and that Chief Minister Chandrika Bandaranaike Kumaratunga was expecting to meet me the next day, 9th.
When all formalities, discussions and nomination papers were signed and when I came to my chambers, I received a call from Kumar. "TC, I heard some terrible news - please tell me it is not true... is it so?" he asked. I replied inquiring whether he was referring to my nomination as Tamil PA candidate for the Colombo district for which he replied in the affirmative.
Although we had an exchange of words in the media, my affection and respect for Kumar was evident as I defended him on many occasions in the media after the elections. When I met him later in Court he embraced me and said, "Look we are still friends. Let us not ignore each other because of those 'Tamil worms' who have been the cause of our conflict and all the conflicts." This was the way Kumar spoke.
Kumar trusted everyone around him and he was betrayed on all counts. Rightly he should have been given the honour of having been appointed a President's Counsel. He was deprived of what he deserved because of manipulations by people whom he trusted.
The hierarchy hated his boldness. His skill of advocacy was admirable. No lawyer would deny that he should have been given this highest honour. I appeal to President Kumaratunga on National Day to confer a posthumous award of silk to Kumar Ponnambalam - this would bridge the gap between the races and parties to the conflict.
Kumar lived a useful life. His thundering voice brought many hidden crimes to light, he comforted the meek, mild and the destitute. He was a humane advocate, an emotional speaker whose emotions for his race knew no bounds.
In each human heart terror survives
The ravine it has gorged; the loftiest fear
All that they would disdain to think were true
Hypocrisy and custom make their minds
The fanes of many worship now outworn
They dare not devise good for man's estate
And yet they know not that they do not dare.
The good want power, but weep barren tears
The powerful goodness want; worse need for them.
The wise want love; and those who love want wisdom
And all best things are thus confused to ill.
Many are strong and rich and would be just,
But live among their suffering fellow men
As if none felt: they know not what they do."
-Prometheus Unbound-P.B. Shelley
Kumar lived his life according to his conscience. He was never a violent person. In my opinion he couldn't harm a fly. He was emotional when it was his race. Although his love for humanity was wider he felt his race was deprived of the basic human rights.
He worked hard to free his people. Those whom he sought to defend must now pay their gratitude to the man who chose to defend them and his people instead of himself.