Hide and sex
Tree bells and mirror tunnels in brothels
By Chris Kamalendran
A 45-year-old man clad in a pair of shorts sat under a mango tree outside a Chinese restaurant at Nugegoda.
The restaurant menu board offers delicacies from the orient.
But, the man was not there to market them. He had a different job, as this restaurant was also dishing out delicacies of the sexy kind.
His job was to press the button of a bell which had been fitted to the mango tree and alert the 'madam' inside if there was unwarranted intrusion.
But, a special raiding party of the police was able to detect the secret bell.
The man admitted that his duty was to alert the 'madam' who in turn will get 'girls' inside the building to move into an adjoining building.
Sunday Times staff photographer Lakshman Gunatillake and I Joined the police team which raided several vice dens in the city and suburbs. We found that the methods employed to mislead the police in each of these places was different.
In another location also in Nugegoda close to a leading girls school the Police party raided a brothel and found no-body. But they detected a tunnel on the wall. It was well concealed behind a mirror door of what looked like a wardrobe.
The tunnel leads to a dungeon where the girls are hidden as soon as the brothel owners come to know that a police raiding team has arrived, Assistant Superintendent M. Rajasingham who led the rading party said.
Most of the girls arrested were from outstations and among them was a woman who was five months pregnant.
One woman said that her husband knew about what she was doing and requested the police to inform him about the arrest.
A woman from Elpititya said she was pushed into this trade by a friend who tempted her by saying a lot of money could be earned in no time.
A fresh crackdown by the Police on vice dens in areas south of Colombo upto Aluthgama has forced several key operators to wind up operations and go underground, but law enforcement authorities are continuing their checks to ensure they do not return to these places or resume their work somewhere else.
A special strike force headed by an ASP under the instructions of DIG for Western Province (South Range) Jayantha Wickramaratna has been continuing raids during the past nine weeks. It has carried out raids on 22 brothels and 'health clincs' in the Nugegoda, Mirihana, Kohuwala and Dehiwala areas.
The raids for the teams have been difficult as all brothel owners have various ways of escaping from the police.
Many brothel owners have not only employed ways of escaping raids but they also know how to resume operation after every raid. They get their 'girls' released after they are produced in courts under vagrancy ordinance where a relatively small fine is imposed.
The owners also have their own network to inform each other whenever a police raid takes place in the area and also change the location of operation.
As in one of the cases the brothel was operating under the guise of a marketing service to avoid suspicion among neighbours.
"We have to carry out these operations in addition to providing normal security in the area which includes the Kotte and Mirihana areas. We have to provide additional security on Parliament days making the task difficult," DIG Wickramaratna said.
He said another difficulty in curbing crime was that some of the brothel owners had links with certain police officers in the Mirihana division.
---
Who was Shantha, where is he?
By Leon Berenger
Police investigating the killing of Kumar Ponnambalam are yet to trace the killer or killers and said the main suspect wanted for questioning was still at large.
Although dozens of people ranging from domestic helps, relatives, business competitors and associates have been questioned, investigators are yet to come up with any hard evidence that could lead to a positive arrest.
The name that has surfaced and re-surfaced as the chief suspect wanted for questioning by police is Shantha, but his whereabouts and race are still not known.
Police have learnt that Shantha had befriended Ponnambalam shortly before he was killed and had even accompanied him on that fateful morning shortly before a gunman pumped two bullets into the victim's upper neck and head.
An interesting turn of events took place this week after Ponnambalam's son Gajendrakumar told a magisterial inquest that the person called Shantha was a Sinhalese, who had been in constant touch with his father before the incident.
Soon after the killing this Shantha just vanished, Gajendrakumar told the Mount Lavinia Magistrate and Additional District Judge K.H. Sumithraratne.
Investigations have also become more complicated after an hitherto unknown group calling itself the National Front Against Tigers (NFAT) claimed responsibility for the killing, calling Ponnambalam a traitor who was an unnoficial front for the LTTE.
The shadow group in a brief message faxed to several local and international media groups warned that Ponnambalam was only the first, indicating that there are several others on their target list.
Police say they are treating this group with a pinch of salt. "Any mad hatter could send a poison note of this nature to mislead investigations" they said.
---
Tragedy of error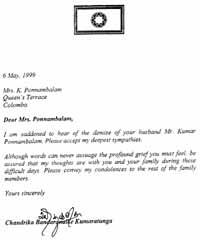 The family of the slain ACTC leader Kumar Ponnambalam has expressed concern over the date of a condolence message from the President sent to them by the Presidential Secretariat. It was dated May 6, 1999 and signed by the President.
A family member said the message had been delivered by a personal messenger.
The message addressed to Mrs K. Ponnambalam,states
Dear Mrs Ponnambalam,
"I am saddened to hear of the demise of your husband Mr Kumar Ponnambalam. Please accept my deepest sympathies.'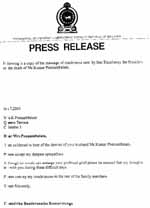 "Although words can never assuage the profound grief you must feel, be assured that my thoughts are with you and your family during these difficult days. Please convey my condolences to the rest of the family members.
Yours sincerely,
Chandrika Bandaranaike Kumaratunga.
Meanwhile, a Press Release sent by the Information Department dated January 7, 2000, too carries almost the same condolence message to Mrs .Ponnambalam.
Members of the Ponnambalam family said they were concerned as to how the condolence message dated May 6,1999, was sent to them. The two montages says it all. The typographical error was a bad one, for Kumar Ponnambalam was killed on January 5, 2000.
---
Renuka may be quizzed again
The CID has questioned and released the wife of a leading businessman and banker, but has not ruled out the possibility of re-questioning her.
The banker's wife Renuka Shanmuganathan was questioned about an alleged plot connected to the bomb attack on President Kumaratunga last month.
Ms. Shanmuganathan nee Nadesan is the sister of Thiru Nadesan.
When The Sunday Times tried to contact Ms. Shanmuganathan, family members said she was unavailable, and that they could not comment on her behalf.
---
What Lankan "Cheries" would do
By Ayesha R. Rafiq, Tania Fernando and Avinda Amaratunga
Tony Blair's wife Cherie may have been fined 16 pounds by a bold ticket collector, despite being the British Prime Minister's wife, for travelling without a train ticket.
But the question now is must all Sri Lankan power wielders stop with the red light, go with the green and all obey them, even the Queen (the Prime Minister, the President...) or should we spare the rod and spoil the politicians and let them be above the law.
A majority of political wives questioned by The Sunday Times thought the ticket collector was bold and duty conscious and in a somewhat uncharacteristic move agreed they too should be treated as ordinary citizens if similar incidents were to occur in Sri Lanka.
The only dissident to the majority view was Shyami Gooneratne, wife of Industrial Development Minister C.V. Gooneratne who thought the incident should have been handled more delicately.
"Cherie Blair did not buy the ticket as according to her, the counter was closed, and anyway the ticket collector should have understood she could always have paid for her ticket at the other end. I don't think as the British Prime Minister's wife, who is a person of such prominence, she should have been subjected to this kind of public humiliation."
Ms. Gooneratne said she still uses public transport and despite her family having two cars, she still occasionally hops a train, a bus or even a trishaw if the vehicle is not available. In the impossible event that she or anyone were to travel without a ticket, she said she would like the situation to be handled more tactfully.
Ms. Ronnie De Mel was one of those shocked at the fact that any ticket collector, would have even dared to question a Prime Minster or any politician's wife, whereas in Sri Lanka the situation would never have arisen due to people fearing visits by armed gangs or receiving letter bombs, to name a few imaginative extremes.
Sreemathi Lokuge, wife of Colombo district UNP Parliamentarian Gamini Lokuge said where rules were concerned titles don't matter and all people must act in accordance with the law. Mrs. Lokuge, who says her family has three vehicles and doesn't remember using public transport except in her younger days, says it is hard to imagine a politician's wife using public transport let alone being fined in that manner.
Wife of Social Services Minister, Berty Dissanayake commending the refreshing attitude of the British Railway agreed this kind of attitude is what Sri Lanka needs in a politically dominated atmosphere.
Padmini Gunawardena, wife of the Housing Minister, said if at all a politician's wife used public transport, the popular theory would be that it was a stunt to gain popularity.
Science and Technology Minister Batty Weerakoon's wife Hema also agreed that politician's wives should not get special treatment, whether in Sri Lanka or abroad.
Maithree Wickramasinghe wife of Opposition Leader Ranil Wickramasinghe who refused to comment on this matter of public interest told The Sunday Times she did not believe in commenting on any issue.
---
That speech and what they say
Newspaper society
The Newspaper Society has noted that President Kumaratunga's comments made recently 'does not augur well for a free media nor for a spirit of national reconciliation'. "The Newspaper Society while freely conceding the President's right to reply to her critics, wishes to place on record that its members have done no more than that, which is to express their views, independently of each other, on such issues. This is their right in a democratic society.
When President Kumaratunga was elected to the highest office in the land in 1994, a breath of fresh air dispelled the rank atmosphere of fear which prevailed at an earlier time.
"Regretfully the President has now chosen to express sentiments in harsh terms in a volatile political climate, and especially when misguided elements could take the law into their own hands. This does not augur well for a free media nor for a spirit of national reconciliation, which this country yearns for and which was so handsomely and magnanimously conveyed in the President's earlier broadcast to the Nation," the statement said.
Editors Guild
The Editors Guild has expressed regret about the tone of the recent comments made by President Chandrika Kumaratunga about the non-state media and certain journalists.
The text of the statement follows ; 'It is unfortunate that the President has chosen to launch an attack on the non-government media, naming some journalists she perceives to be unfairly critical of her, triggering an allegation that a section of the press is connected to a conspiracy against her.
Ms. Kumaratunga would agree that no democracy can thrive without a vigorously free media and she herself has repeatedly declared her commitment to a free press. In fact, she claims to have 'freed' the media from previously imposed restrictions.
If there are transgressions by the media, the authorities can, as they have, seek legal remedies. The government also controls a dominant section of the print and electronic media which it has consistently used as organs of its own propaganda despite such organs being publicly owned.
The Editors Guild of Sri Lanka regrets the tone and tenor of President Kumaratunga's recent statements on the non-state media and some journalists. It calls upon the President and the government to adopt a moderate stance in these matters and not attempt to bludgeon the private media to abandon fair criticism of the government and its leaders.'
Free Media Movement
The Free Media Movement has expressed concern and deplored the statement made by President Chandrika Kumaratunga implicating the media.
'The FMM deplores the ludicrous statements in the state owned print and electronic media linking a group of journalists in a conspiracy to assassinate President Chandrika Kumaratunga and establish a military government', the statement said.
The statement also said; 'It is the view of the FMM that the government's intepretation of the assassination attempt being a conspiracy by a section of the media, government officials, businessmen and the military is an attempt to suppress democracy and media freedom in the country.
This concocted conspiracy theory is similar to the Naxalite conspiracy concocted by President J.R.Jayawardene in 1982 to harass and detain his political opponents and the media. The FMM strongly believe that a group of media persons have been named in this concocted conspiracy because the government knows fully well that it is the media that would be the first obstacle to any government planning to adopt an anti democratic system.
'Naming a group of media persons as working with the LTTE is a very dangerous statement to make in the current environment," it said.
---
Kidnap horror in court tomorrow
By Ayesha R. Rafiq
The trial-at-bar in the widely publicised kidnap-murder of nine-year-old Sadeepa Lakshan in October last year will begin tomorrow in the Colombo High Court.
In a case which evoked a huge public outcry, the child was lured away and allegedly strangled by his 18-year-old relative after the child's father paid a ransom of 2.5 million rupees. Sadeepa's body was later found dumped in a toilet pit and the money was later recovered by the police.
The suspect is being charged on three counts of kidnapping, murder and extortion. The prosecution will be calling 35 witnesses and among the 21 items listed for production will be the ransom money and the audio tapes which contain records of some of the calls the suspect had made to the victim's family. Four witnesses who were originally taken in as suspects have been granted a conditional pardon by the Attorney General and will testify as prosecution witnesses. When the case was first taken up at the Kalutara Magistrate's Court, a lawyer appearing for the suspect narrowly escaped being attacked and his car was stoned by a large and angry crowd, which insisted that no lawyer should defend what they saw as a horrible crime.
The bench for the trial-at-bar is chaired by High Court Judge Chandradasa Nanaya-kkara and includes Judges Andrew Somawansa and Chandra Ekanayake.
---
PA unions rap bureaucrats
PA affiliated and several other trade unions will picket near the Lipton Circus on Tuesday to protest against what they see as bureaucratic lethargy which is retarding the government's progress.
Minister Alavi Moulana, Convenor of the Joint Council of Trade Unions, said yesterday the government had received information how the bureaucrats allegedly scuttled the work as well as curried favour with other political parties and overlooked their duties.
He alleged that sacking lists had been made and several PA affiliated trade unionists were threatened with demotions, transfers and loss of employment if the president lost the election. "We don't wish to threaten anybody but we know that lots of bureaucrats were expecting a change of government and have bungled our work," he said.
---
More byte for computer laws
The Council for Information Technology Committee of Law and Computers has forwarded a proposal for legislation on computer crime relating to computer hacking to the Law Commission for its review.
The proposal would broadly cover unauthorised entry into computers, computer systems and environments and unauthorised activity in an authorised environment, and would relate to Wide Area Networks as well as Land Networks, a spokesman said.