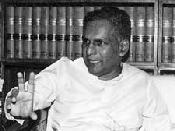 The man whom Police suspect was tasked by LTTE intelligence wing leader, Pottu Amman, to help kill TULF Parliamentarian and lawyer, Dr. Neelan Tiruchelvam, is now in their custody.

Eric Savundranayagam, a telephone operator at a Communications Centre in Wellawatte, was arrested last week, hardly an hour after he returned from a trip to the southern Indian state of Tamil Nadu. He is now being held on a detention order issued under Emergency Regulations.

The circumstances leading to his arrest, for which Police had to overcome some serious technical difficulties, remains a closely guarded secret.

Investigations have revealed that Savundranaya-gam followed a course at the Technical College at Maradana. He had been given instructions to do so and told to wait until an emissary made contact with him. It turned out that the emissary was Kathiravan, a fellow student at Union College, Jaffna, in their younger days.

On one occasion, Kathiravan had brought a message to Savundrana-yagam requesting him to urgently travel to Wanni. When he took a break from attending classes and went there, Pottu Amman had personally given him a briefing at an LTTE hide-out in Puthukudiruppu.

Pottu Amman, the LTTE intelligence wing leader is a most wanted man in India for plotting the assassination of one time Indian Prime Minister, Rajiv Gandhi. He was killed by a female suicide bomber at Sri Perimpudur, a town in the outskirts of Madras, where he attended an election rally.

During the briefing to Savundranayagam, Pottu Amman is learnt to have spelt out seven different targets. He had been told to assist Tiger guerrilla hit squads operating in the City, both through surveillance and other forms of assistance, to ensure attacks were successfully carried out. The targets were:

01.Attack on a Sri Lanka Air Force bus which moved personnel regularly along Galle Road.

02.Kill Chief Inspector, Mohamed Nilabdeen, attached to the Counter Terrorism Unit of the Mount Lavinia Police. (Note: CI Nilabdeen survived an attack by a suicide bomber on March 16, this year, outside the Mount Lavinia Police Station).

03.Kill EPDP leader, Douglas Devananda.

04.Kill Inspector Jeyaratnam of the Counter Terrorism Unit at Mount Lavinia Police.

05.Kill TULF MP, Ananda Sangari

06.Kill Dr. Neelan Tiruchelvam

07.Kill Posts, Telecommunication and Media Minister, Mangala Samaraweera.

During interrogation, Savundranayagam, is learnt to have admitted conducting reconnaissance on Dr. Tiruchelvam. However, he had denied any involvement when Police confronted him with other information. This had included his alleged involvement in the killing of Dr. Tiruchelvam and how the plot to eliminate him was hatched.

On July 29, a lone suicide bomber hurled himself on Dr. Tiruchelvam's car at Rosmead Place-Kynsey Road junction killing him on the spot.

By then, Savundra-nayagam had left for Tamil Nadu to attend his sister's wedding. On the day of Dr. Tiruchelvamís killing, he is alleged to have made a telephone call to Kamalan, the Manager of of the Communications Centre in Wellawatte, where he worked as a telephone operator. The centre is said to be owned by a doctor from Vavuniya.

During the conversation, Savundranayagam is alleged to have made reference to Dr. Tiruchelvam's killing and boasted how he could get things done. Although Kamalan, who is now in custody had admitted to the telephone call and the references made, Savundranayagam had denied the allegations during initial stages of the interrogation. Police are continuing their interrogation and were due to question him on other vital information they have received.

The arrest of Savund-ranayagam, Police say, is a significant breakthrough in investigations into Dr. Tiruchelvam's killing. During the first two months after the incident, Police were literally against a blank wall with no information forthcoming on the incident.

This breakthrough was made by the Mount Lavinia Police who have unravelled several LTTE links in the City. This developed from investigations they began into the attempted killing of CI Nilabdeen in March, this year.

These investigations are under the overall charge of Jayantha Wickremaratne, DIG (Western Province -South).